Tag Archives:
rochelle humes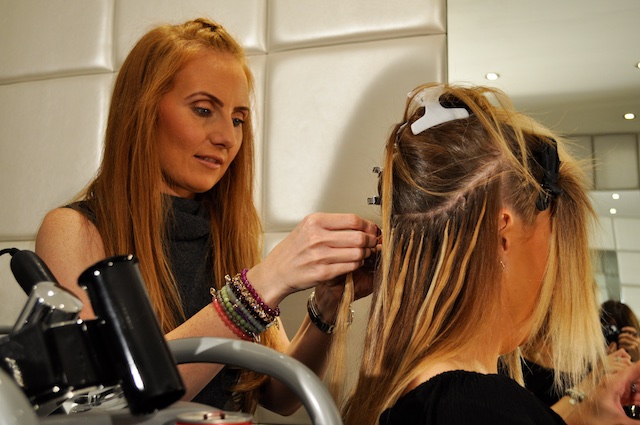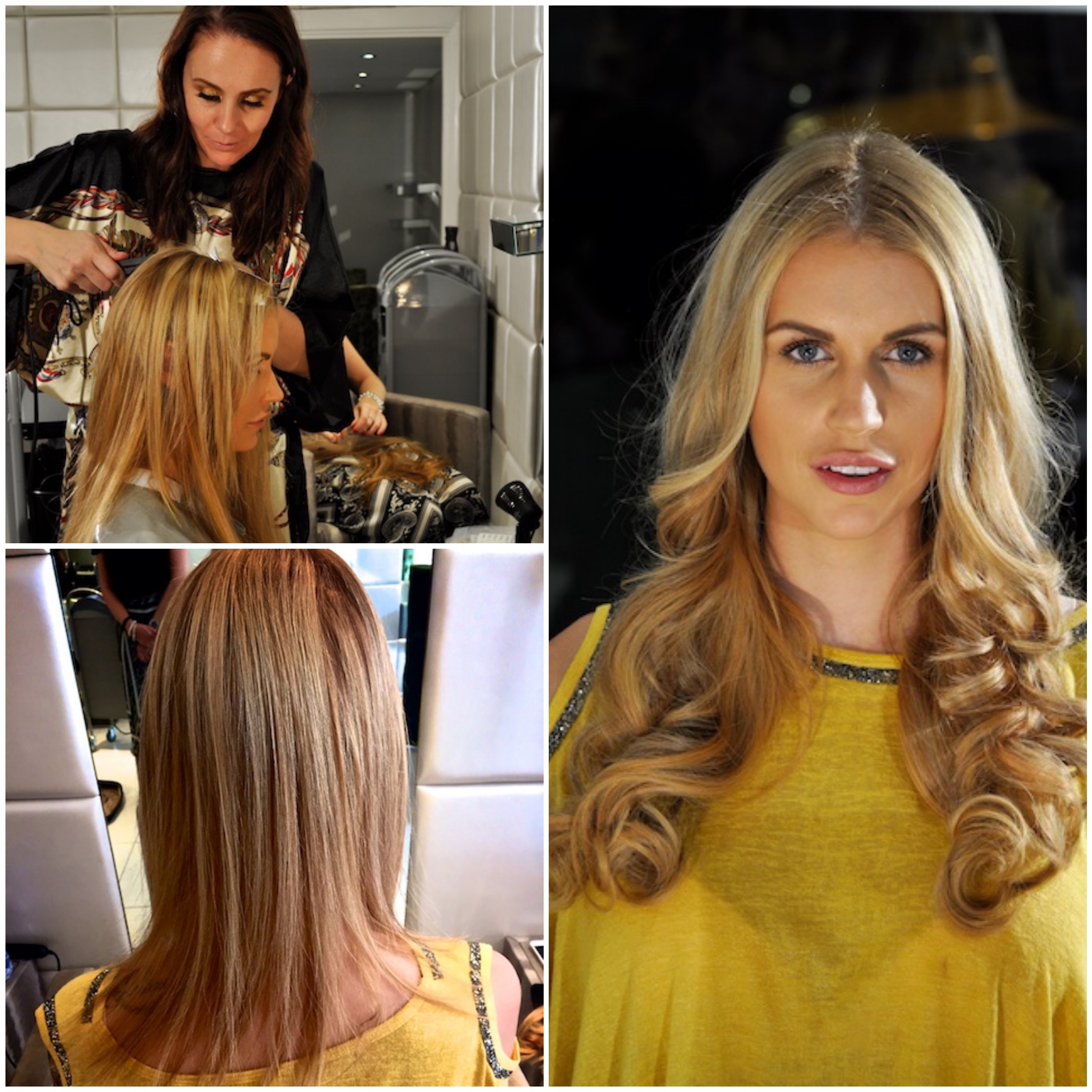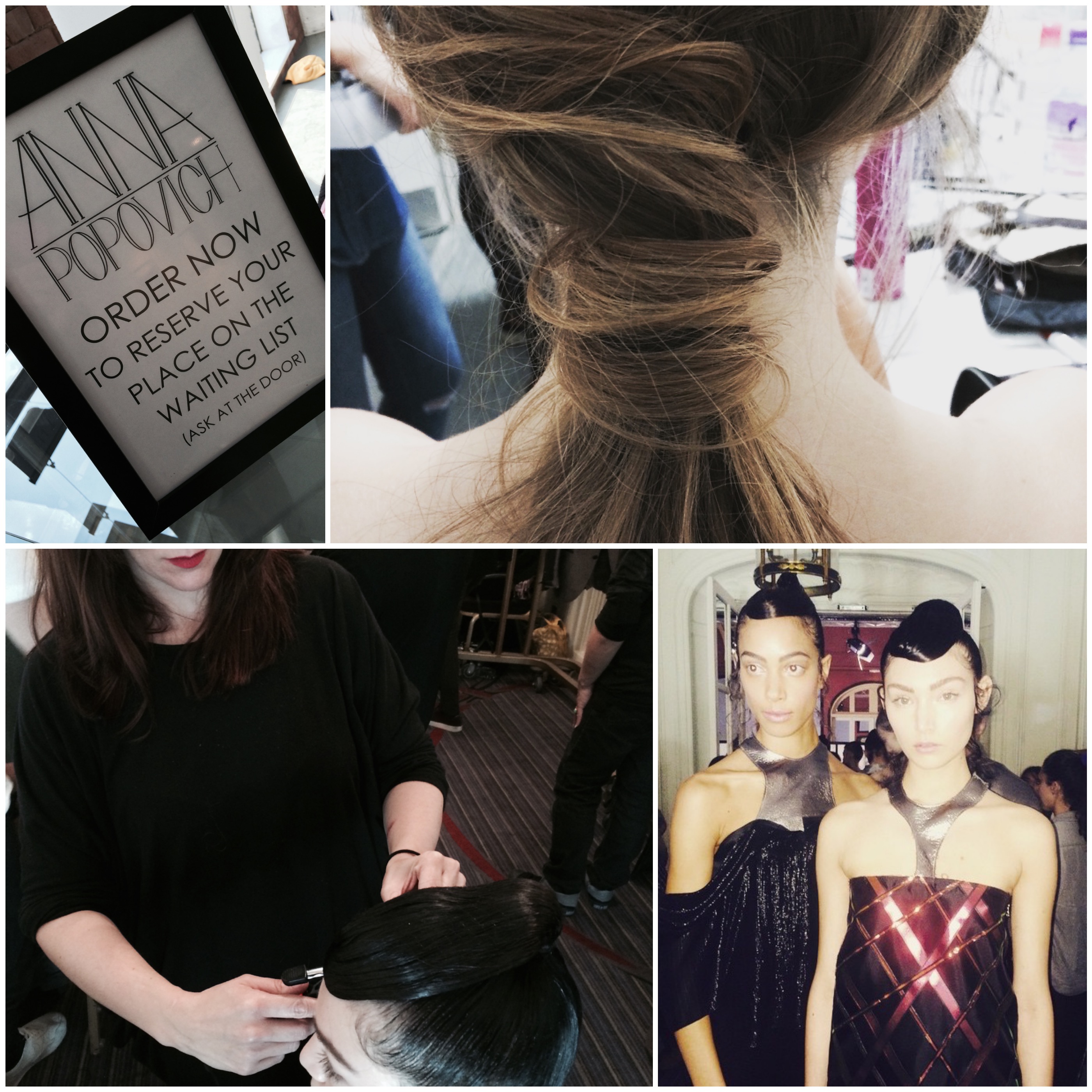 Set in the swanky Buckhurst Hill area of London, you will discover the beautiful Blo Bar. Described as a hub of hair, make up and glamour – it's the perfect place for Gold Class Hair Extensions. They had to wait for us as we launched our Elite 10 and training was in late September, but the wait has been worth it making our hair the focal point in the salon. Owner, Clare Jones and her team share their love of hair here:
Tell us about your clients
Our clients are fun and social people who always wanting to look their best.
What is the most asked question about extensions?
Are they easy to manage?
Which celeb is the most requested hairstyle for extensions?
Rochelle Humes.
Tell us your best hair transformation story
It's definitely a set of Gold Class extensions that have transformed a regular client of mine, even her husband calls us to say thank you for making his wife so gorgeous!
What tip do you get your extension clients to follow?
Brush the hair from bond to tip regularly throughout the day with your Gold Class brush.
What was the highlight of launching Gold Class in your salon?
Being a able to offer our clients such high quality hair that they love just as much as I did when I first had it put in mine. Its great to have the colour swatch that client's can see for themselves just how amazing the hair and colours are.
Proudest moment for your salon
Opening the doors to Blo Bar when I bought it last October, there have been some changes made to the décor, putting my own stamp on it. The salon is ultra feminine and unique with a boutique style. Since October all our stylists are now trained and experts in colour, extensions and cutting. We have recently taken on Philip Kingsley products, which works brilliantly with Gold Class, It is such a fabulous product, and really benefits the quality of our clients hair.
Alison has also continued her Fashion Week work heading up a team for Anna Popovic at LFW, and then heading to PFW to work alongside Darren Fowler for designer Bernard Chandran creating some beautiful hairstyles (images left). Most recently she has been working on the new Christmas M&S ad.
Preferred music to work to
Anything current, but not too 'pop-py,' Whatever comes on Spotify, especially Justin Bieber at the mo.
Which industry show do you never miss and why?
L'Oreal Colour Trophy Grand Final – it's a wonderful creative showcase.
What's the next big thing for your salon?
We have just taken on the highly respected product range Philip Kingsley to sit alongside our Gold Class hair extensions. Launching that will be big news for us and not to mention Christmas and lot's more glamorous hair!
Putting owner, Clare under the spotlight …
What do you like to do on your day off? Spending time with my family, working out and of course, shopping!
Have you got a hidden talent? I can sing!!
What's your favorite colour to work with at the moment? Blondes are my fave right now, I've been doing lots of really warm tones and apricots blondes.
Where do you get hair inspiration from right now? I always really like Olivia Palermo's style.
Your mantra/quote to live by Don't dilute your dreams. Keep your passion concentrated and strong.
Get booked in with Blo Bar for a consultation now and keep following them on social media: Facebook, Twitter & Instagram to see more of their fabulous work.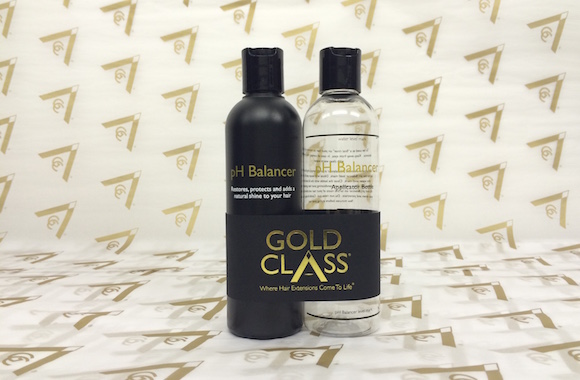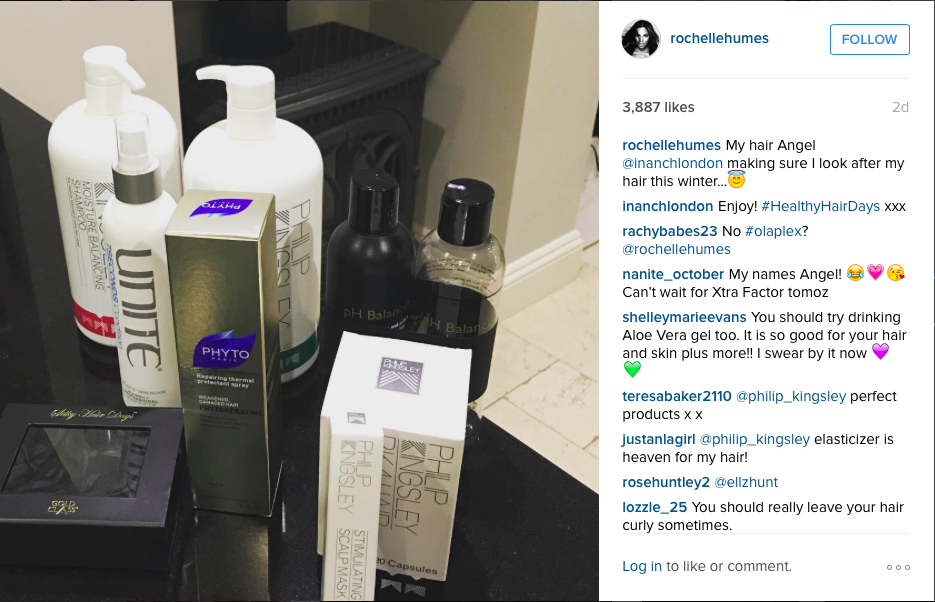 We are really excited to be releasing our very first hair care product in time to add to your winter hair care regime. The pH Balancer is the hero product for all hair extension wearers to offer protection against the environment. Essential for holidays, swimming and as added protection to fight against the everyday stresses on the hair; the pH Balancer acts as a deep conditioning treatment.
A simple rinse (the final rinse) with this leave in conditioning treatment will restore your scalp and hair to it's true pH balance and lock in moisture to create healthy looking hair with a natural shine.
Rochelle Humes instagrammed her pH Balancer as part of her winter hair care regime alongside the Gold Class Silky Hair Days and other prescribed products to give her locks the Xtra Factor!
Bottle size 250ml and comes with diluter bottle. Available to buy from your Gold Class select salon.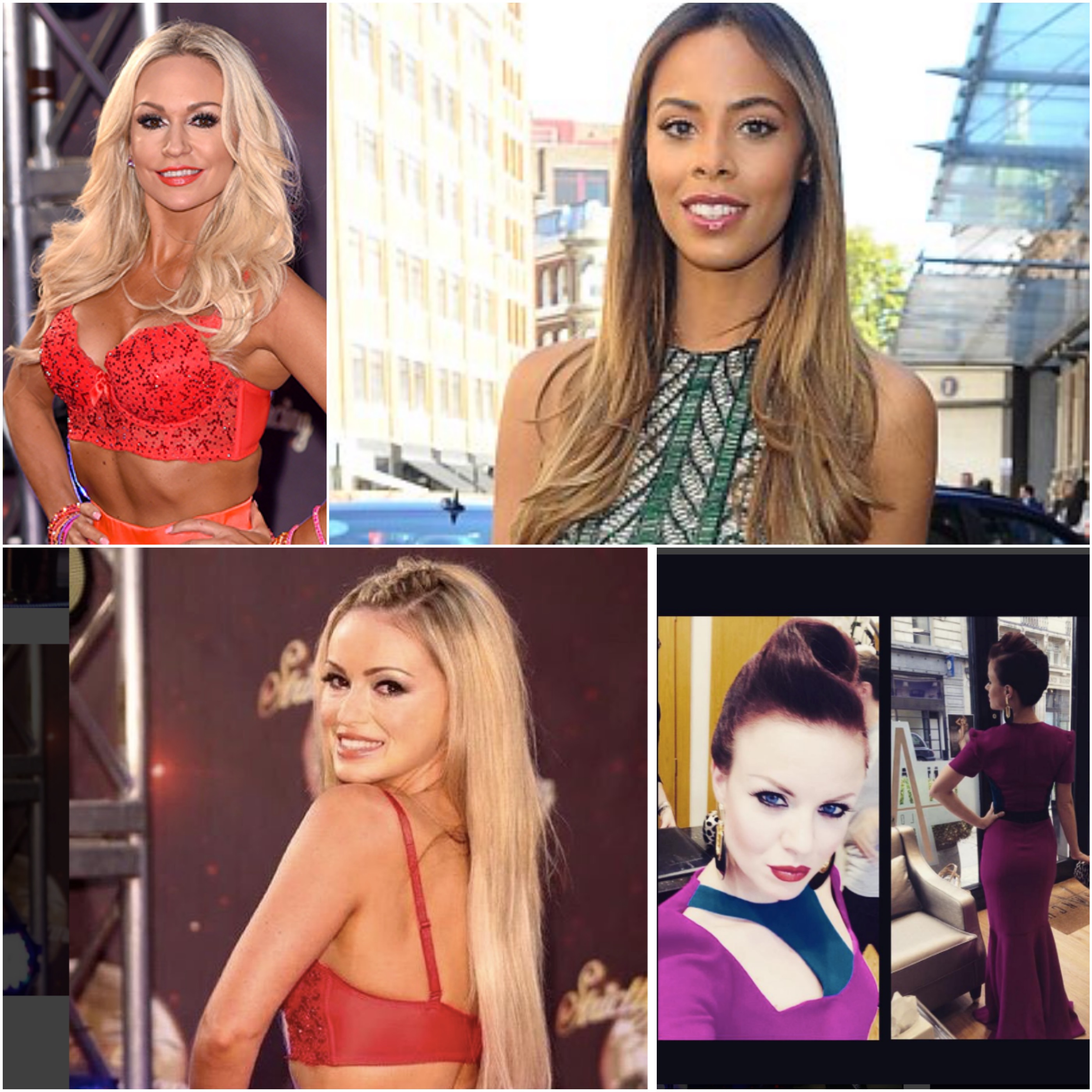 We are now moving in to full-on Strictly Fever and XFactor obsessing as the live shows start. Our loyalties are torn between these two shows and so we can't help but indulge in some Get the Looks for our Gold Class Girls working these shows. With all girls client's at Inanch London we spoke to the team behind each look to get the scoop on their individual looks.
If you follow Rochelle Humes on Instagram you will have spotted she has been tweaking her extensions over summer, going blonder and shorter but her most recent visit to Inanch Emir herself had her 50cm lengths back in. Rochelle is busy promoting her new Very line, Ninja Warriors trials as well as fitting in the XtraFactor. Inanch explains more about the colour change "using her lightest shade as new base to become the darkest shade, we mixed 3 colours to lighten her locks and create a natural blonde look ahead of her press work for her clothing range. We styled her hair with plenty of layers for a different look." Rochelle has to time her hair changes to tie in with her schedules, collections and launches and offer some point of difference.
Roberto meanwhile has helped Ola Jordan with her highly anticipated return to Strictly following her injury. Having played with dark hues, Ola feels much luckier as a blonde and Roberto added 45cm lengths of lighter more ash tones in her new set of extensions applied before the launch show last month. "Ola's hair is a little more complicated when she is working on the show as we need to be more mindful of where we place her bonds and work with much finer bonds to ensure they cannot be seen for even her most dramatic look or felt for back-combing to create those looks."
Roberto also created a beautiful 21st century twist on a chignon for Joanne Clifton this month ahead of her National Lottery Awards night. He keeps her vibrant colour and sharp lines for a very different look for Joanne.
Kristina is a loyal client of the very talented Vessy. Kristina has only been having her Gold Class extensions for a year now and as a devotee blonde she has started to add some on point 'bronde' into her tresses so we should start to see more depth on our TV screens.
Whichever show is your favourite please make sure you support our Gold Class Girls who look sensational as they showcase our hair on the dance floor and TV Screens across the UK.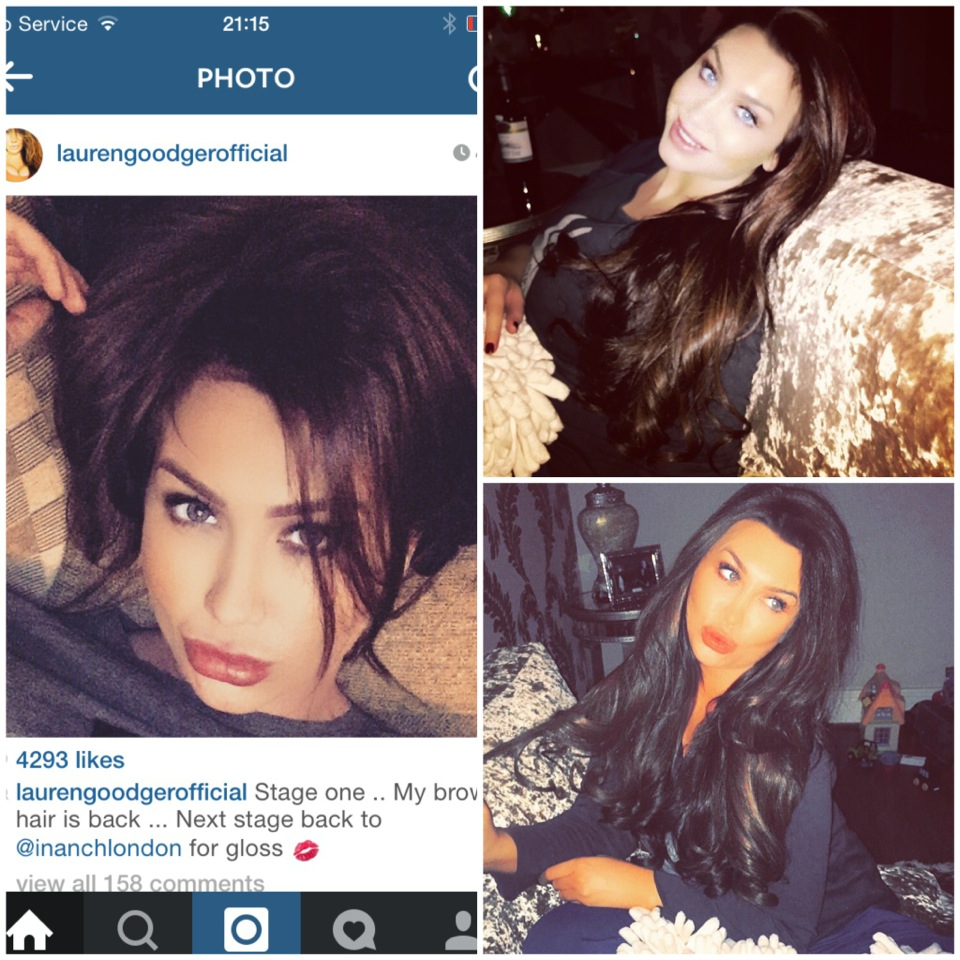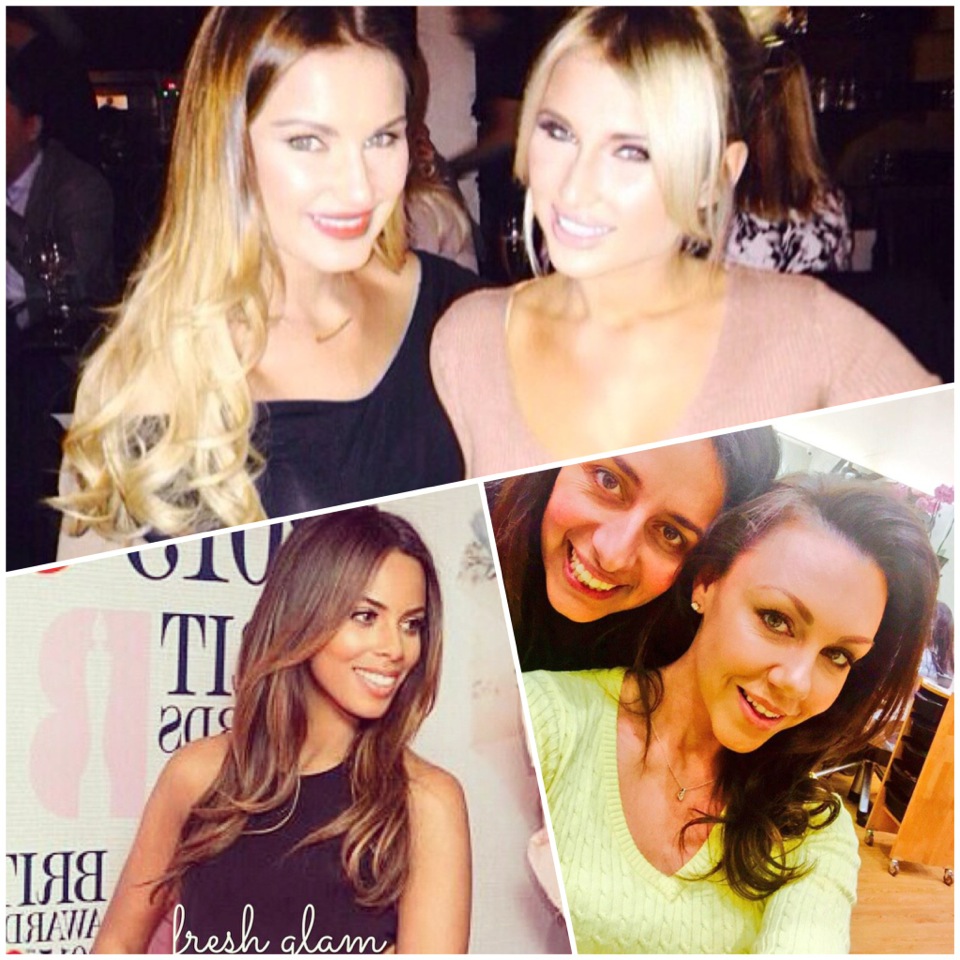 The start of a new year signals a chance to change for many and our Gold Class Girls are no different. Only this last week has seen many of our lovely clients in for a change and the most significant is the colour change for Lauren Goodger. Keen to ditch her blonde bombshell image she stepped into Inanch London and the experienced hands of Roberto Silva to start the change into a sultry & sophisticated brunette. Warm chocolate browns were the new hue and returning Lauren back to her natural shade. Tweeting that evening "stage one … My brown hair us back … Next stage back to @inanchlondon for gloss"

Back in salon for the second stage, Roberto completed her transformation with colour matched extensions and some additional caramel tones to add subtle highlights throughout. Adding 200 strands of Gold Class Hair in 50cm to give plenty of volume and length for this glamorous look. Lauren shared lots more snaps on Instagram showing off her finished look and we think we are going to be seeing a lot more of her as she enjoys her new do and exciting plans for the future.
Also in to add new length was Sam Fraiers to help her sister Billie celebrate her birthday; Rochelle Humes for some maintenance before the BRIT nominations and Michelle Heaton in preparation for the National TV Awards this week.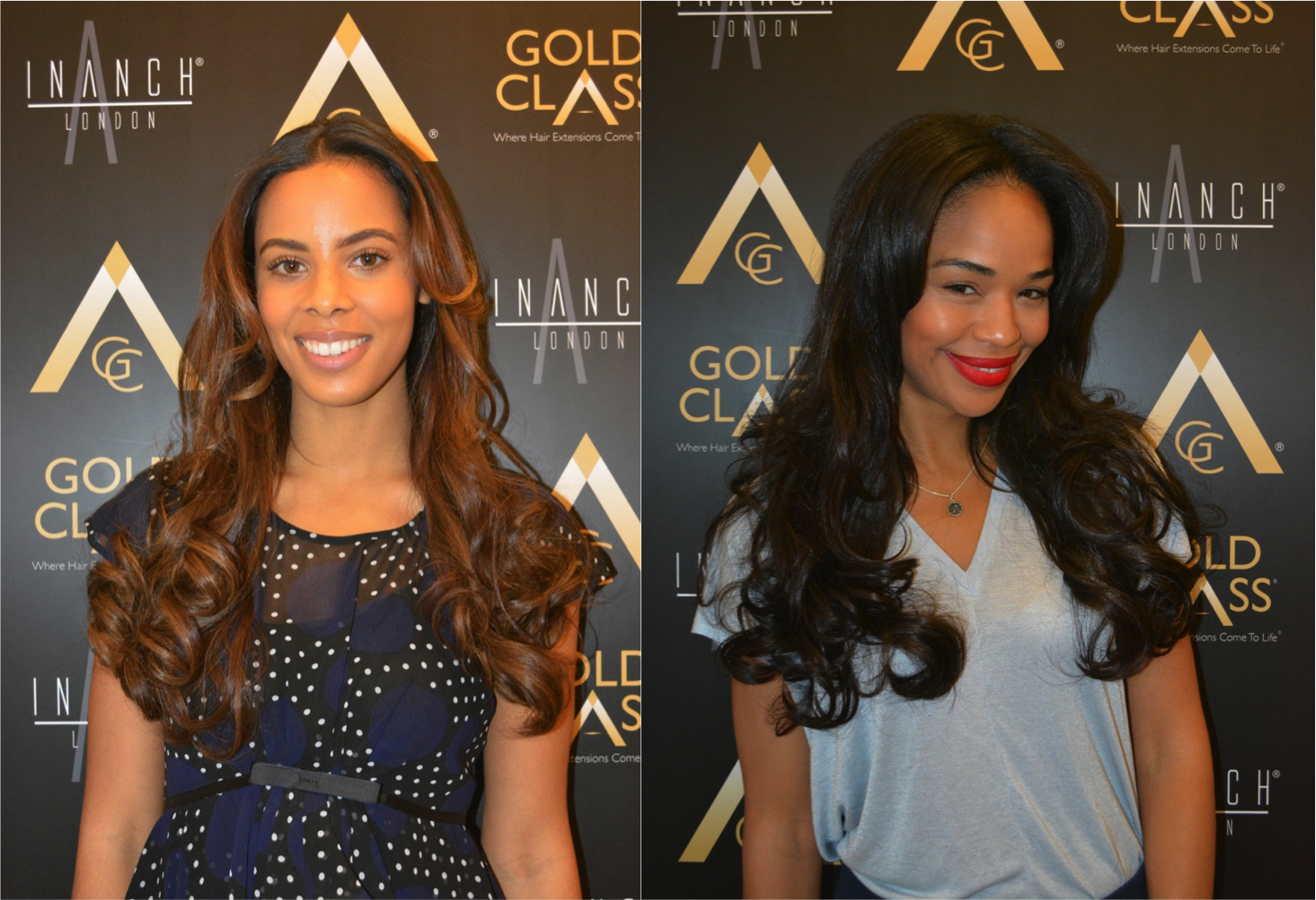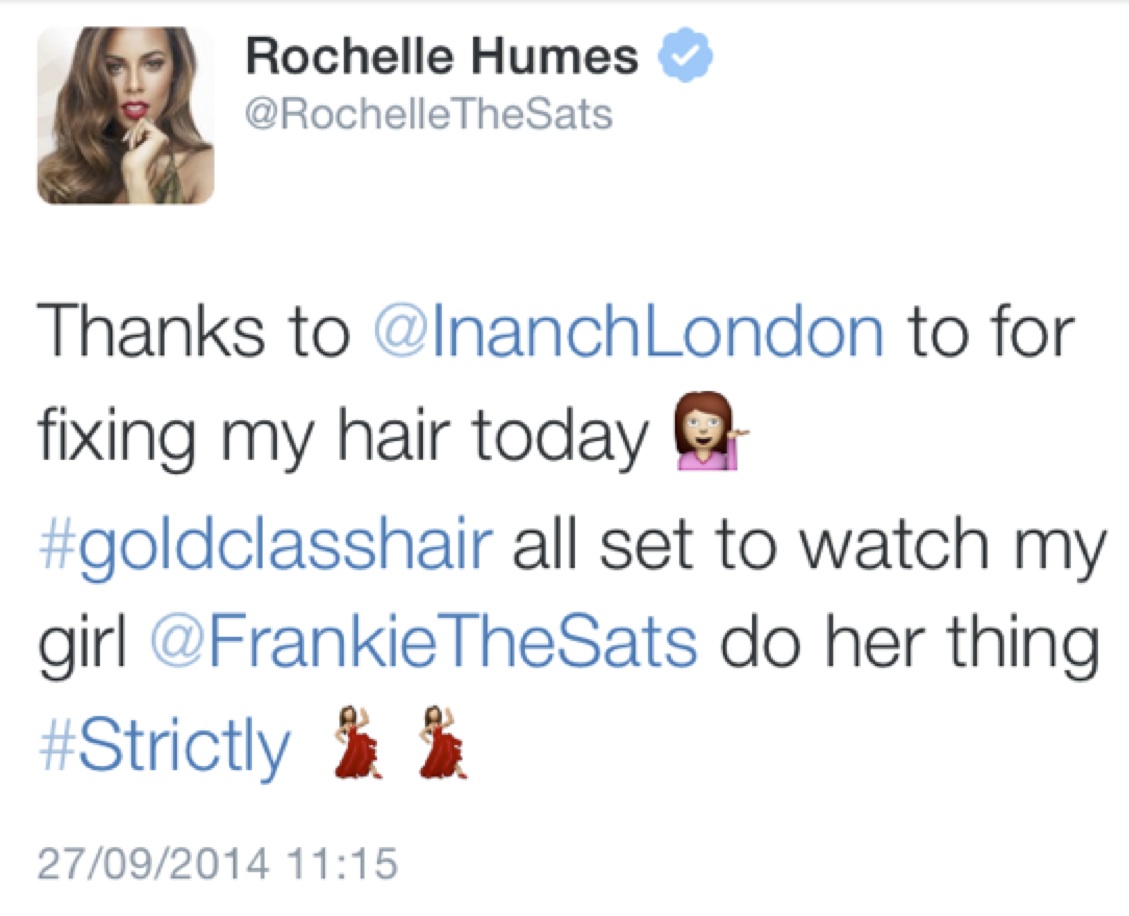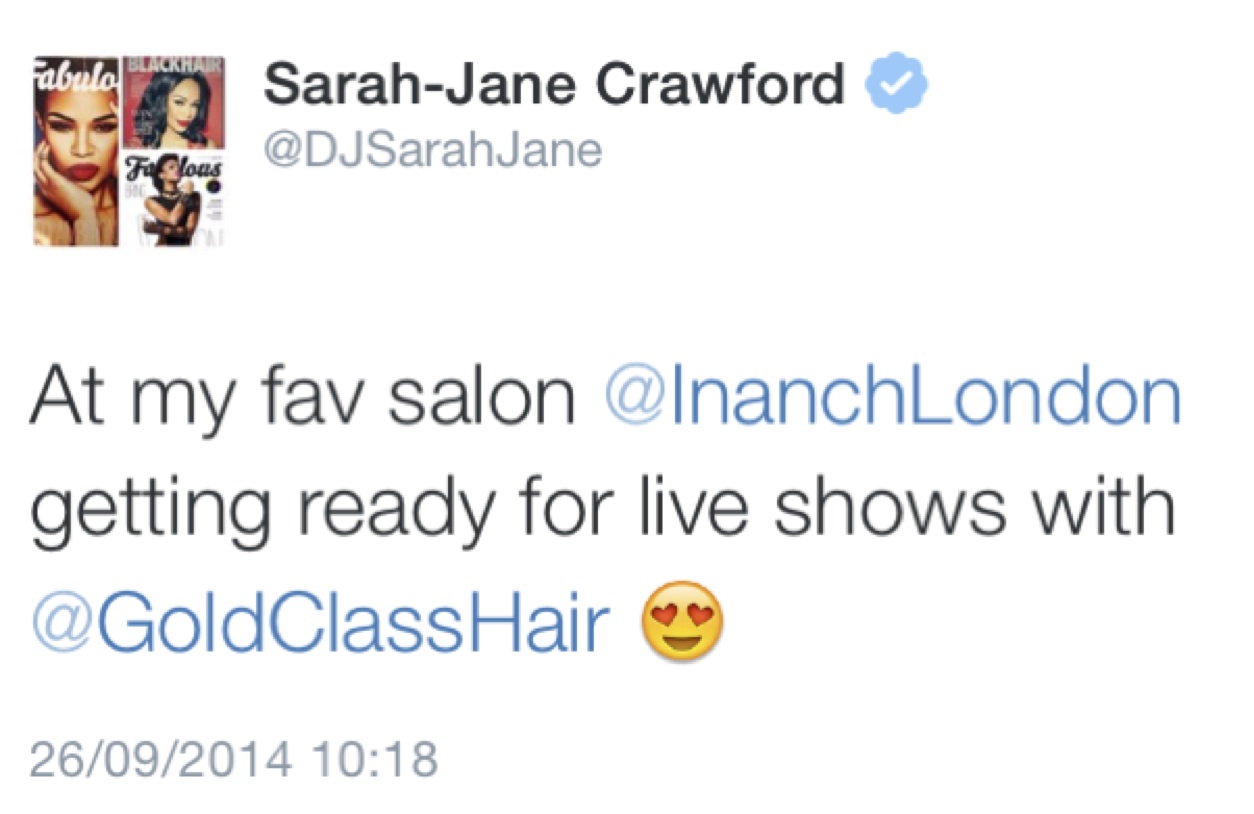 This week saw Rochelle Humes of 'The Saturday's' and Xtra Factor host, Sarah-Jane Crawford, both visiting the Inanch London salon to have their Gold Class Hair extensions applied by multi-award winning extensionist, Inanch Emir.
Rochelle is a long standing client of Inanch but this was the first time she had gone for a set of Inanch's premium quality Gold Class Hair extensions. Rochelle was getting ready to go and support fellow 'Sat' Frankie Sandford in her first night on Strictly Come Dancing and also making sure her hair would look it's best for her forthcoming tour with The Saturday's. The gorgeous singer had 4 different shades of brown strands, ranging from brunette to honey, applied to her natural tresses.
Girl of the moment, Sarah-Jane Crawford also popped into her favourite salon to have her Gold Class Hair extensions applied ready for the live X Factor shows. The red lipped beauty upped the glam factor and went for longer extensions than usual and all in a warm brown shade.