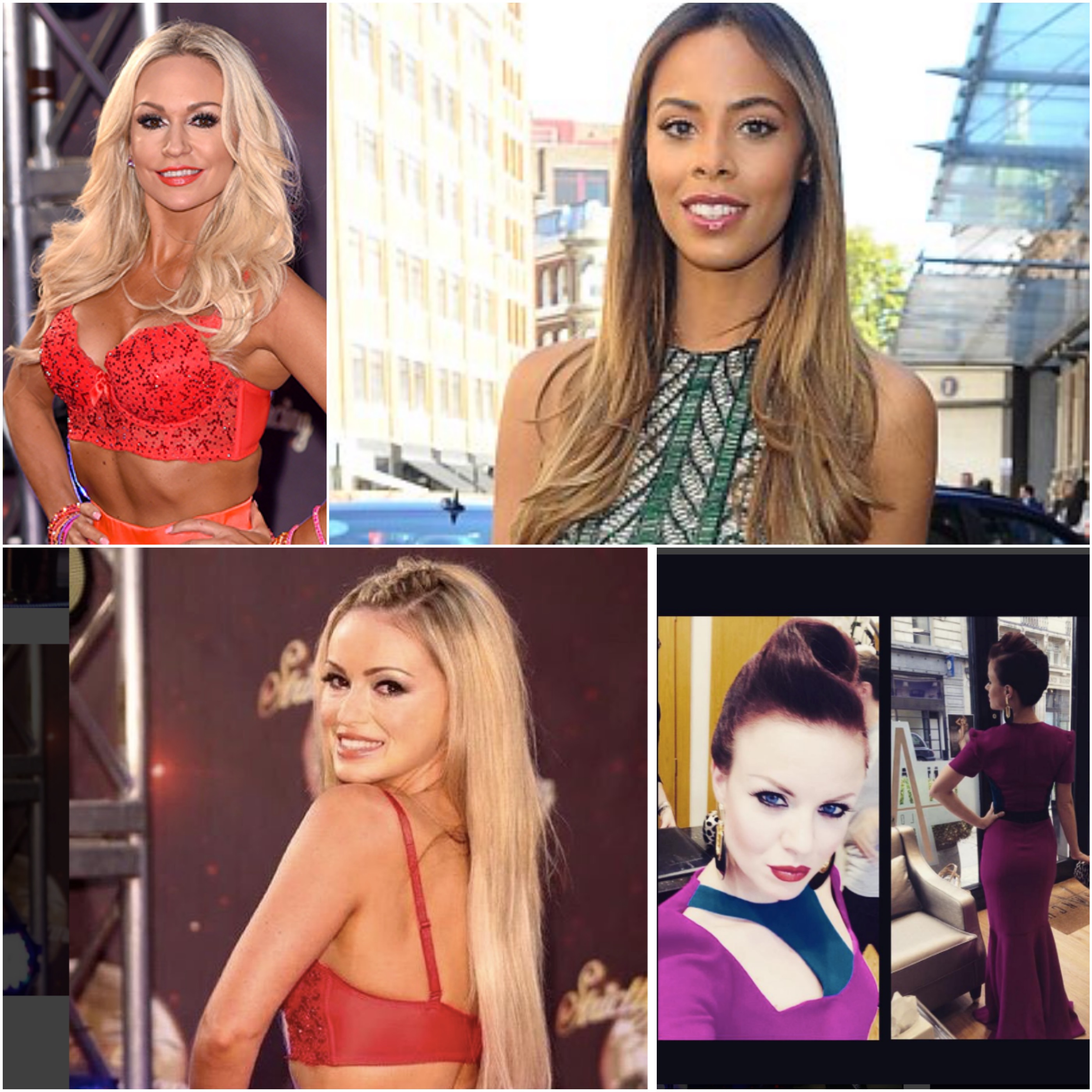 We are now moving in to full-on Strictly Fever and XFactor obsessing as the live shows start. Our loyalties are torn between these two shows and so we can't help but indulge in some Get the Looks for our Gold Class Girls working these shows. With all girls client's at Inanch London we spoke to the team behind each look to get the scoop on their individual looks.
If you follow Rochelle Humes on Instagram you will have spotted she has been tweaking her extensions over summer, going blonder and shorter but her most recent visit to Inanch Emir herself had her 50cm lengths back in. Rochelle is busy promoting her new Very line, Ninja Warriors trials as well as fitting in the XtraFactor. Inanch explains more about the colour change "using her lightest shade as new base to become the darkest shade, we mixed 3 colours to lighten her locks and create a natural blonde look ahead of her press work for her clothing range. We styled her hair with plenty of layers for a different look." Rochelle has to time her hair changes to tie in with her schedules, collections and launches and offer some point of difference.
Roberto meanwhile has helped Ola Jordan with her highly anticipated return to Strictly following her injury. Having played with dark hues, Ola feels much luckier as a blonde and Roberto added 45cm lengths of lighter more ash tones in her new set of extensions applied before the launch show last month. "Ola's hair is a little more complicated when she is working on the show as we need to be more mindful of where we place her bonds and work with much finer bonds to ensure they cannot be seen for even her most dramatic look or felt for back-combing to create those looks."
Roberto also created a beautiful 21st century twist on a chignon for Joanne Clifton this month ahead of her National Lottery Awards night. He keeps her vibrant colour and sharp lines for a very different look for Joanne.
Kristina is a loyal client of the very talented Vessy. Kristina has only been having her Gold Class extensions for a year now and as a devotee blonde she has started to add some on point 'bronde' into her tresses so we should start to see more depth on our TV screens.
Whichever show is your favourite please make sure you support our Gold Class Girls who look sensational as they showcase our hair on the dance floor and TV Screens across the UK.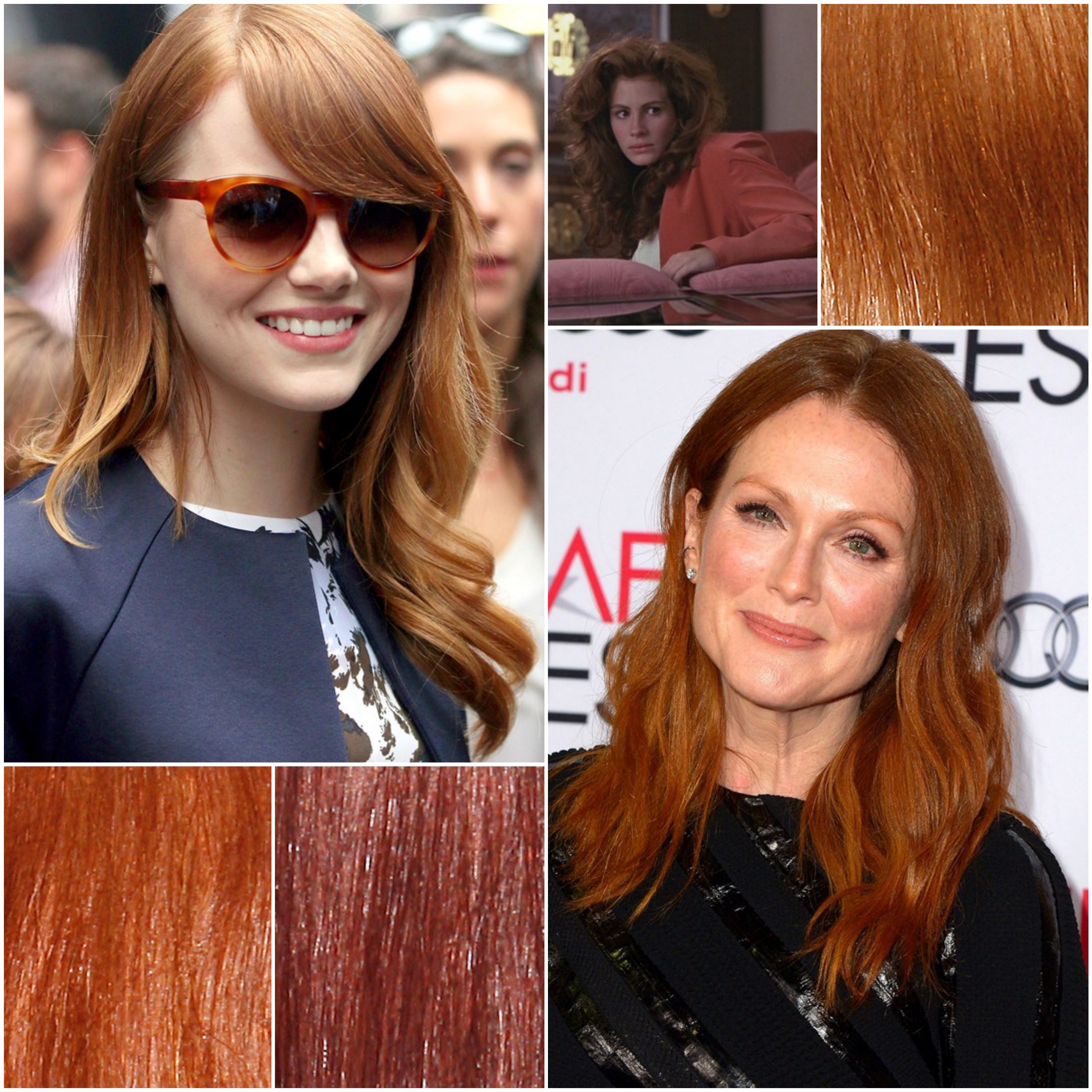 It might seem like another made up word but it's definitely the colour name on the lips of colourists right now. Quite simply its Red and Bronze and for this autumn is a perfect hue to offer warmth and shine which nod to the trend of luxury we are seeing right now. Catch up on the AW15 hair trends in our last blog
We are pleased to have a great range of reds to find your perfect match. From warm browns to rich red warm copper hues your expert extensionist will also be able to blend extensions to customise the look for you. Our hair quality will keep your tresses in perfect condition to maintain the shine and colour throughout autumn.
We've even spotted Inanch London's Gold Class extensionist Roberto Silva has already been 'Ronzing' his clients here: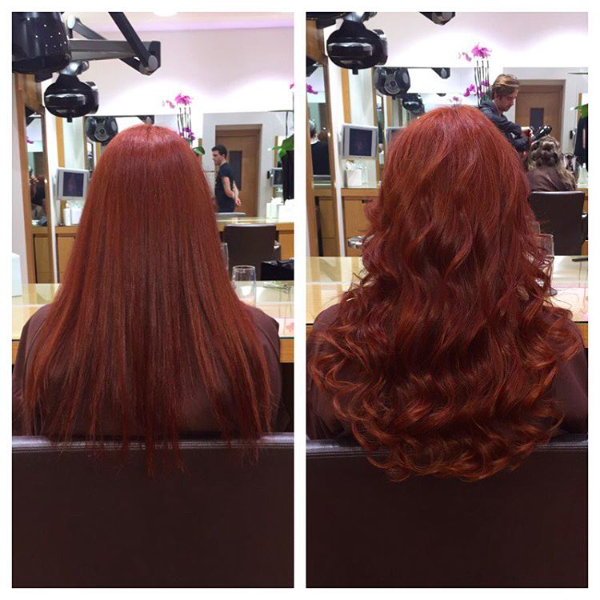 There are plenty of celeb red heads we can look to for inspiration from Emma Stone, Julianne Moore and of course Pretty Woman star Julia Roberts. Sienna Miller has recently sorted a Ronze look for a new role and other celebs who have dabbled include hair icon Blake Lively and Scarlette Johanson. Flick through some more red celebs here.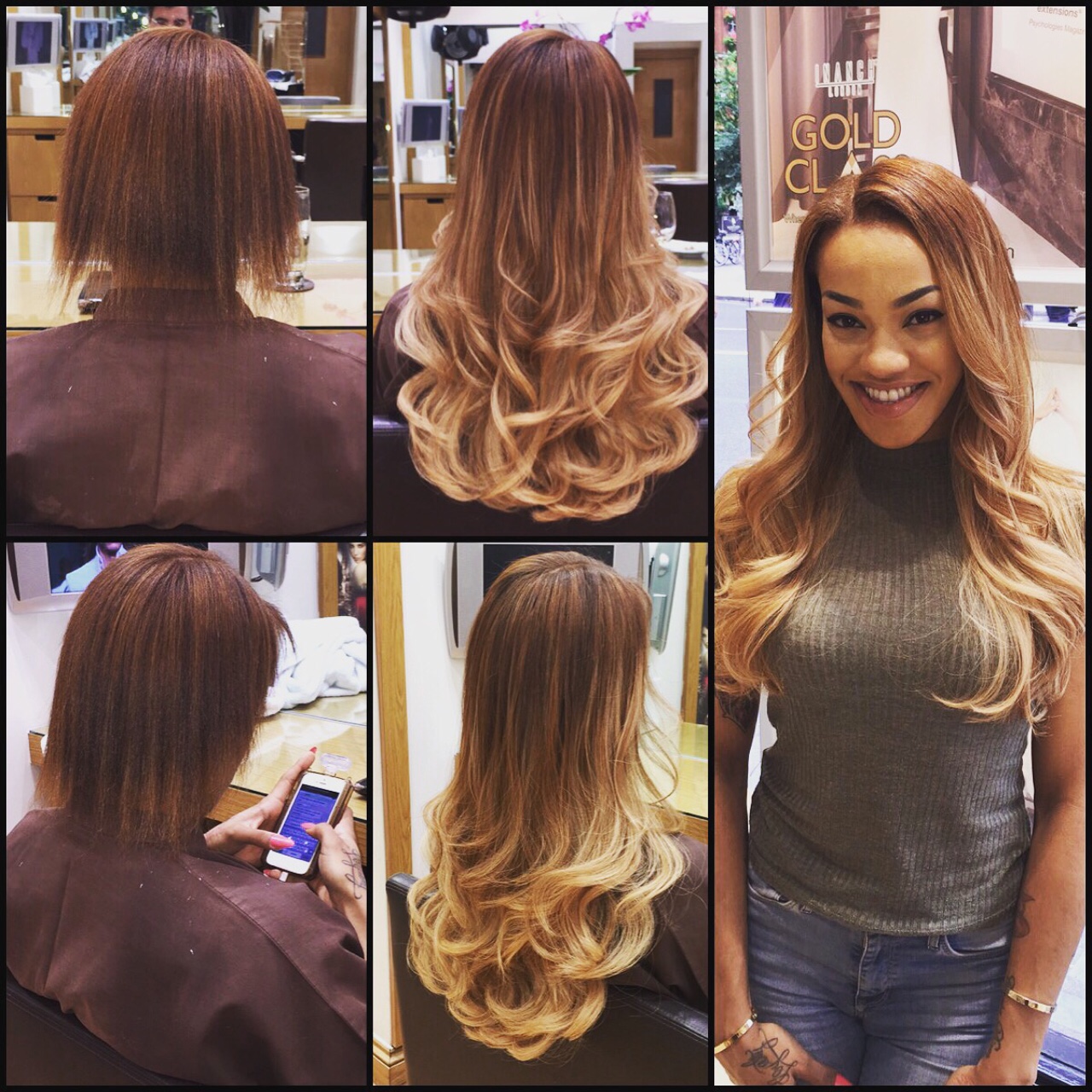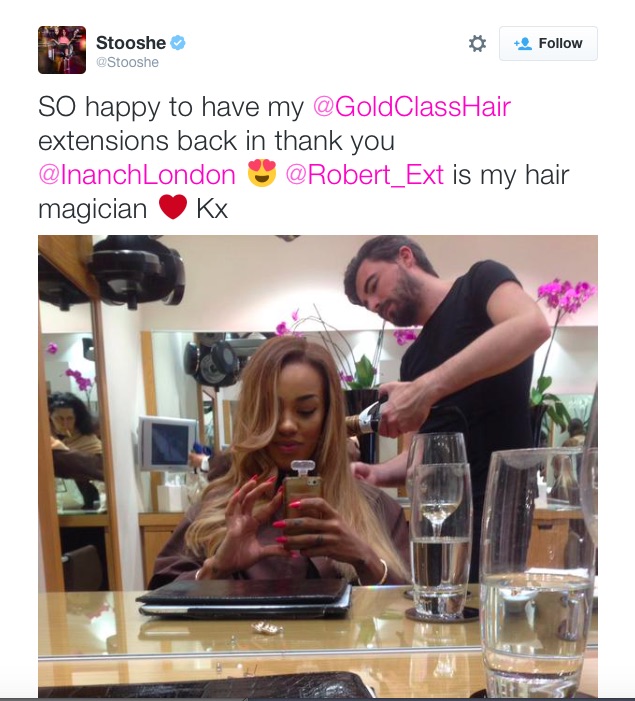 There's much hype about a new product on the market called Olaplex and here at Gold Class we have heard amazing things about it. So when new devotee Karis from Stooshe called in at Inanch London for her new set of Gold Class hair extensions; the team used Olaplex on her own hair before the application.
If you don't know about this miracle new product, professional stylists mix it in with the colour before application and it helps maintain the integrity of the hair during the colouring process to give improved results. Perfect for those who are dark and want to go light like our Karis, as the molecules speed up the bleaching process and actively repair the hair. The real benefit is that after lightening the hair is strong and healthy. This is music to our ears and sites nicely with our Healthy Hair Days philosophy.
It can be used as a stand alone treatment too for those of us who want to improve your hair condition and even claims to repair your hair. Read this recent article in Cosmo with for more info and a great example of how the hair is repaired.
Back to our girl Karis. Gold Class' senior extensionist at Inanch London, Roberto, used Olaplex with her colour to help lift and lighten her own hair a few shades. Then adding 300 strands of honey blonde as an ombre created a dramatic new look for Karis who is over the moon with her new look – and just in time for filming Stooshe's latest music video tweeting: "Our @GoldClassHair made it easy to do versatile looks today on set thank you @InanchLondon @Robert_Ext K x"
The team at Inanch have been using Olaplex for several months now and report amazing results and over-the-moon clients. See more great examples over on our Instagram feed. We can also report there is no issue with using Olaplex with Gold Class extensions.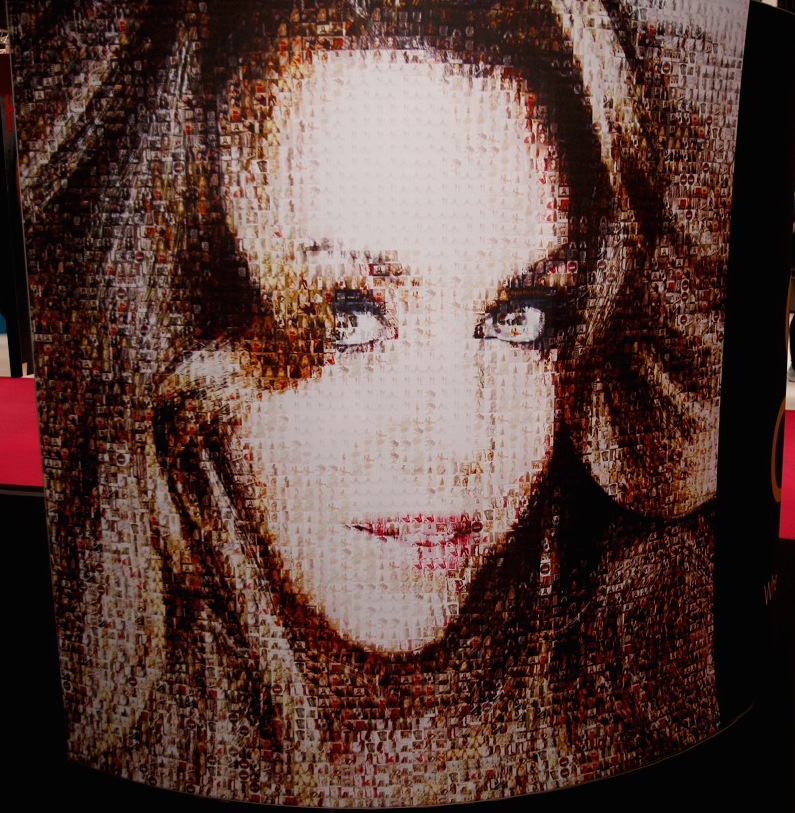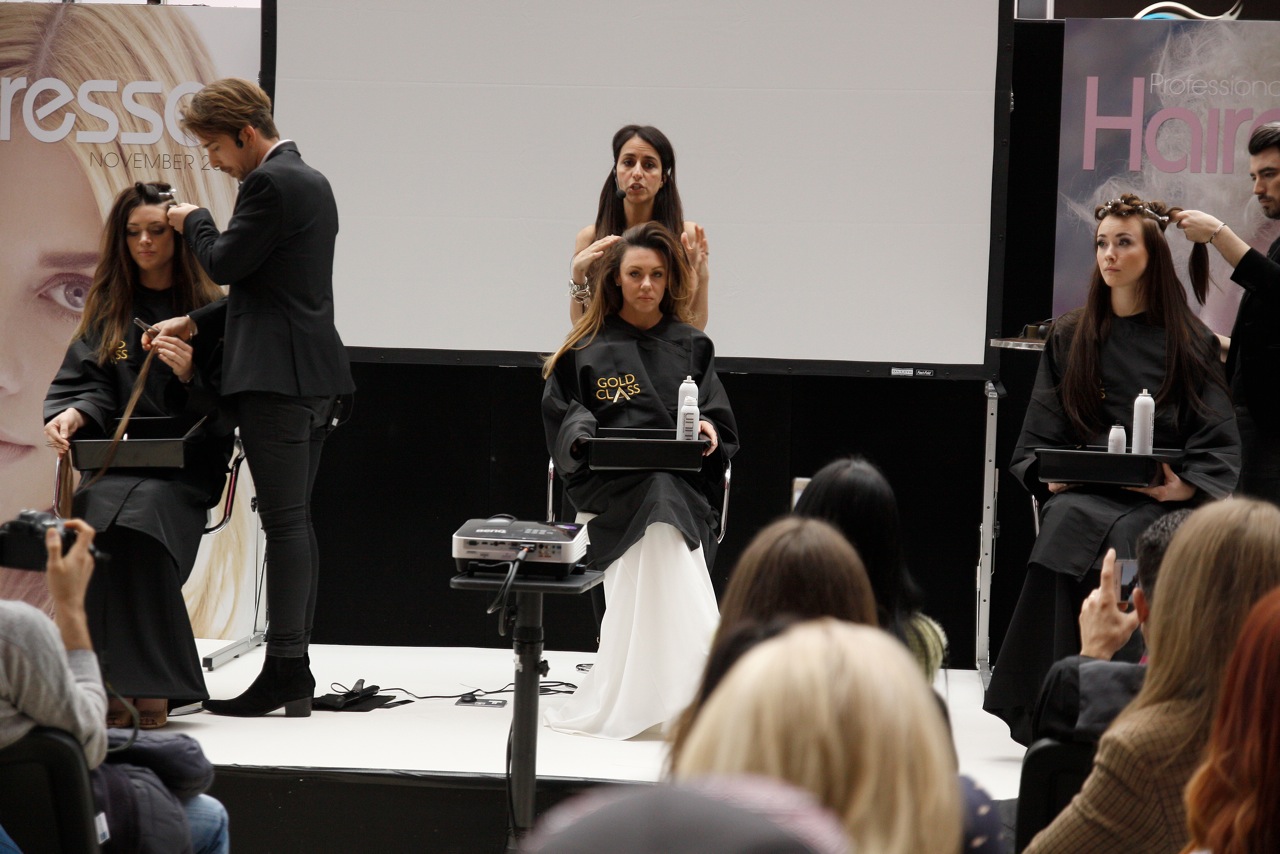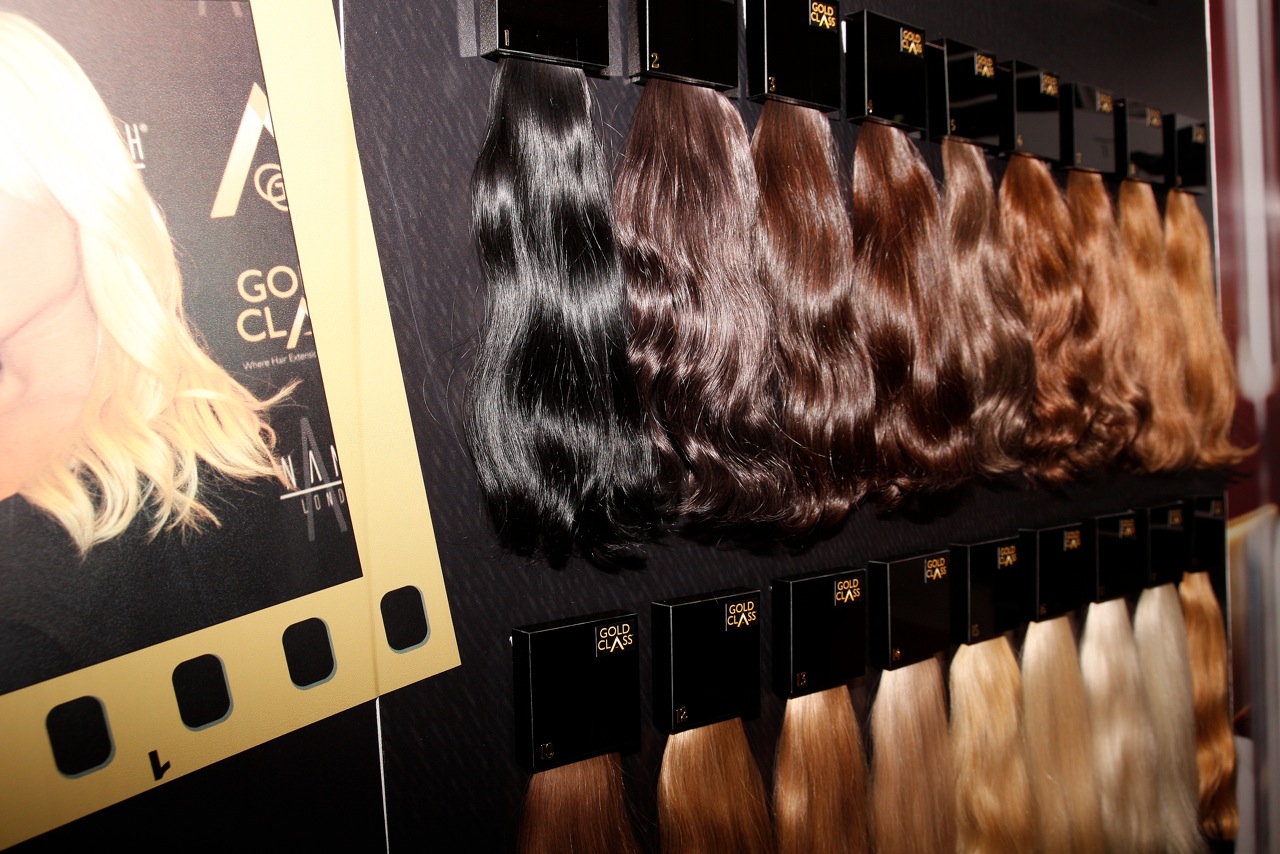 Well our very first exhibition is over and we loved it! Pro Hair Live 2015 London at Olympia was a great way to launch Gold Class to fellow passionate extensionists. Sat alongside the Professional Hairdressers own stand and the Red Carpet & Bridal Stage, our stand looked amazing with a pod using our media coverage montage to make Michelle Heaton's face from one of our collection images. Michelle spotted this on twitter and replied "Wow! That's a rather large picture of my face hahaha xxx"
We were staying in the Hilton Hotel Olympia with quite a few other exhibitors and we had a good laugh with the Balmain bunch on the table next to us at dinner each evening.
It was the first time we had shown our application machine and we can say how impressed everyone was on the compact size and design. We even had a suggestion to give it a name it was so cute. So if you have a suggestion, please let us know. Our complete range of brushes and combs were on show, alongside our clip-ins and aftercare ranges with UNITE and Philip Kingsley. Although it was our Hair Wall with our 25 shades that stole the show.
Day 1 was quite a nervous affair as the Inanch Team were on stage demonstrating application and cutting & styling techniques. With not a spare seat in the seminar, crowds formed to hear the team share their passion for glamorous hair and tips for working with the different methods with Inanch showing pre-bonded, Lee working with micro rings and Roberto on taped hair. Our models were of course our own Gold Class Girls including close friend to Inanch, Michelle Heaton. Inanch had also on stage the gorgeous models Ianthe Rose, Imogen Leaver and Sara McLean.
With old Miss England friend and compare Andrew Minarick asking questions, the team were on stage for around an hour and available for photographs and questions afterwards. Michelle kindly had a quick interview with the Pro Hair Live team which should be featured online and in the magazine soon. We will keep you posted as soon as it's available to see! Our beautiful models roamed around the show and enjoyed a snap on the Fudge stand and were stopped everywhere to have a closer look at their hair and show-stopping PiaMichi gowns.
Day 2 meant we had a much needed lie in as the stand was ready for us to start working on our models again. MTV's Ex On The Beach star, model and DJ Mel Reeves joined us as Roberto applied a full head of extensions and styled her hair to perfection with a crowd of on-lookers. It was also a day to catch up with the great and good from the industry and share our story.
Our Elite-10 campaign had salons making the journey to Pro Hair Live just to see us. Completely humbled by this and the response of salons wanting to be one of the first exclusive destination salons for us. We have some tough choices to be making now as we look through the applications. We even had stylists claiming to be 'Gold Class Stalkers' as they have been following our work on social media and waiting for us to come to Pro Hair and see for themselves. A huge thanks to everyone who stopped by to wish us well and take an interest in our hair and products.
We have a couple of our new Trolleys available to buy at our show offer price for the next 10 days only. To get one of our state-of-the-art trolleys delivered to your salon for only £750+VAT, please get in touch by the end of Friday 8h May.
To check out more pictures from our two days – check out our Twitter & Instagram feeds.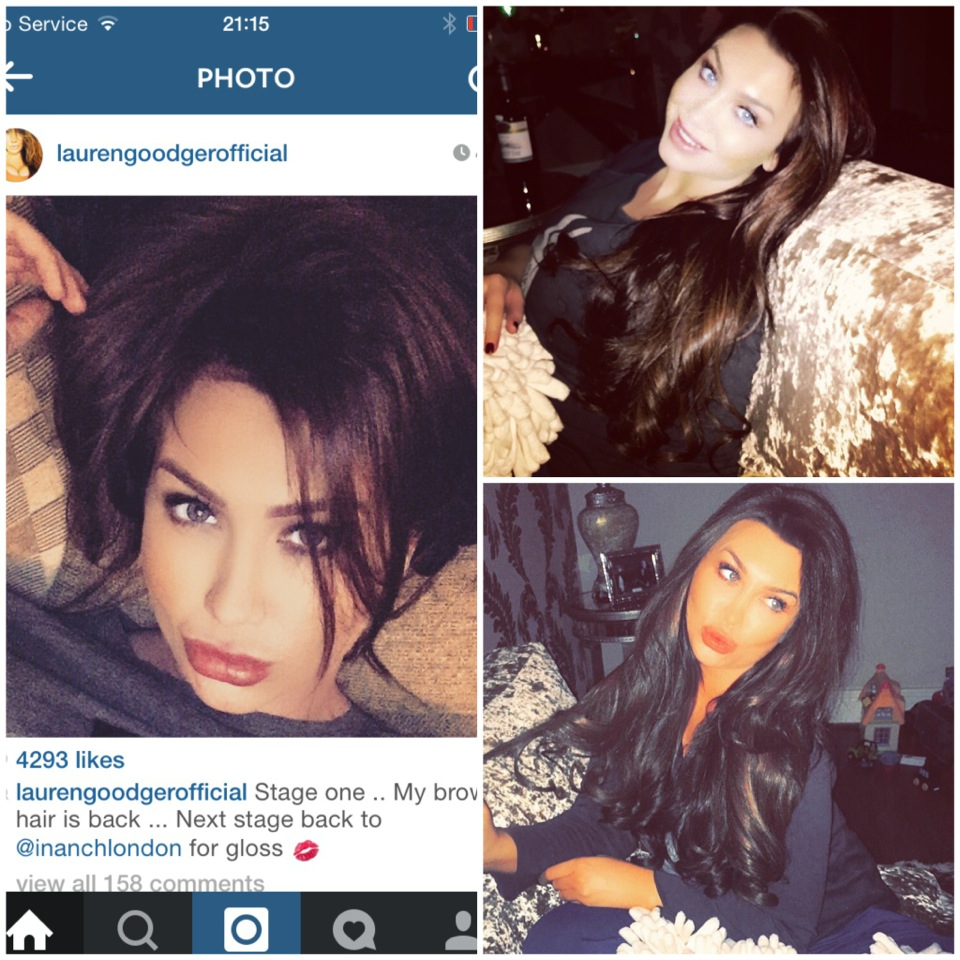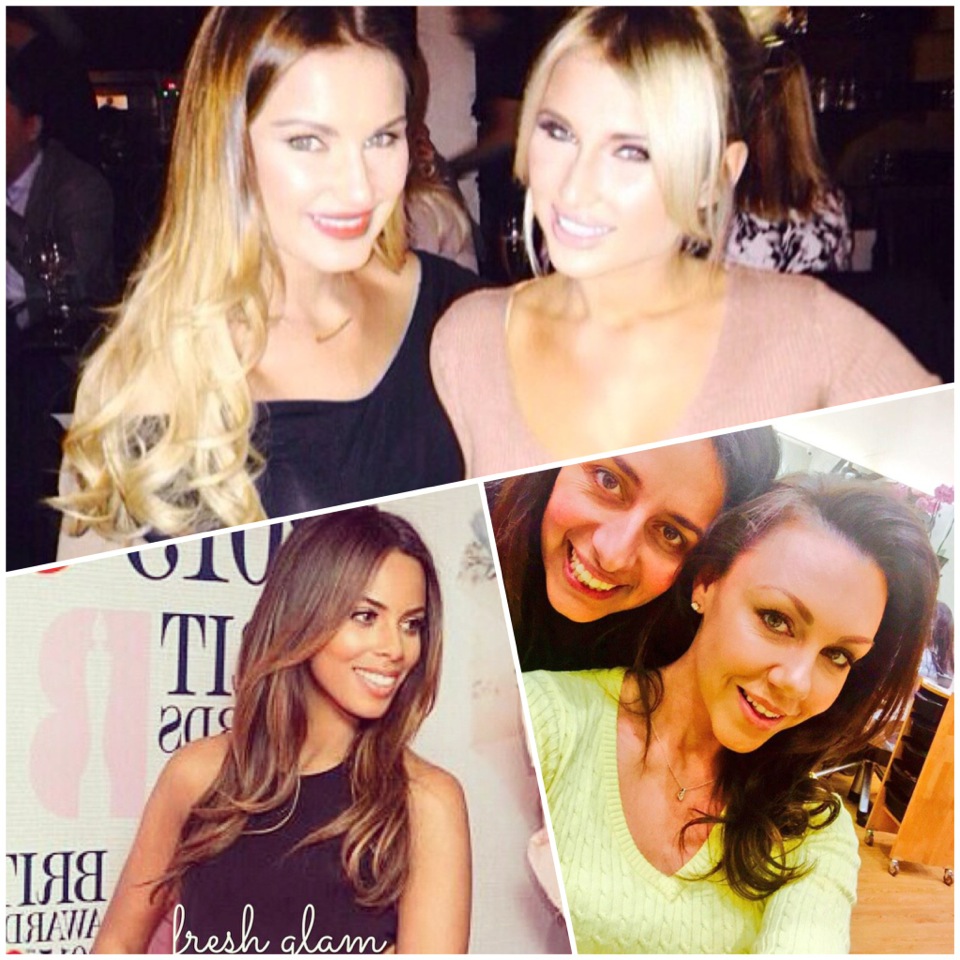 The start of a new year signals a chance to change for many and our Gold Class Girls are no different. Only this last week has seen many of our lovely clients in for a change and the most significant is the colour change for Lauren Goodger. Keen to ditch her blonde bombshell image she stepped into Inanch London and the experienced hands of Roberto Silva to start the change into a sultry & sophisticated brunette. Warm chocolate browns were the new hue and returning Lauren back to her natural shade. Tweeting that evening "stage one … My brown hair us back … Next stage back to @inanchlondon for gloss"

Back in salon for the second stage, Roberto completed her transformation with colour matched extensions and some additional caramel tones to add subtle highlights throughout. Adding 200 strands of Gold Class Hair in 50cm to give plenty of volume and length for this glamorous look. Lauren shared lots more snaps on Instagram showing off her finished look and we think we are going to be seeing a lot more of her as she enjoys her new do and exciting plans for the future.
Also in to add new length was Sam Fraiers to help her sister Billie celebrate her birthday; Rochelle Humes for some maintenance before the BRIT nominations and Michelle Heaton in preparation for the National TV Awards this week.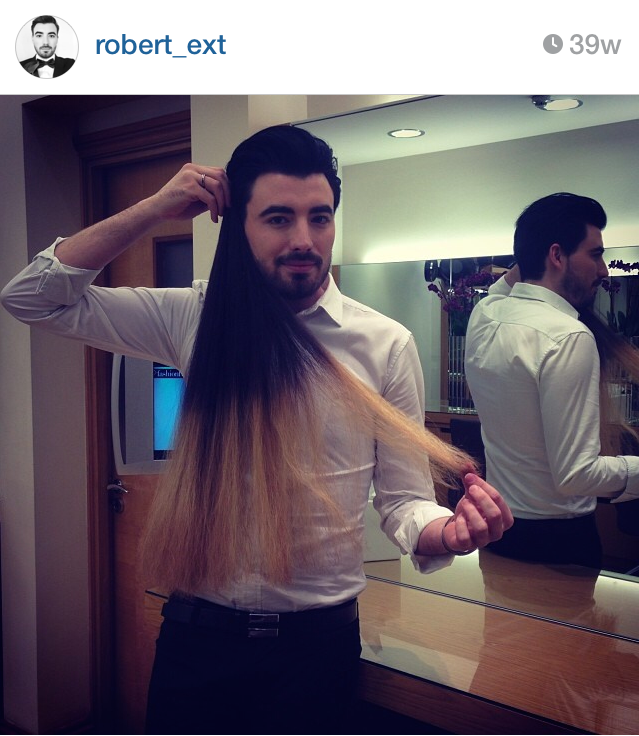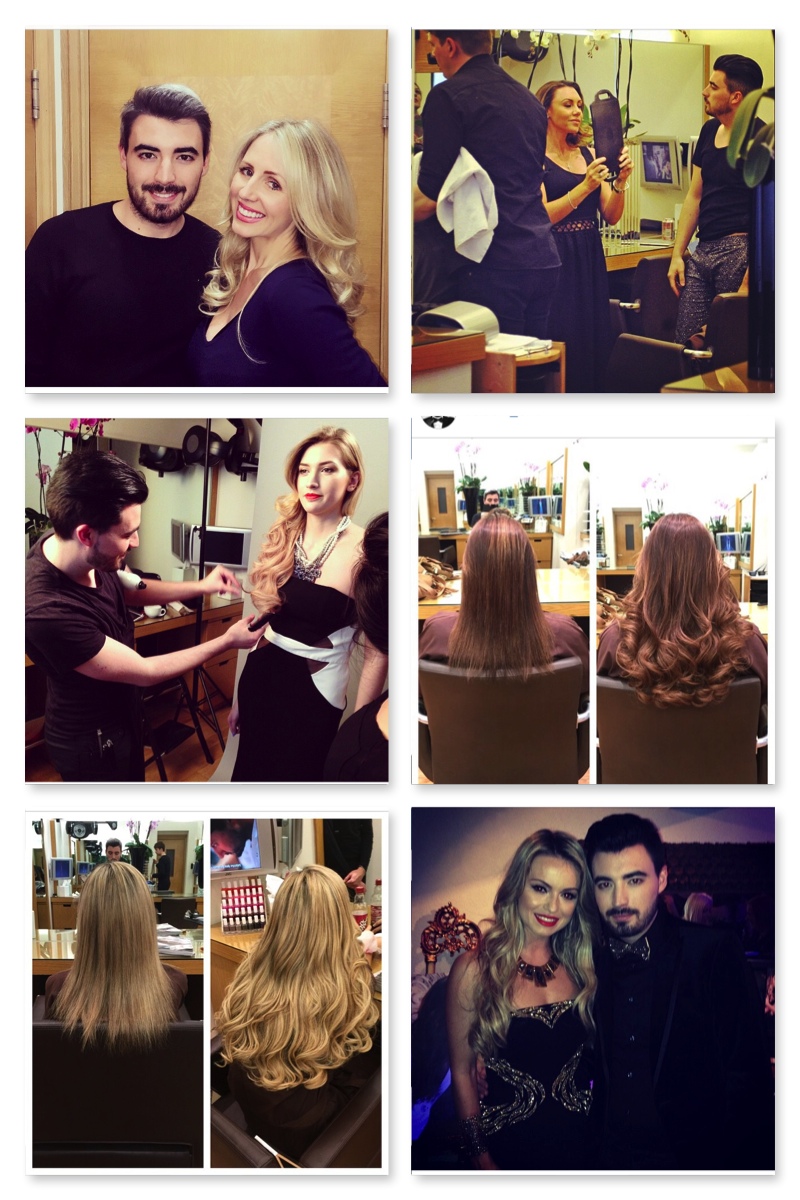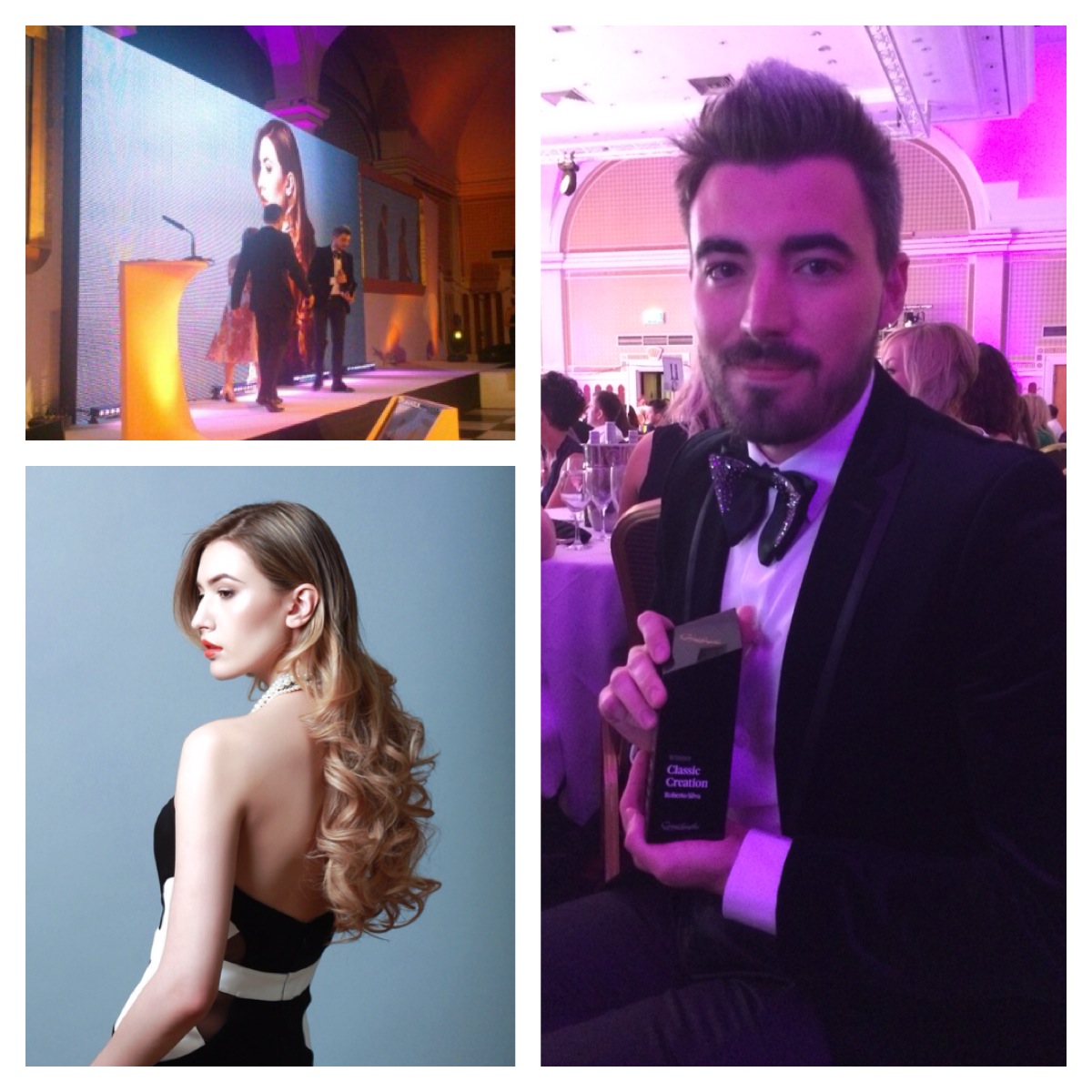 November is a really busy time with the run up to Christmas and Roberto's loyal clients making sure they have their extensions looking fabulous for the awards & party season. But we managed to grab five minutes with Inanch's right hand man …

It's never a dull moment at Inanch London with lots of famous faces in salon and the paps camped outside to make sure they get some great snaps as they leave with fabulous hair – Sam Faiers caused quite a stir the other week. The demand for Gold Class is growing and most of my regular clients have all swapped over and love the hair. As an extensionist I just love working & playing with this hair. The Healthy Hair Days philosophy really backs up all our salon experience to provide the absolute best extensions & service.
Extensions are the biggest part of my day but my colour work is also in demand as the season changes we have seen a few shifts from blonde to brunette or even darker. Michelle Heaton is craving another darker hue so watch this space.
In between all this, the team are busy working closely with Inanch on the training aspects for Gold Class. Fine tuning our manuals and educator notes to make sure we share all our experience with our trainees. We have had a play with all the new equipment to make sure each of us are consistent. It's been really interesting looking at our work from a different angle as our extension work is second nature and we are keen to share this passion. As the main educator in salon, it is hugely rewarding and I can't wait to start rolling out Gold Class education in the new year.
Not one to stay in the shadows of his boss, Roberto has started to gather a collection of awards for his extension work and recently won the Great Lengths Gold Trophy for Extensions Excellence. #OneToWatch