Tag Archives:
healthy hair days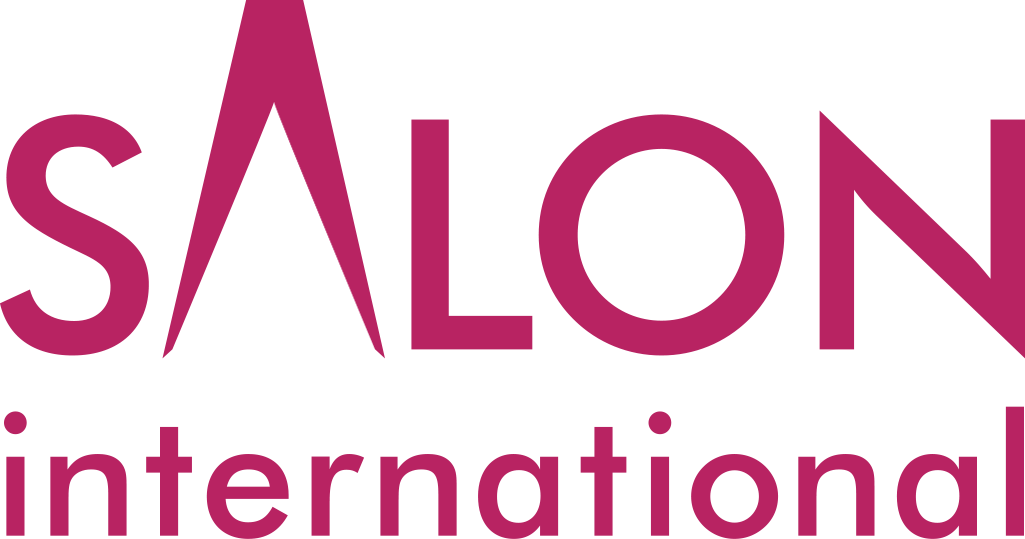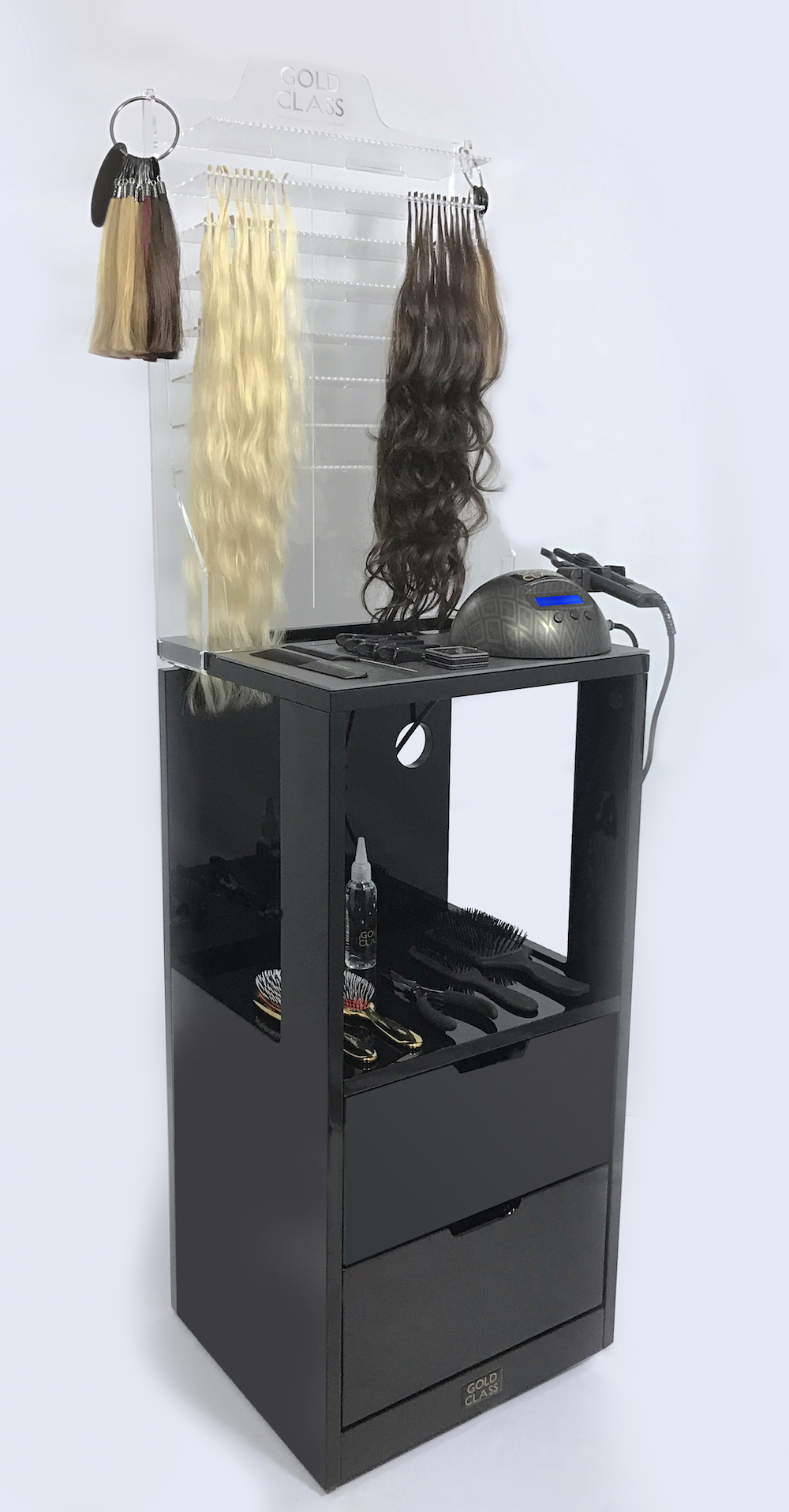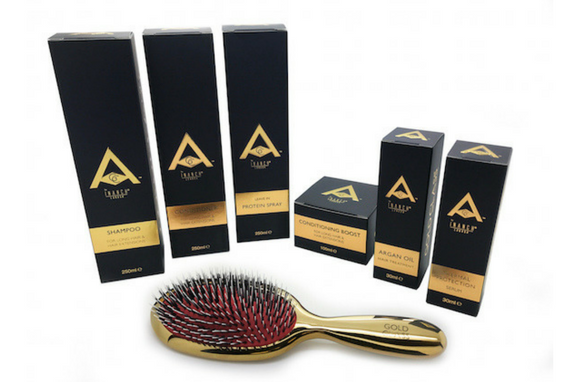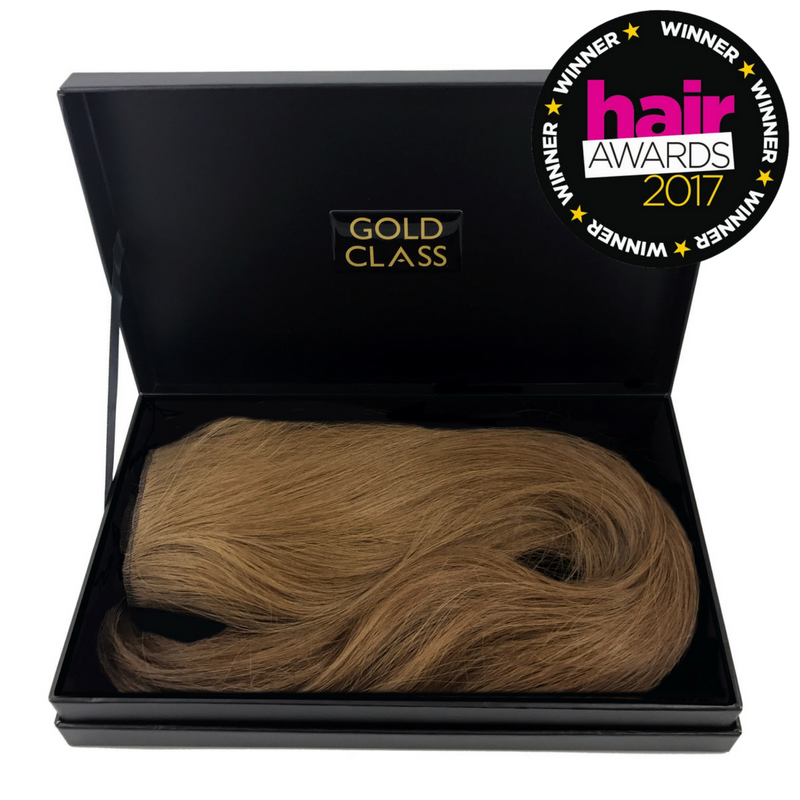 We are proud to announce we will be exhibiting at the world's biggest & best hair exhibition, Salon International 2017, now that we're in October.
We will continue to look for more Elite Salons to join our family around the UK and the rest of the world. With only a handful of carefully selected salons currently with us, our philosophy focuses on "quality over quantity" awarding Gold Class accreditation to salons that meet our strict criteria in the professional application, tailored client aftercare and our "healthy hair days" regime. Read more on our website or come and chat to the team on the stand.
Although Gold Class certification is by application only, we are now offering our world-class hair extensions equipment and tools to all professional extensionists. Choose from Application Workstation, Application Machine, Removal Tools, Bond Cutters, Brushes and our complete Aftercare Range – all vigorously trialed and tested by our founder Inanch Emir. These will be available to purchase at Salon International for the first time and with a great discount available at the show only!
"A hair extensions artist can only be as good as the quality of the tools they use."
Meet the lady herself Inanch Emir on Sunday 15th October at Stand N191. She will be judging the Hairdressers Journal Extension Specialist of the Year competition at lunchtime and will be available to meet and greet during the rest of the day. You can ask her yourself any questions about the Gold Class brand, the hair, the equipment and what really puts Gold Class on a different level.
GOLD CLASS GIVEAWAY
We're giving away one of our beautiful Hair Extension Workstations worth £780 complete with delivery to anywhere in the UK.
Simply head to our stand N191 at Salon International London Excel and drop your business card into the gold box to be in with a chance to win this amazing prize. The winner will be drawn on Monday 16th October at 4pm LIVE on our Gold Class Instagram feed!
If it's not in your diary then it's 14-16 October at ExCel London and you can find us at Stand No. N191. We hope to see you there!
Giveaway Terms & Conditions:
– Winner will be picked at random by Gold Class Managing Director Joe Emir LIVE on the Gold Class Instagram feed.
– All entries MUST submit business cards with full salon name, email address and address so we can get in touch to organise delivery.
– UK salon & stylists entries only for delivery in UK only.
– No cash alternatives will be offered.
– In the event of a dispute, Gold Class Hair Ltd decision shall be final.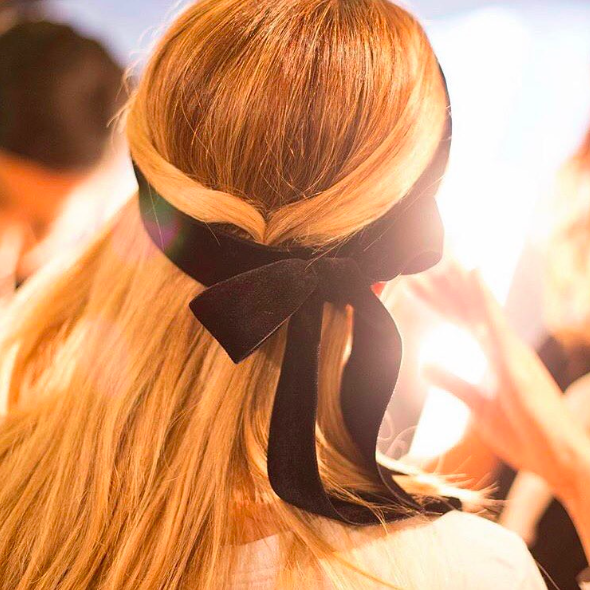 Summer has well and truly come to an end and as September is the month of Self Improvement, we thought we would inspire some change to find your perfect hair look.
This time of year has so many gorgeous autumnal hues and if you've never tried being a red head now's your chance. Lena Dunham has made the switch and by all accounts found her fire. We think our Rich Berry hue would achieve this look.
You can find more of our stunning reds on our colour chart and if you're not so daring, then our Rich Rose might be your ideal hair crush. If you're not too sure about a full block colour, then you can always blend them – ask your Gold Class extensionist for their expert advice to suit your colouring. With your colour sorted, we need to turn to styling. Cast your mind back to LFW AW17 best hair looks and this image was everywhere from Temperley London. 
So simple to recreate with your ribbon colour of choice, there's no excuse not to try it. We like this added detail of tying the sides of the hair back into a loose half-up ponytail to help give the ribbon something extra to hold to. Avoid smooth ribbons and secure with a few discreetly placed pins.
We love these messy Victoria rolls by hair icon Eugene Souleiman for Preen
Need more inspiration? Browse The Telegraph Fashion 41 of the Best Hair Looks for AW17 here.
We will keep harping on about healthy hair looks and this really starts with good hair care. Treat yourself to our new look aftercare range and our Conditioning Boost to really add extra nutrients to your locks and add shine. With the changeable weather, we really recommend having some supplies in your handbag too like our brush and Argan Oil to add to the ends of your hair and fight the frizz.
More tips on healthy hair can be found in our previous blog or get in touch with your nearest Gold Class salon to organize a hair health check.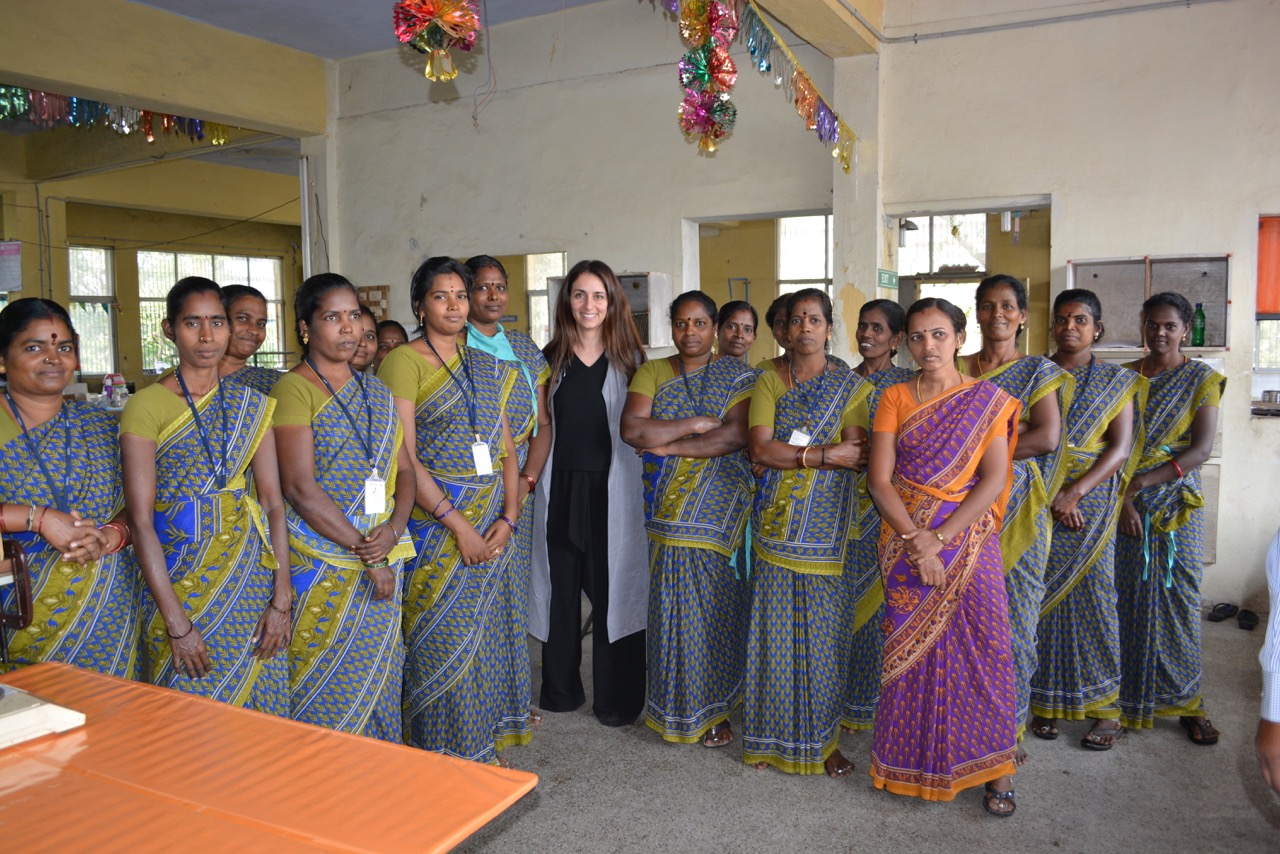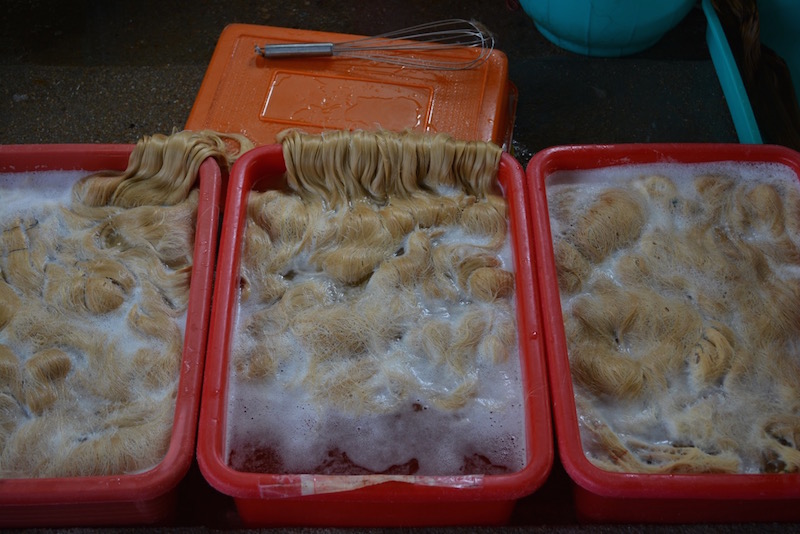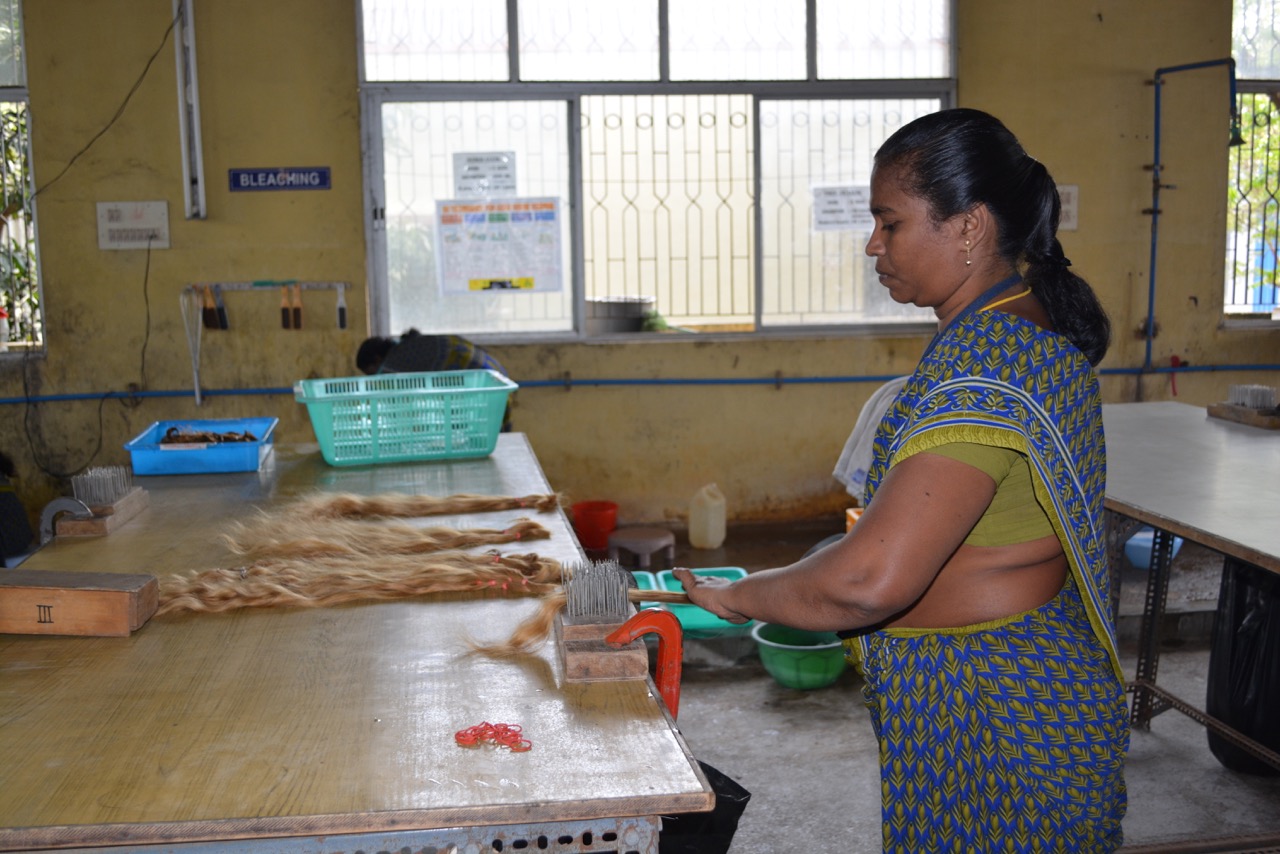 Earlier this year, our founder Inanch took a trip to Southern India to check on the production of our beautiful hair extensions. As you know, we are very precious about our hair quality from the authenticity, ethicality, pure quality and colour – this is our Gold Class Standard and it's good for us to see this with our own eyes regularly.
Our hair is hand-picked throughout the process. From the moment the hair is selected at the Temple, right through the processing to create the hair extensions. Working in small bundles allows the team to continually check the hair quality and create the best hair extensions possible. This process takes more time, but as they say "good things come to those who wait" and we promise it's worth waiting for. We asked Inanch to tell us more about the hair and the process.
"The hair is Indian Temple hair ethically sourced by our representative there who understands our requirement to have the very best quality hair. We pay a high price for this but like with anything you need to start with the best raw materials – as our partners in India say: "Good raw hair is as important to us as only the best and freshest food are to a gourmet chef". The hair is virgin remi which means that it has not been chemically treated to damage the hair cuticles and is collected in its original ponytail when cut from the donor. This ensures that the hair is the right way up with the cuticles all running in the same direction & this is so important to maintain throughout the process to prevent matting.
"Watching the ladies in the factory caring for the hair was wonderful. Working in small batches they work completely to order so we were able to witness the full process from conditioning, discolouring and removing henna stains through to the removal of weaker hair before colouring. Blondes are well known to take longer to create and this can take up to 2 weeks as we need to ensure the hair is not damaged from over bleaching. The Indian's favourite remedy Coconut Oil is used here to repair the hair and restore moisture. The ladies showed us how they work with the hair to ensure the colour is perfect throughout each strand, re-arranging the bundles regularly and even holding out the ends to ensure the hair takes the colour evenly. Testing the hair's elasticity at this stage is also crucial to preserve the healthy hair for our extensions."
"Brushing the hair is a complete art there and they work so fast! It's known as hackling and the hair is regularly hackled throughout the process to keep the hair tidy, in the same way, I tell my clients to brush their extensions at least twice a day!"
We are extremely proud of our hair process, custom making the hair in small batches to order. This is where we differ from many other extension brands who bulk process the hair which can lead to inconsistencies and a reduction in quality. It also allows us to reserve the best hair for our salons and clients and we are happy not to over-process the whole operation so that you know this hair is very special and exclusive at only a handful of select salons around the UK.
Regrettably there was no time for sightseeing, but at least there's a reason to go back regularly and see this wonderful country.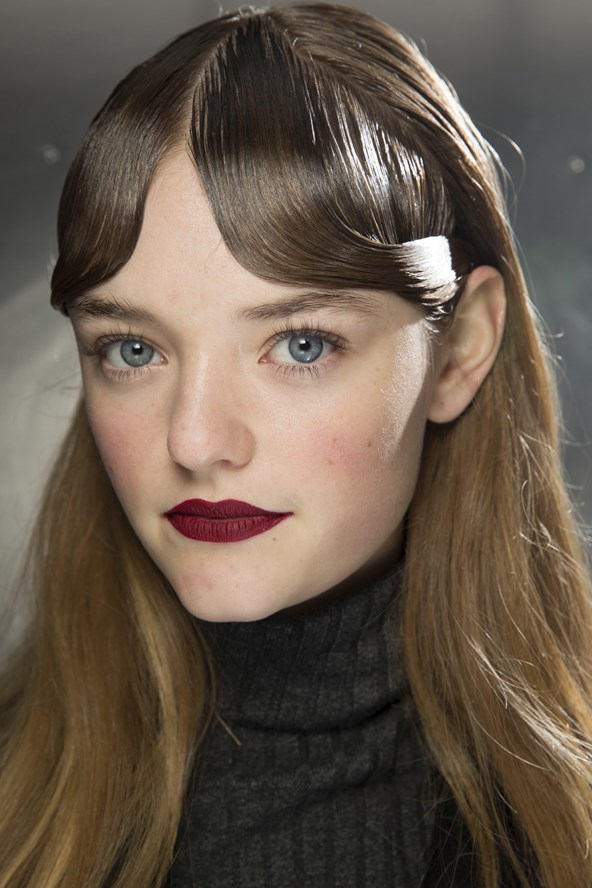 The doors on Fashion Week have closed again and this AW16 collection had some fabulous hair inspiration really capturing beautiful natural looking hair. In fact, many stylists were asked to embrace the model's own natural hair and simply enhance it's natural cut, colour and texture. Check out Michael Kors' unique looks over on Vogue.
Paris' highlight was of course, the Channel croissant. Perfect for those with lots of hair to create this, but small chignons would look equally as good and great for summer balls and bridal hair.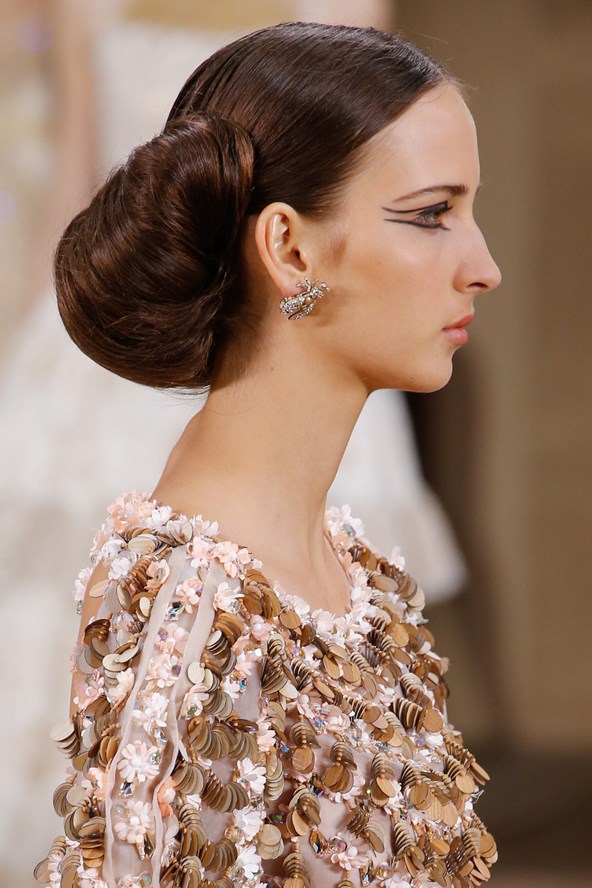 New York's shows featured lots of ponytails; mainly gathered low at the nape and with some lovely accessory detailing or hair wrapping to hide the band. Plaits and braids continue to feature and show off the natural hair texture.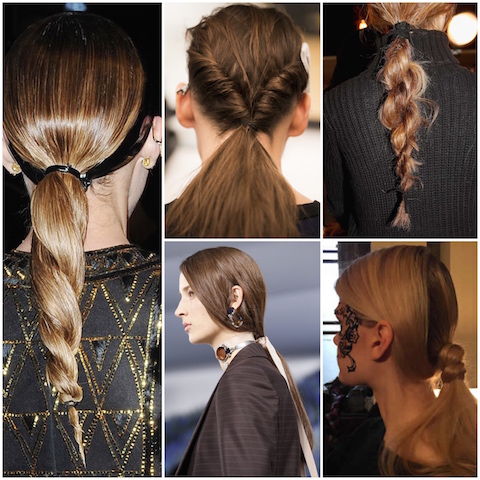 London's most significant trend was the wet look with plenty of sleeked back looks and windswept wet looks too. One of the most photographed looks, we're sure will be the sleek parting from Mary Katrantzou's show. The original inspiration is to form a star with the face shape; this wet look parting and contrasting then long flowing natural locks is what caught our eye.
The AW16 season captures the beauty of long flowing hair and swaps between sleep perfect manes to textured voluminous tresses so there is something for everyone.
To re-create these looks with Gold Class hair extensions, head to our select salons to book in for a consultation now.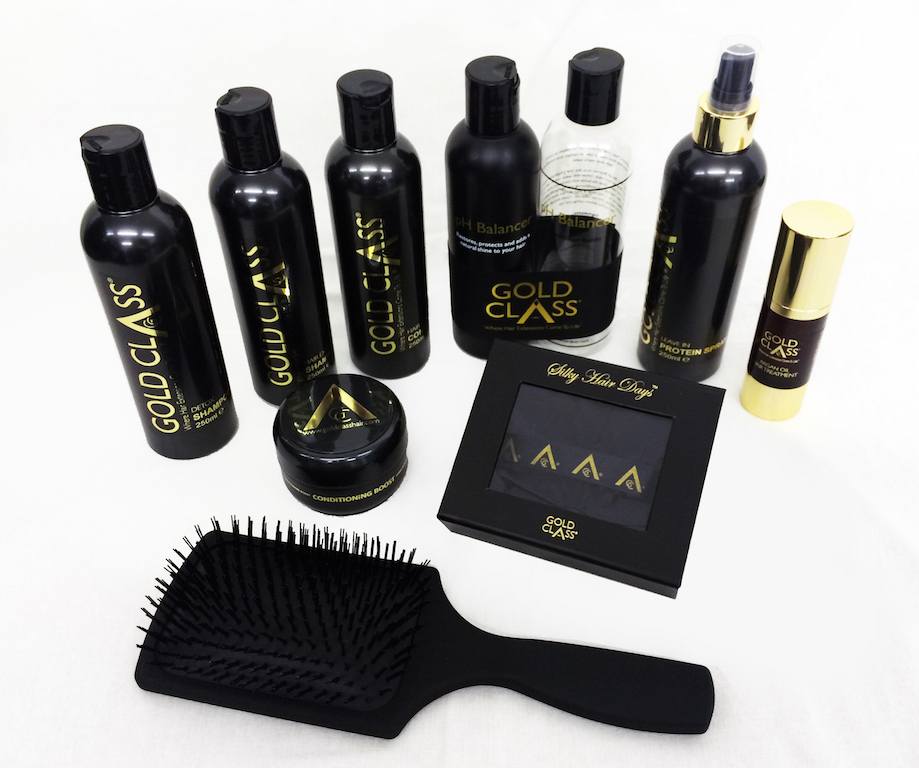 Great news! We've created our own range of exclusive Gold Class hair care to ensure your tresses remain beautiful and healthy, so you can thoroughly enjoy your Gold Class hair experience.
"A healthy hair & scalp are the key to natural & beautiful hair extensions; and so it was an essential step that we developed our own range of aftercare products to support our salons and clients." Inanch Emir founder of Gold Class hair extensions.
"Although our is 100% human hair, once made into hair extensions they no longer are receiving the essential oils from the scalp that keeps the hair healthy. Hair extensions aftercare is therefore a little different from your everyday hair care products. Our aftercare products have been specially formulated to ensure that the client's hair extensions as well as their own hair & scalp are receiving the correct nourishment in order to have beautiful, healthy hair each and every day."
Getting into a good hair care routine with the right products will prolong the life of the hair extensions as well as maintaining the integrity and optimum health of your own hair. The key the Gold Class hair care range is the "moisturising" aspect of each product rehydrating the extensions and preventing dry ends and hair breakage. This is in two stages; firstly hydrating the hair to allow it to function and maintain it's elasticity allowing styling of the hair. The second stage is to lock the moisture in to enhance the brilliance and lustre of the hair.
Having released the Silky Hair Days™, pH Balancer and the paddle brush at the end of 2015, we are now introducing five further products to complete the range and offer not only the everyday essentials for mositurising the hair but also offering products to protect the hair from the environment and heat damage.
Introducing:
Gold Class Hair Extension Shampoo 250ml
Gold Class Hair Extension Conditioner 250ml
Gold Class Leave in Protein Spray 250ml
Gold Class Conditioning Boost 100ml
Gold Class Argon Oil Hair Treatment 30ml
The Gold Class aftercare range is available through Gold Class select salons around the UK.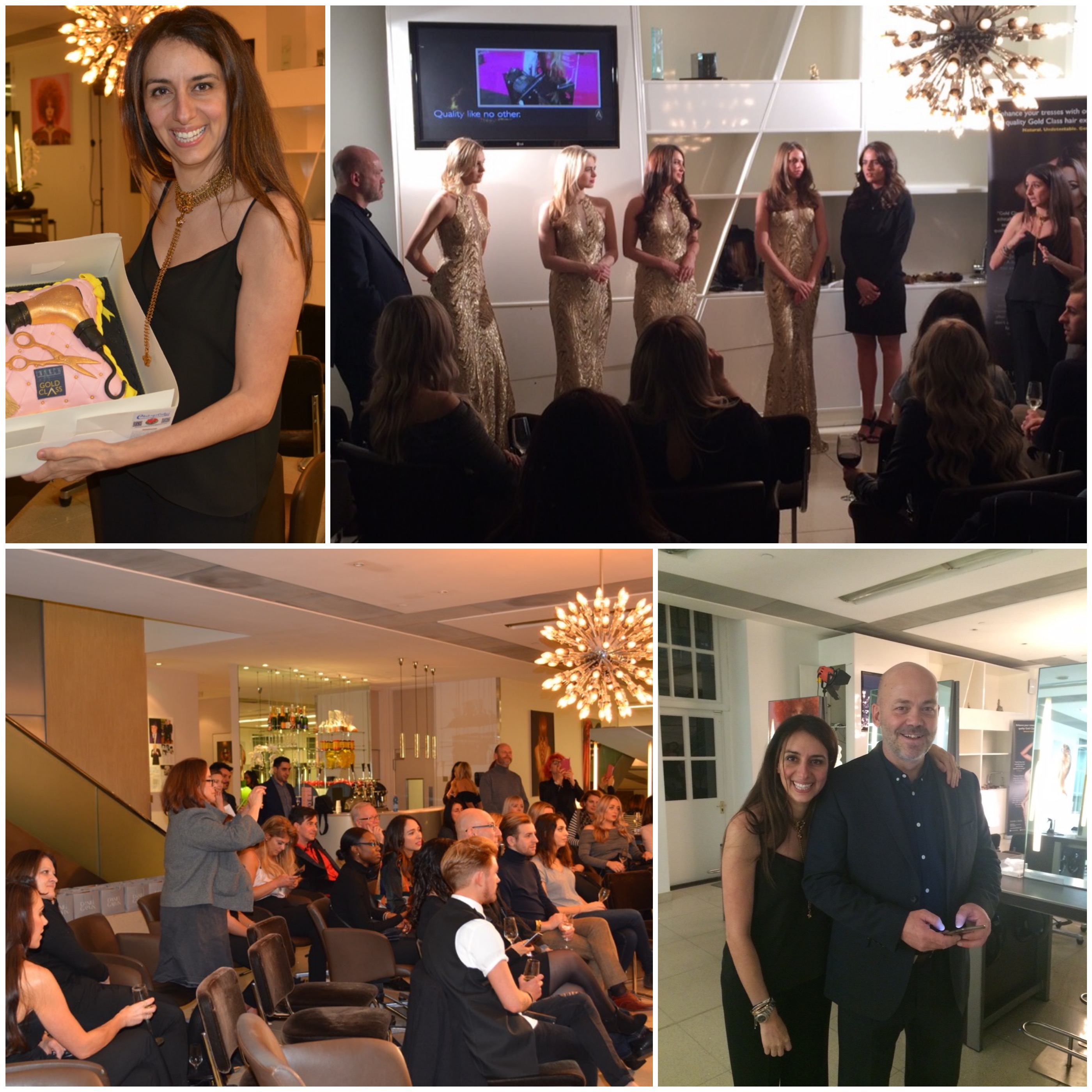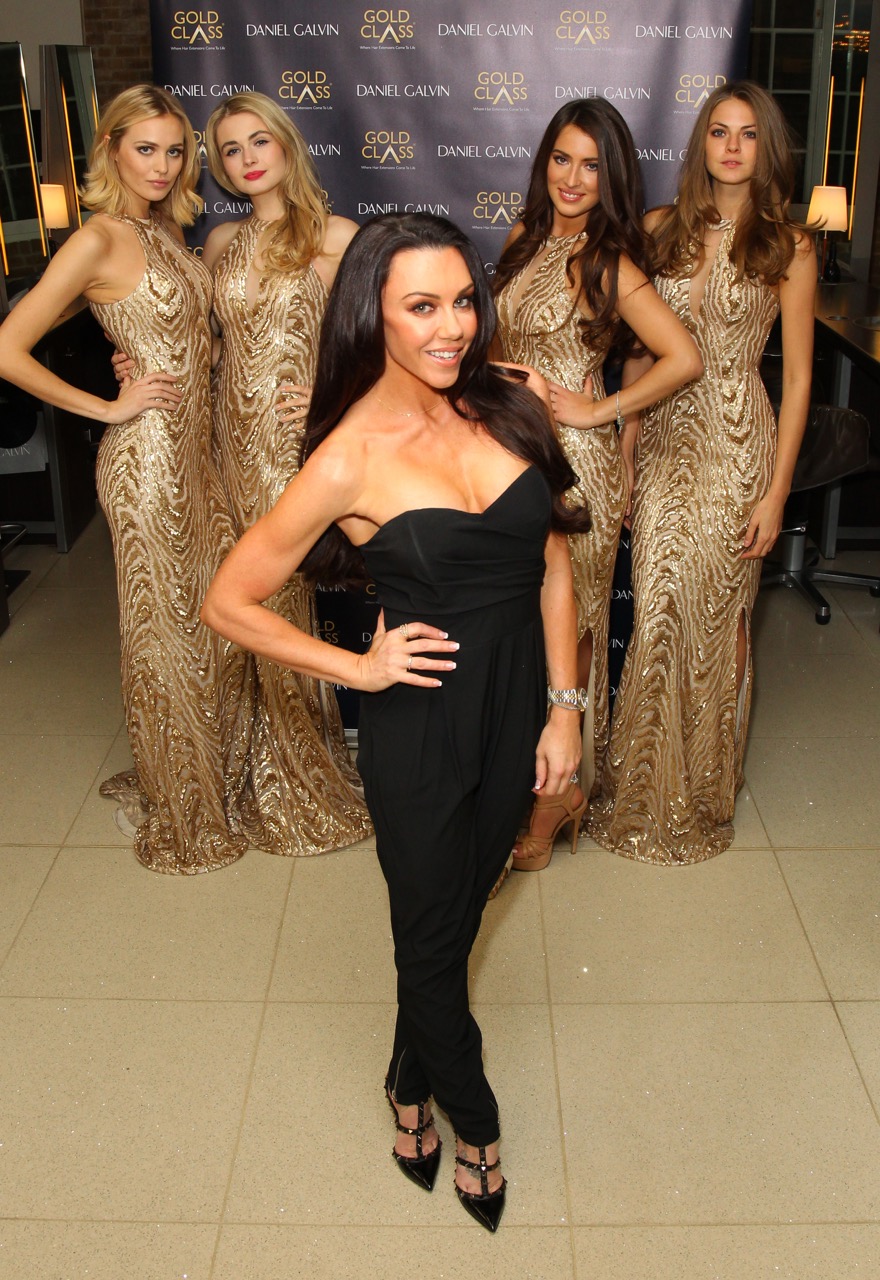 You already know Daniel Galvin is an Elite-10 salon but we wanted to have a joint launch party and share exactly why they have chosen to work with us at an exclusive press event. We didn't want you to miss out too so here are the evening's highlights….
We took over the lower ground floor of the flagship Daniel Galvin salon in Marylebone with over 50 guests joining as Stephen Nurse, Operations Director for Daniel Galvin, introduced Inanch Emir & Rebecca Lennon (Daniel Galvin's Principle Extensionist) to talk about Gold Class extensions and what makes our brand a class above the rest. The audience included trade & consumer press, bloggers, personalities and members of our other Elite-10 salons; listening on as Inanch talked about her passion for hair extensions and why she started Gold Class. Becky (Rebecca Lennon) talked about her client type and how she can use extensions with her team to create natural looking hair – at the heart of what Daniel Galvin are all about. Alongside their questions, Inanch and Becky had prepared four models to discuss their looks and benefits of extensions to each: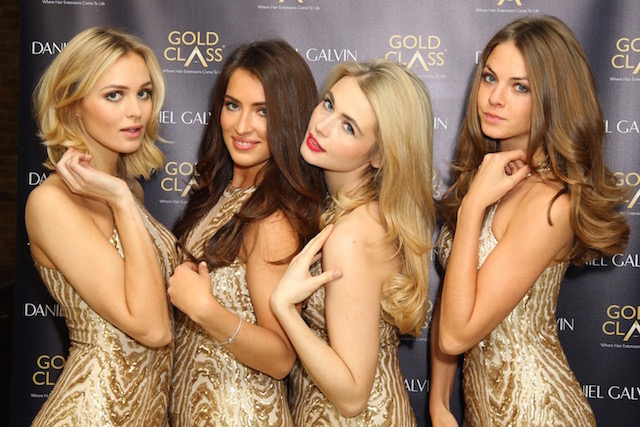 Ianthe – with only around 25 strands of Gold Class to help keep the volume of her on trend lob which she had for a couple of months.
Laura – full head of warm blondes new in that afternoon and so natural everyone thinks it's her own hair which is perfect for her modelling work.
Anastasia – likes her length at 50cm and full head of extensions curled.
Beth – full head for 'new to extensions' Beth who can't stop swooshing her hair.
Right on cue Michelle Heaton pulled out her Gold Class brush in her handbag to prove the point about caring for your hair extensions. The models joined in to share their top tips of caring for extensions too #SimplyGoldClass. Journalists were then invited to see the hair and equipment up close and to mingle with the team to ask their most burning questions whilst enjoying nibbles and some fizz. We also had our latest products there – more hair care essentials and some new hues – more to follow on these soon.
You did miss a rare opportunity as Inanch herself modelled our Silky Hair Days cap beautifully and the team at Stages Hair Design from Bristol brought along a beautiful Gold Class cake for everyone to share. #nomnom
Watch the exclusive Gold Class treatment VT we shared at the beginning of the evening here
Credit: Andy Barnes Photography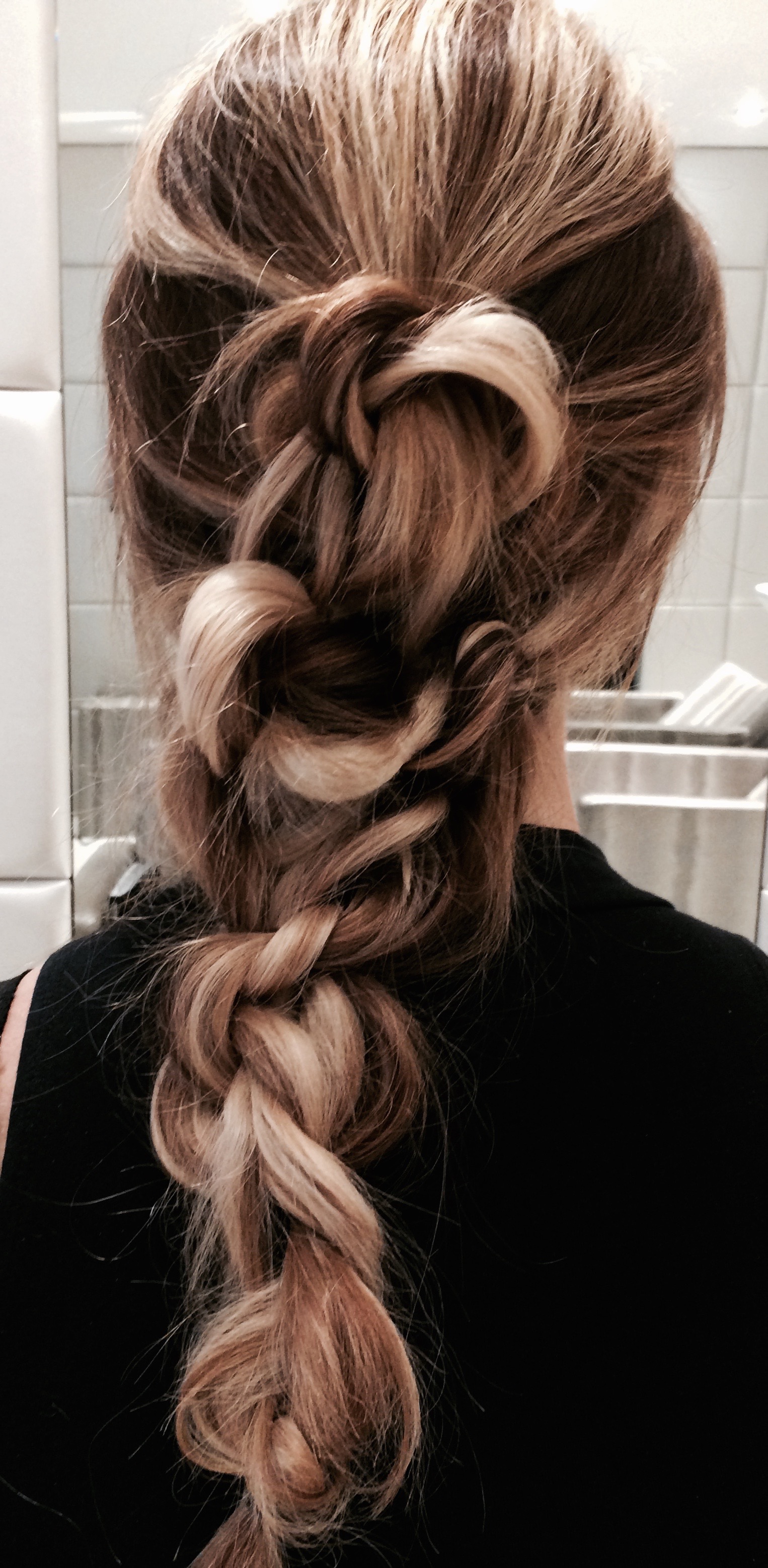 A new year gives us more confidence to try something new with your hair. If a whole new transformation is not your thing, and you just want to know the trends to try; then we've got it covered for you. Claire and Alison from our elite-10 salon Blo Bar shared their top three trend predication for 2016 with us.
1) Keeping you tresses looking their best has always been our motto but this year really is the year to be giving your locks some TLC. Healthy Hair Days is so now. Head to your nearest Gold Class elite salon and for a consultation and your personal hair prescription. Thick healthy hair is what you need to create, so the girls recommend that if your hair is long and straggly, then perhaps it's time for a chop and some Gold Class hair extensions to give it the right look.
2) Knots and to pull this off well they suggest you need plenty of hair. Any excuse for a hair extensions! Plaits are still around but it's all about putting a twist on them. "Wear them tighter, stronger and bolder" say the girls.
3) Embellish your 'do with big metallic clips and we've found you some gorgeous one's to get your accessories box going here.
Thanks to Claire & Alison from Blo Bar for their #hairspiration and give them a follow as the head off to LFW again next month.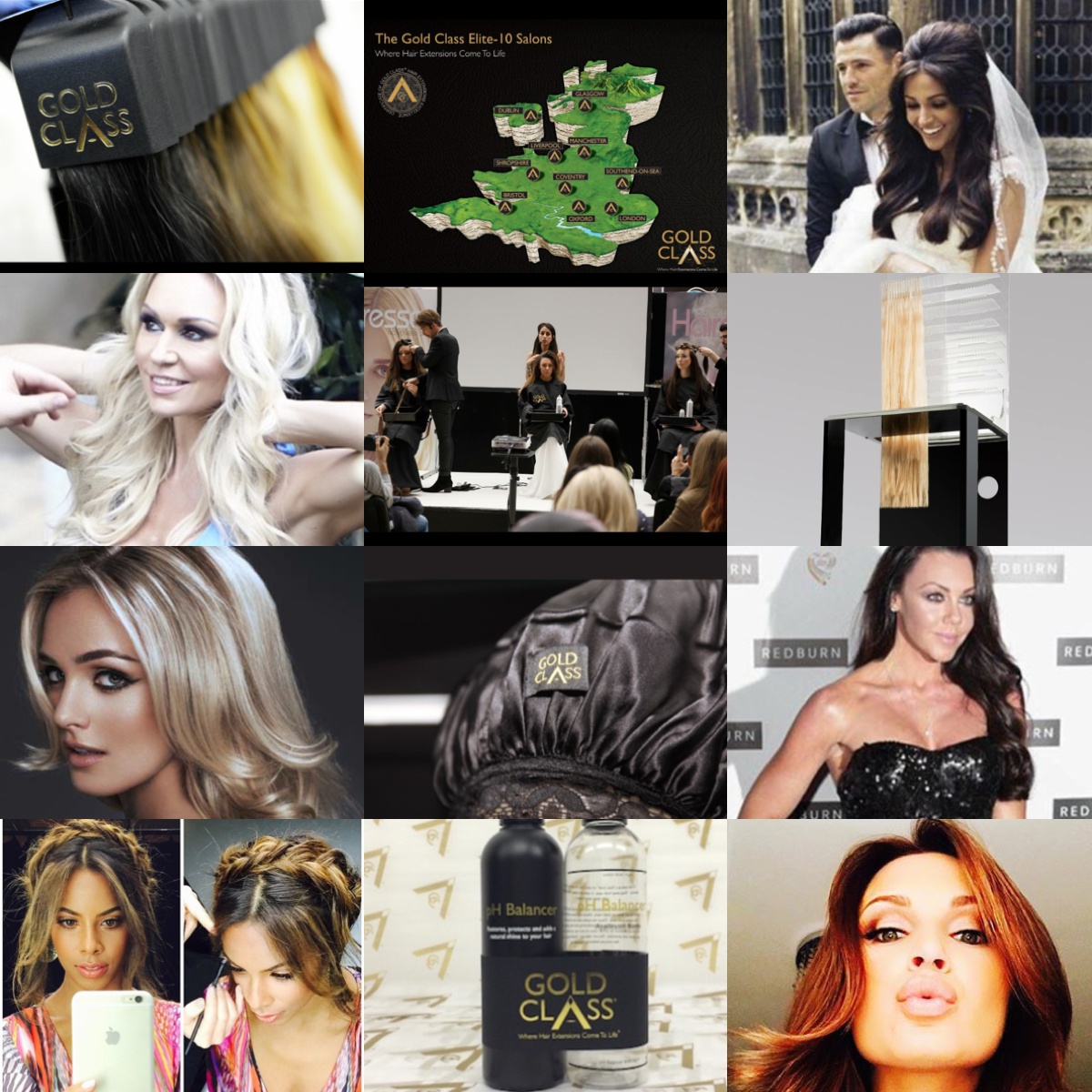 Another year has gone by and before we head into 2016, let's just take a moment to celebrate all that has been fabulous about Gold Class this year. Some might say it's been a journey but to us we're just excited about the future with so much to build on. We've launched to our industry, shared our hair and expert application skills with our Elite-10 salons and we're enjoying seeing all the fabulous transformations around the country.
Colour wise we've launched 26 beautiful shades and even gave them each a name to reflect the hue and to help you remember them. Ronze was the big colour trend and we have plenty of fiery reds to cover this. Catch up on what you missed with our blog here. We had several colour chameleons celebrity clients such as devote Gold Class fan Michelle Heaton changing her hue with each application. We didn't stop there with trends as celebrities went for the lob. You might have thought that Sam Faiers & Rochelle Humes had given up their hair extensions with the shorter crop, but our hair keeps their lob's shape, healthy & volumous. Read more in our previous blog. We were also delighted to welcome new celebrity names to the Gold Class family including Frankie Bridge, Vanessa White and Michelle Collins.
Our hair hasn't been off the TV Screens from XFactor to Strictly, the West End, numerous model campaigns and the Miss Great Britain & Miss Universe competition. Michelle Keegan's wedding was definitely a highlight as she chose Gold Class hair to help boost her volume for her special day and she's a pro at our Healthy Hair Days philosophy. We're pleased to with our select salons around the UK so you too can get your Gold Class hair extensions for yourselves.
We have just launched some fabulous products to help look after your hair at home too. Our pH Balancer and Silky Hair Days are perfect for hair extension wearers and non-wearers alike. It's all about beautiful hair and we all want that!
So what have we missed from these snaps? A team of people behind the company with great passion for all things hair extensions and of course our lovely fans who have helped our brand grow. There's been a lot of really beautiful hair too, just check out our Instagram feed for your #hairinspiration. So what's in store for 2016? Find out on in our next blog:))
Wishing you all a very Happy New Year and looking forward to seeing you all in 2016.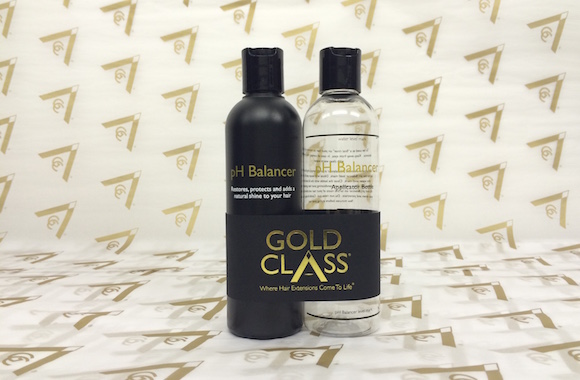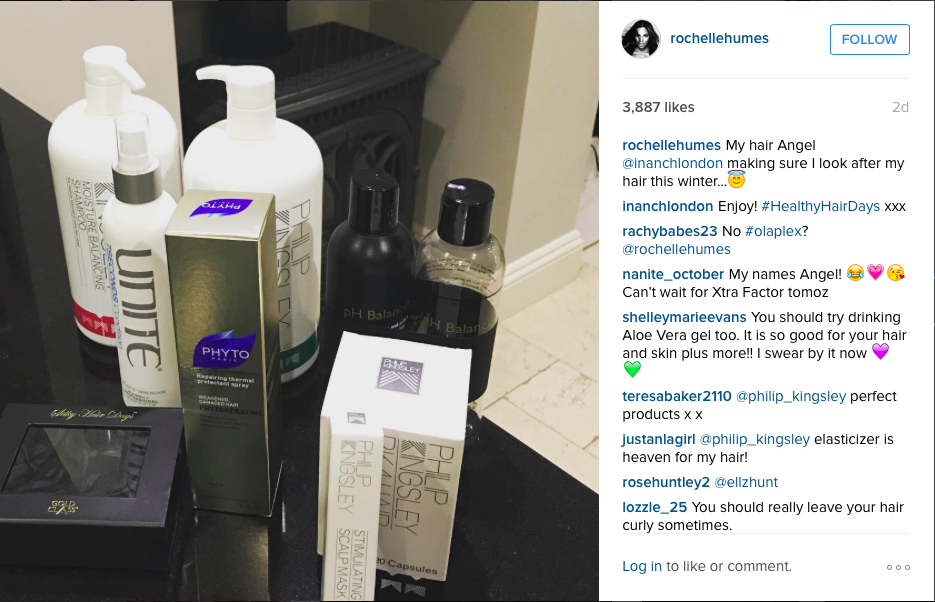 We are really excited to be releasing our very first hair care product in time to add to your winter hair care regime. The pH Balancer is the hero product for all hair extension wearers to offer protection against the environment. Essential for holidays, swimming and as added protection to fight against the everyday stresses on the hair; the pH Balancer acts as a deep conditioning treatment.
A simple rinse (the final rinse) with this leave in conditioning treatment will restore your scalp and hair to it's true pH balance and lock in moisture to create healthy looking hair with a natural shine.
Rochelle Humes instagrammed her pH Balancer as part of her winter hair care regime alongside the Gold Class Silky Hair Days and other prescribed products to give her locks the Xtra Factor!
Bottle size 250ml and comes with diluter bottle. Available to buy from your Gold Class select salon.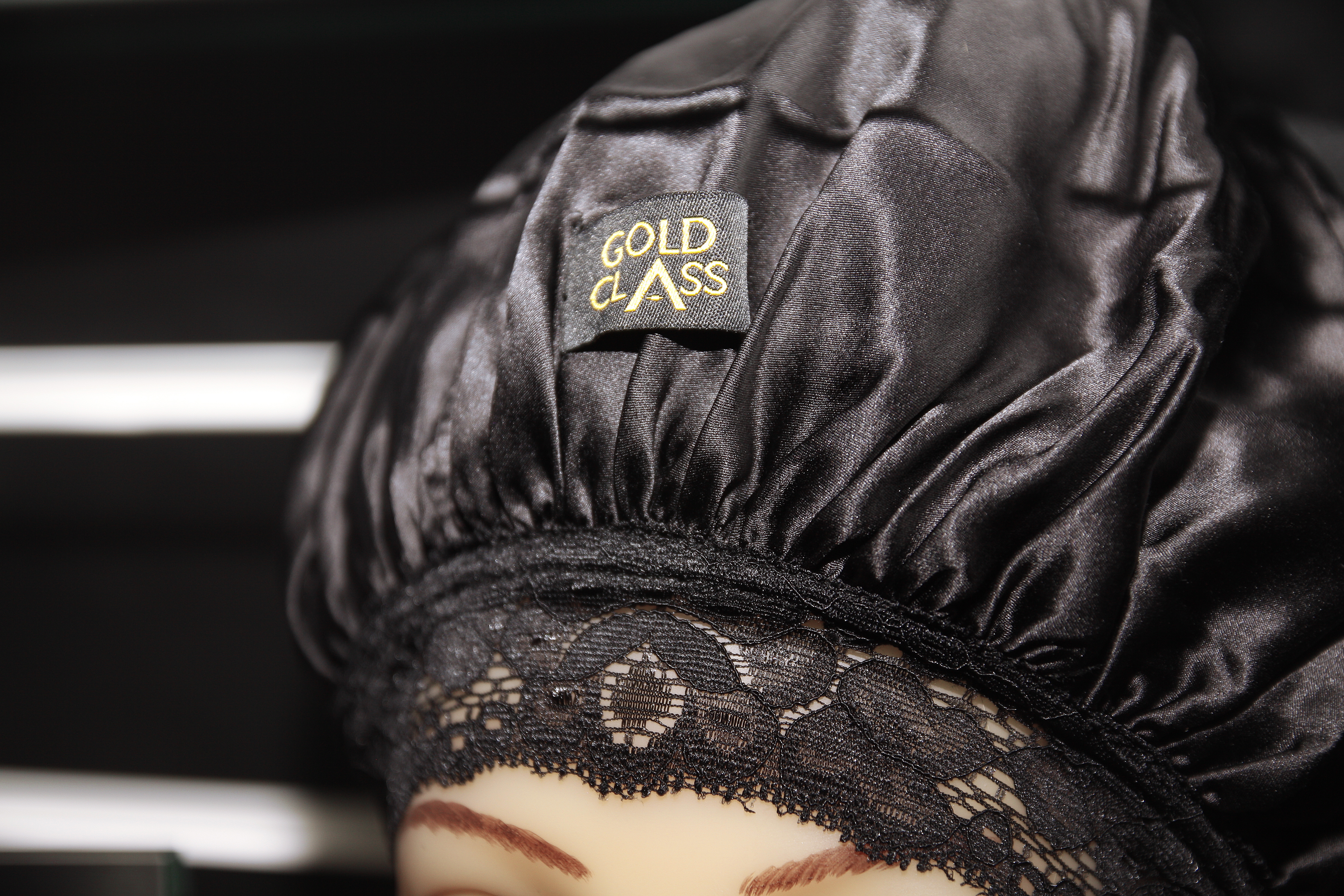 You know how keen we are about our Healthy Hair Days philosophy, well our latest product will help. Introducing our Silky Hair Days hair cap. Made from 100% mulberry silk (nothing but the best of course!) it helps keep your hair and extensions in place overnight to prevent matting. With winter drawing in, it has the added benefit of combatting frizz too. So whilst you get your beauty sleep, your hair is getting the best care too.
The secret is all in the silk. It has some amazing benefits for your hair just in the same way silk bedding comes highly recommended. It's hypoallergenic and the silk allows your hair and scalp to breathe. Being so soft & smooth, your hair glides over it and therefore prevents tugging, hair breakage and matting. This is music to the ears of all extension wearers. But silk also contains proteins that stop your hair drying out and leave it with a healthy shine. The perfect way to start the day.
It's available in an exclusive presentation gift box so it makes the ideal gift for your hair goddess this Christmas. Grab yours from any of our Select Salons or online here.
Wake up with immaculate hair everyday with our #SilkyHairDays #SimplyGoldClass