Tag Archives:
hair health diagnosis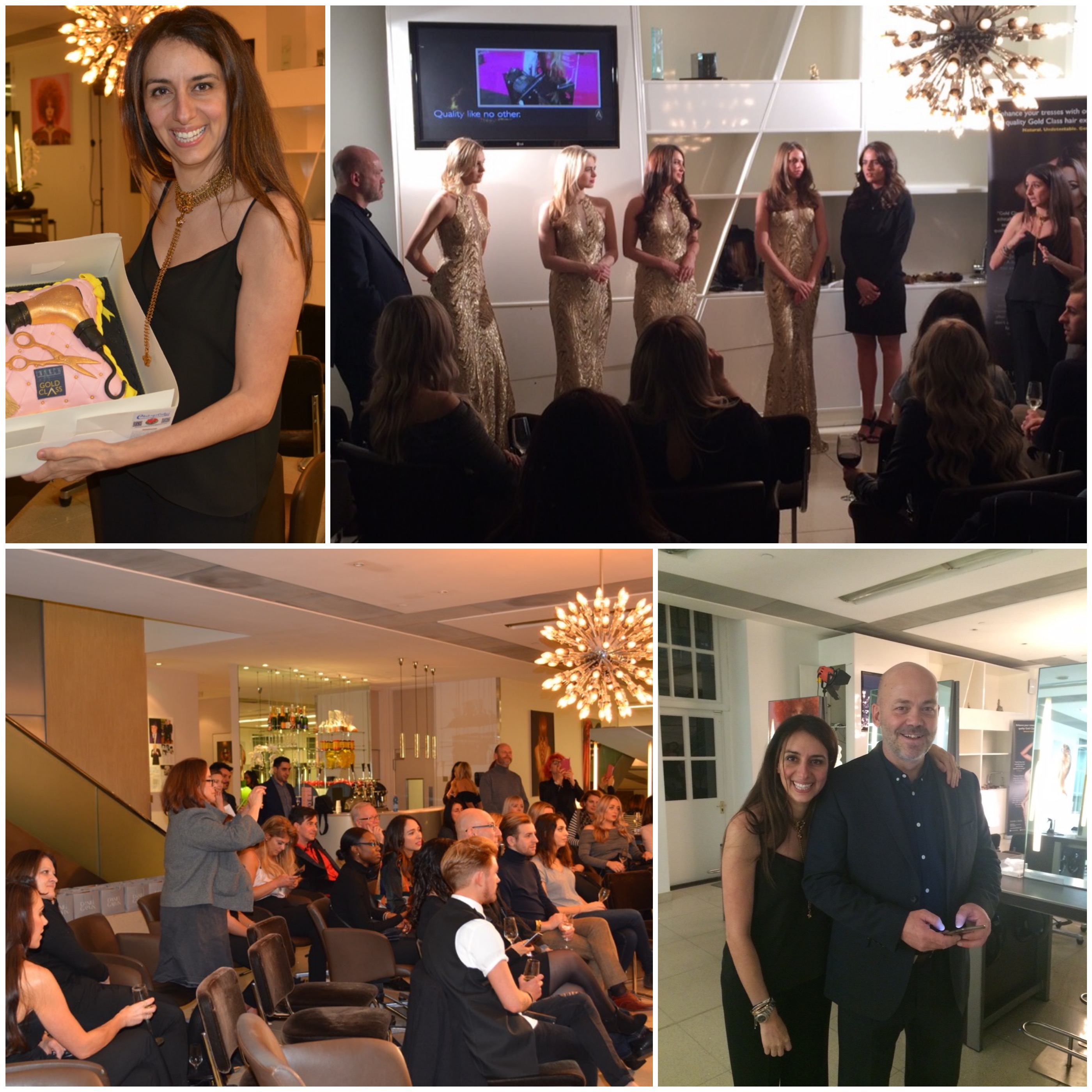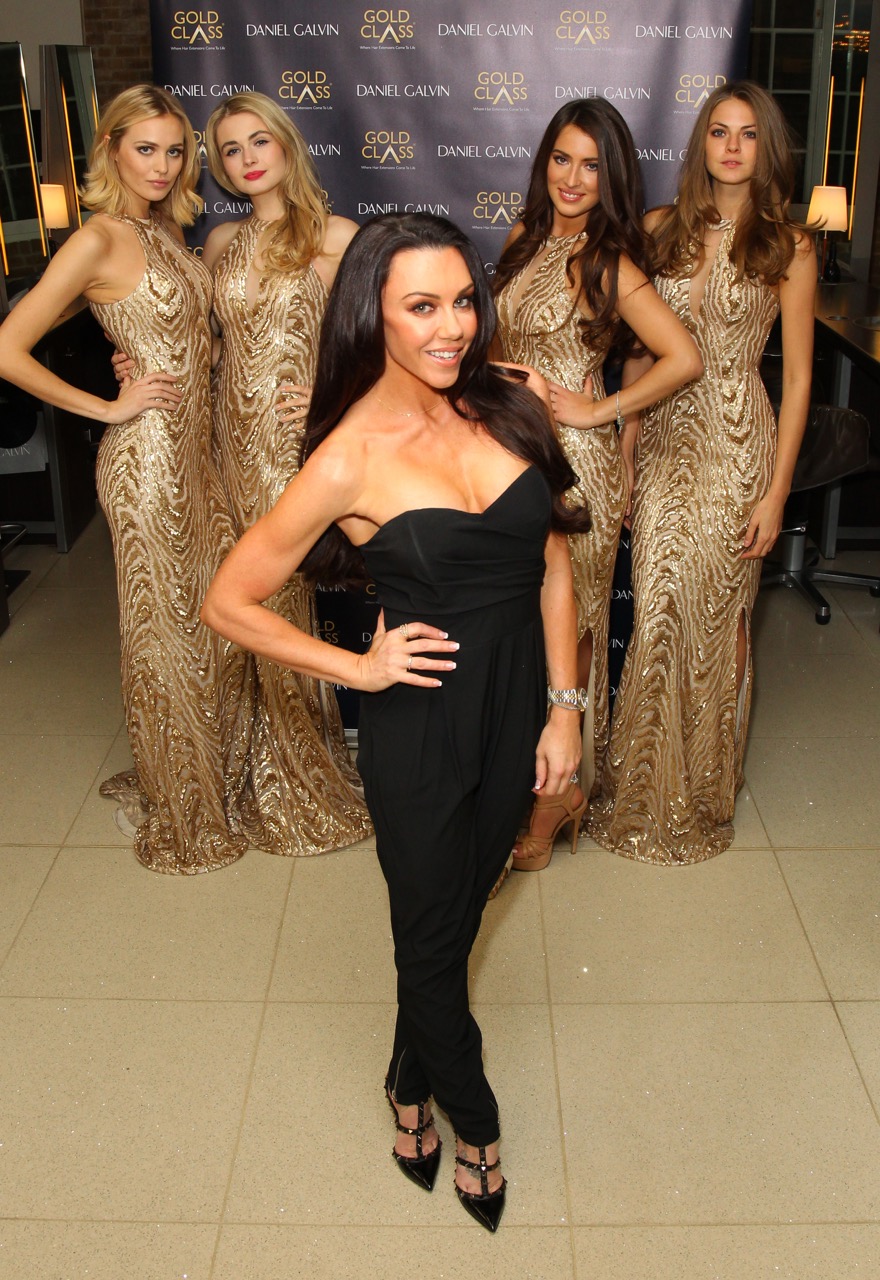 You already know Daniel Galvin is an Elite-10 salon but we wanted to have a joint launch party and share exactly why they have chosen to work with us at an exclusive press event. We didn't want you to miss out too so here are the evening's highlights….
We took over the lower ground floor of the flagship Daniel Galvin salon in Marylebone with over 50 guests joining as Stephen Nurse, Operations Director for Daniel Galvin, introduced Inanch Emir & Rebecca Lennon (Daniel Galvin's Principle Extensionist) to talk about Gold Class extensions and what makes our brand a class above the rest. The audience included trade & consumer press, bloggers, personalities and members of our other Elite-10 salons; listening on as Inanch talked about her passion for hair extensions and why she started Gold Class. Becky (Rebecca Lennon) talked about her client type and how she can use extensions with her team to create natural looking hair – at the heart of what Daniel Galvin are all about. Alongside their questions, Inanch and Becky had prepared four models to discuss their looks and benefits of extensions to each: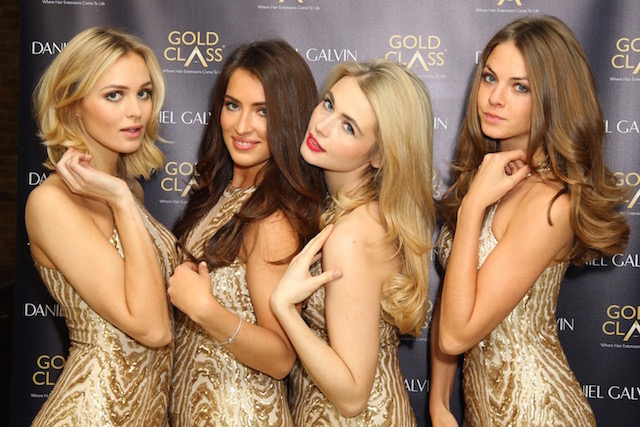 Ianthe – with only around 25 strands of Gold Class to help keep the volume of her on trend lob which she had for a couple of months.
Laura – full head of warm blondes new in that afternoon and so natural everyone thinks it's her own hair which is perfect for her modelling work.
Anastasia – likes her length at 50cm and full head of extensions curled.
Beth – full head for 'new to extensions' Beth who can't stop swooshing her hair.
Right on cue Michelle Heaton pulled out her Gold Class brush in her handbag to prove the point about caring for your hair extensions. The models joined in to share their top tips of caring for extensions too #SimplyGoldClass. Journalists were then invited to see the hair and equipment up close and to mingle with the team to ask their most burning questions whilst enjoying nibbles and some fizz. We also had our latest products there – more hair care essentials and some new hues – more to follow on these soon.
You did miss a rare opportunity as Inanch herself modelled our Silky Hair Days cap beautifully and the team at Stages Hair Design from Bristol brought along a beautiful Gold Class cake for everyone to share. #nomnom
Watch the exclusive Gold Class treatment VT we shared at the beginning of the evening here
Credit: Andy Barnes Photography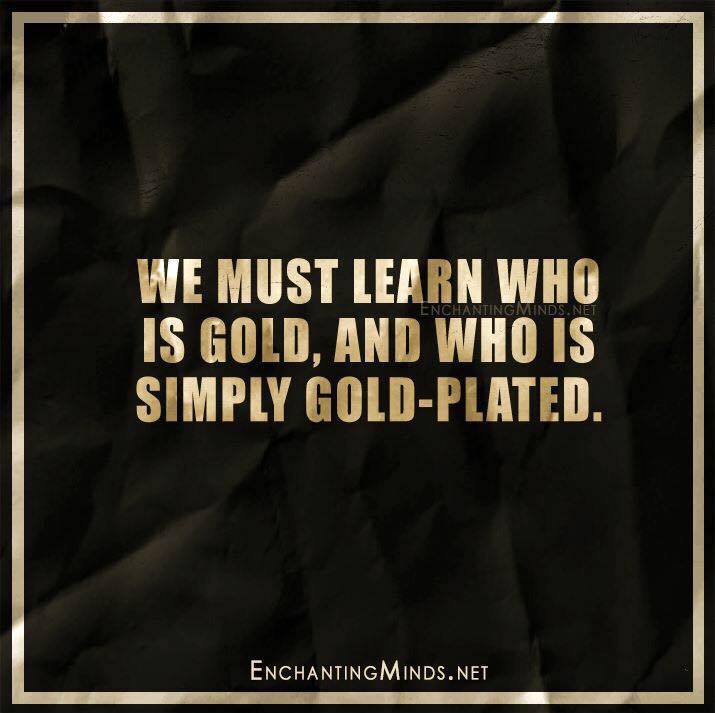 2015 was a fantastic year for Gold Class as we highlighted in our earlier blog and we predict that this year is going to be even better and we want to share with you some of our exciting projects for the year ahead!!
First of all we've headed to India where our superior quality hair is sourced for a tour of our partner's factory and to check the whole production process. A full report to follow next month.
Later this month we'll be celebrating the launch of Gold Class at our Elite 10 salon Daniel Galvin where all our lovely Gold Class salons are joining us alongside press and celebrities at their flagship salon in George Street. This promises to be a great evening and don't worry we will share some snaps with you over on Instagram.
We have some new products coming too that we've been working on throughout 2015 to perfect them before launching this year: a new state-of-the-art hair application machine, a blow-dry brush specifically designed for hair extensions and a full Gold Class wetline range formulated to care for your Gold Class extensions.
We also have a new and improved digital microscope for our stylists to share your hair and scalp analysis with you straight to your tablet or phone during your initial consultations.
Last but not least, there are more hair colours already in production! The most beautiful platinum blonde – a huge trend for 2016 so you have better get in with your Gold Class select salon now for a consultation and get it pre-ordered! We also have 9 new ombré's coming for Spring – you will just love these and if you can't tell we are super excited!
We don't stop there and will keep you updated on more exciting happenings with Gold Class. So have you done your #HairResolutions yet? Looking for some trend tips for the year ahead then read up on this in last week's blog.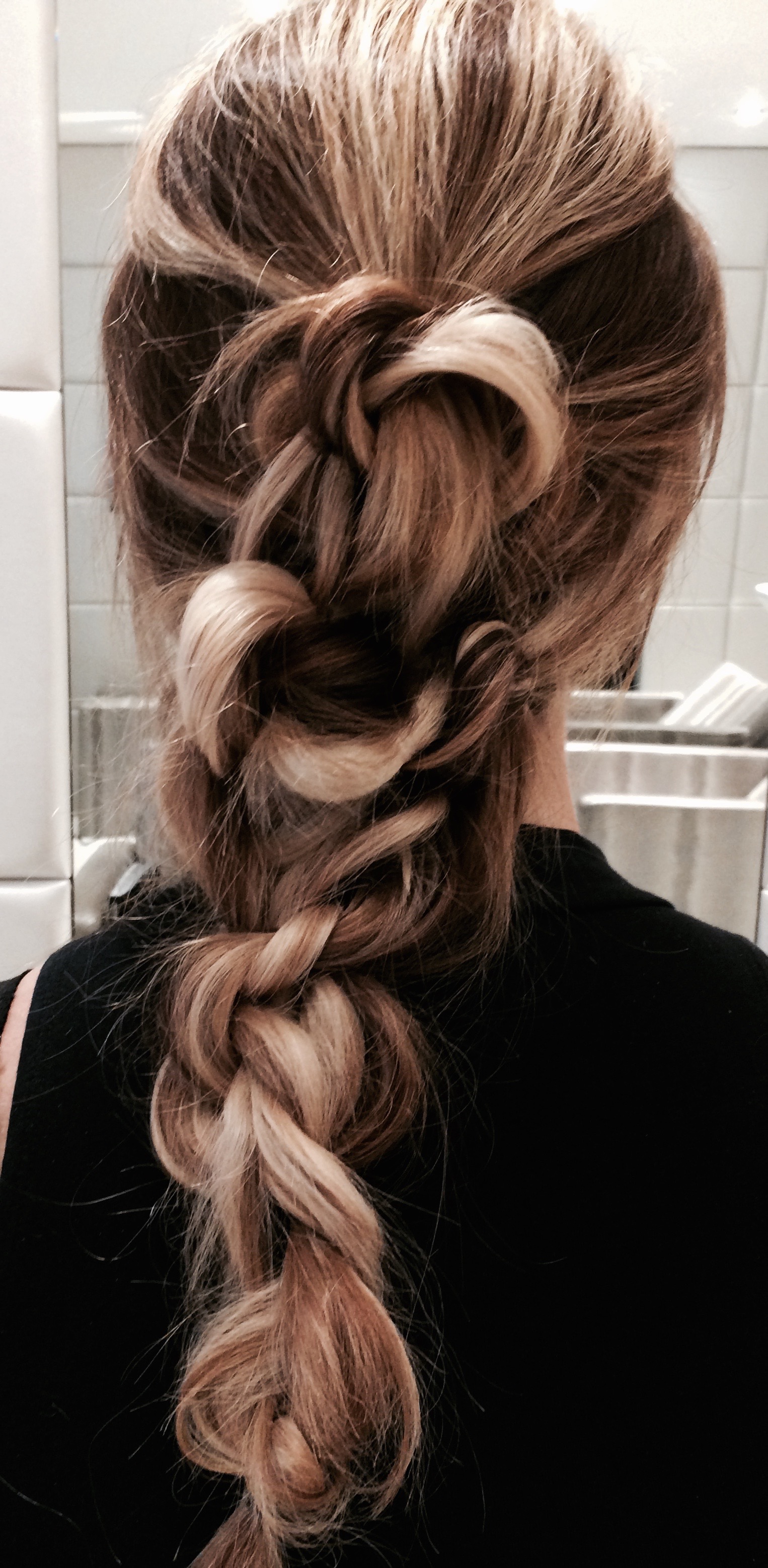 A new year gives us more confidence to try something new with your hair. If a whole new transformation is not your thing, and you just want to know the trends to try; then we've got it covered for you. Claire and Alison from our elite-10 salon Blo Bar shared their top three trend predication for 2016 with us.
1) Keeping you tresses looking their best has always been our motto but this year really is the year to be giving your locks some TLC. Healthy Hair Days is so now. Head to your nearest Gold Class elite salon and for a consultation and your personal hair prescription. Thick healthy hair is what you need to create, so the girls recommend that if your hair is long and straggly, then perhaps it's time for a chop and some Gold Class hair extensions to give it the right look.
2) Knots and to pull this off well they suggest you need plenty of hair. Any excuse for a hair extensions! Plaits are still around but it's all about putting a twist on them. "Wear them tighter, stronger and bolder" say the girls.
3) Embellish your 'do with big metallic clips and we've found you some gorgeous one's to get your accessories box going here.
Thanks to Claire & Alison from Blo Bar for their #hairspiration and give them a follow as the head off to LFW again next month.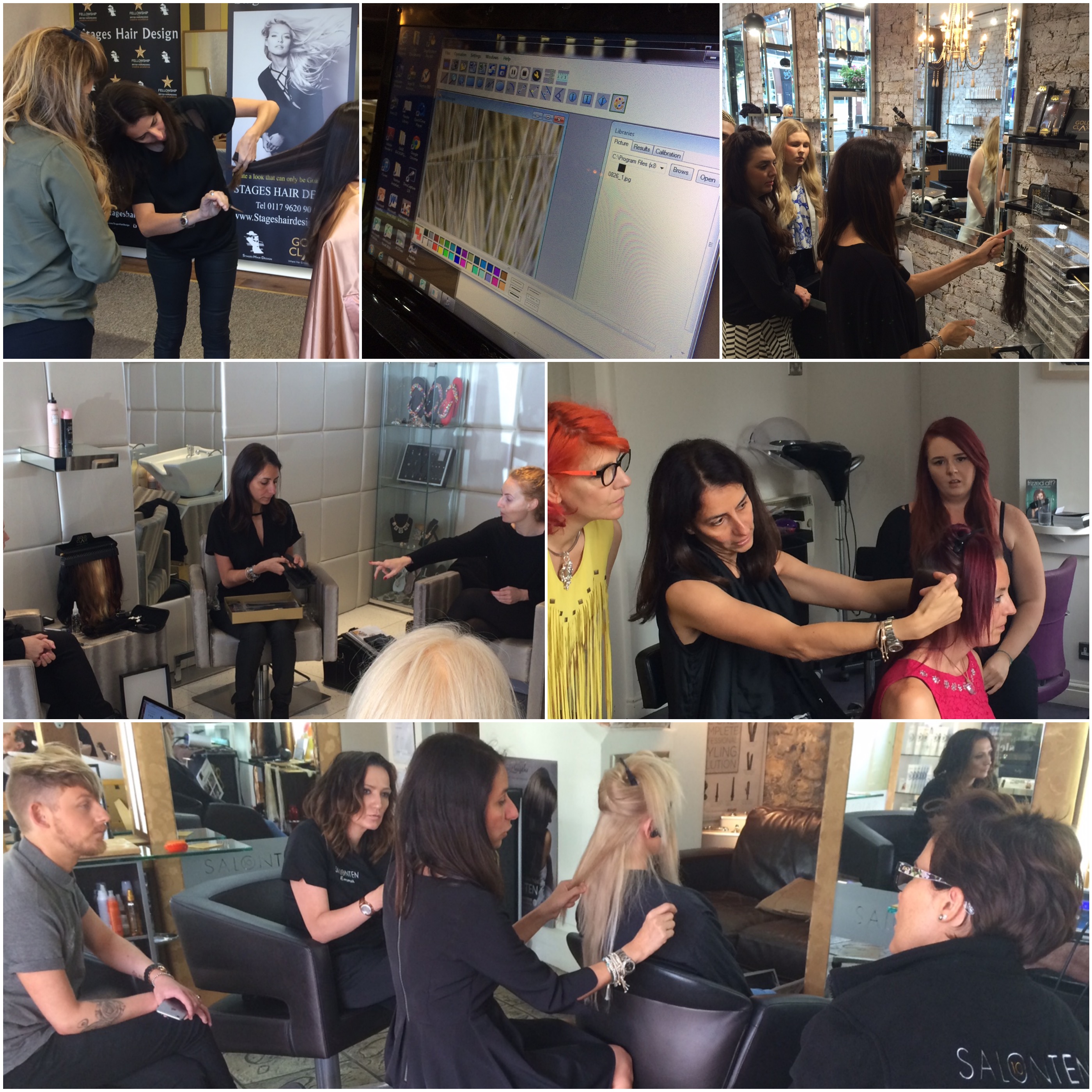 You may be wondering why we need to train our Elite 10. They are all amazing hairdressers and renowned extensionists with an astounding cumulative number of years in the industry and there's little these guys don't know about hair.
Our Elite 10 have all joined as they know the work of Inanch Emir well. The multi-award winning (and the trophy cabinet is still growing) stylist is known for her exceptional extensions work. Celebrities flock to her salon in Fiztrovia so when she created Gold Class they all knew it was special. Perfection even. Who wouldn't want to be a part of that?
Inanch, like others, has worked with many extension brands and understand about the hair quality and application methods available. In our opinion, Gold Class is the best of the best. We have the best hair quality but Inanch is so passionate about her Healthy Hair Days philosophy from everything she has learnt and this needs to be shared. You can learn more about this in our earlier blogs but it is a different way of thinking for the extensionist and ultimately the client. Scalp and hair analysis as part of the consultation and safe removal process is definitely something unique to Gold Class hair extensions.
You can see some pics from our masterclass training days here where nothing has been assumed. Inanch has taken everyone back to the beginning, talked through every bit of the hair story and shared her coveted colour blending application technique and advanced cutting for the most natural results with extensions. They will also be undergoing sessions with UNITE and Philip Kingsley to prescribe bespoke aftercare regimes.
Let us not forget too that hairdressing is ever evolving with fashion and new products. It's a brilliant industry to be involved in and share ideas and techniques. That is why we still all train, including Inanch, to keep learning and developing. The training of our Elite 10 has been more about sharing these philosophies to educate their clients, reinvigorating the extensionists with a new passion for the best hair extensions and mentoring the younger team members to bring out their skills and shine. We can't wait for them to be taking the Best Extensionist titles around the UK soon.
Why not get in touch with your Gold Class extensionist and find out for yourself why the Gold Class experience is so different from any other service. Find your local Elite 10 salon here and book a consultation soon.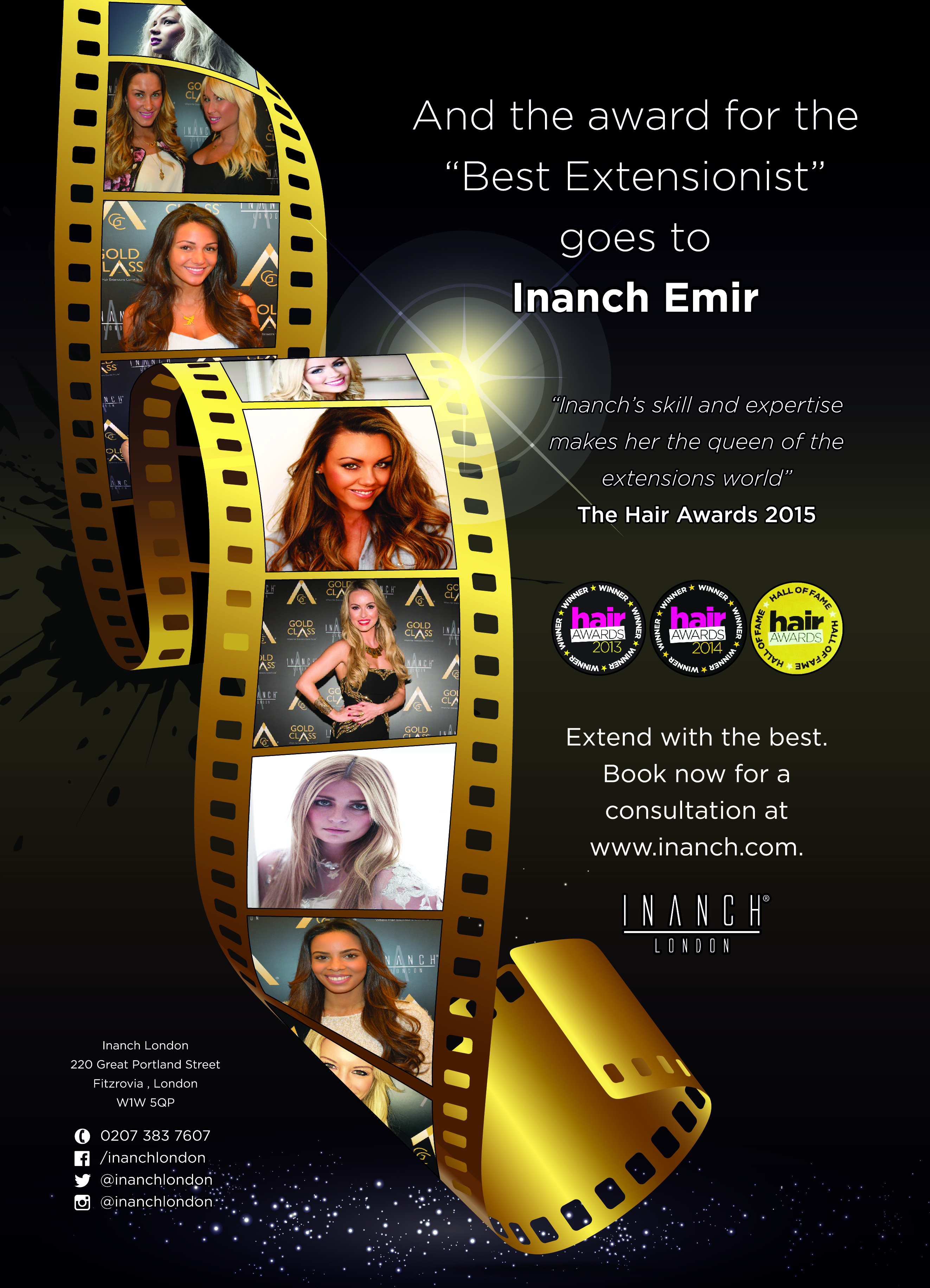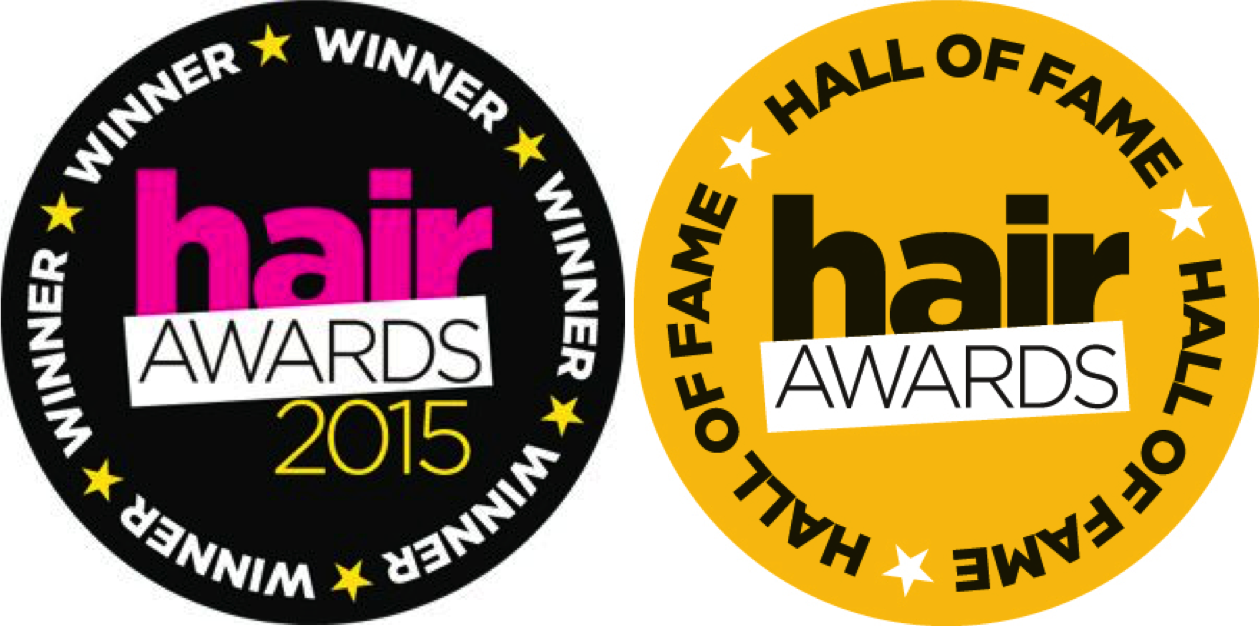 She's only gone and done it again! Three wins in a row for our Inanch claiming the fiercely contested Best Extensionist accolade from The Hair Awards. This also lands her in the coveted Hall of Fame too. Only a handful of hairdressers are in the Hair Awards "Hall of Fame" and Inanch is the first extensionist to achieve this in the history of The Hair Awards!
The Hair Awards are run by Hair Magazine, the UK's leading consumer hair publication, and is judged by both readers of the magazine and an elite panel of hairdressing industry experts. It's the Hair Oscars! If you've not already got yourself a copy of this month's Hair Magazine The Big Reveal then you can take a sneak peek here.
Having fought off some other leading extensionists in the UK, Inanch had been able to show that she has moved on from pure application to be breaking ground and moving extension application on with her Healthy Hair Days philosophy and creation of our fabulous private label hair extensions, Gold Class. "Inanch's skill and expertise make her the queen of the extensions world" – The Hair Awards 2015
"We are absolutely thrilled to earn this prestigious accolade" Inanch Emir "And we can't wait to support the rest of our team and lucky Elite-10 salons extensionists in their entry next year."
We're just waiting for the award itself to land and we will share some more snaps of Inanch's fabulous achievement as we celebrate some more! Inanch will also be exhibiting her 3 fabulous Hair Awards entries from 2013, 2014 & 2015 at her London salon from next month and invites our Gold Class certified salons to visit her salon to have a look at each entry for inspiration and ideas.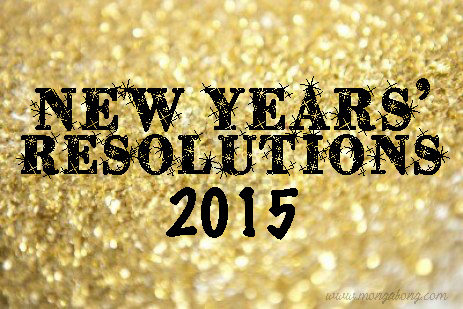 Last year was most definitely great for us with the launch of our brand; establishing our hair as the number one choice for celebrities and seeing our Healthy Hair Days philosophy come to life. So we caught up with our founder Inanch Emir for a few New Year Resolutions to give us a hint of of what's planned for the year ahead.
1) Introduce more colours to the range – ash tones are set to be big in 2015.
2) Make this the year the year we showcase Gold Class on a big stage – we're talking the industry's best exhibition and we'll be there. Come see us at Pro Hair Live London as we unveil our system and hair for our fellow professionals; and follow Inanch & her team on stage as they create some amazing looks with her signature Glamorous style.
3) Spread the Healthy Hair Days message wide.
4) Enjoy being part of the Inanch London 10 years birthday celebrations – all this hard work has lead to the development of Gold Class so it's definitely worth celebrating.
It's going to be an amazing year for us so keep in touch to check we are ticking our resolutions off.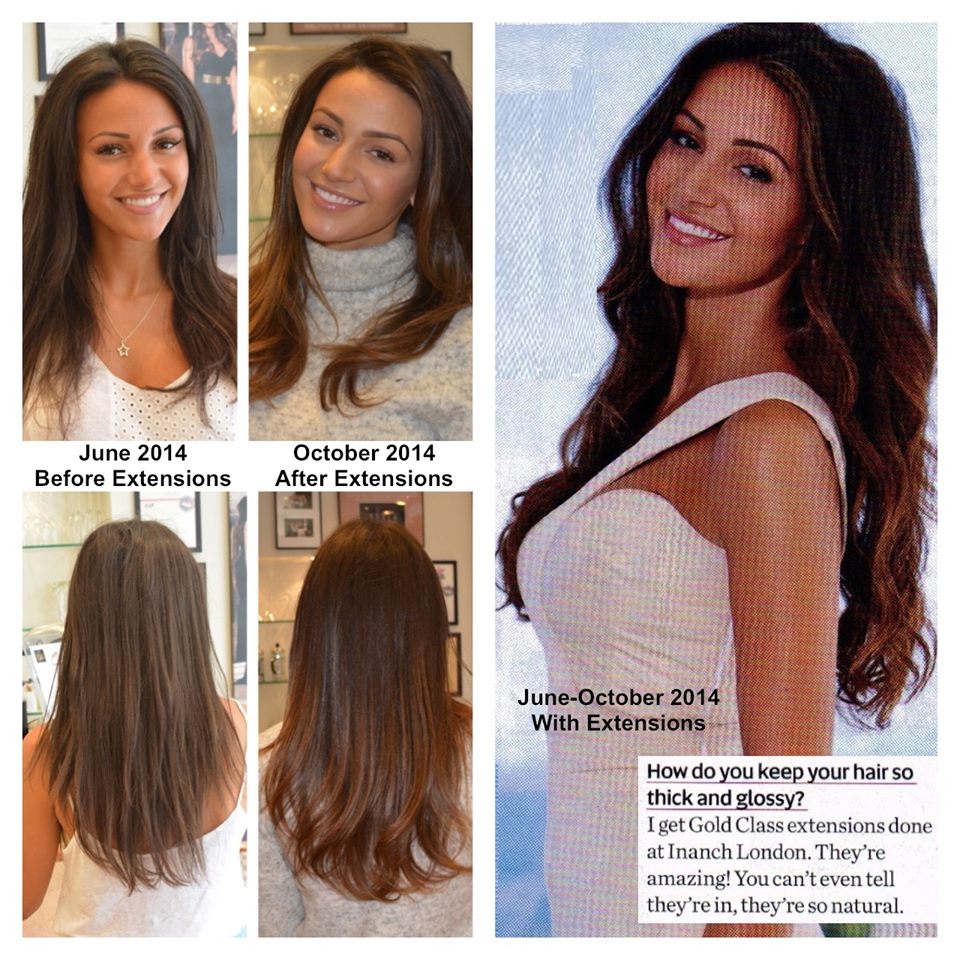 If you haven't read our earlier blog Healthy Hair Days* … a way of life here's the proof:
It doesn't seem like five minutes since we applied a full head of Gold Class hair to the beautiful Michelle Keegan, but 4 months has flown by and she popped back into Inanch London to have her extensions professionally & safely removed. Treated to a little Philip Kingsley Spa Mist treatment before showing off her own hair and seeing it alongside her hair before extensions, you can see her hair is healthier than ever.
Always the good girl, Michelle is following our Gold Class philosophy to the letter and having a break from her extensions for a little bit but we will be seeing her again soon.
We had to share with you this perfect example of how our premium quality hair, professional application, bespoke aftercare programme, professional removal of the extensions gives ZERO damage to the client's natural hair and allows your natural hair to grow whilst wearing our extensions!
*Please click here to read our disclaimer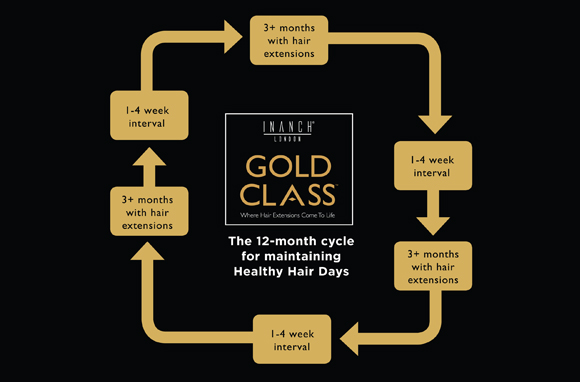 Here at Gold Class you can put fabulous extensions down to 4 basic points:
Firstly the raw ingredients have to be great quality and our hair is absolutely the best.
The next step is all about YOU. The hair health diagnosis is more than a consultation you might find at other extension salons. Using specialist cameras we look at your hair and scalp and determine if extensions are suitable. Don't get us wrong, we want you to have amazing tresses but if we feel that the extensions are not right we will be able to advise you how to improve your hair and scalp to get your dream hair extensions in the future.
The application is a critical step. Check you hairdresser is a qualified hairdresser with State Registration (SRH after their name) and ask about their extension qualifications, training & experience. To train in Gold Class all extensionists have to be SRH with 3 years extension application experience. The Gold Class training is two days of intensive training and ensures that application is perfect and not causing damage to the clients hair & scalp.
Last up is the aftercare and this is not just about the prescribed shampoo & conditioner. This is about how you live your life and tailoring the product and passing on maintenance tips for you to get the most from your hair. It doesn't stop there either as you need to remove your extensions safely after 3-4 months. We can then repeat step two and see the improvement in your own hair & scalp condition before looking to reapply extensions.
These points really are not rocket science and are just common sense. We have been practising this at Inanch London salon for over a year now and really its become a way of life for us and our clients. It really is about having healthy hair day now and forever.
It is important to consider the commitment from your end before investing in hair extensions. Looking after your hair extensions requires a full commitment from you and as the extensions are a cosmetic procedure, there is an element of risk of causing damage to your own hair and scalp. We believe that Gold Class hair extensions' premium quality hair, expert application and accredited aftercare programme will help minimise any risk of damage to your own hair and scalp. This relies on you following the maintenance and aftercare guidelines and that you return for safe removal of your extensions to the salon within the specified period. xx
*Please click here to read our disclaimer