Tag Archives:
hair extension trolley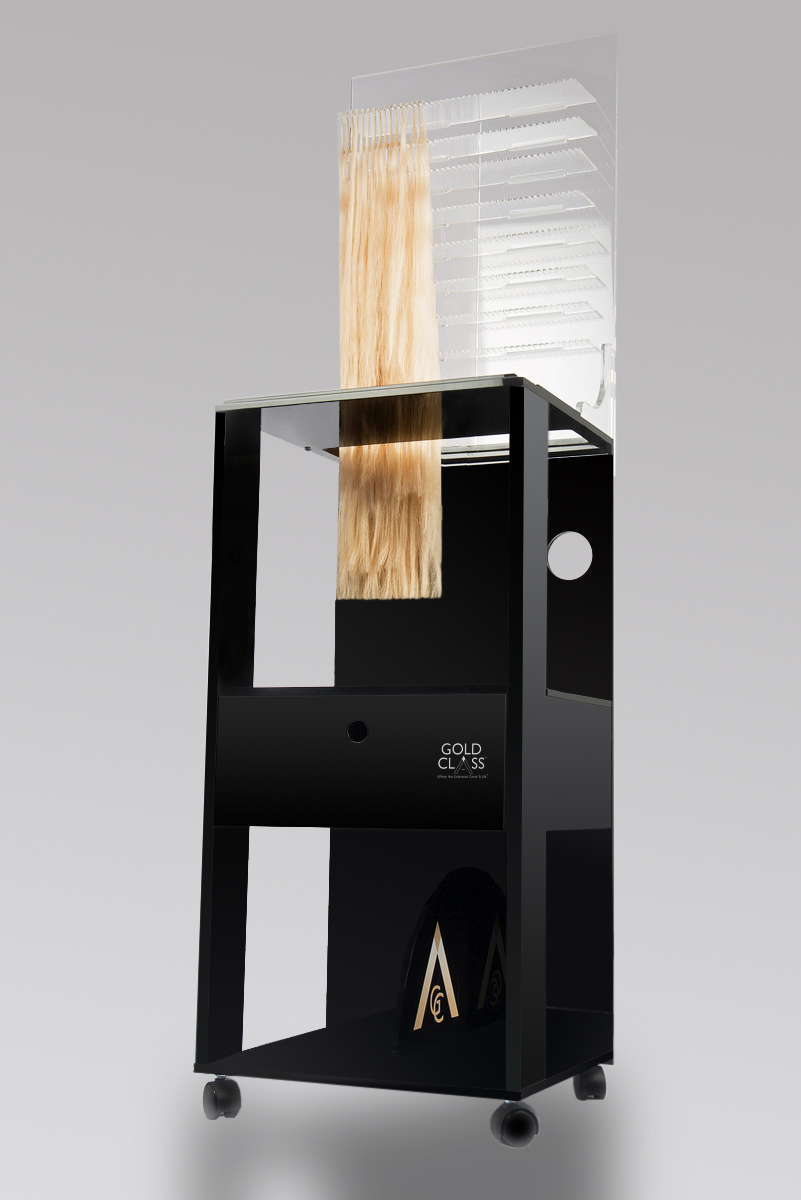 Our hair extensions trolley in the salon has been the envy of many extensionists from around the world and we are often contacted about it to ask where we got it from. We have now produced our very own bespoke version designed by the lady herself, Inanch, with the professional extensionists in mind. A year in the making, this state-of-the-art trolley has everything required to make an extensionist's life easier, quicker and at the same time, showcasing those beautiful hair strands ready to go on your clients' hair.
We have created two versions – the full trolley and also a handy counter-top version for mobile work or tighter spaces. We are also opening this up to non-Gold Class salons to be able to purchase, although our own #Elite10 salons will get these at a preferential rate and with full Gold Class branding to help promote the service at their salon.
The main trolley is made from black perspex to give a professional finish that is easily wipeable and comes with a draw to keep your hair extension tools safe & tidy as well as offering storage for your spare hair. The non-slip matt on top holds either your application machine or tools as you work. Rising up the back of the trolley is the individual hair strand holder with 8 rows and to a maximum length of 60cm. The etched vertical divider-line in the centre allows you to hold 2 heads of hair extensions so you can be ready for your next client, or can help you with colour blending by arranging your extensions to customise the look you are creating. All on silent wheels, allows the trolley to swiftly move around the salon to whichever position is needed.
The counter top is the hair stand alone and sits neatly on your work station or reception to help attract your extension service.
Here's a first glimpse but these will be on our stand at ProHairLive later this month so come and see them for yourselves. They will be available with an exclusive Show Offer for those ordered at Pro Hair Live and delivered free-of-charge to your salon.
If you can't make it to Pro Hair Live and want to place an order for one, please email to get your name on the waiting list and we will be in touch soon.