Tag Archives:
hair accessories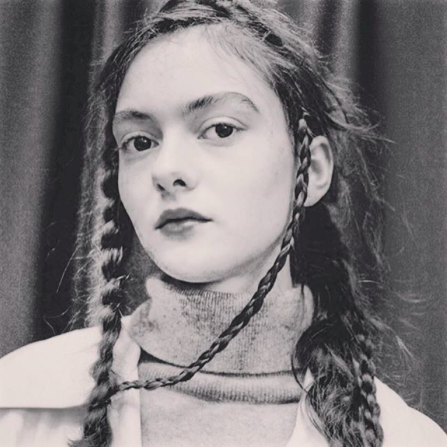 Healthy hair has been on trend for a while and this continues, as does natural looking hair. So spend a little more time on the TLC to ensure it is in good condition and show it off with these simple suggestions to have effortlessly beautiful hair in 2018.
COLOUR
Pantone's Colour of the Year has been announced as Ultra Violet. Whilst we are not planning on introducing a purple to our colour chart, this will work well with blondes and brunettes as a complimentary colour so we are looking forward to seeing some extensionists play with colour more this year.
Keep your eyes peeled at festival-season and next winter, as we will definitely be seeing more of this hue.
Selena Gomez recently went blonde and this trendsetter is already leading to enquiries for this look. Keep your roots and opt for a warm blonde like our Iced Pearl to help keep the volume and hold the style.
ACCESSORIES
Well good dressed hair deserves a treat too. So add some embellishments and try to make them gold of course! Barrette clips are in.
Think back to the SS18 catwalk and big hair bands were in with Channel and many more. Think back to Blair Waldorf for some style inspiration.
STYLING
Buns will be big in 2018, and even your looped pony can be called a bun. But get creative and try something like this from Preen with 3 different plaits to add texture and interest to your style. We still can't resist plaits!

See more here.
Head to our Pinterest page for more hair inspiration and if you are looking for a new look for 2018, then head to your nearest Gold Class elite salon for an in-depth consultation and talk about your colour and style requirements.
SaveSave
SaveSave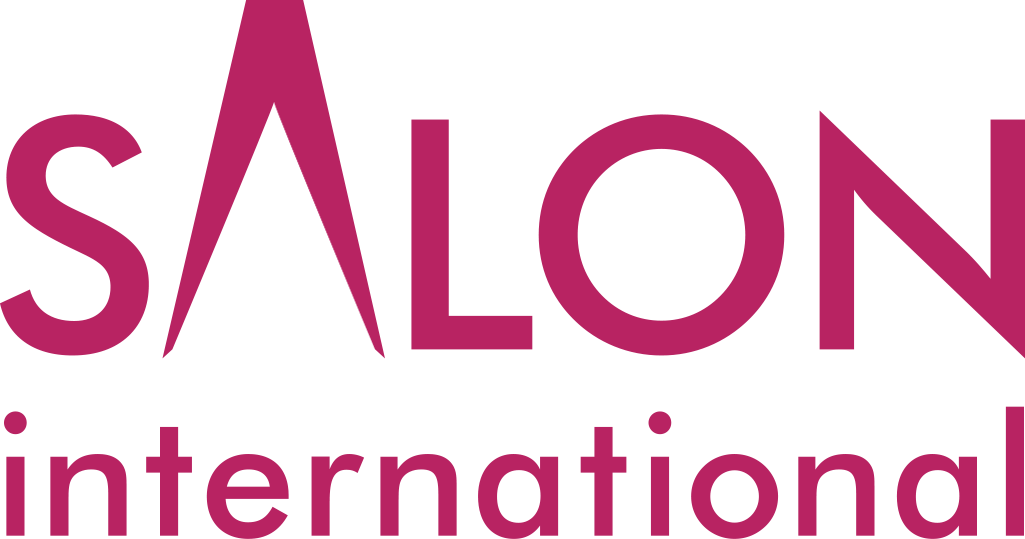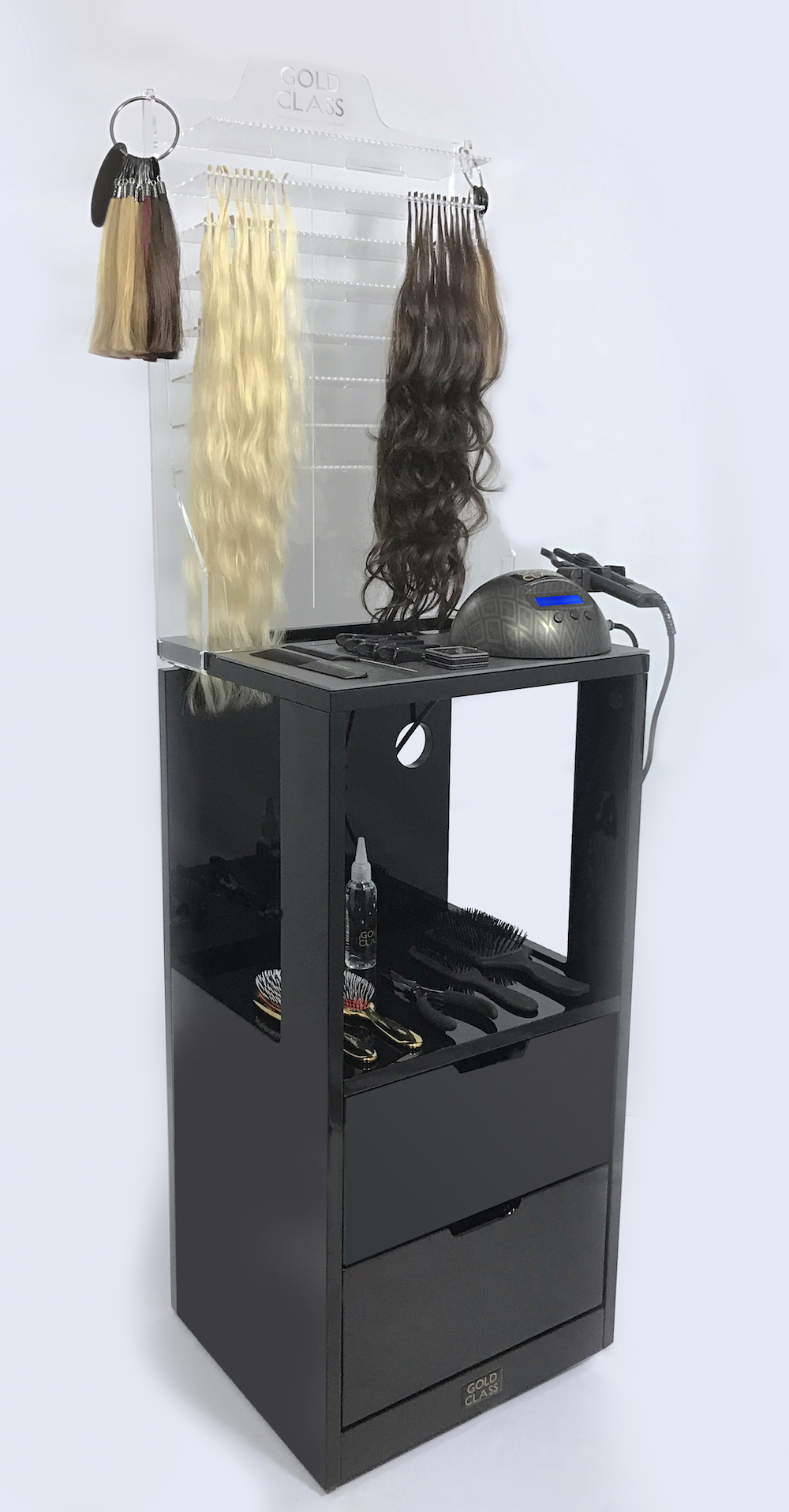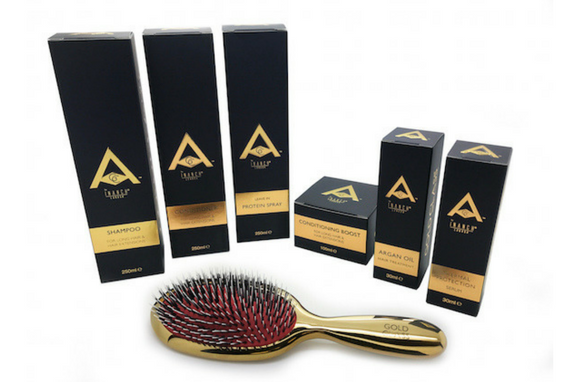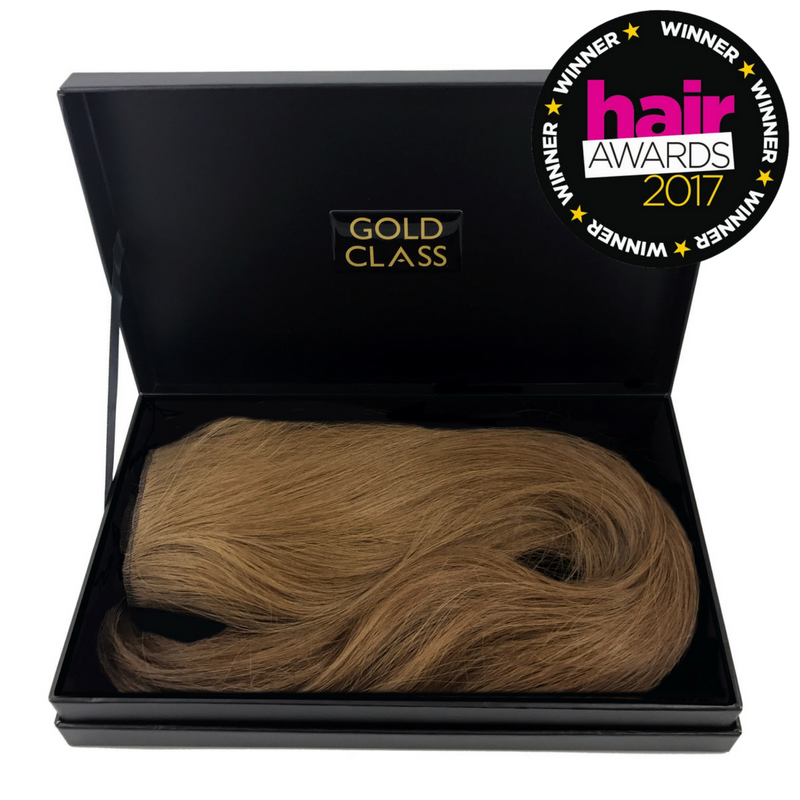 We are proud to announce we will be exhibiting at the world's biggest & best hair exhibition, Salon International 2017, now that we're in October.
We will continue to look for more Elite Salons to join our family around the UK and the rest of the world. With only a handful of carefully selected salons currently with us, our philosophy focuses on "quality over quantity" awarding Gold Class accreditation to salons that meet our strict criteria in the professional application, tailored client aftercare and our "healthy hair days" regime. Read more on our website or come and chat to the team on the stand.
Although Gold Class certification is by application only, we are now offering our world-class hair extensions equipment and tools to all professional extensionists. Choose from Application Workstation, Application Machine, Removal Tools, Bond Cutters, Brushes and our complete Aftercare Range – all vigorously trialed and tested by our founder Inanch Emir. These will be available to purchase at Salon International for the first time and with a great discount available at the show only!
"A hair extensions artist can only be as good as the quality of the tools they use."
Meet the lady herself Inanch Emir on Sunday 15th October at Stand N191. She will be judging the Hairdressers Journal Extension Specialist of the Year competition at lunchtime and will be available to meet and greet during the rest of the day. You can ask her yourself any questions about the Gold Class brand, the hair, the equipment and what really puts Gold Class on a different level.
GOLD CLASS GIVEAWAY
We're giving away one of our beautiful Hair Extension Workstations worth £780 complete with delivery to anywhere in the UK.
Simply head to our stand N191 at Salon International London Excel and drop your business card into the gold box to be in with a chance to win this amazing prize. The winner will be drawn on Monday 16th October at 4pm LIVE on our Gold Class Instagram feed!
If it's not in your diary then it's 14-16 October at ExCel London and you can find us at Stand No. N191. We hope to see you there!
Giveaway Terms & Conditions:
– Winner will be picked at random by Gold Class Managing Director Joe Emir LIVE on the Gold Class Instagram feed.
– All entries MUST submit business cards with full salon name, email address and address so we can get in touch to organise delivery.
– UK salon & stylists entries only for delivery in UK only.
– No cash alternatives will be offered.
– In the event of a dispute, Gold Class Hair Ltd decision shall be final.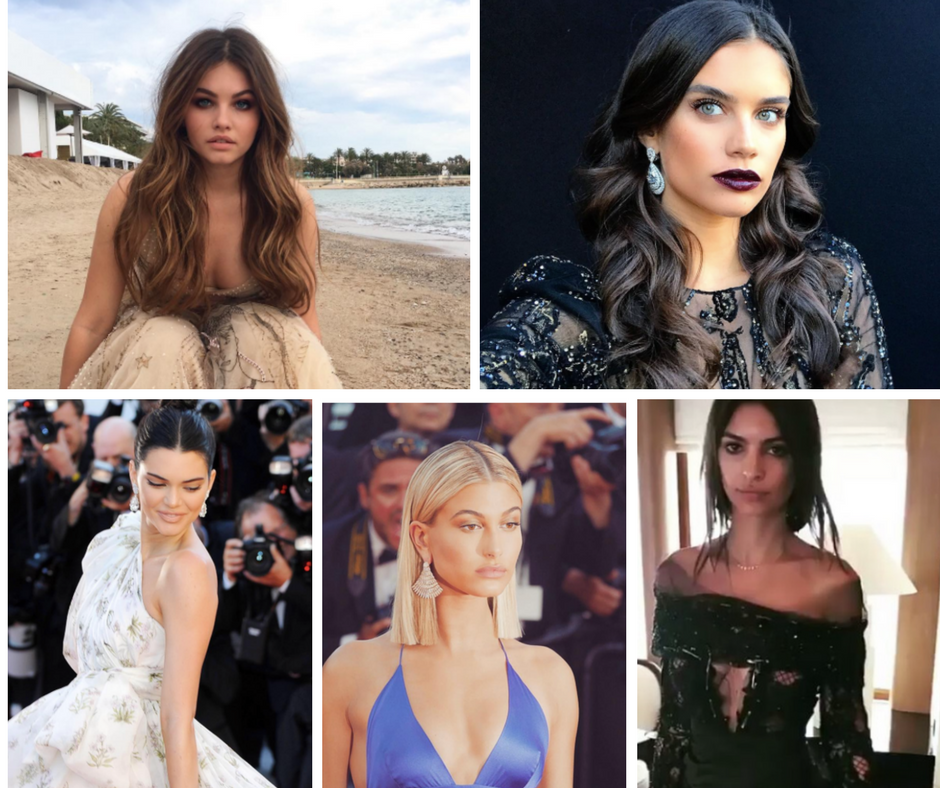 We love awards season and Cannes Film Festival is definitely one of our favourites. So we thought we would share with you our five favourite looks straight from the red carpet.
Kendall Jenner
Kendall turned heads in her stunning La Perla couture, complimented by her simple yet sophisticated slick-back-bun. Complete this look with Gold Class Argon Oil to keep stray hairs in check.
Thylane Blondeau
Thylane was not afraid of fly-aways, opting for an easily maintained beach wave look. Beach waves look great with ombré as it emphasises the different shades and layers in the hair. See our range of ombré clip-in hair extension shades, and talk to your extensionist about recreating this look.
Hailey Baldwin
Hailey's blunt bob is so sleek on and on trend. Mixing blonde hues like our …. give a more natural look whilst the extensions help to hold the shape and thickness of the lob on the shoulders.
Sara Sampaio
Sara Sampaio adopted a traditional red carpet chic look which beams class. Clip-in hair extensions can also recreate this look beautifully by adding volume and shape.

Check her Instagram feed for even more great looks from Cannes here.
Emily Ratajkowski
We love braids as you can dress them up or down and look great at any occasion, whether that's on the red carpet or basking in the sun. Emily opted for the messy braid look, completed with a black bow to complement her gorgeous gown.
Some of these looks can easily be mastered by yourself, but if in doubt, consult your stylist or ask your extensionist for a free colour match, fitting and styling at one of our elite salons.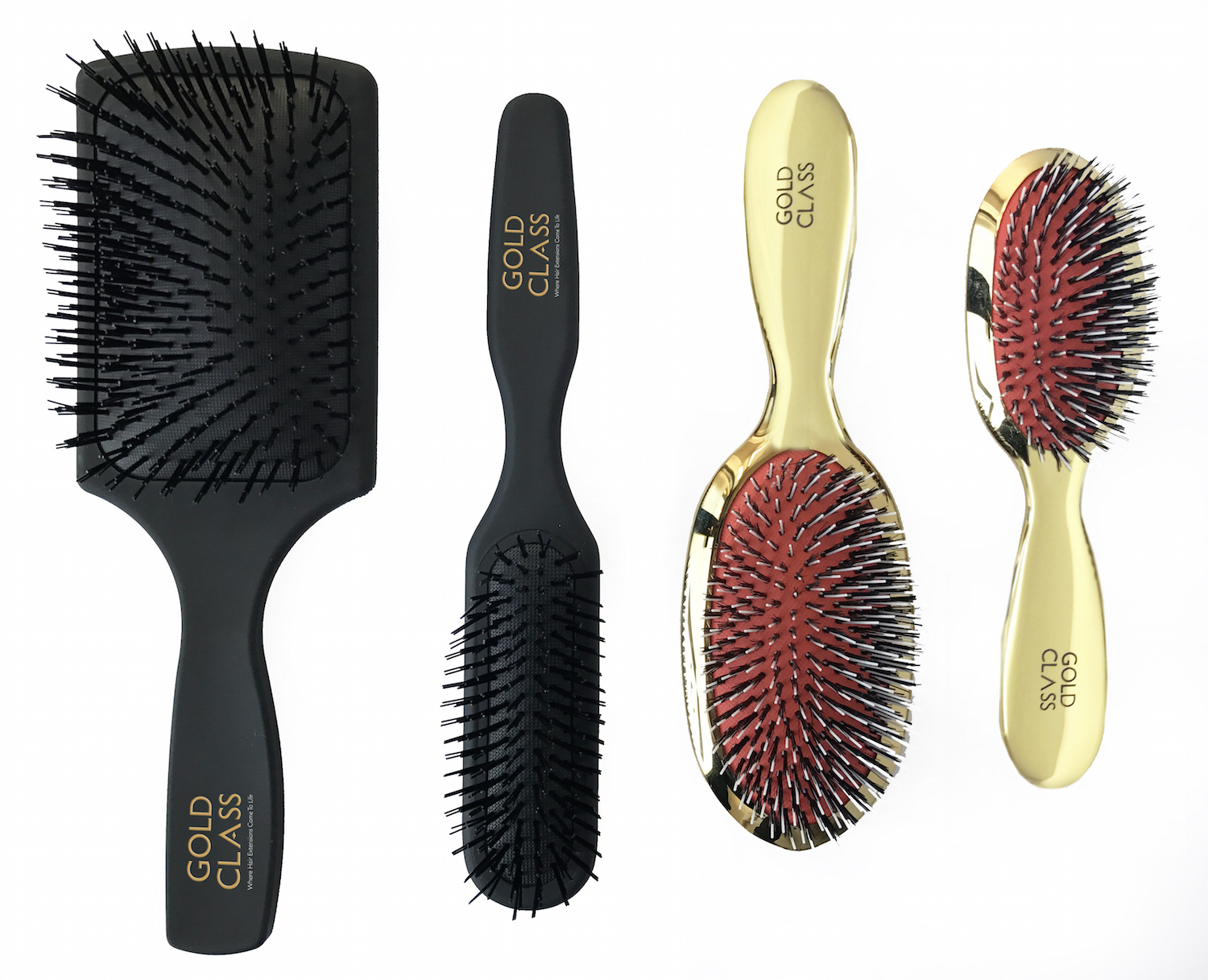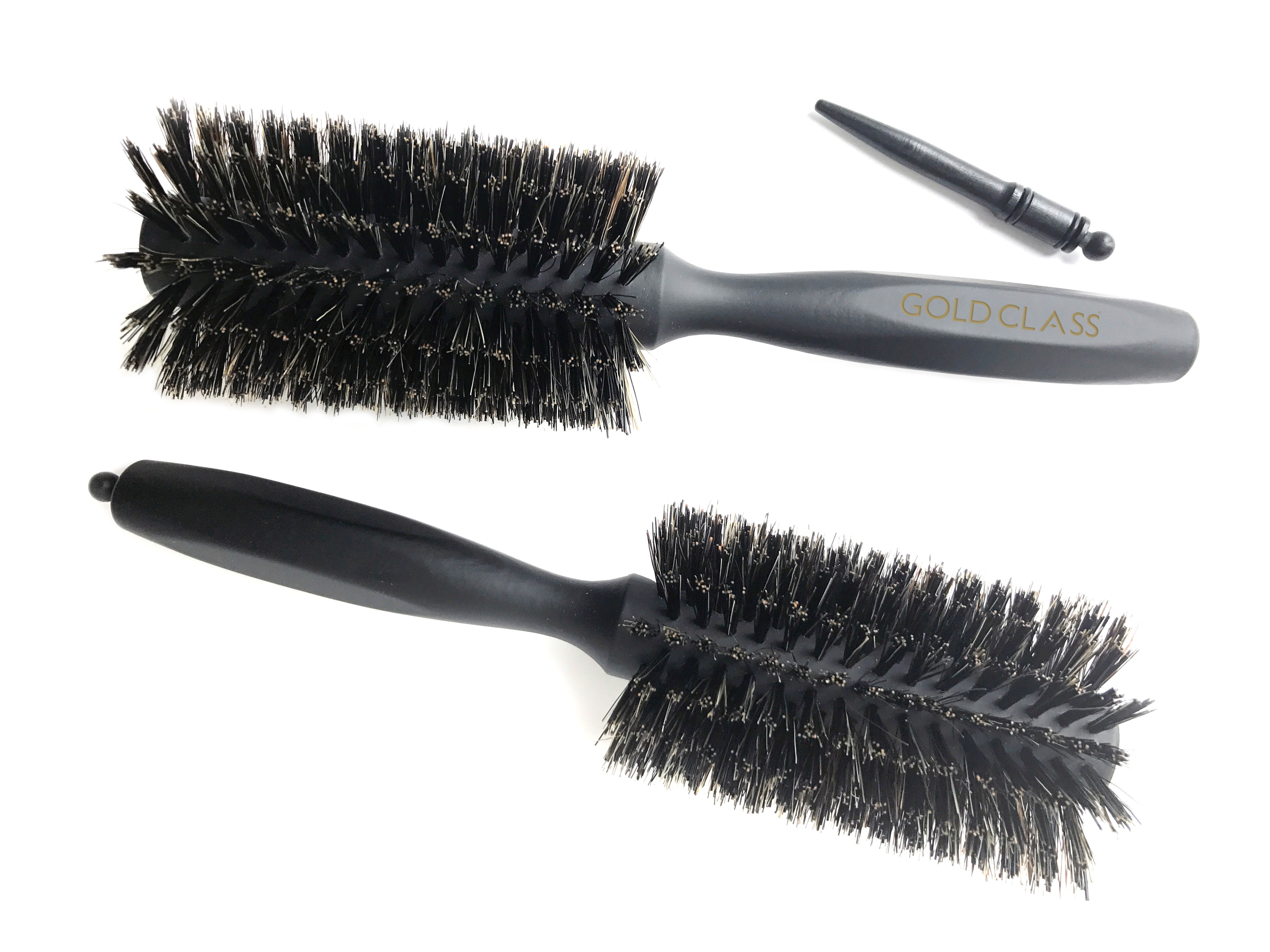 With so much choice, how do you pick the right brush for you?   We have a range of beautiful brushes that are not only designed to care for your hair extensions, cleaning your hair, detangling and add shine with every stroke, but those with softer bristles will also gently glide over your bonds.    Here's our guide to getting it right for your tresses:
WET HAIR
We all know that brushing your hair when wet is a "No No" so our combs are handy to have in and detangle those locks before you start styling.   Some of our combs are more suitable to styling, so we recommend our Cutting Comb with both a wide toothed section to start with and then follow up with the narrower teeth.  Keep to below your bonded areas and support your hair whilst comb to prevent tugging.
BLOW DRYING
New to our range is our soft-touch Italian Blow Dry Brush which creates volume, great curl and closes the cuticles to leave an in-salon professional finish to your bouncy blow dry,
If sleek locks are what you are craving, then use our Paddle Brush on a low to medium heat setting.
STYLING
Our Deluxe Styling Brush is such a workable tool, offering more control to shape the hair & de-tangle all hair lengths.  The Dressing Comb and Pintail Comb were made to make sectioning your hair easier, to help with those up-do's and can also be used for backcombing to add volume to your look.
DAILY BRUSHING 
Our founder, Inanch Emir, recommends brushing your hair regularly throughout the day, at least 4 times and so don't forget our smaller sizes of these brushes for your handbag or desk draw.
You really can't go wrong with our Paddle Brush.  Essential for hair extension wearers with medium to long lengths.  It's our best seller and a finalist for the Hair Awards in 2016.   We also offer a Large Oval Brush which is perfect for daily brushing, but if you want a real treat to look good on your dressing table then you absolutely have to have our Gold Brush.
TRAVELLING
We have a couple of handbag-sized brushes so you can preen on the move – a firm favourite has to be the Gold Class Extension Brush, but paddle brush fans with ultra long locks might prefer the Small Paddle.
It's well worth investing in a couple of brushes to make the most of your hair extensions.  Brushes to avoid include those with bobbles on the ends of the bristles as these catch on your bonds and will tug your hair.  This is the same for hard bristles that are inflexible and pull on your extensions too much.   If you want to know more about the correct way to brush your hair whilst wearing your extensions, then head to our aftercare guidelines or speak to your Gold Class extensionist for their top tips & demonstration.
So where can you get your hands on these, we hear you cry?  They are available at any of our select salons nationwide or buy online from our flagship salon Inanch London Shop.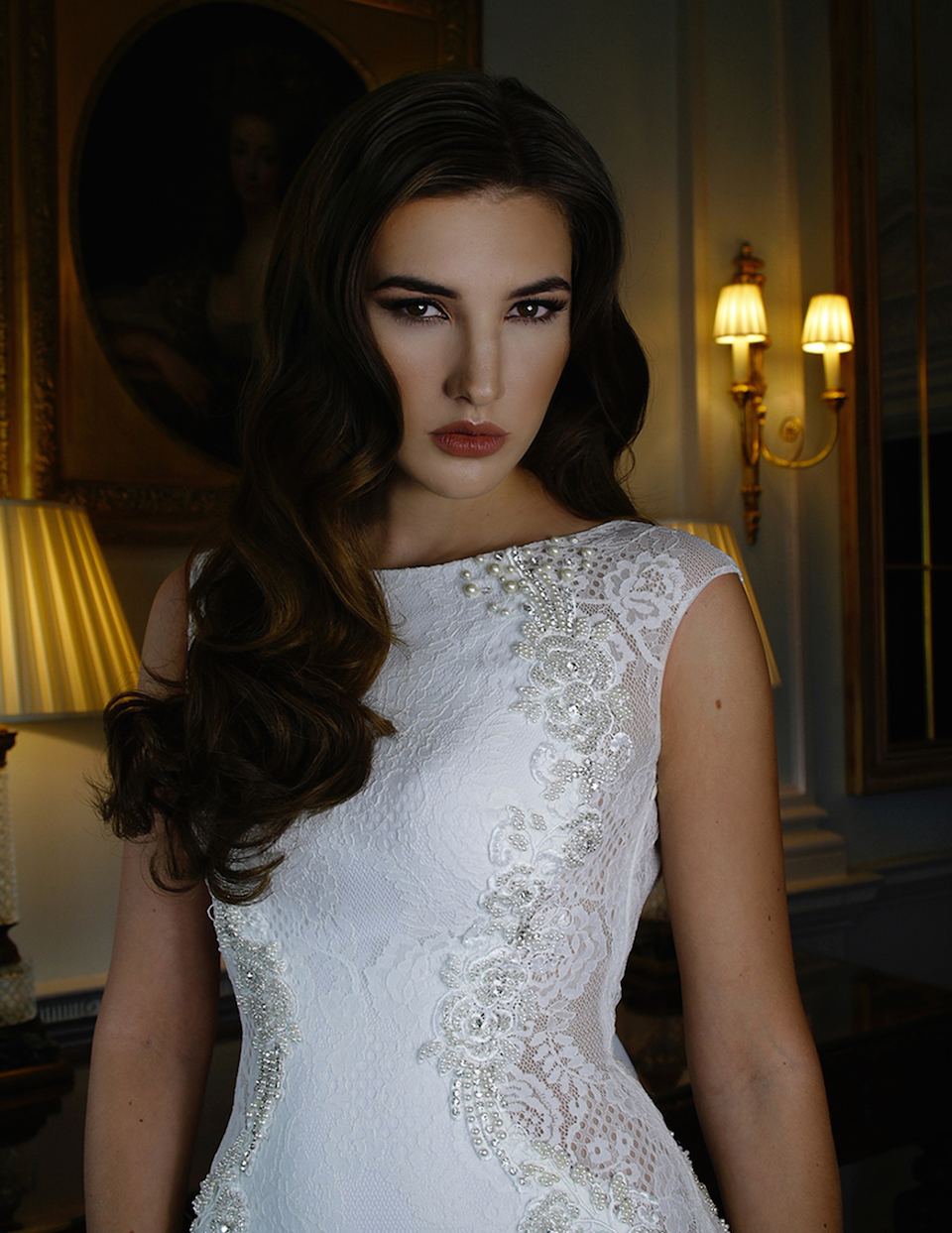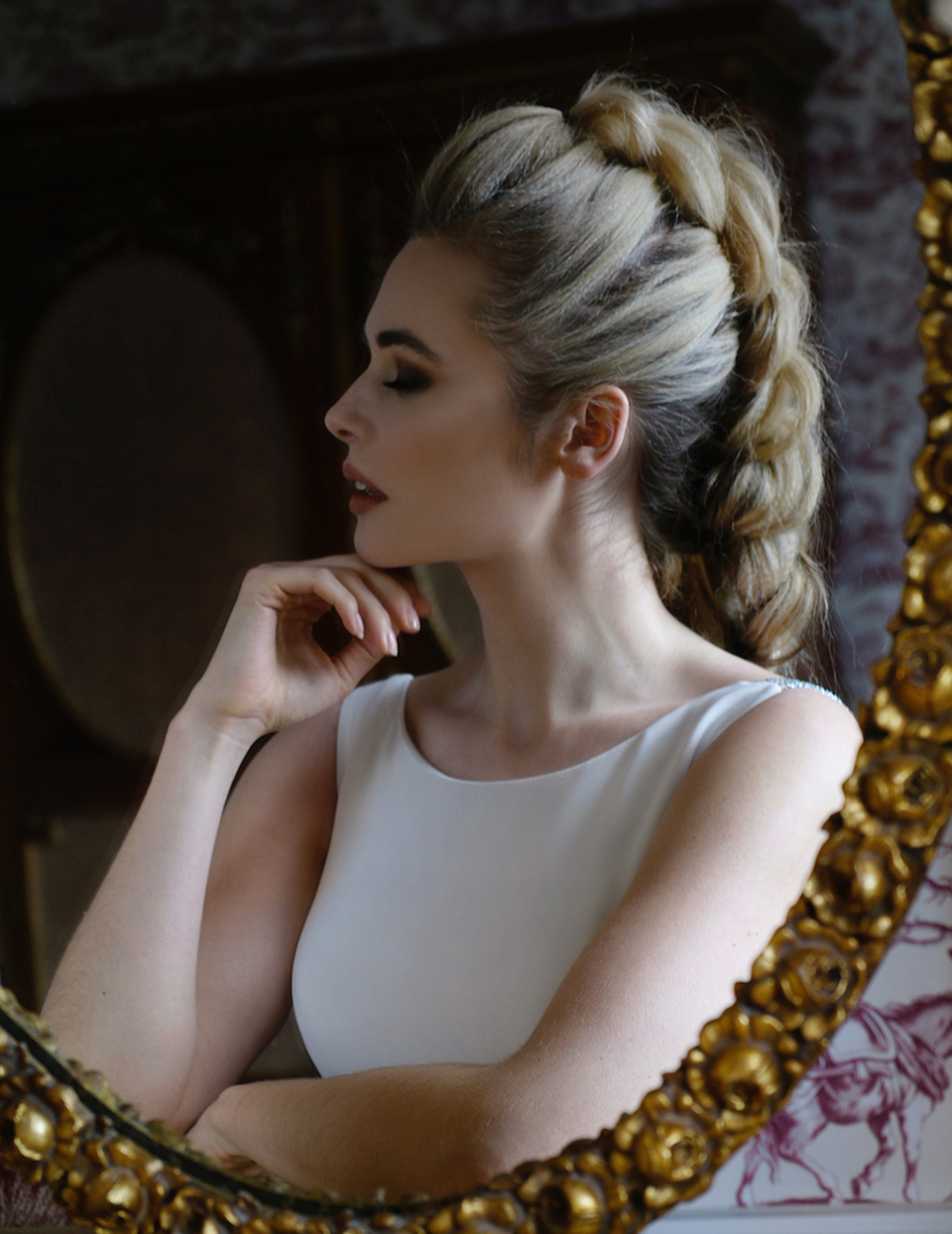 The date has been set, the dress found. Now it's time to start planning your most important hairstyle ever and our founder, Inanch, counts us down:
12 months to go…
It's never too early to start talking about wedding day hair, especially if you're planning on growing your hair or changing colour, that way your hairdresser can book in all the appointments you need in advance.
10 months to go…
As soon as you've sorted your venue, tell your hairdresser. They may also need to book time out of the salon to come and do your hair so the more notice you can give the better, advises Inanch.
9 months to go…
Now is the time to start thinking about the health of your hair so that it looks it's best. As well as booking in for in-salon conditioning treatments at every appointment, make sure you're using an at-home mask once a week at home. We love Philip Kingsely's Elasticizer. I know it sounds boring but it really does make a difference and when you've put so much time and effort into every other aspect of your big day doesn't it make sense?
6 months to go…
The dress is ordered, time to show your stylist. Now is when you can actually start planning your look. Take into consideration if you're wearing a veil or hair accessory or if you want to to be able to change your hair for the evening party. Take a look at our collections for more hair inspiration.
5 months to go…

Nearly all of my brides wear extensions as it makes such a difference to the appearance of your hair for photos. Try them out before your big day to get used to how they feel in your hair and to try the look you want with them to check you can't see any bonds.
3 months to go…
If you have your accessories and veil then have a trial of your hairstyle with your hairdresser. I always get my brides to try and keep the style in place for as long as they can after the appointment – rather than taking it down straight away – to get a feel for how comfortable it is and to check that it stays in place more than just a few hours!
2 weeks to go…
This is the time to get your ends trimmed and your roots and colour sorted. By having your cut and colour done a few weeks before your big day it will still look really fresh but more natural.
1 week to go…
If you've decided to opt for extension then now is the time to get them in.
To book your bridal hair consultation talk to one of our Gold Class extensionists at our select salons around the UK.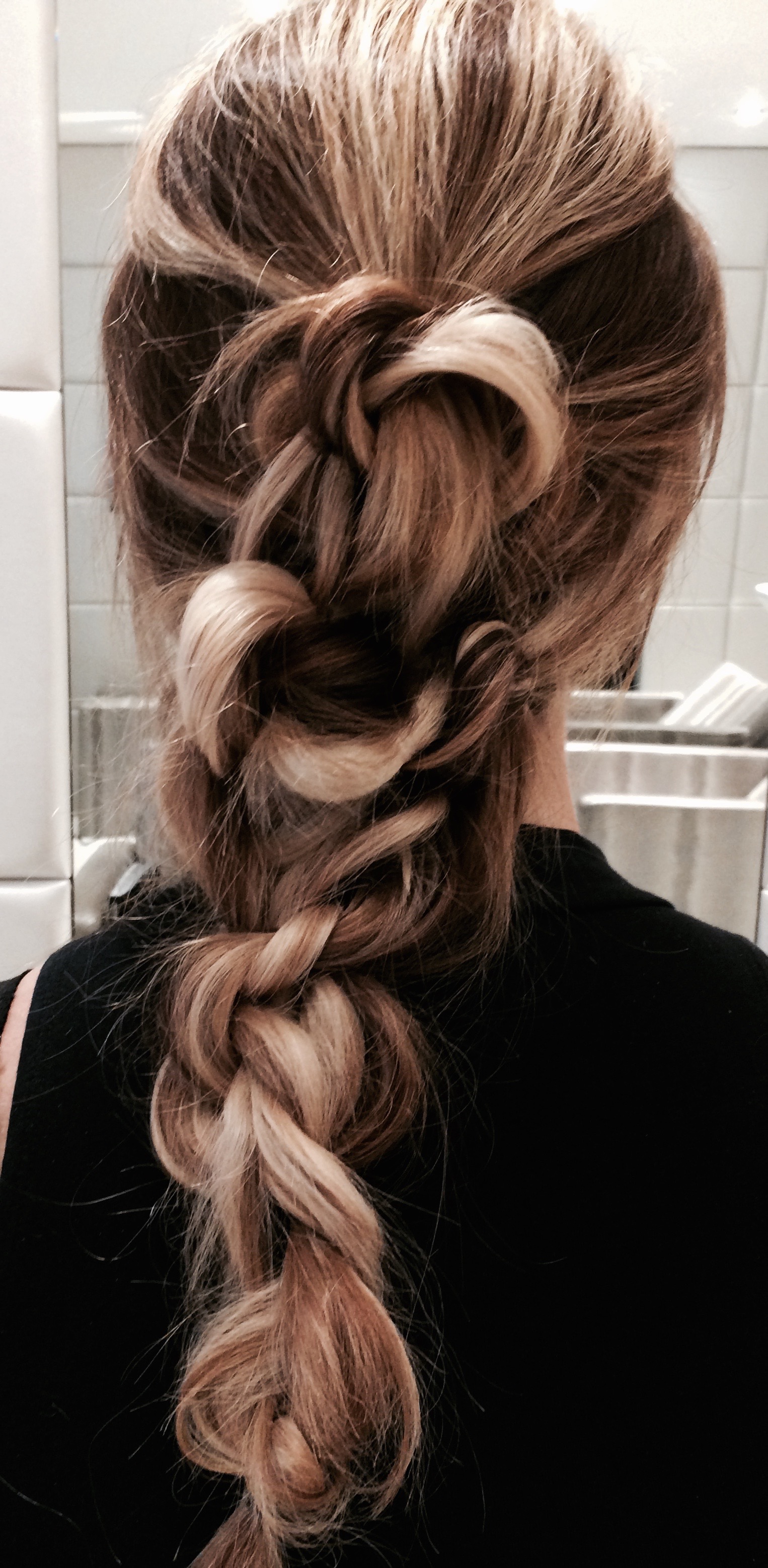 A new year gives us more confidence to try something new with your hair. If a whole new transformation is not your thing, and you just want to know the trends to try; then we've got it covered for you. Claire and Alison from our elite-10 salon Blo Bar shared their top three trend predication for 2016 with us.
1) Keeping you tresses looking their best has always been our motto but this year really is the year to be giving your locks some TLC. Healthy Hair Days is so now. Head to your nearest Gold Class elite salon and for a consultation and your personal hair prescription. Thick healthy hair is what you need to create, so the girls recommend that if your hair is long and straggly, then perhaps it's time for a chop and some Gold Class hair extensions to give it the right look.
2) Knots and to pull this off well they suggest you need plenty of hair. Any excuse for a hair extensions! Plaits are still around but it's all about putting a twist on them. "Wear them tighter, stronger and bolder" say the girls.
3) Embellish your 'do with big metallic clips and we've found you some gorgeous one's to get your accessories box going here.
Thanks to Claire & Alison from Blo Bar for their #hairspiration and give them a follow as the head off to LFW again next month.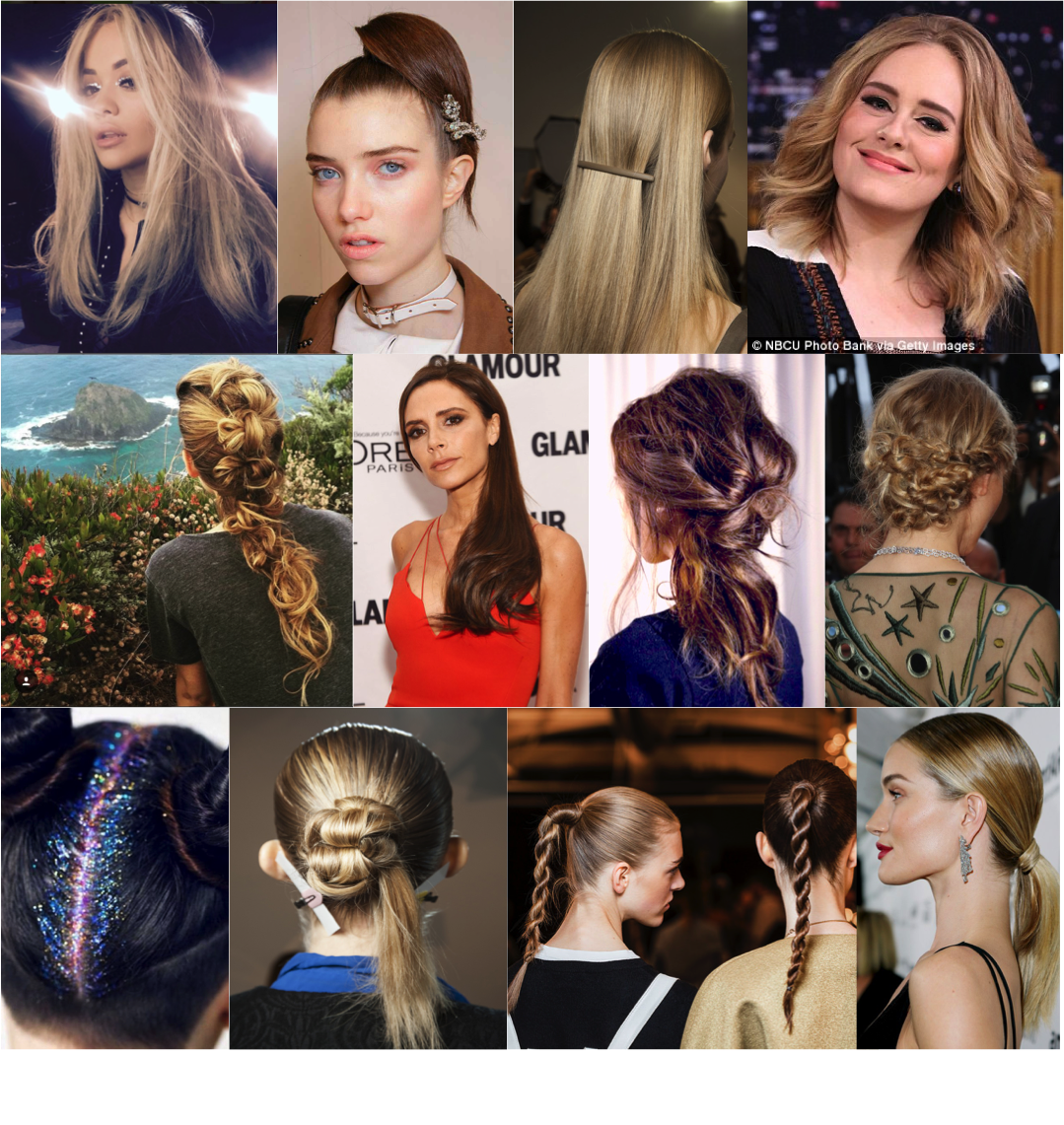 With the party season upon us, here's 12 simple styles to recreate these on trend looks.
1) Tousled – the textured trend for 2016
2) Jewelled – One of the most coveted images from the catwalk; this high pony uses a clip to hold your hair in place against the wind and all with a little sparkle.
3) Sleek – and in control
4) Big hair – turn up the volume!
5) Pancakes – Tease those plaits for a more undone look
6) Side Sweep – the celeb red carpet go-to style
7) Undone – perfect teasing your hair
8) Intricate – plait-tastic
9) Glitter – because you can never have enough
10) The 'Pun' – its a combination of a ponytail and bun. Maybe more of a knot. Give it a go!
11) Twist – with this stylish take on the pony
12) Can I have a pony please Santa? Simple & elegant whether high, low or mid placed. Just wrap a little hair around to conceal the band.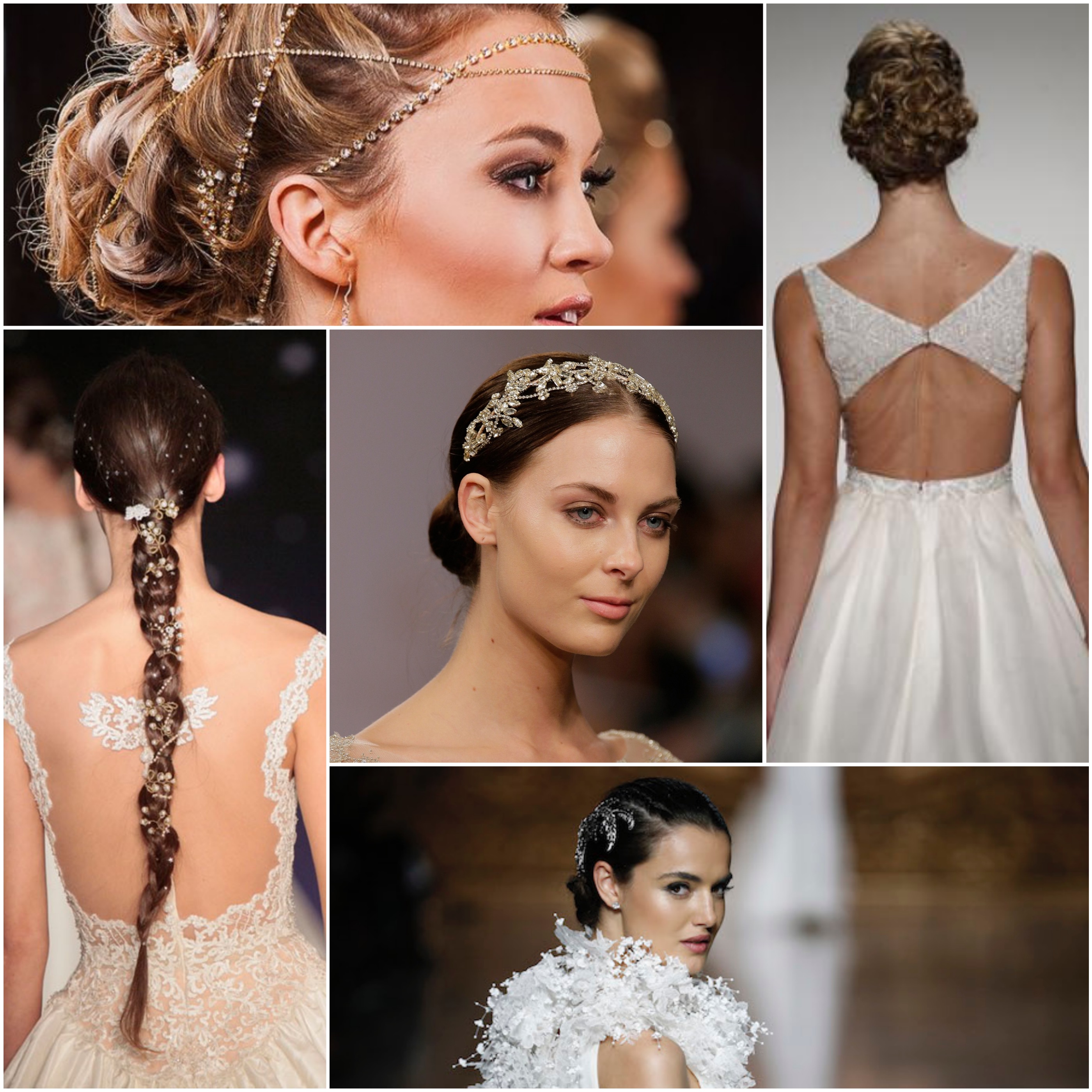 With Christmas approaching it's also lovely to see so many winter brides.   Our founder Inanch Emir has created some stunning bridal hair and you can see her Tuscan Summer creation in our earlier blog with wispy strands and flowers in her hair.  But what can we expect to see this winter time?
"Winter weddings are definitely more structured with brides opting for more classic clean lines.   Accessories are all about the sparkle and slide combs are very popular this year with a vintage feel."   
So with this in mind, we have trawled the AW16 Bridal Catwalks to find you some inspiration for your brides. These images show the elegance of the ballerina bun, through to a simple breathtaking plait as well as intricate undo's taking your hair off your face and making great use of all things sparkly.  It's worth thinking about your dress, the back shape and also how you normally wear your hair.   Brides may want the added volume and length for their wedding day, but it's not advisable to go too far away from how you like to have your hair.  The biggest catwalk trend has to be the accessory.  If you aren't wearing a veil you can have more fun with jewels and we can recommend this little page from Vivien J Accessories to find some beautiful bespoke hair jewellery.
Don't forget your autumnal hues too and add some warmth to your hair colour.  Our current favourite has to be our Rich Rose. 
Book a consultation with your Gold Class salon to chat more about creating that perfect wedding hair do.
Fashion Weeks around the globe have drawn to a close and we've some amazing hair inspiration. Not all of it is suitable if you wear hair extensions and so we've reviewed the shows to find the stunning looks to try at home with your Gold Class hair.
The overall theme is 
healthy hair
.   A philosophy close to our heart it's time to treat your hair to some TLC and we can't speak highly enough of
Philip Kingsley's Elasticiser
to restore moisture and we recommend using this weekly to keep your tresses perfect as we head into winter.    The styles then enhance your hair with simple looks, often undone and natural.  We adored this Dolce & Gabbana ballerina bun with soft wispy hair for red carpet, christmas parties and work.  In fact, anytime!
Partings seem to play a big role this year from the perfect centre parting to the side sweep.  Milan Fashion Week saw the return to the quiff.  With a slight twist Dries van Noten show had 40's rolls which are easy to replicate with a few bobby pins and hair spray.
Accessories were everywhere from the humble bobby pin, scarves and jewels. Treat yourself to a few more as you will definitely use them right through to summer next year.  We loved this elegant clip from Chanel bringing pigtails to the catwalk.   We also loved Marni's twisted bunches making sure they are no longer reserved for the school playground.
Harping back to our youth again; crimping is back and if you can't lay your hands on your old crimping irons try this little cheat – create a fine plait and run over with your flat irons before undoing and repeating.  You don't have to do your whole head either, as you could add this texture to just a section of your head.  Have fun and try this over the weekend.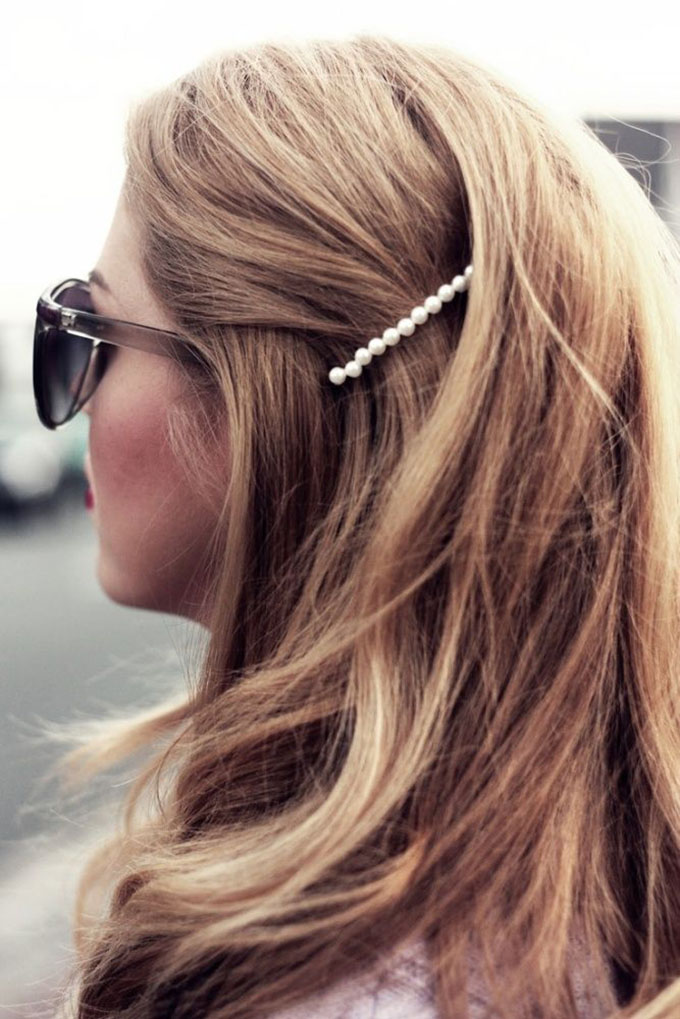 We love our hair 365 days of the year but February is a chance to talk about our romance with hair. Your hair is plays a significant part in your overall look and long hair has often been a sign of femininity & attractiveness for men especially. And the best bit is playing with, swishing and generally showing off our beautiful tresses.
So here are some styles to try this month to keep the romance with your hair alive:
Plaits continue to be a big hit but with more of an natural look as seen at recent Chanel's Couture Show whether you want to do a Heidi headband braid or something more simple. If you want some more up do's take a look at these How To's courtesy of our friends Layered Online.
A beautiful head of healthy hair styled with gentle loose waves only needs a beautiful accessory such as a clip to open up the face and offer a little glimpse of underneath. Another great accessory are flowers but check out the amazing range of combs, clips and hairbands on notonthehighstreet – go and treat yourself!
Our Misha Barton collection last summer had a romantic theme and you can see her hair gently styled on the ends to give some movement to the hair. A few strands loosened at the front and helps soften the face.
Have a happy valentines xx