Tag Archives:
gold class hair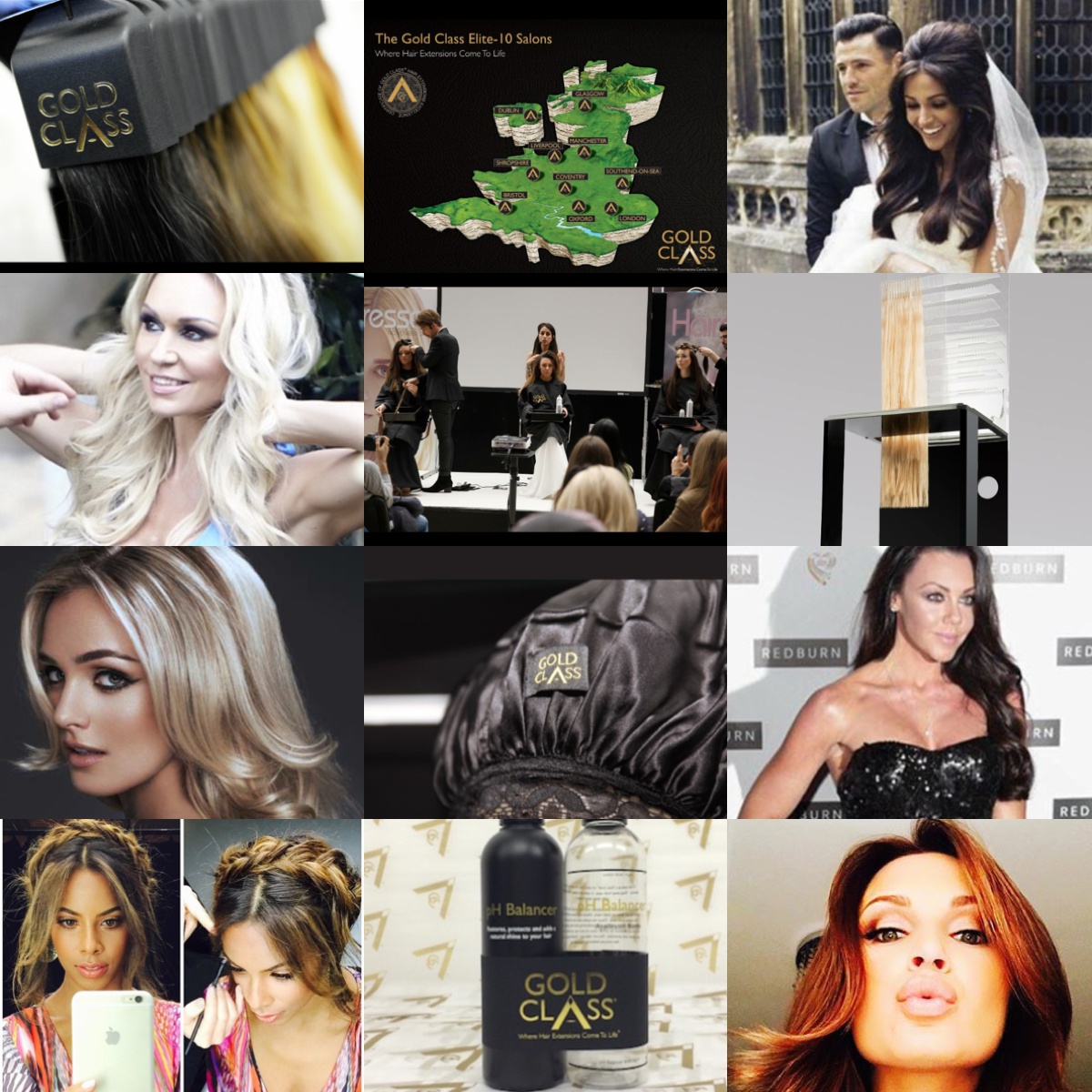 Another year has gone by and before we head into 2016, let's just take a moment to celebrate all that has been fabulous about Gold Class this year. Some might say it's been a journey but to us we're just excited about the future with so much to build on. We've launched to our industry, shared our hair and expert application skills with our Elite-10 salons and we're enjoying seeing all the fabulous transformations around the country.
Colour wise we've launched 26 beautiful shades and even gave them each a name to reflect the hue and to help you remember them. Ronze was the big colour trend and we have plenty of fiery reds to cover this. Catch up on what you missed with our blog here. We had several colour chameleons celebrity clients such as devote Gold Class fan Michelle Heaton changing her hue with each application. We didn't stop there with trends as celebrities went for the lob. You might have thought that Sam Faiers & Rochelle Humes had given up their hair extensions with the shorter crop, but our hair keeps their lob's shape, healthy & volumous. Read more in our previous blog. We were also delighted to welcome new celebrity names to the Gold Class family including Frankie Bridge, Vanessa White and Michelle Collins.
Our hair hasn't been off the TV Screens from XFactor to Strictly, the West End, numerous model campaigns and the Miss Great Britain & Miss Universe competition. Michelle Keegan's wedding was definitely a highlight as she chose Gold Class hair to help boost her volume for her special day and she's a pro at our Healthy Hair Days philosophy. We're pleased to with our select salons around the UK so you too can get your Gold Class hair extensions for yourselves.
We have just launched some fabulous products to help look after your hair at home too. Our pH Balancer and Silky Hair Days are perfect for hair extension wearers and non-wearers alike. It's all about beautiful hair and we all want that!
So what have we missed from these snaps? A team of people behind the company with great passion for all things hair extensions and of course our lovely fans who have helped our brand grow. There's been a lot of really beautiful hair too, just check out our Instagram feed for your #hairinspiration. So what's in store for 2016? Find out on in our next blog:))
Wishing you all a very Happy New Year and looking forward to seeing you all in 2016.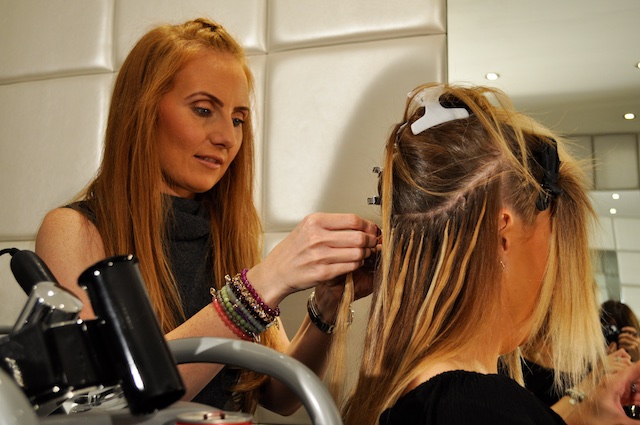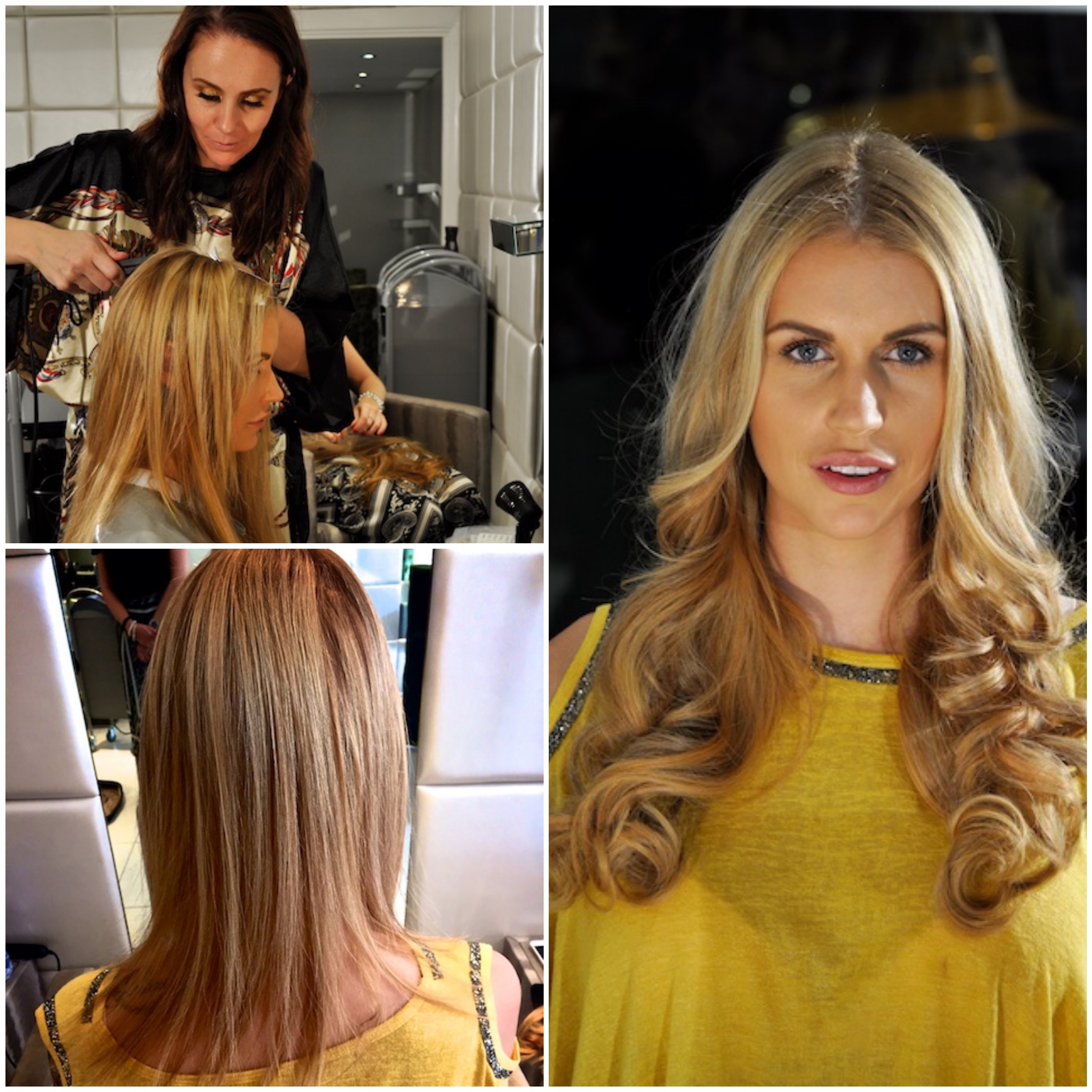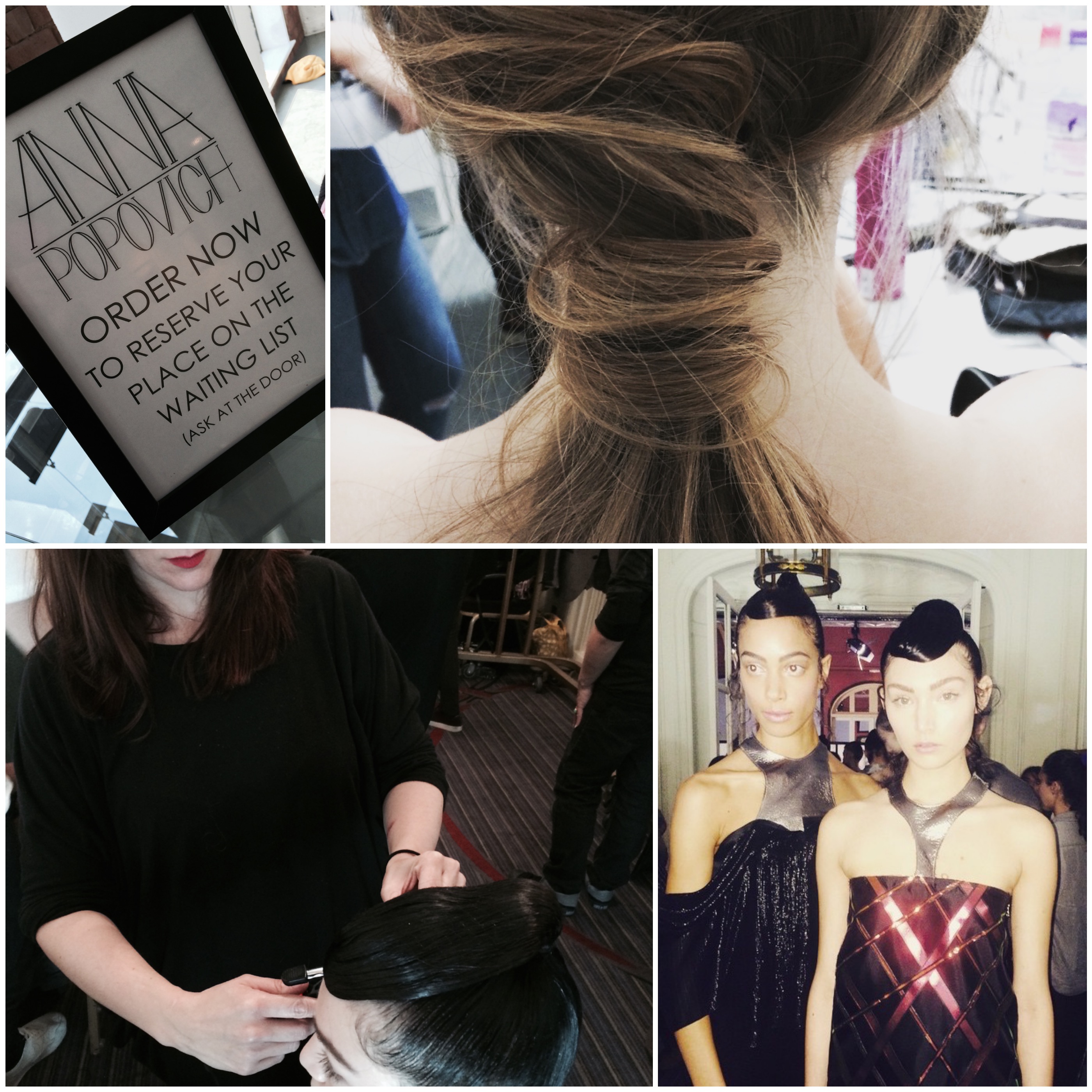 Set in the swanky Buckhurst Hill area of London, you will discover the beautiful Blo Bar. Described as a hub of hair, make up and glamour – it's the perfect place for Gold Class Hair Extensions. They had to wait for us as we launched our Elite 10 and training was in late September, but the wait has been worth it making our hair the focal point in the salon. Owner, Clare Jones and her team share their love of hair here:
Tell us about your clients
Our clients are fun and social people who always wanting to look their best.
What is the most asked question about extensions?
Are they easy to manage?
Which celeb is the most requested hairstyle for extensions?
Rochelle Humes.
Tell us your best hair transformation story
It's definitely a set of Gold Class extensions that have transformed a regular client of mine, even her husband calls us to say thank you for making his wife so gorgeous!
What tip do you get your extension clients to follow?
Brush the hair from bond to tip regularly throughout the day with your Gold Class brush.
What was the highlight of launching Gold Class in your salon?
Being a able to offer our clients such high quality hair that they love just as much as I did when I first had it put in mine. Its great to have the colour swatch that client's can see for themselves just how amazing the hair and colours are.
Proudest moment for your salon
Opening the doors to Blo Bar when I bought it last October, there have been some changes made to the décor, putting my own stamp on it. The salon is ultra feminine and unique with a boutique style. Since October all our stylists are now trained and experts in colour, extensions and cutting. We have recently taken on Philip Kingsley products, which works brilliantly with Gold Class, It is such a fabulous product, and really benefits the quality of our clients hair.
Alison has also continued her Fashion Week work heading up a team for Anna Popovic at LFW, and then heading to PFW to work alongside Darren Fowler for designer Bernard Chandran creating some beautiful hairstyles (images left). Most recently she has been working on the new Christmas M&S ad.
Preferred music to work to
Anything current, but not too 'pop-py,' Whatever comes on Spotify, especially Justin Bieber at the mo.
Which industry show do you never miss and why?
L'Oreal Colour Trophy Grand Final – it's a wonderful creative showcase.
What's the next big thing for your salon?
We have just taken on the highly respected product range Philip Kingsley to sit alongside our Gold Class hair extensions. Launching that will be big news for us and not to mention Christmas and lot's more glamorous hair!
Putting owner, Clare under the spotlight …
What do you like to do on your day off? Spending time with my family, working out and of course, shopping!
Have you got a hidden talent? I can sing!!
What's your favorite colour to work with at the moment? Blondes are my fave right now, I've been doing lots of really warm tones and apricots blondes.
Where do you get hair inspiration from right now? I always really like Olivia Palermo's style.
Your mantra/quote to live by Don't dilute your dreams. Keep your passion concentrated and strong.
Get booked in with Blo Bar for a consultation now and keep following them on social media: Facebook, Twitter & Instagram to see more of their fabulous work.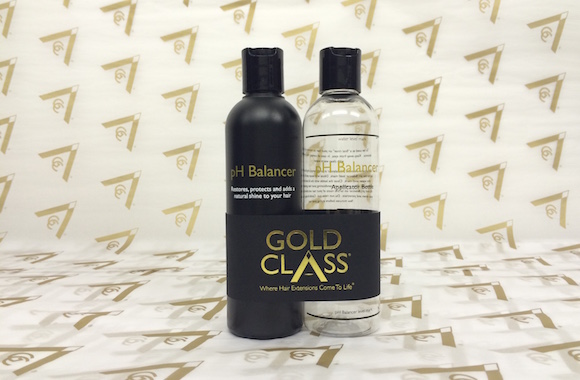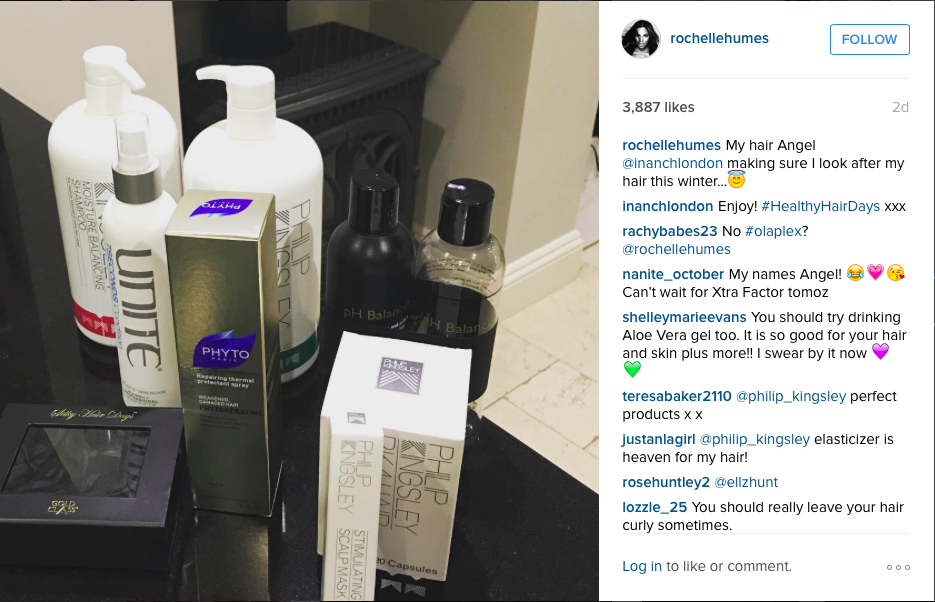 We are really excited to be releasing our very first hair care product in time to add to your winter hair care regime. The pH Balancer is the hero product for all hair extension wearers to offer protection against the environment. Essential for holidays, swimming and as added protection to fight against the everyday stresses on the hair; the pH Balancer acts as a deep conditioning treatment.
A simple rinse (the final rinse) with this leave in conditioning treatment will restore your scalp and hair to it's true pH balance and lock in moisture to create healthy looking hair with a natural shine.
Rochelle Humes instagrammed her pH Balancer as part of her winter hair care regime alongside the Gold Class Silky Hair Days and other prescribed products to give her locks the Xtra Factor!
Bottle size 250ml and comes with diluter bottle. Available to buy from your Gold Class select salon.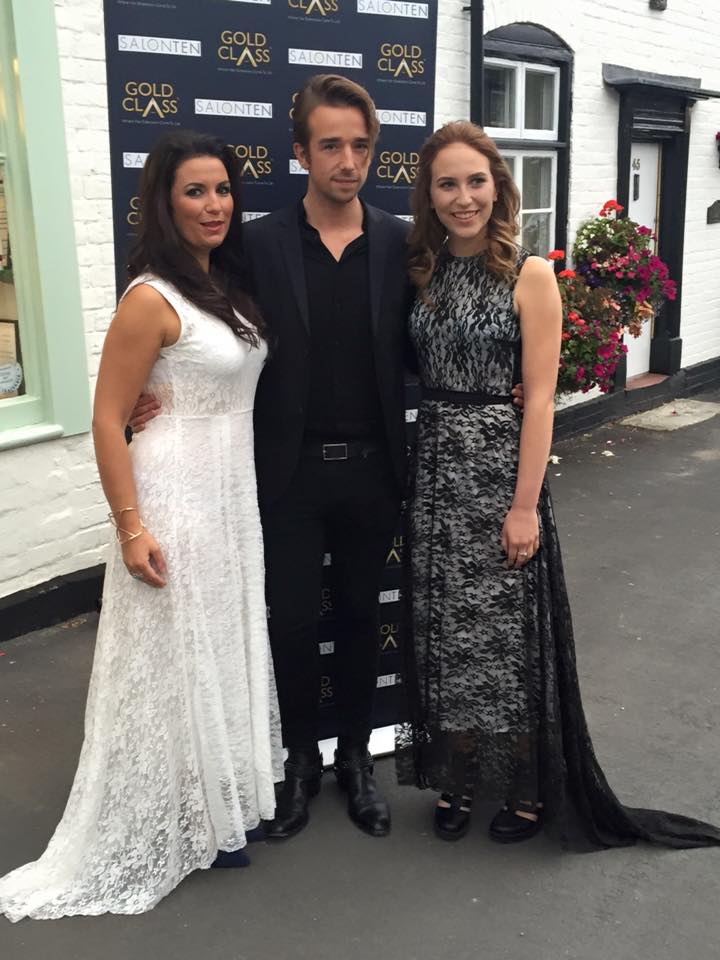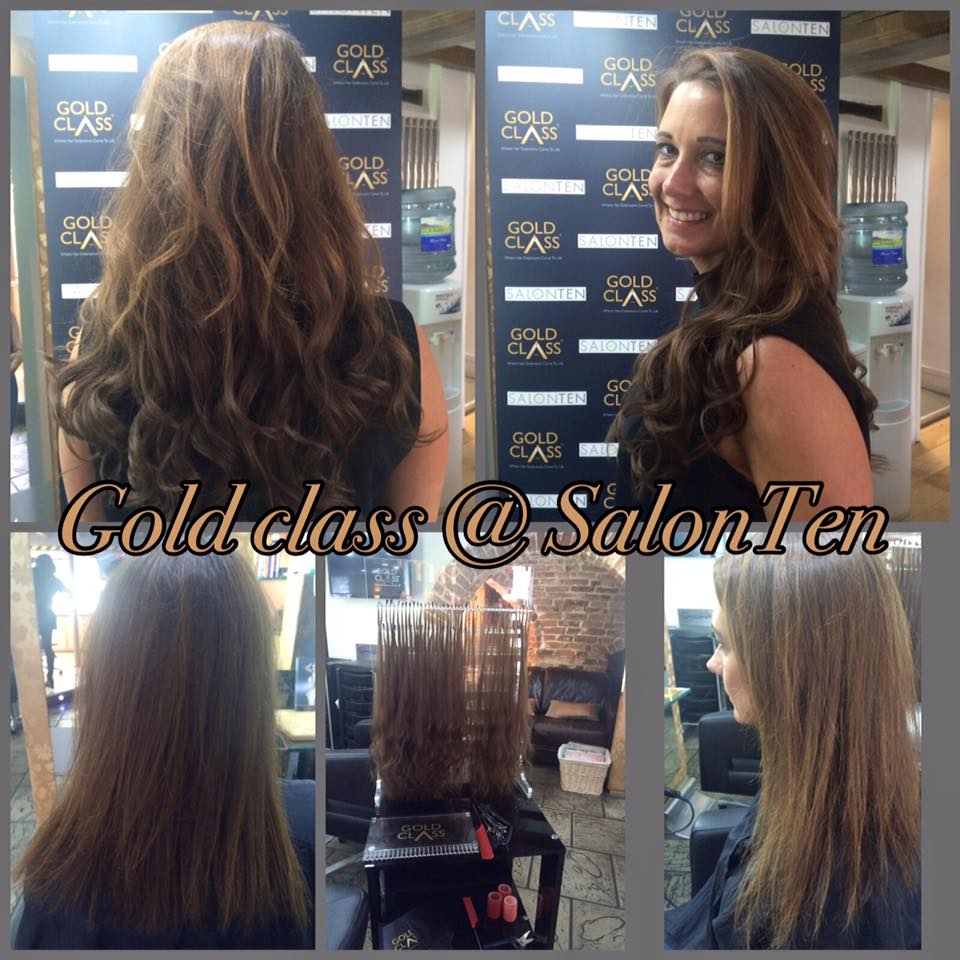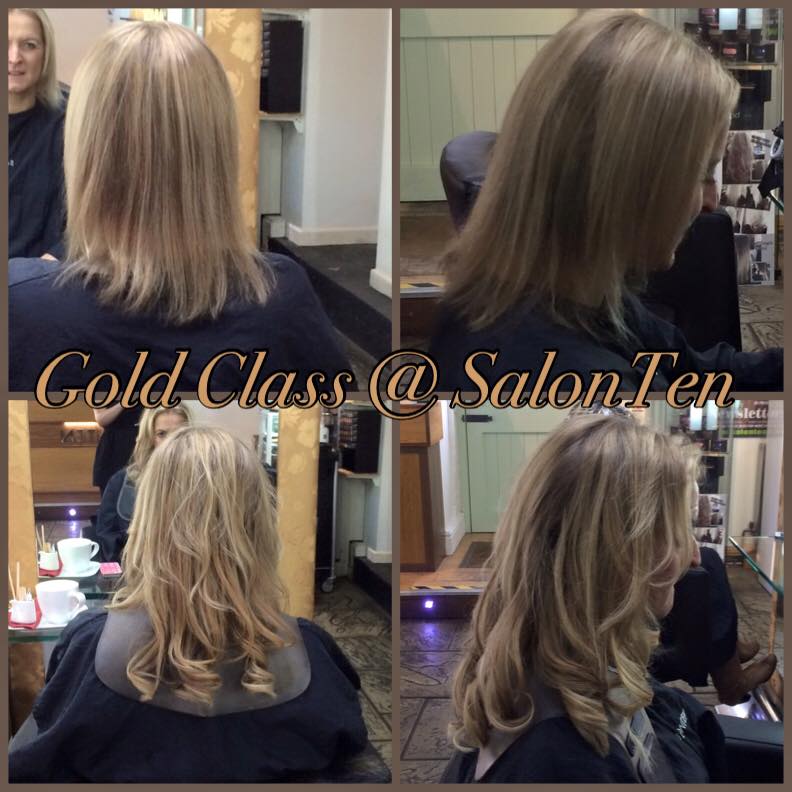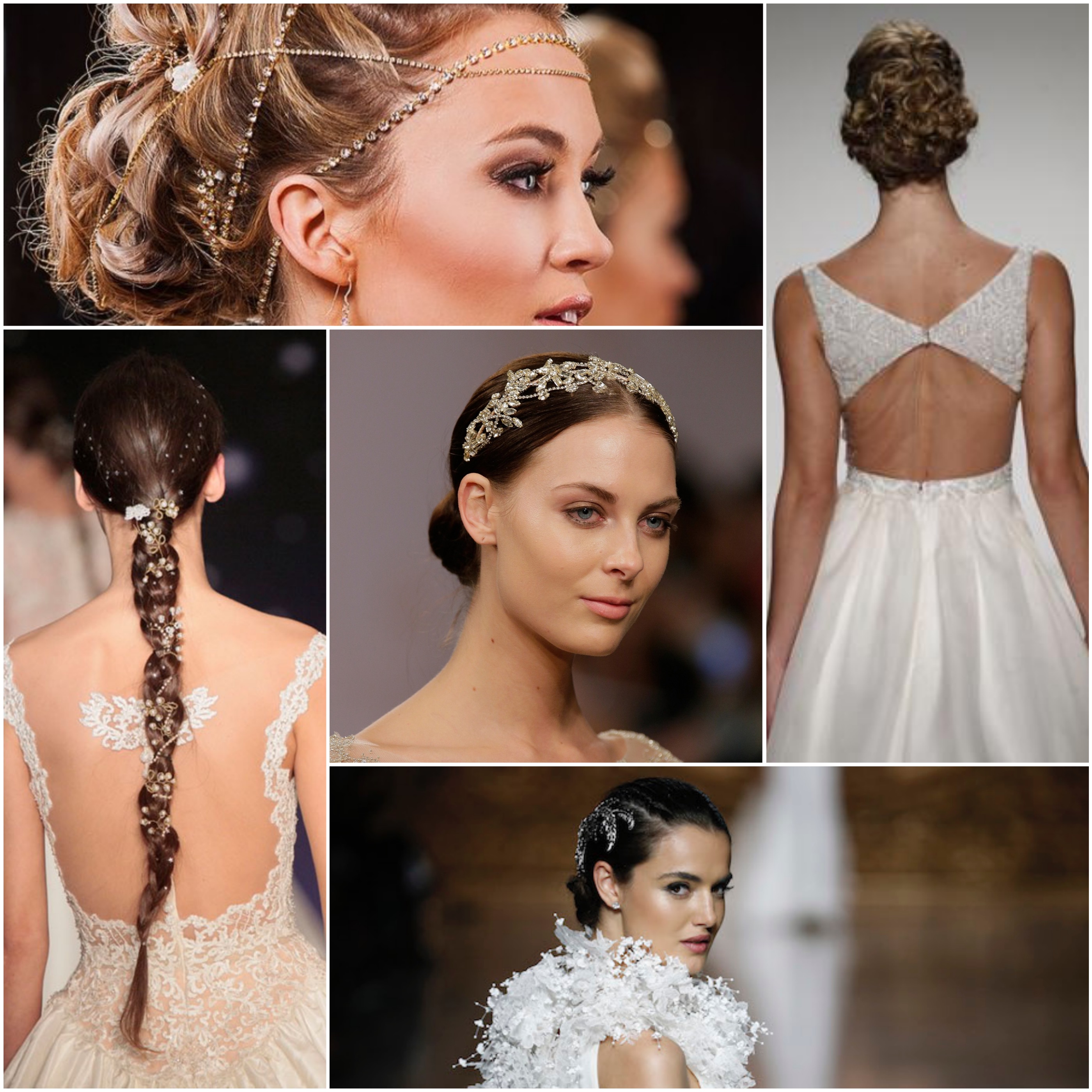 With Christmas approaching it's also lovely to see so many winter brides.   Our founder Inanch Emir has created some stunning bridal hair and you can see her Tuscan Summer creation in our earlier blog with wispy strands and flowers in her hair.  But what can we expect to see this winter time?
"Winter weddings are definitely more structured with brides opting for more classic clean lines.   Accessories are all about the sparkle and slide combs are very popular this year with a vintage feel."   
So with this in mind, we have trawled the AW16 Bridal Catwalks to find you some inspiration for your brides. These images show the elegance of the ballerina bun, through to a simple breathtaking plait as well as intricate undo's taking your hair off your face and making great use of all things sparkly.  It's worth thinking about your dress, the back shape and also how you normally wear your hair.   Brides may want the added volume and length for their wedding day, but it's not advisable to go too far away from how you like to have your hair.  The biggest catwalk trend has to be the accessory.  If you aren't wearing a veil you can have more fun with jewels and we can recommend this little page from Vivien J Accessories to find some beautiful bespoke hair jewellery.
Don't forget your autumnal hues too and add some warmth to your hair colour.  Our current favourite has to be our Rich Rose. 
Book a consultation with your Gold Class salon to chat more about creating that perfect wedding hair do.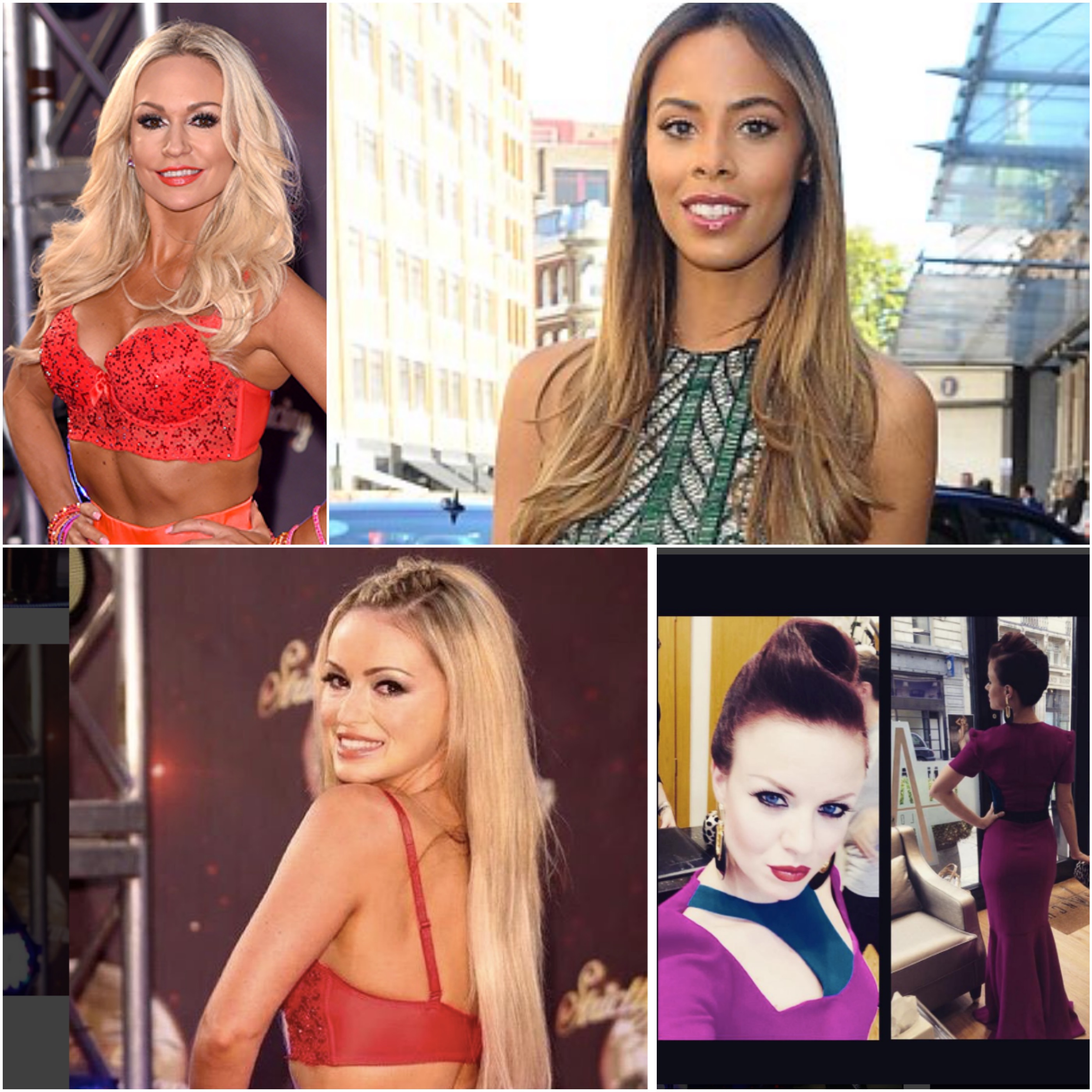 We are now moving in to full-on Strictly Fever and XFactor obsessing as the live shows start. Our loyalties are torn between these two shows and so we can't help but indulge in some Get the Looks for our Gold Class Girls working these shows. With all girls client's at Inanch London we spoke to the team behind each look to get the scoop on their individual looks.
If you follow Rochelle Humes on Instagram you will have spotted she has been tweaking her extensions over summer, going blonder and shorter but her most recent visit to Inanch Emir herself had her 50cm lengths back in. Rochelle is busy promoting her new Very line, Ninja Warriors trials as well as fitting in the XtraFactor. Inanch explains more about the colour change "using her lightest shade as new base to become the darkest shade, we mixed 3 colours to lighten her locks and create a natural blonde look ahead of her press work for her clothing range. We styled her hair with plenty of layers for a different look." Rochelle has to time her hair changes to tie in with her schedules, collections and launches and offer some point of difference.
Roberto meanwhile has helped Ola Jordan with her highly anticipated return to Strictly following her injury. Having played with dark hues, Ola feels much luckier as a blonde and Roberto added 45cm lengths of lighter more ash tones in her new set of extensions applied before the launch show last month. "Ola's hair is a little more complicated when she is working on the show as we need to be more mindful of where we place her bonds and work with much finer bonds to ensure they cannot be seen for even her most dramatic look or felt for back-combing to create those looks."
Roberto also created a beautiful 21st century twist on a chignon for Joanne Clifton this month ahead of her National Lottery Awards night. He keeps her vibrant colour and sharp lines for a very different look for Joanne.
Kristina is a loyal client of the very talented Vessy. Kristina has only been having her Gold Class extensions for a year now and as a devotee blonde she has started to add some on point 'bronde' into her tresses so we should start to see more depth on our TV screens.
Whichever show is your favourite please make sure you support our Gold Class Girls who look sensational as they showcase our hair on the dance floor and TV Screens across the UK.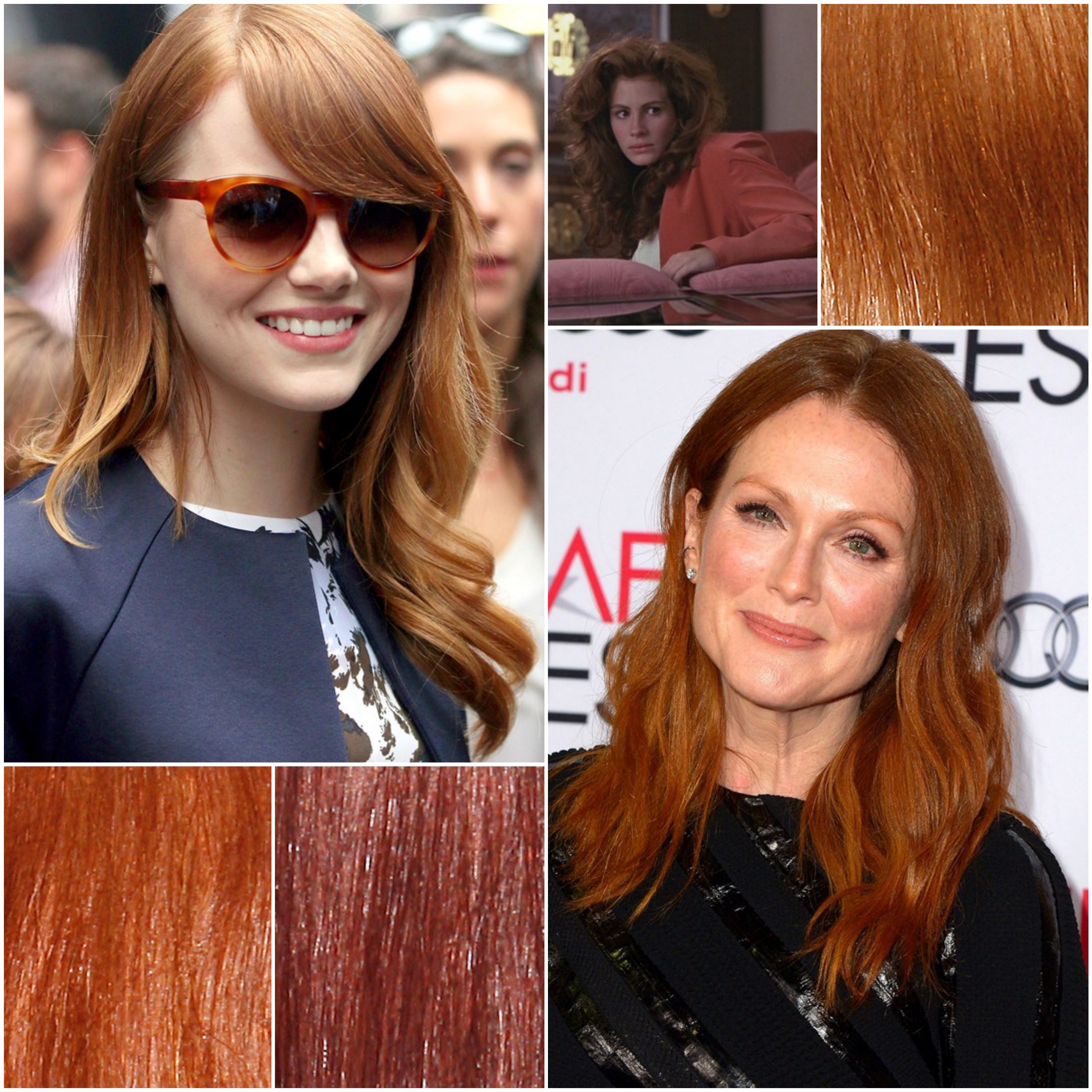 It might seem like another made up word but it's definitely the colour name on the lips of colourists right now. Quite simply its Red and Bronze and for this autumn is a perfect hue to offer warmth and shine which nod to the trend of luxury we are seeing right now. Catch up on the AW15 hair trends in our last blog
We are pleased to have a great range of reds to find your perfect match. From warm browns to rich red warm copper hues your expert extensionist will also be able to blend extensions to customise the look for you. Our hair quality will keep your tresses in perfect condition to maintain the shine and colour throughout autumn.
We've even spotted Inanch London's Gold Class extensionist Roberto Silva has already been 'Ronzing' his clients here: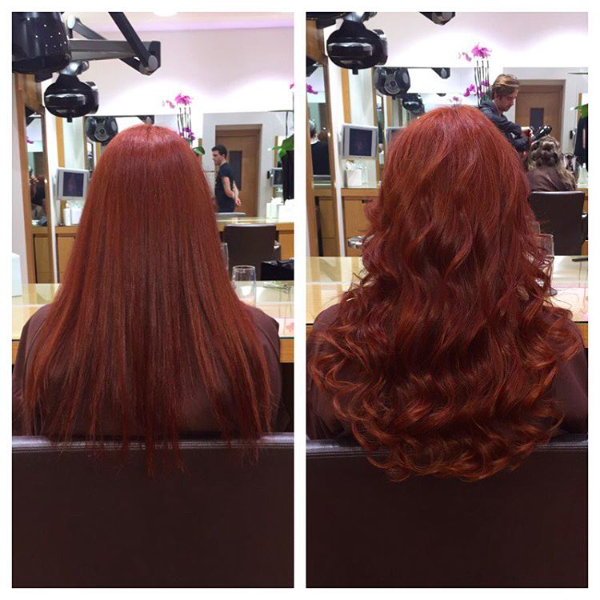 There are plenty of celeb red heads we can look to for inspiration from Emma Stone, Julianne Moore and of course Pretty Woman star Julia Roberts. Sienna Miller has recently sorted a Ronze look for a new role and other celebs who have dabbled include hair icon Blake Lively and Scarlette Johanson. Flick through some more red celebs here.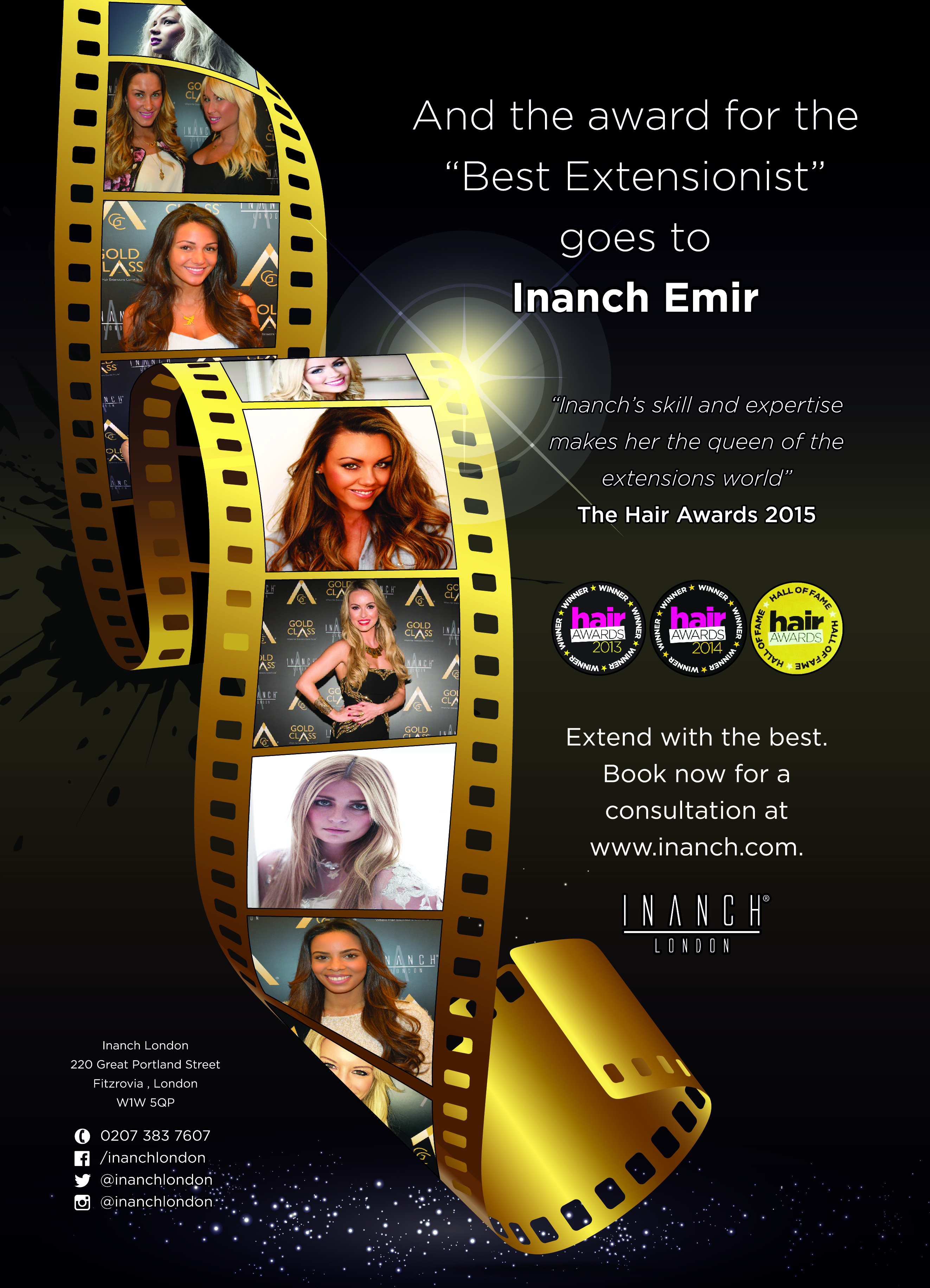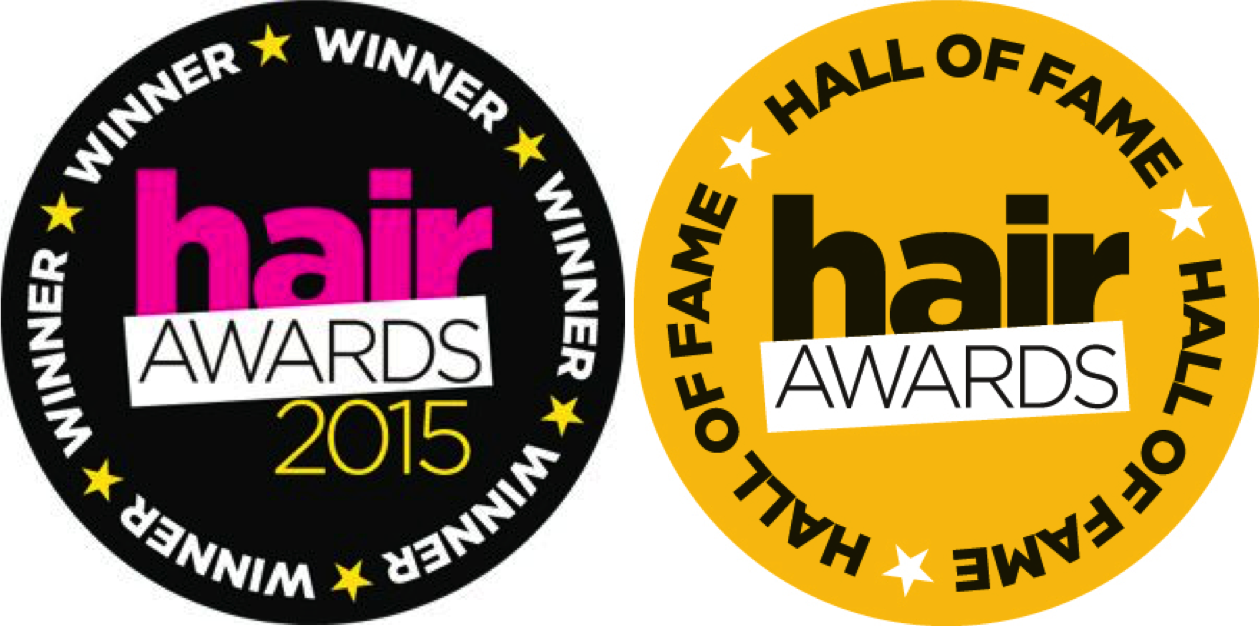 She's only gone and done it again! Three wins in a row for our Inanch claiming the fiercely contested Best Extensionist accolade from The Hair Awards. This also lands her in the coveted Hall of Fame too. Only a handful of hairdressers are in the Hair Awards "Hall of Fame" and Inanch is the first extensionist to achieve this in the history of The Hair Awards!
The Hair Awards are run by Hair Magazine, the UK's leading consumer hair publication, and is judged by both readers of the magazine and an elite panel of hairdressing industry experts. It's the Hair Oscars! If you've not already got yourself a copy of this month's Hair Magazine The Big Reveal then you can take a sneak peek here.
Having fought off some other leading extensionists in the UK, Inanch had been able to show that she has moved on from pure application to be breaking ground and moving extension application on with her Healthy Hair Days philosophy and creation of our fabulous private label hair extensions, Gold Class. "Inanch's skill and expertise make her the queen of the extensions world" – The Hair Awards 2015
"We are absolutely thrilled to earn this prestigious accolade" Inanch Emir "And we can't wait to support the rest of our team and lucky Elite-10 salons extensionists in their entry next year."
We're just waiting for the award itself to land and we will share some more snaps of Inanch's fabulous achievement as we celebrate some more! Inanch will also be exhibiting her 3 fabulous Hair Awards entries from 2013, 2014 & 2015 at her London salon from next month and invites our Gold Class certified salons to visit her salon to have a look at each entry for inspiration and ideas.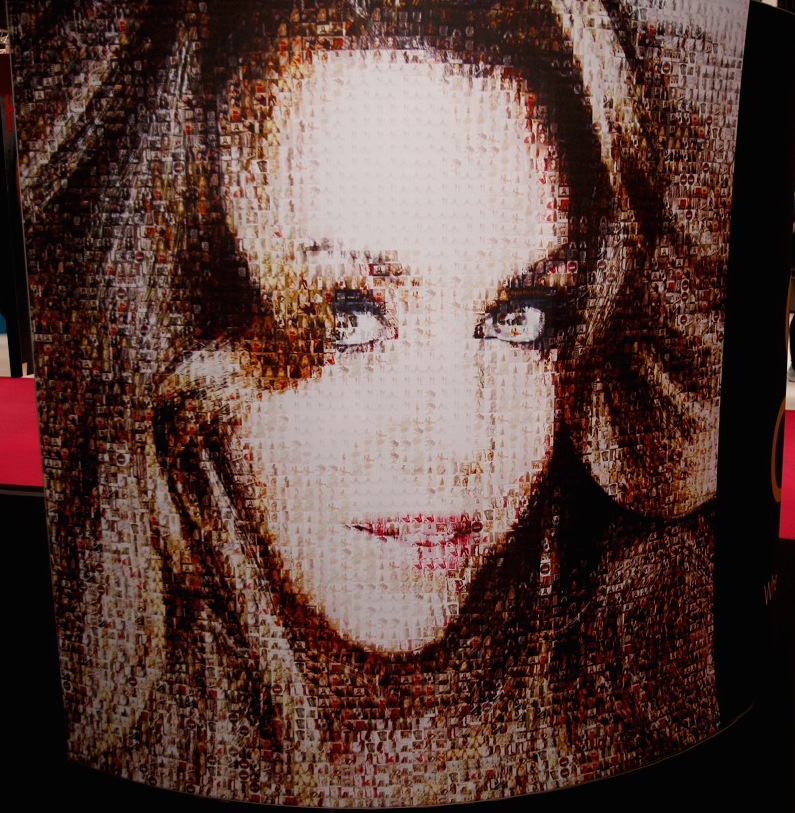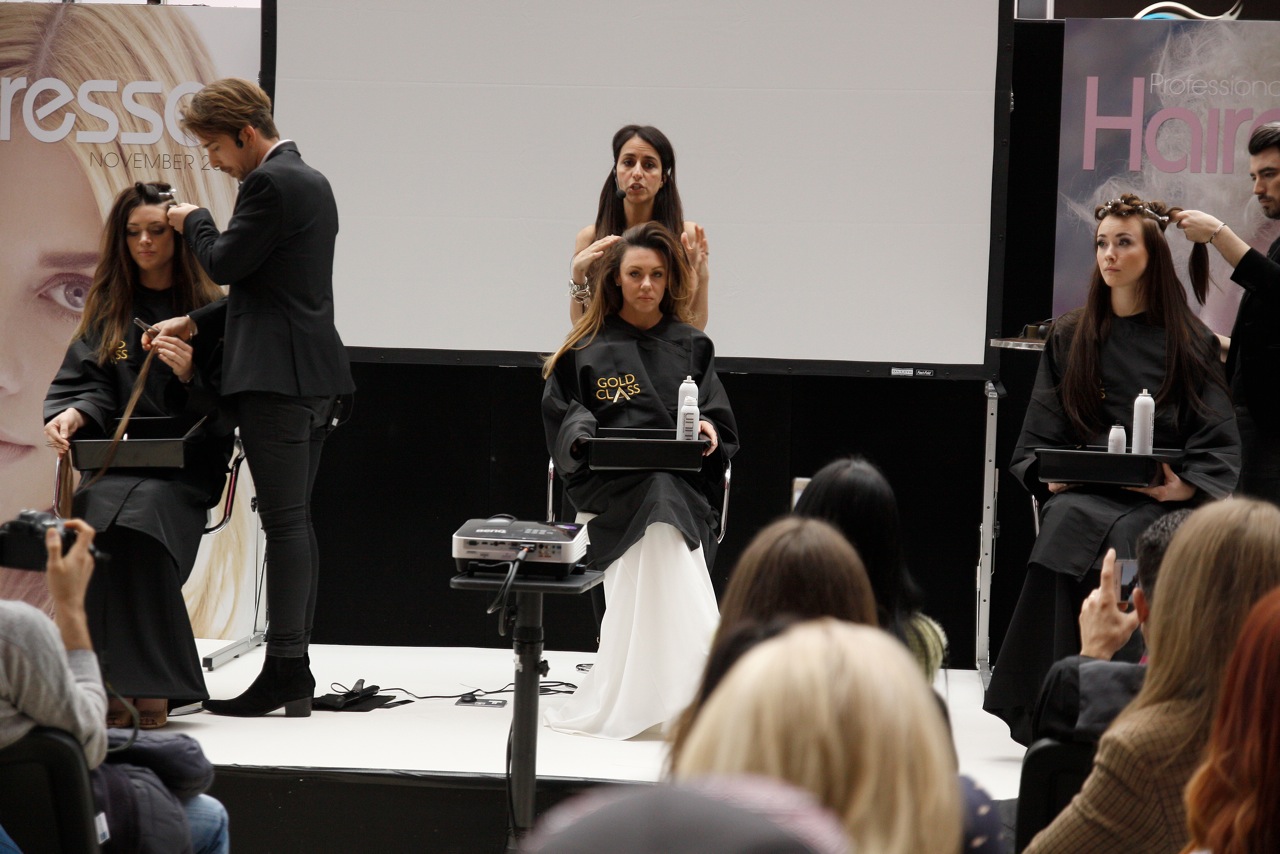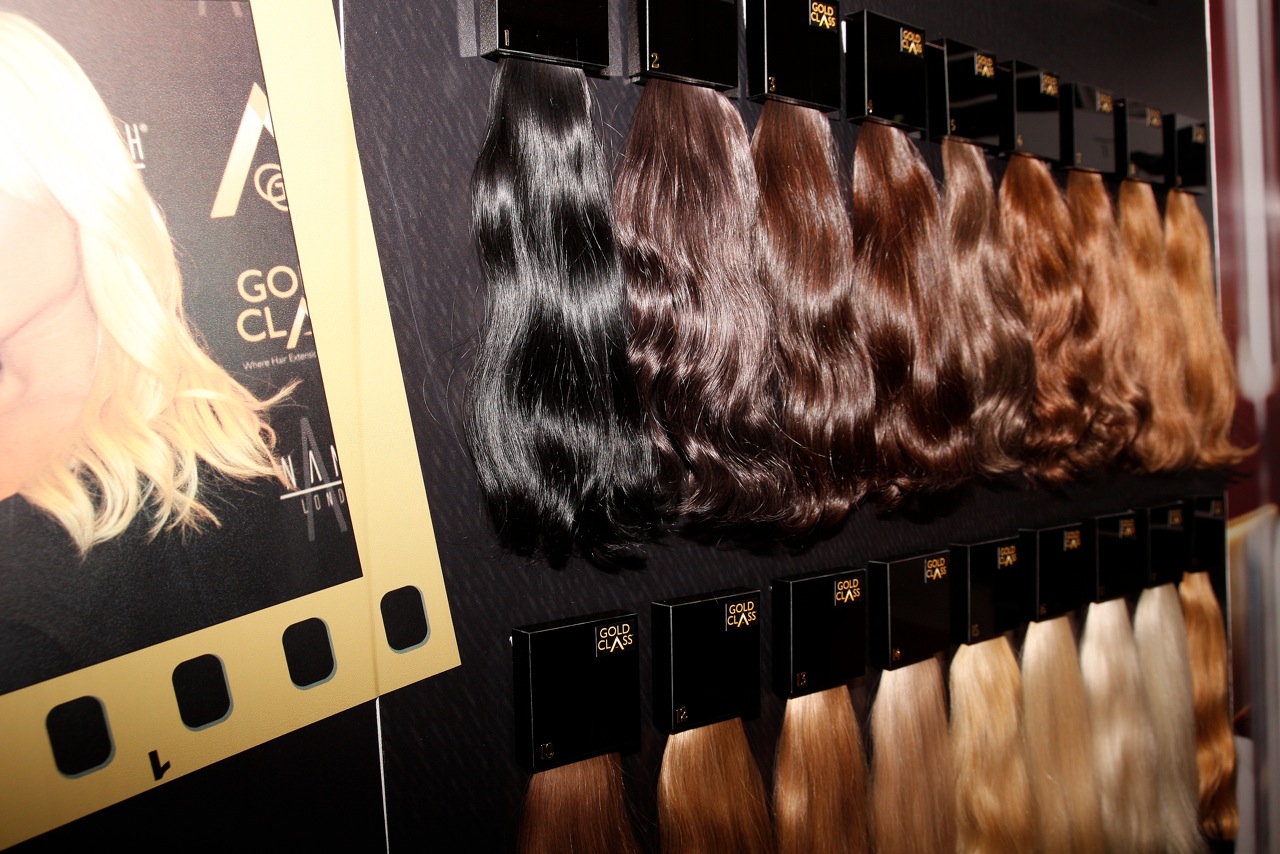 Well our very first exhibition is over and we loved it! Pro Hair Live 2015 London at Olympia was a great way to launch Gold Class to fellow passionate extensionists. Sat alongside the Professional Hairdressers own stand and the Red Carpet & Bridal Stage, our stand looked amazing with a pod using our media coverage montage to make Michelle Heaton's face from one of our collection images. Michelle spotted this on twitter and replied "Wow! That's a rather large picture of my face hahaha xxx"
We were staying in the Hilton Hotel Olympia with quite a few other exhibitors and we had a good laugh with the Balmain bunch on the table next to us at dinner each evening.
It was the first time we had shown our application machine and we can say how impressed everyone was on the compact size and design. We even had a suggestion to give it a name it was so cute. So if you have a suggestion, please let us know. Our complete range of brushes and combs were on show, alongside our clip-ins and aftercare ranges with UNITE and Philip Kingsley. Although it was our Hair Wall with our 25 shades that stole the show.
Day 1 was quite a nervous affair as the Inanch Team were on stage demonstrating application and cutting & styling techniques. With not a spare seat in the seminar, crowds formed to hear the team share their passion for glamorous hair and tips for working with the different methods with Inanch showing pre-bonded, Lee working with micro rings and Roberto on taped hair. Our models were of course our own Gold Class Girls including close friend to Inanch, Michelle Heaton. Inanch had also on stage the gorgeous models Ianthe Rose, Imogen Leaver and Sara McLean.
With old Miss England friend and compare Andrew Minarick asking questions, the team were on stage for around an hour and available for photographs and questions afterwards. Michelle kindly had a quick interview with the Pro Hair Live team which should be featured online and in the magazine soon. We will keep you posted as soon as it's available to see! Our beautiful models roamed around the show and enjoyed a snap on the Fudge stand and were stopped everywhere to have a closer look at their hair and show-stopping PiaMichi gowns.
Day 2 meant we had a much needed lie in as the stand was ready for us to start working on our models again. MTV's Ex On The Beach star, model and DJ Mel Reeves joined us as Roberto applied a full head of extensions and styled her hair to perfection with a crowd of on-lookers. It was also a day to catch up with the great and good from the industry and share our story.
Our Elite-10 campaign had salons making the journey to Pro Hair Live just to see us. Completely humbled by this and the response of salons wanting to be one of the first exclusive destination salons for us. We have some tough choices to be making now as we look through the applications. We even had stylists claiming to be 'Gold Class Stalkers' as they have been following our work on social media and waiting for us to come to Pro Hair and see for themselves. A huge thanks to everyone who stopped by to wish us well and take an interest in our hair and products.
We have a couple of our new Trolleys available to buy at our show offer price for the next 10 days only. To get one of our state-of-the-art trolleys delivered to your salon for only £750+VAT, please get in touch by the end of Friday 8h May.
To check out more pictures from our two days – check out our Twitter & Instagram feeds.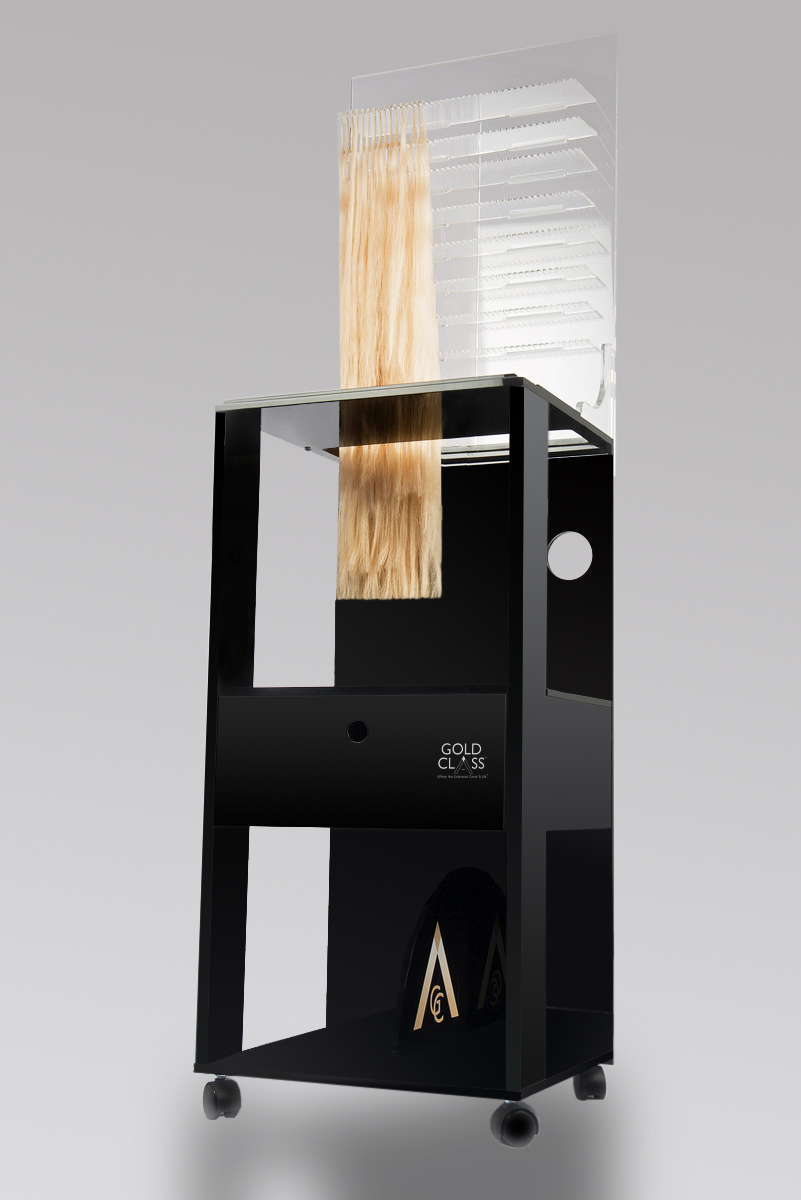 Our hair extensions trolley in the salon has been the envy of many extensionists from around the world and we are often contacted about it to ask where we got it from. We have now produced our very own bespoke version designed by the lady herself, Inanch, with the professional extensionists in mind. A year in the making, this state-of-the-art trolley has everything required to make an extensionist's life easier, quicker and at the same time, showcasing those beautiful hair strands ready to go on your clients' hair.
We have created two versions – the full trolley and also a handy counter-top version for mobile work or tighter spaces. We are also opening this up to non-Gold Class salons to be able to purchase, although our own #Elite10 salons will get these at a preferential rate and with full Gold Class branding to help promote the service at their salon.
The main trolley is made from black perspex to give a professional finish that is easily wipeable and comes with a draw to keep your hair extension tools safe & tidy as well as offering storage for your spare hair. The non-slip matt on top holds either your application machine or tools as you work. Rising up the back of the trolley is the individual hair strand holder with 8 rows and to a maximum length of 60cm. The etched vertical divider-line in the centre allows you to hold 2 heads of hair extensions so you can be ready for your next client, or can help you with colour blending by arranging your extensions to customise the look you are creating. All on silent wheels, allows the trolley to swiftly move around the salon to whichever position is needed.
The counter top is the hair stand alone and sits neatly on your work station or reception to help attract your extension service.
Here's a first glimpse but these will be on our stand at ProHairLive later this month so come and see them for yourselves. They will be available with an exclusive Show Offer for those ordered at Pro Hair Live and delivered free-of-charge to your salon.
If you can't make it to Pro Hair Live and want to place an order for one, please email to get your name on the waiting list and we will be in touch soon.