Tag Archives:
gold class girls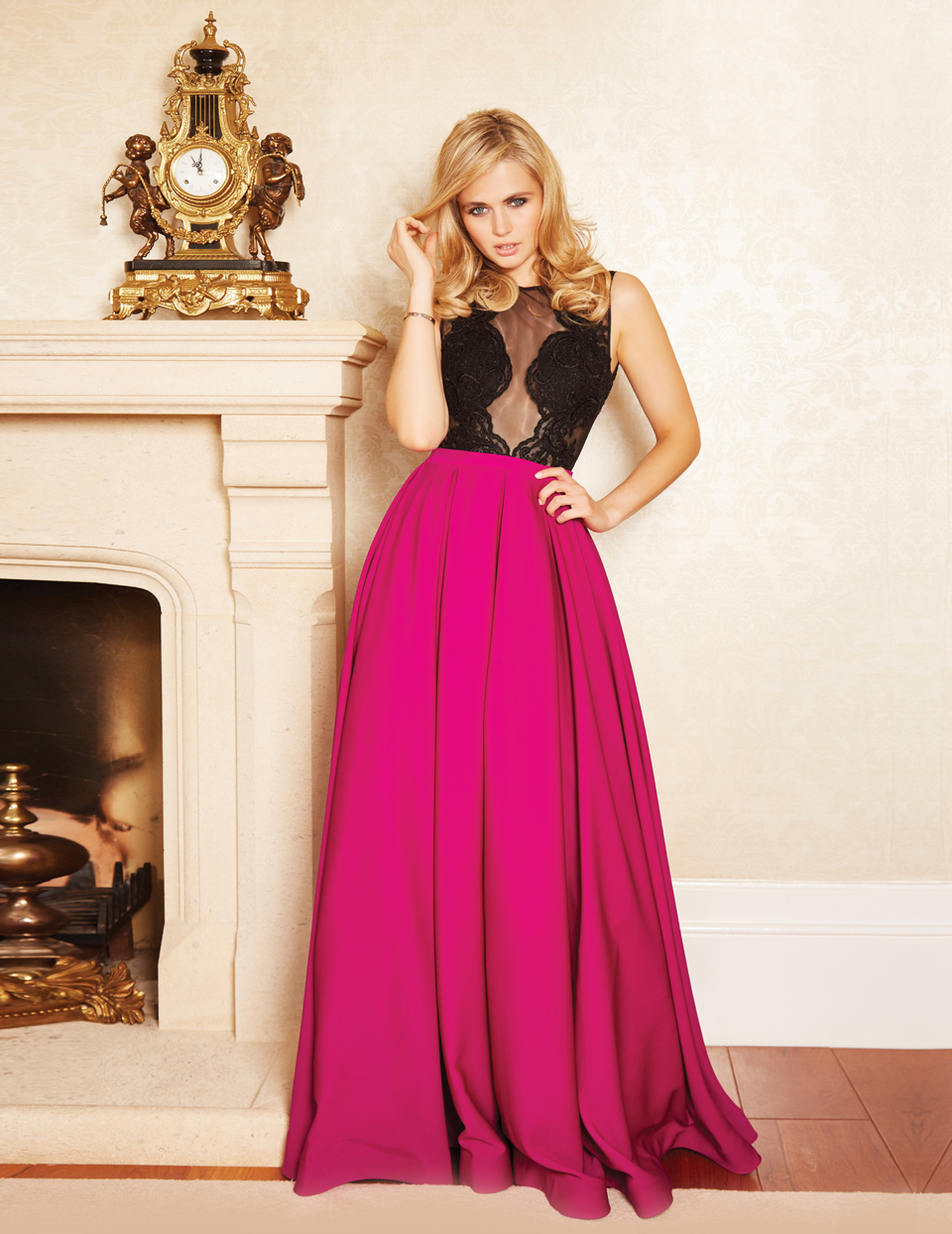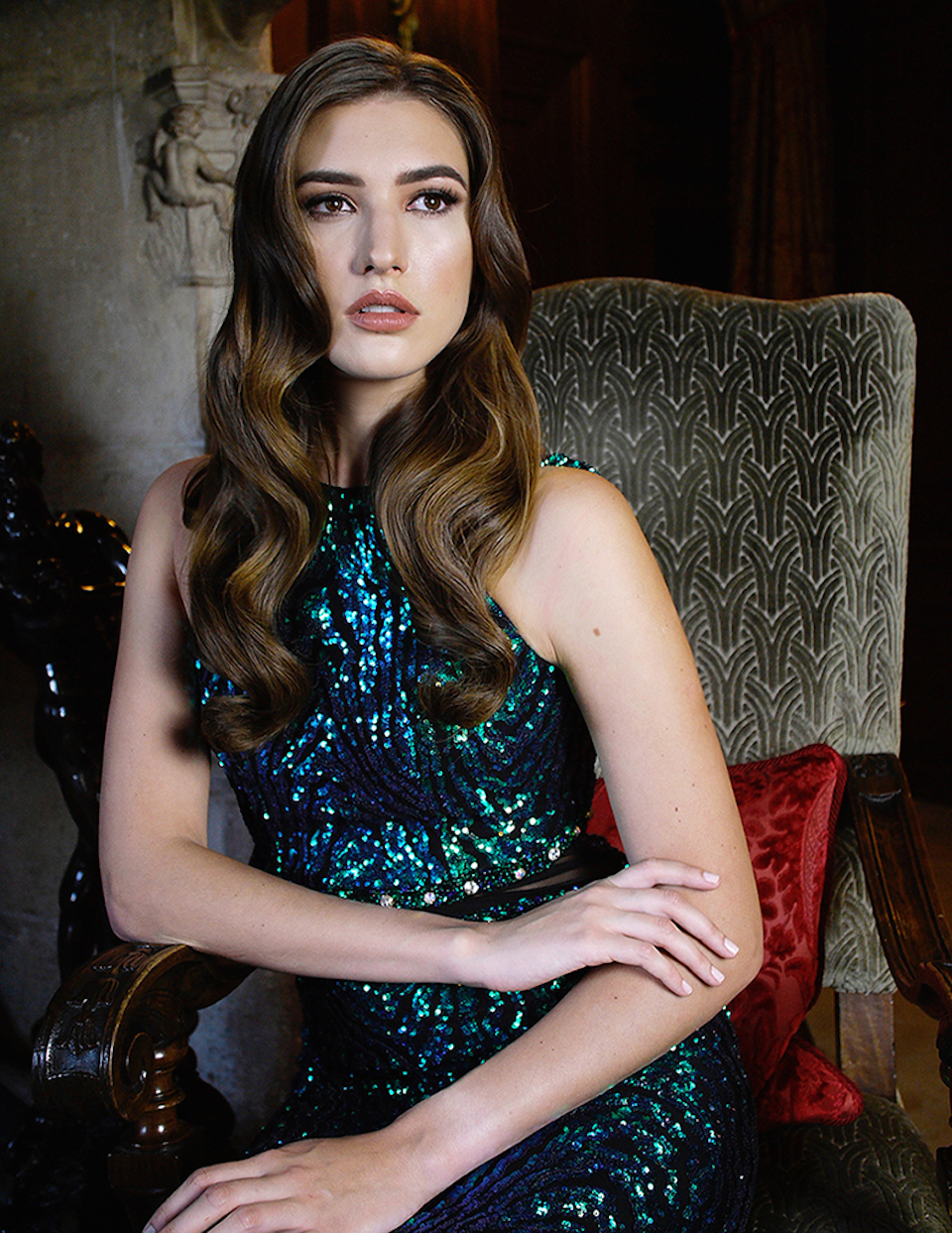 We've been busy creating not one but two collections, which together is our Couture Collection.
Created by Gold Class founder Inanch Emir from our flagship Salon Inanch London who explains more about the look for the first shoot "We have concentrated on creating the most natural look for each of the models through a choice of colours and manageable lengths to use extensions to give added volume. This gives a sense of healthy hair, which is very important to our clients & us."
The second installment continues to showcase the natural beauty and quality of the hair extensions in the uber glamorous surroundings of the historic Cliveden House.
Amidst the opulence of this historic venue and luxury hotel; Inanch was keen to develop the collection with the addition of two models and to incorporate the spring summer trends. Manageable lengths with added volume give a sense of healthy hair to each of the models.

"Creating updo's with plenty of volume and texture shows the wearability of our extensions and how expert application can allow for this so extension wearers can have fun with their hair. Working with the hair to create natural-looking waves either for an effortless day or for evening glamour; the Gold Class extension's quality of hair shines through."
Choose your favourite look for the collection here.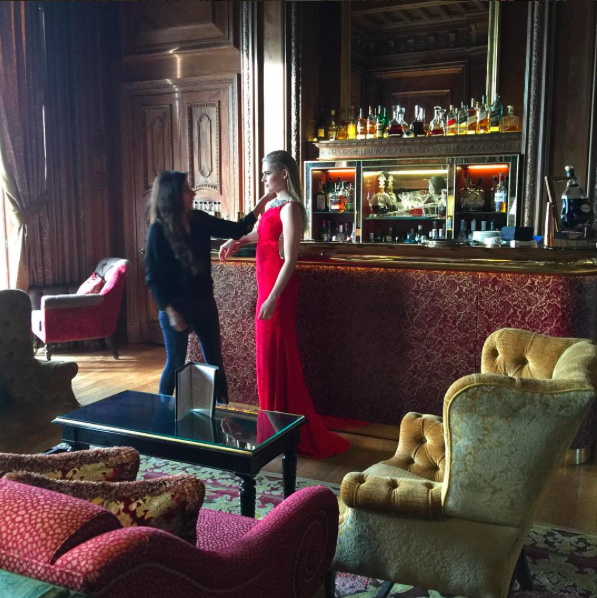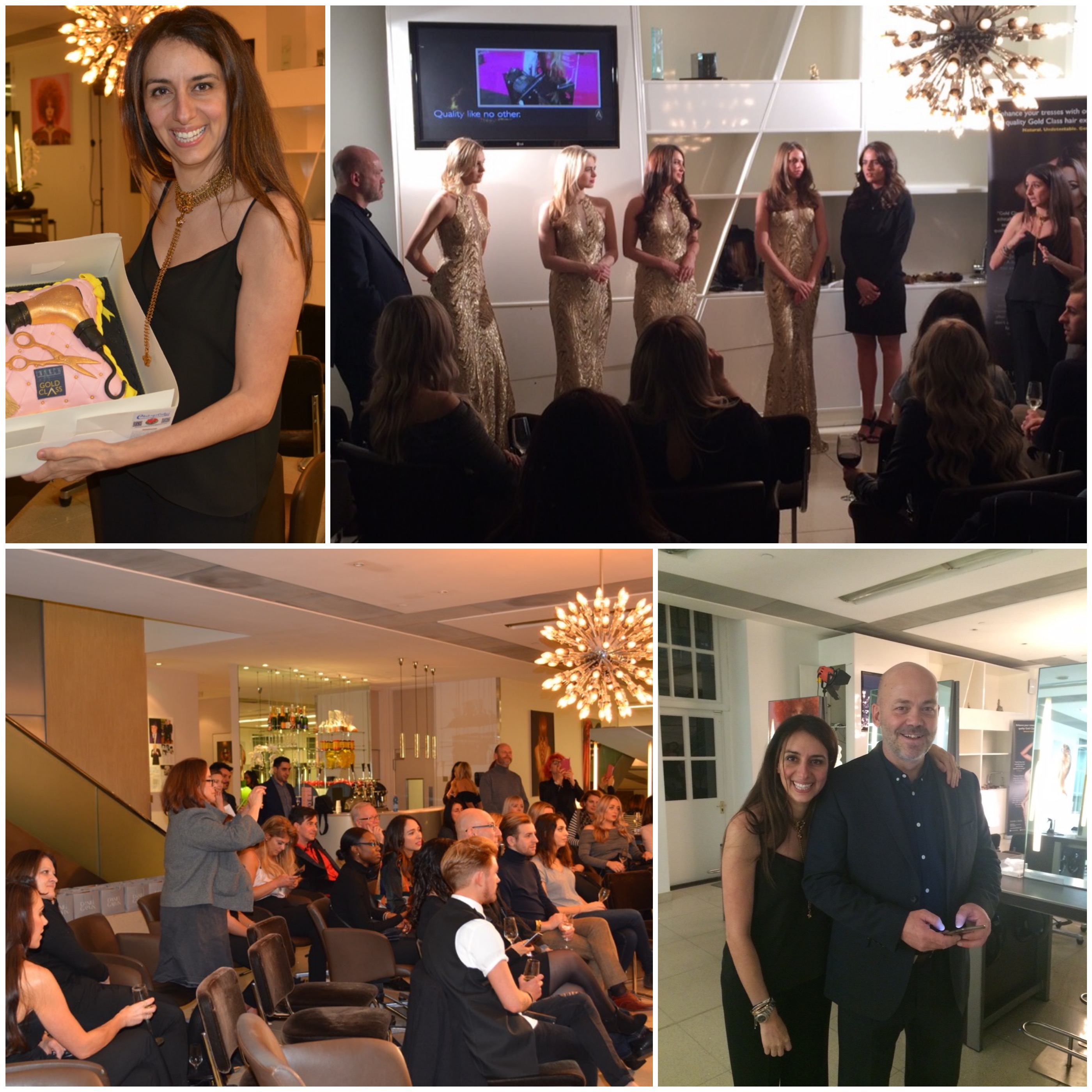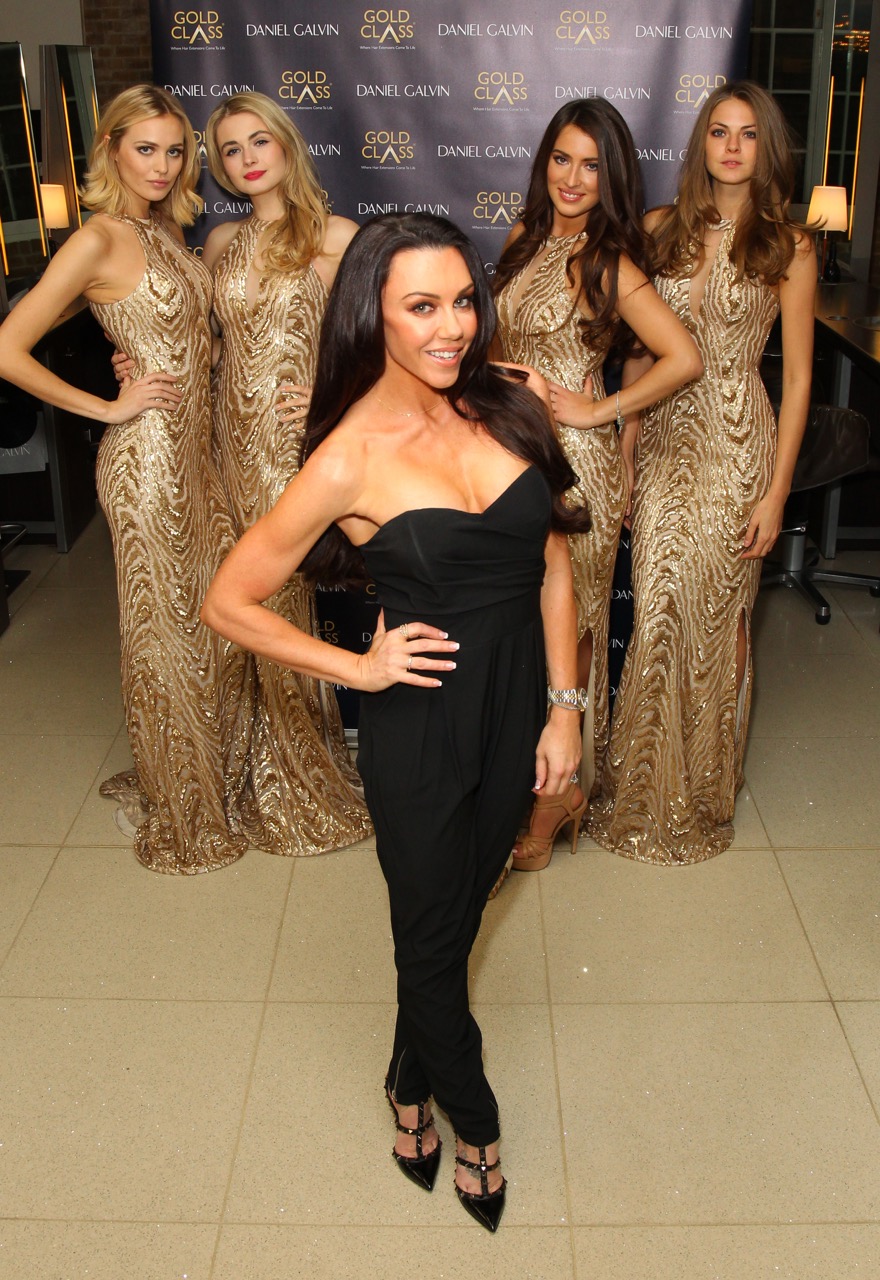 You already know Daniel Galvin is an Elite-10 salon but we wanted to have a joint launch party and share exactly why they have chosen to work with us at an exclusive press event. We didn't want you to miss out too so here are the evening's highlights….
We took over the lower ground floor of the flagship Daniel Galvin salon in Marylebone with over 50 guests joining as Stephen Nurse, Operations Director for Daniel Galvin, introduced Inanch Emir & Rebecca Lennon (Daniel Galvin's Principle Extensionist) to talk about Gold Class extensions and what makes our brand a class above the rest. The audience included trade & consumer press, bloggers, personalities and members of our other Elite-10 salons; listening on as Inanch talked about her passion for hair extensions and why she started Gold Class. Becky (Rebecca Lennon) talked about her client type and how she can use extensions with her team to create natural looking hair – at the heart of what Daniel Galvin are all about. Alongside their questions, Inanch and Becky had prepared four models to discuss their looks and benefits of extensions to each: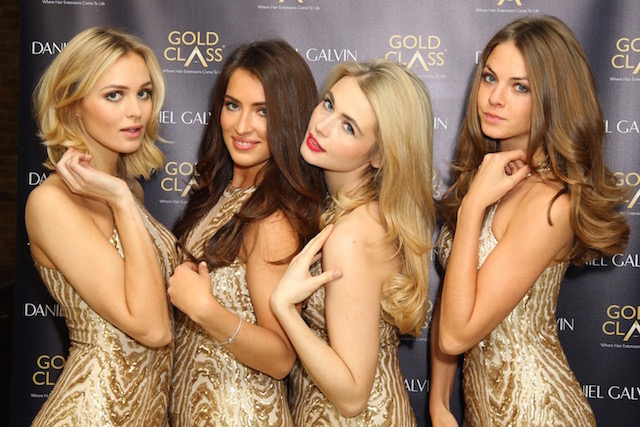 Ianthe – with only around 25 strands of Gold Class to help keep the volume of her on trend lob which she had for a couple of months.
Laura – full head of warm blondes new in that afternoon and so natural everyone thinks it's her own hair which is perfect for her modelling work.
Anastasia – likes her length at 50cm and full head of extensions curled.
Beth – full head for 'new to extensions' Beth who can't stop swooshing her hair.
Right on cue Michelle Heaton pulled out her Gold Class brush in her handbag to prove the point about caring for your hair extensions. The models joined in to share their top tips of caring for extensions too #SimplyGoldClass. Journalists were then invited to see the hair and equipment up close and to mingle with the team to ask their most burning questions whilst enjoying nibbles and some fizz. We also had our latest products there – more hair care essentials and some new hues – more to follow on these soon.
You did miss a rare opportunity as Inanch herself modelled our Silky Hair Days cap beautifully and the team at Stages Hair Design from Bristol brought along a beautiful Gold Class cake for everyone to share. #nomnom
Watch the exclusive Gold Class treatment VT we shared at the beginning of the evening here
Credit: Andy Barnes Photography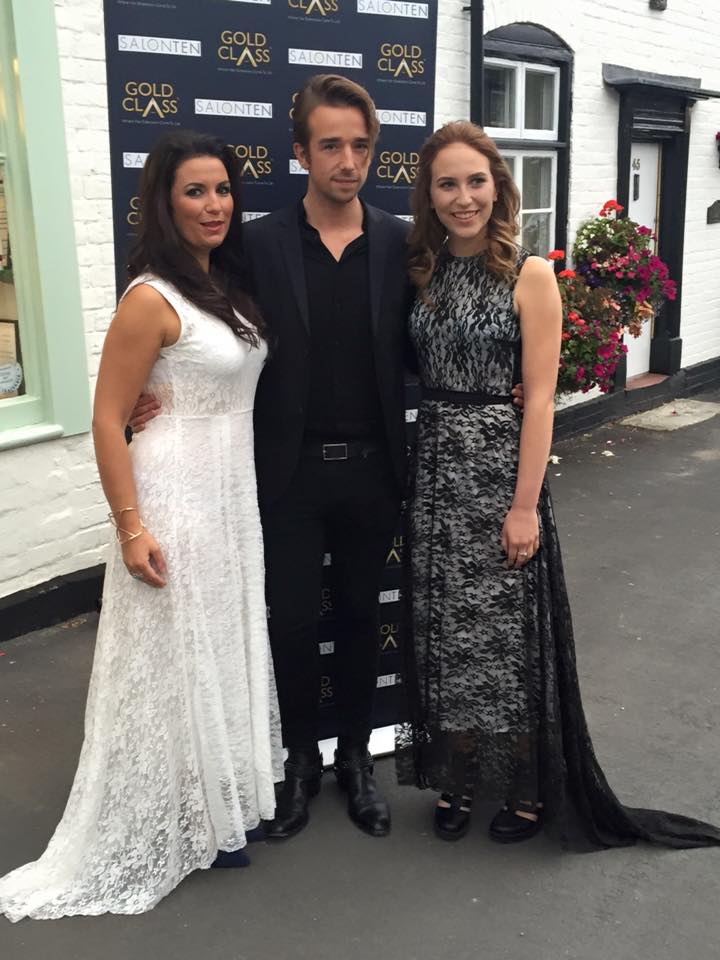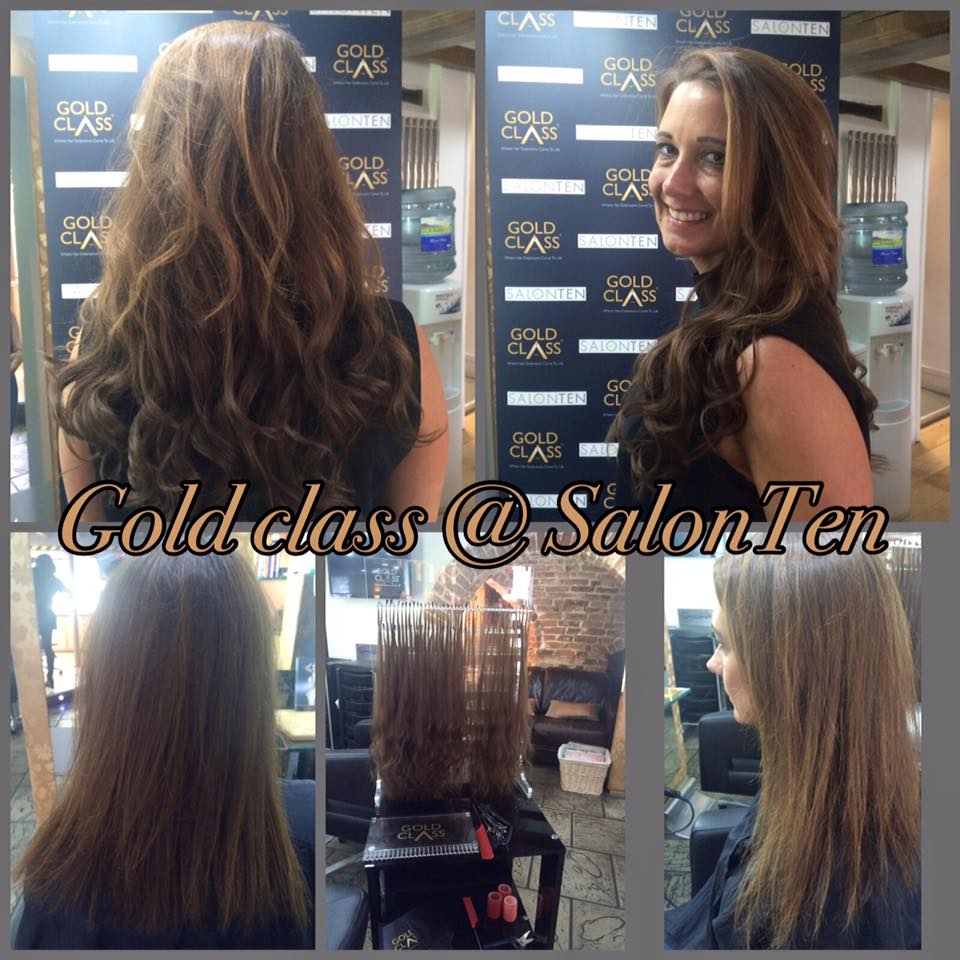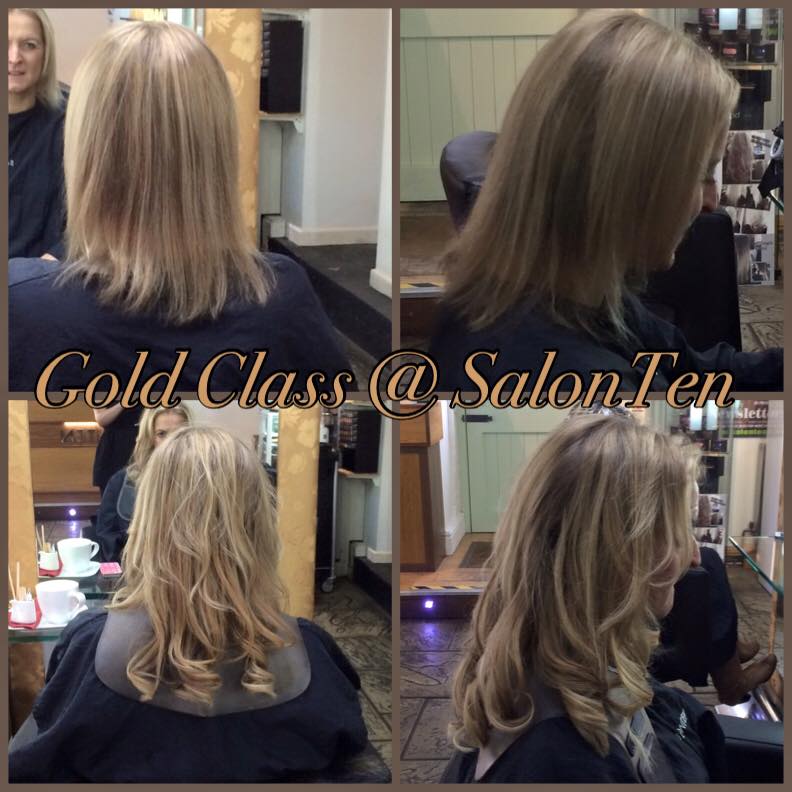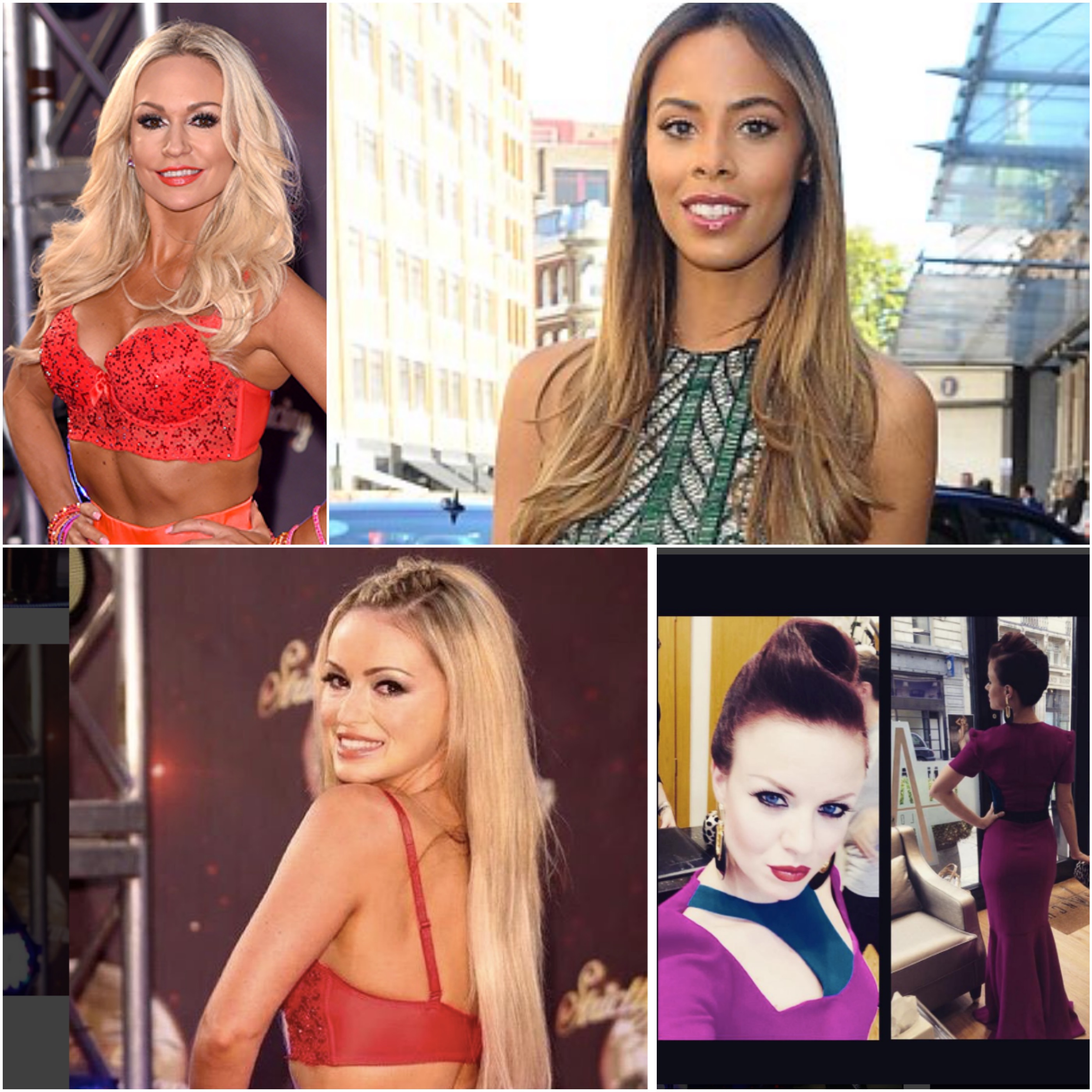 We are now moving in to full-on Strictly Fever and XFactor obsessing as the live shows start. Our loyalties are torn between these two shows and so we can't help but indulge in some Get the Looks for our Gold Class Girls working these shows. With all girls client's at Inanch London we spoke to the team behind each look to get the scoop on their individual looks.
If you follow Rochelle Humes on Instagram you will have spotted she has been tweaking her extensions over summer, going blonder and shorter but her most recent visit to Inanch Emir herself had her 50cm lengths back in. Rochelle is busy promoting her new Very line, Ninja Warriors trials as well as fitting in the XtraFactor. Inanch explains more about the colour change "using her lightest shade as new base to become the darkest shade, we mixed 3 colours to lighten her locks and create a natural blonde look ahead of her press work for her clothing range. We styled her hair with plenty of layers for a different look." Rochelle has to time her hair changes to tie in with her schedules, collections and launches and offer some point of difference.
Roberto meanwhile has helped Ola Jordan with her highly anticipated return to Strictly following her injury. Having played with dark hues, Ola feels much luckier as a blonde and Roberto added 45cm lengths of lighter more ash tones in her new set of extensions applied before the launch show last month. "Ola's hair is a little more complicated when she is working on the show as we need to be more mindful of where we place her bonds and work with much finer bonds to ensure they cannot be seen for even her most dramatic look or felt for back-combing to create those looks."
Roberto also created a beautiful 21st century twist on a chignon for Joanne Clifton this month ahead of her National Lottery Awards night. He keeps her vibrant colour and sharp lines for a very different look for Joanne.
Kristina is a loyal client of the very talented Vessy. Kristina has only been having her Gold Class extensions for a year now and as a devotee blonde she has started to add some on point 'bronde' into her tresses so we should start to see more depth on our TV screens.
Whichever show is your favourite please make sure you support our Gold Class Girls who look sensational as they showcase our hair on the dance floor and TV Screens across the UK.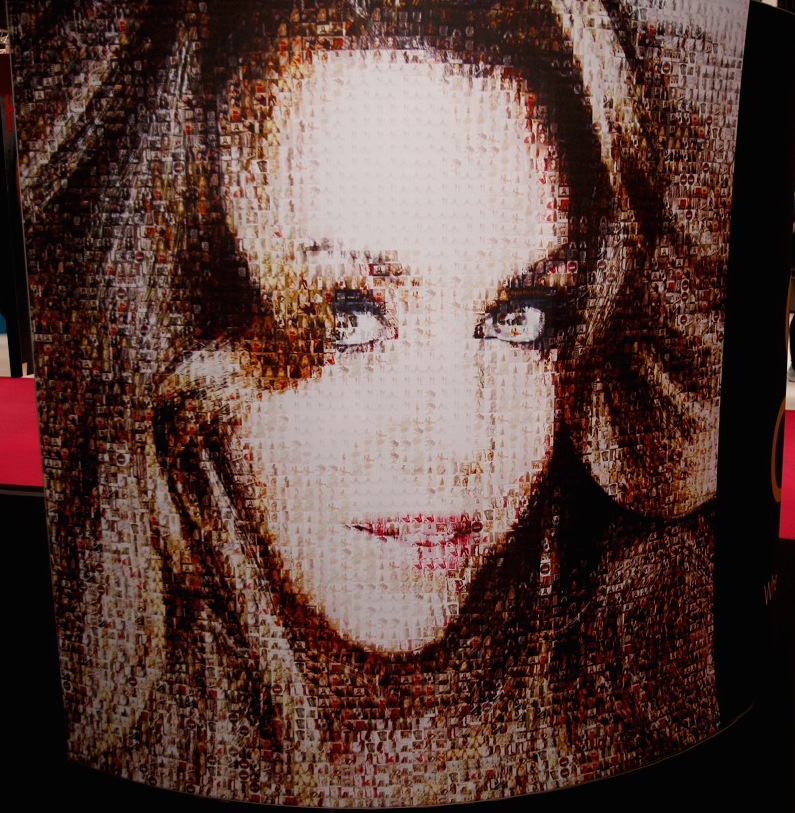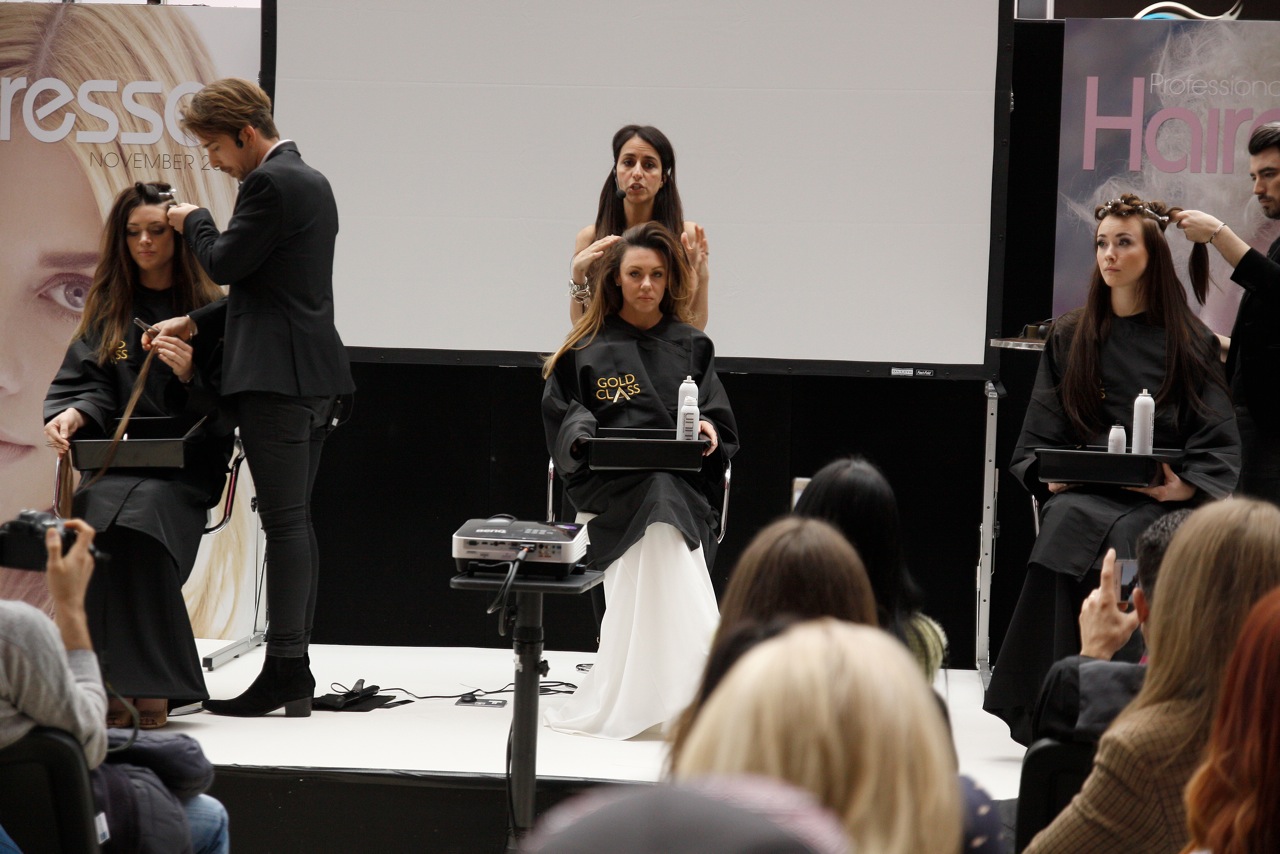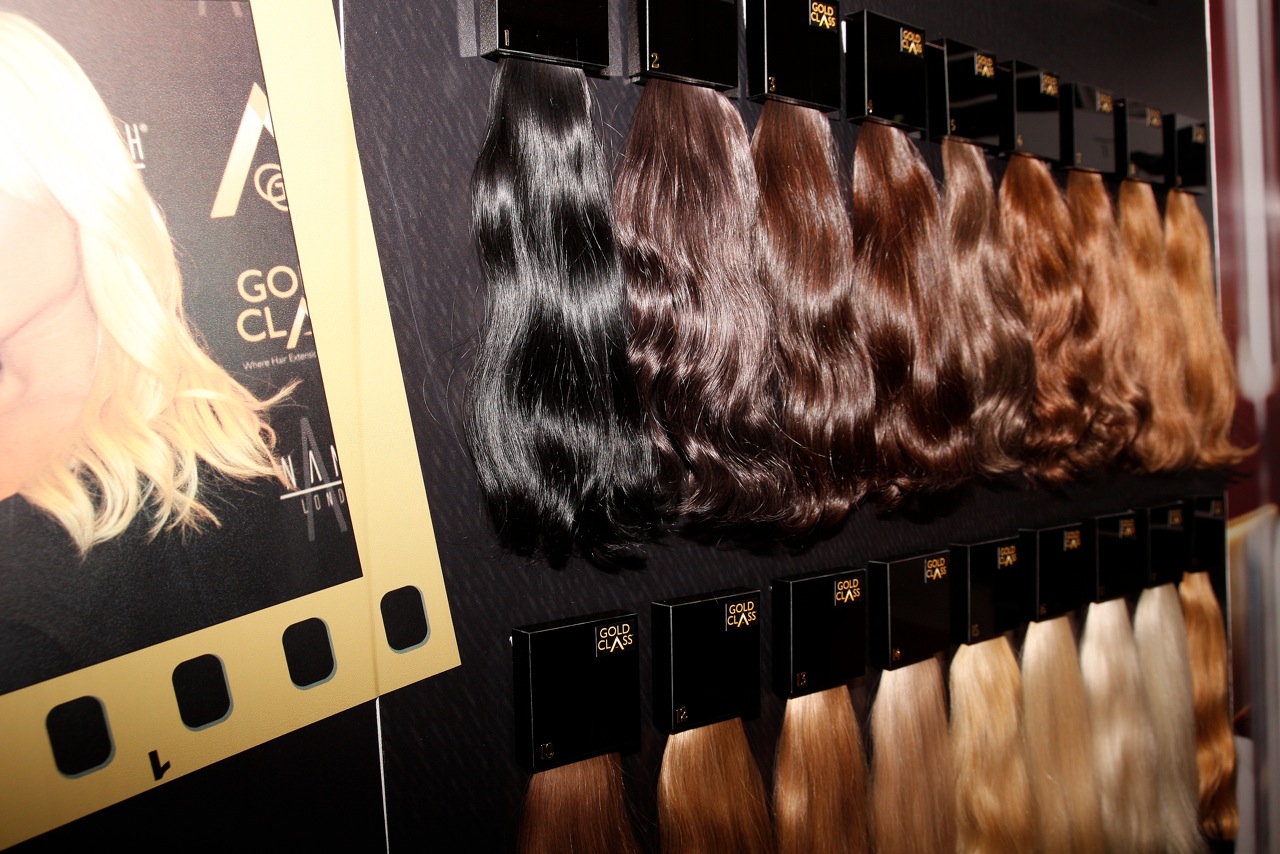 Well our very first exhibition is over and we loved it! Pro Hair Live 2015 London at Olympia was a great way to launch Gold Class to fellow passionate extensionists. Sat alongside the Professional Hairdressers own stand and the Red Carpet & Bridal Stage, our stand looked amazing with a pod using our media coverage montage to make Michelle Heaton's face from one of our collection images. Michelle spotted this on twitter and replied "Wow! That's a rather large picture of my face hahaha xxx"
We were staying in the Hilton Hotel Olympia with quite a few other exhibitors and we had a good laugh with the Balmain bunch on the table next to us at dinner each evening.
It was the first time we had shown our application machine and we can say how impressed everyone was on the compact size and design. We even had a suggestion to give it a name it was so cute. So if you have a suggestion, please let us know. Our complete range of brushes and combs were on show, alongside our clip-ins and aftercare ranges with UNITE and Philip Kingsley. Although it was our Hair Wall with our 25 shades that stole the show.
Day 1 was quite a nervous affair as the Inanch Team were on stage demonstrating application and cutting & styling techniques. With not a spare seat in the seminar, crowds formed to hear the team share their passion for glamorous hair and tips for working with the different methods with Inanch showing pre-bonded, Lee working with micro rings and Roberto on taped hair. Our models were of course our own Gold Class Girls including close friend to Inanch, Michelle Heaton. Inanch had also on stage the gorgeous models Ianthe Rose, Imogen Leaver and Sara McLean.
With old Miss England friend and compare Andrew Minarick asking questions, the team were on stage for around an hour and available for photographs and questions afterwards. Michelle kindly had a quick interview with the Pro Hair Live team which should be featured online and in the magazine soon. We will keep you posted as soon as it's available to see! Our beautiful models roamed around the show and enjoyed a snap on the Fudge stand and were stopped everywhere to have a closer look at their hair and show-stopping PiaMichi gowns.
Day 2 meant we had a much needed lie in as the stand was ready for us to start working on our models again. MTV's Ex On The Beach star, model and DJ Mel Reeves joined us as Roberto applied a full head of extensions and styled her hair to perfection with a crowd of on-lookers. It was also a day to catch up with the great and good from the industry and share our story.
Our Elite-10 campaign had salons making the journey to Pro Hair Live just to see us. Completely humbled by this and the response of salons wanting to be one of the first exclusive destination salons for us. We have some tough choices to be making now as we look through the applications. We even had stylists claiming to be 'Gold Class Stalkers' as they have been following our work on social media and waiting for us to come to Pro Hair and see for themselves. A huge thanks to everyone who stopped by to wish us well and take an interest in our hair and products.
We have a couple of our new Trolleys available to buy at our show offer price for the next 10 days only. To get one of our state-of-the-art trolleys delivered to your salon for only £750+VAT, please get in touch by the end of Friday 8h May.
To check out more pictures from our two days – check out our Twitter & Instagram feeds.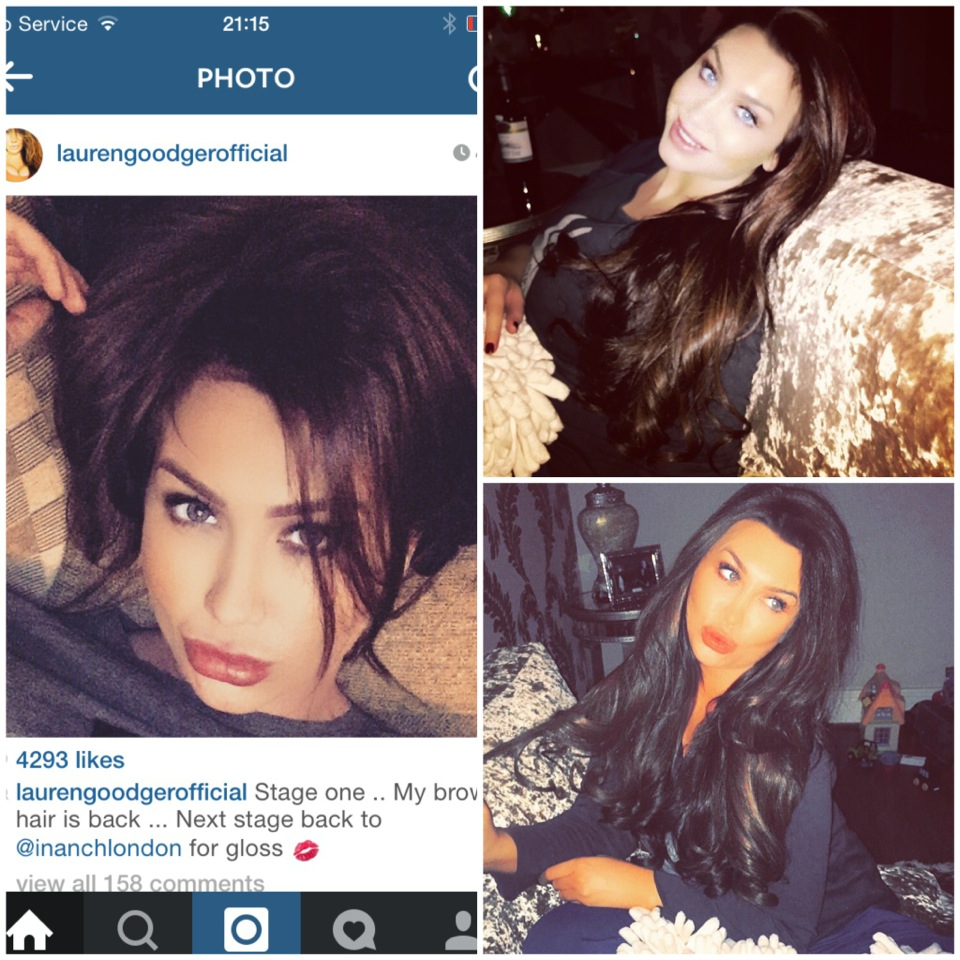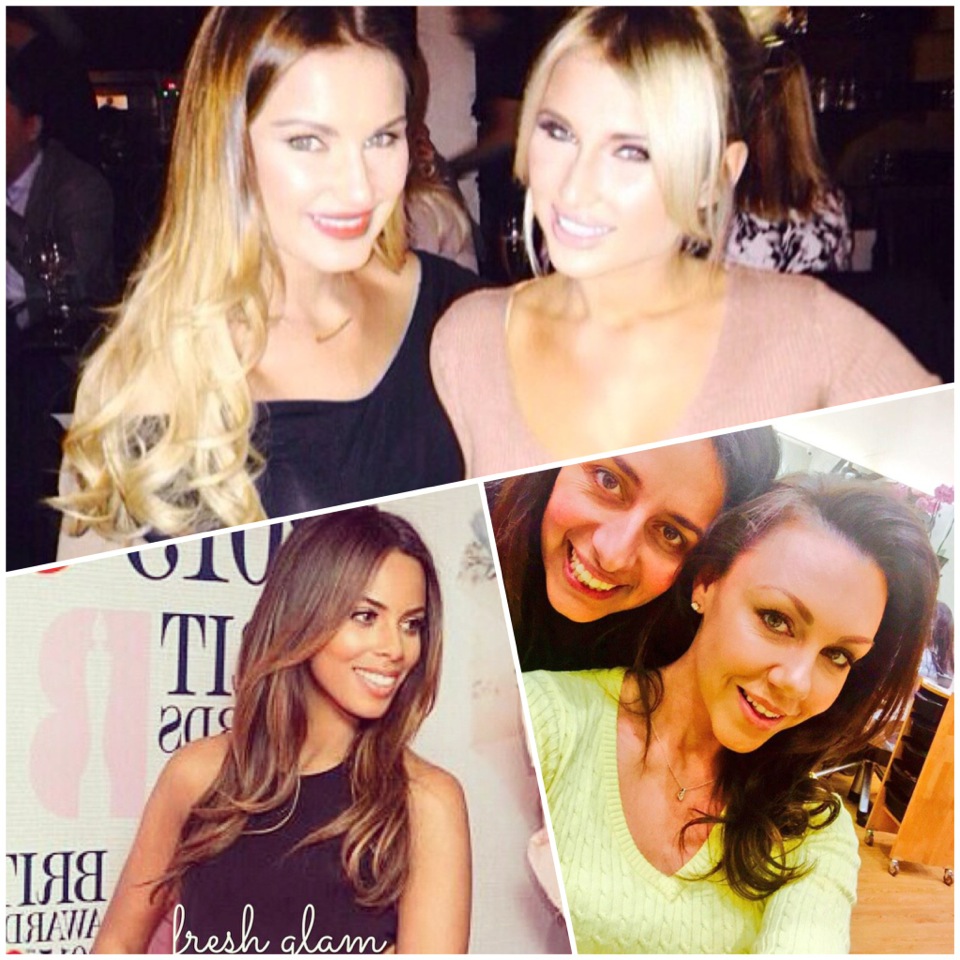 The start of a new year signals a chance to change for many and our Gold Class Girls are no different. Only this last week has seen many of our lovely clients in for a change and the most significant is the colour change for Lauren Goodger. Keen to ditch her blonde bombshell image she stepped into Inanch London and the experienced hands of Roberto Silva to start the change into a sultry & sophisticated brunette. Warm chocolate browns were the new hue and returning Lauren back to her natural shade. Tweeting that evening "stage one … My brown hair us back … Next stage back to @inanchlondon for gloss"

Back in salon for the second stage, Roberto completed her transformation with colour matched extensions and some additional caramel tones to add subtle highlights throughout. Adding 200 strands of Gold Class Hair in 50cm to give plenty of volume and length for this glamorous look. Lauren shared lots more snaps on Instagram showing off her finished look and we think we are going to be seeing a lot more of her as she enjoys her new do and exciting plans for the future.
Also in to add new length was Sam Fraiers to help her sister Billie celebrate her birthday; Rochelle Humes for some maintenance before the BRIT nominations and Michelle Heaton in preparation for the National TV Awards this week.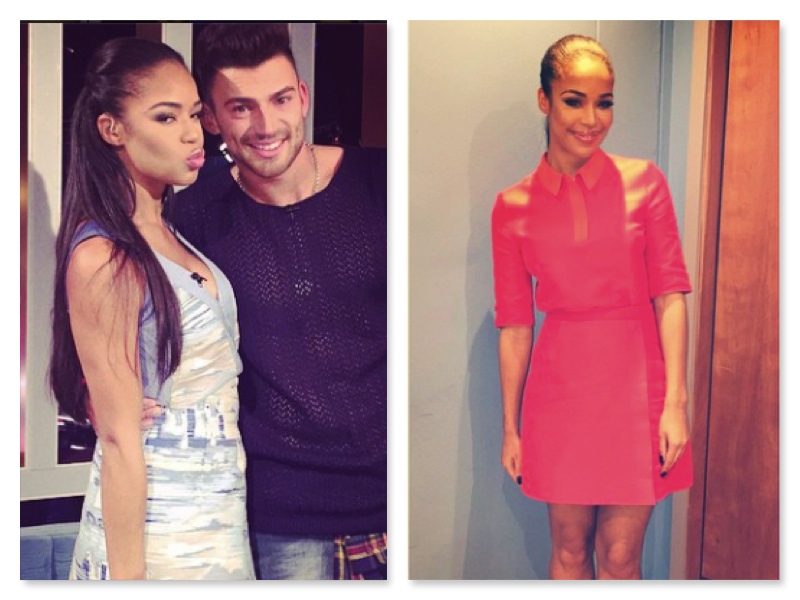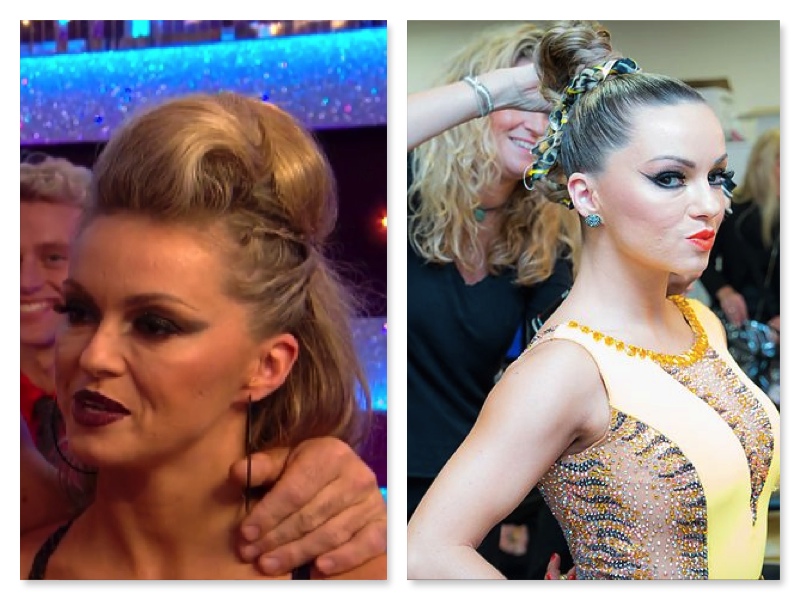 First up, good extensions should not look like extensions. This includes the cutting & blending of the hair, but the single most-asked question is normally the "bonds". What do they look like, how will they feel and for those of us who like to change of hairstyle; then to make sure they cannot be seen even when you show off your hair-up looks. This comes down to the bonds used with expert application and placement in the hair.
Constantly in the spotlight and under the lens of the parazzi, X-Factor host Sarah Jane Crawford generally likes to wear her hair down when out & about and partying. But at work, she has been sporting sleeked back ponytails on a couple of occasions or half up do's. Showing off her Gold Class lock length, it's a great example of how truly amazing Inanch's extension work is. Not only are her bonds so discreet but they are positioned so that the hair can move, be up-styled and most importantly, not seen.
The award winning hair team at Strictly Come Dancing have their work cut out changing the looks week by week for all the professional dancers & celebrities and their creativity is not limited for wearing Gold Class extensions. In week one we saw Ola Jordan's Tango up-do including side scraping plaits and big hair rolls. Gold Class hair styles like your own hair, so there is not limit with using products & heated hair tools to achieve these looks and create fabulous hair for us to swoon over. Not afraid of her hair down Ola and her colleagues have good #hairswishing moments too.
So if you plan to wear your hair up, remember to tell your extensionist so they can accommodate for this and make sure no-one sees those pesky bonds!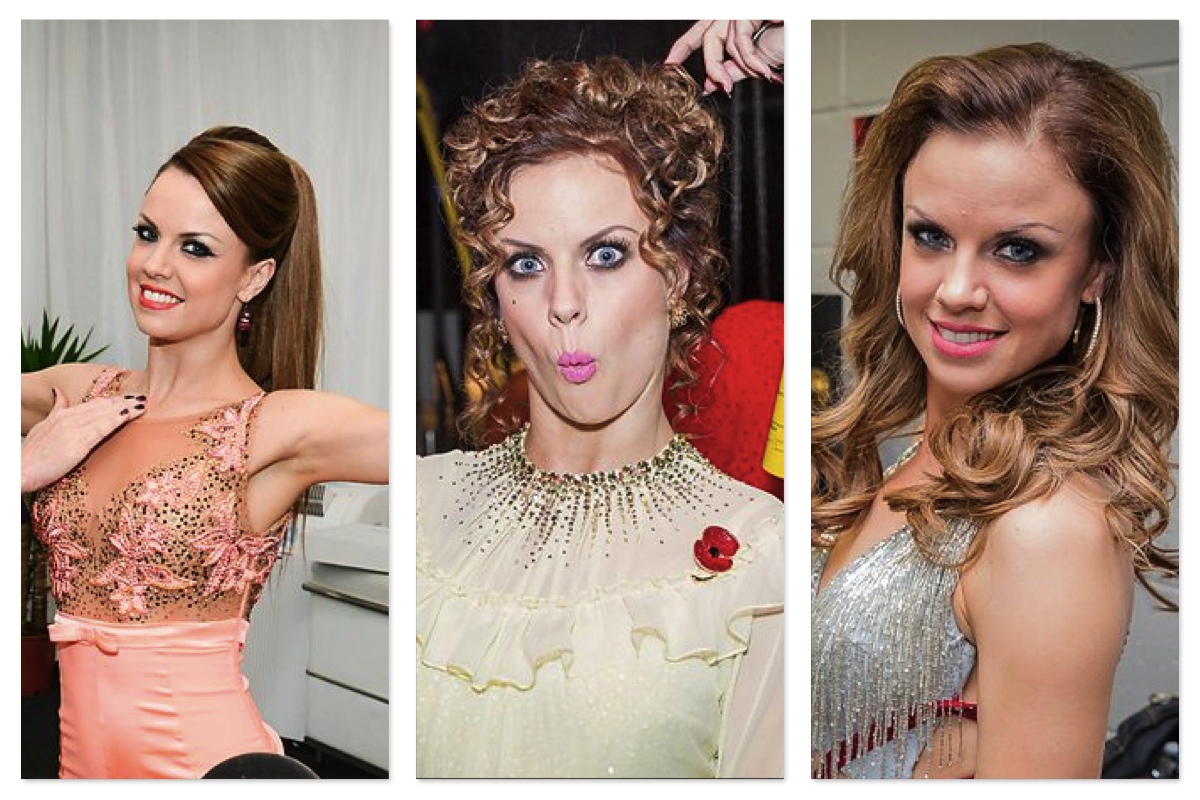 We might have waved 'bye bye' to new girl Joanne Clifton from the Strictly Come Dancing competition this weekend but it's a good excuse to look at her hair in action.
Our World Champion ballroom dancer choose to follow her dancing team mates Ola & Kristina, at the celeb hotspot salon, Inanch London, for a makeover before the #SCD mania started. After a new look, Joanne changed from blonde to brunette and a full head of Gold Class extensions have added volume to her hair ready to be pampered and preened by the BAFTA award winning Hair Team at the BBC's hit show.
The glamorous high pony for week 2's Tango is very on trend with the likes of Cheryl Fernandez Versini sporting similar sleek pony's if you flick over to XFactor. We love that you can see the different shades of brown, giving a more natural look, in the side sweep.
The cheeky Charleston in week 5 gave us hair up and cascading curls showing how easy it is again to style Gold Class hair and more importantly that it will hold that shape even whilst bouncing around the dance floor.
Her 'Rock DJ' Cha Cha for week one started off with her classic tumbling locks but added a plait across the front to keep her hair off her face during the dance itself.
We have taken Joanne to our hearts in the salon and on screen; and are so glad she's part of the Strictly team. Will we be seeing her on the Live Tour though?? We hope so!!!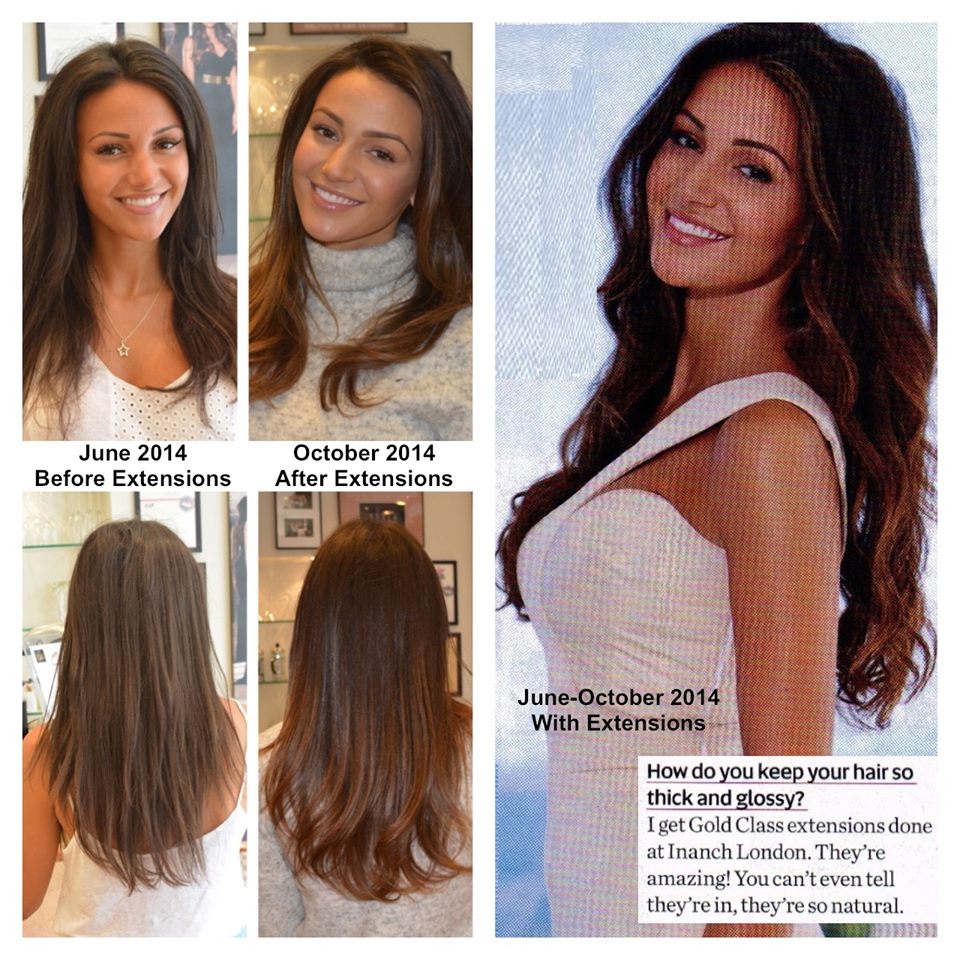 If you haven't read our earlier blog Healthy Hair Days* … a way of life here's the proof:
It doesn't seem like five minutes since we applied a full head of Gold Class hair to the beautiful Michelle Keegan, but 4 months has flown by and she popped back into Inanch London to have her extensions professionally & safely removed. Treated to a little Philip Kingsley Spa Mist treatment before showing off her own hair and seeing it alongside her hair before extensions, you can see her hair is healthier than ever.
Always the good girl, Michelle is following our Gold Class philosophy to the letter and having a break from her extensions for a little bit but we will be seeing her again soon.
We had to share with you this perfect example of how our premium quality hair, professional application, bespoke aftercare programme, professional removal of the extensions gives ZERO damage to the client's natural hair and allows your natural hair to grow whilst wearing our extensions!
*Please click here to read our disclaimer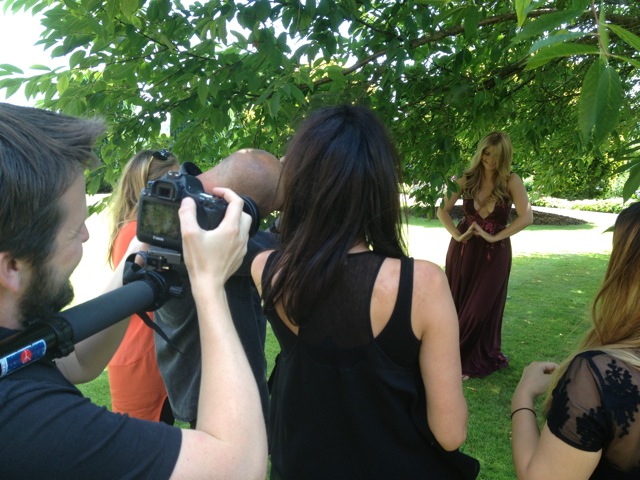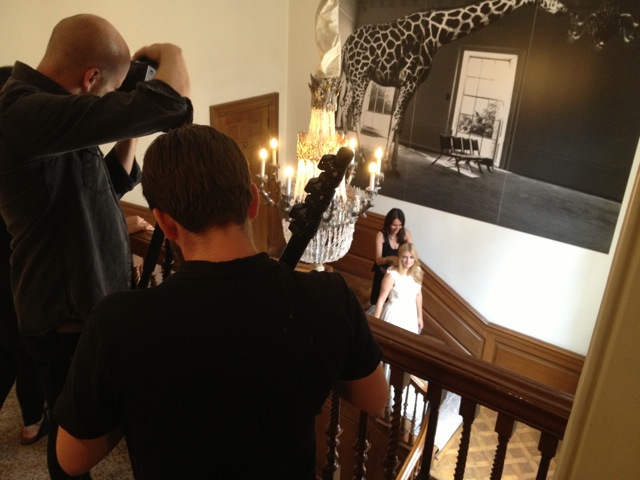 We've been keeping this one under wraps but we can't keep a secret long and can now share with you our exclusive behind the scenes snaps from our photo shoot with Mischa Barton back in the summer. We spent the day at the prestigious Grove Hotel & Country Club just outside London and made full use of the fabulous interior and exquisite gardens to get some magical shots.
Hollywood Actress, Mischa has been a loyal extension client for Inanch Emir, of Inanch London, for over five years and was keen to move over to the Gold Class Hair. What better excuse to tie in another shoot! Famed for her long hair we added extension for volume shooting a mid length before adding a clip-in for an instant longer length look with some loose waves. Teamed with understated couture bridal and bridesmaid dresses the overall look is rather ethereal. All ways a pleasure working with Mischa and if you want to see more images from the day check out our short VT.
Look out for the November issue of Professional Hairdresser Magazine to see the full collection.
Huge thanks to the team making everything possible – Chris Harris Photography, Pia Michi & Zeynep Kartal for the stunning couture gowns, stylist Natasha Lyons, makeup Sian Duke. and the team at The Grove Hotel for making us welcome.