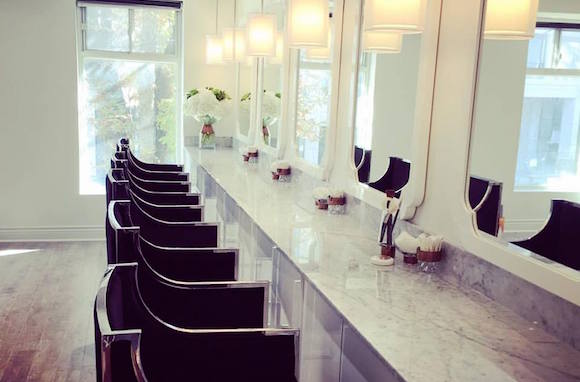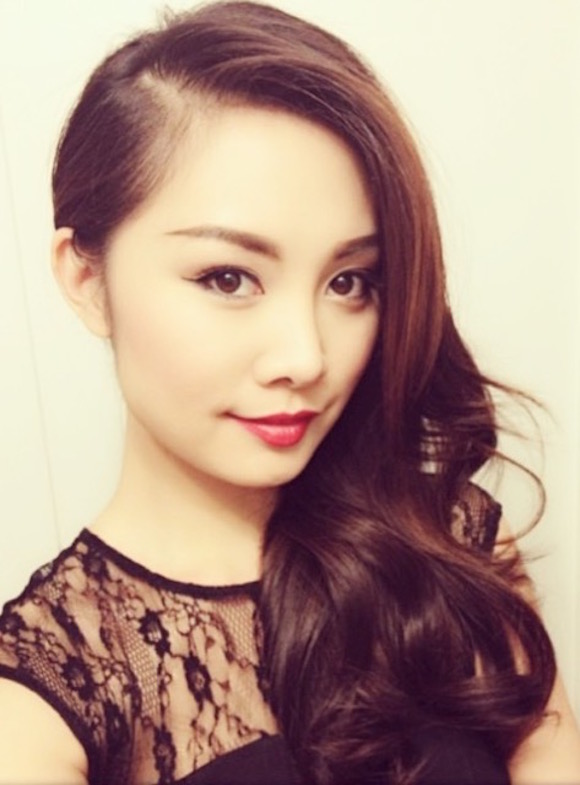 You might have noticed we have added a few new salons to our elite group, and we are super pleased that the uber stylish LAC+CO from Toronto asked to join us and bring our designer label hair to Canada. They have a similar ethos to ourselves in their work ethics and do not compromise on quality or price.
Having trained back in March, we caught up with their stylist and Extension Specialist, Thuy to find out more about their work and Canadian style.
1) Tell us about your typical hair extension client? Our typical hair extension client is after length and volume. We have a wide range of clients and we get excited helping them get the right look.
2) Which celeb is the most requested hair icon your clients want to emulate?
We get this a lot, from Shay Mitchell, JLO, Gigi or Bella Hadid and Kaia Jordan Gerber. Some great hair icons for us to re-create with hair extensions.
3) What hair care tip do you share with your extension clients for better maintenance?
I advise clients not to blow-dry their hair when it is wet. They must comb carefully holding the hair and extensions near the head so the extensions stay secure and being mindful of the bonds. Once the hair is 80% dry, then they can blow-dry it. The hair has a beautiful effect when left dry naturally. Not using unnecessary heat on your hair and the extension hair will reduce the potential damage to your hair.
4) Tell us about the style of your salon and your ethos.
LAC+CO creates enhanced natural beauty; we offer hair and beauty services. "The only way you're leaving Lac + Co is with healthy, shiny, silky strands." Yep book your flights now.
5) What made you want to work with Gold Class Hair?
Gold Class Hair has great quality and achieves the natural look that we want.
6) Tell us a little bit about yourself. What do you like doing on your day off? Who inspires you? Which celeb do you want to do the hair of?
I spend a lot of time with my family, especially with my beautiful daughter. She is almost two!
I'm inspired by Anh Cotran from LA… and of course, our very own Tony Pham from LAC+CO. It would be a dream to do JLO's hair!
7) What do you think is different about Canadian hairdressing to us Brits?
Canadians are definitely less experimental. They are more classy and natural, with slight personal interpretations.
8) If we are to visit you guys, tell us the best spots to visit in Toronto?
Best new hotel to stay at is Broadview Hotel…Soto Soto and Josos for restaurant options. Just don't forget to call by us at LAC+CO too!
Follow their work on Instagram here to see more of their work.
SaveSave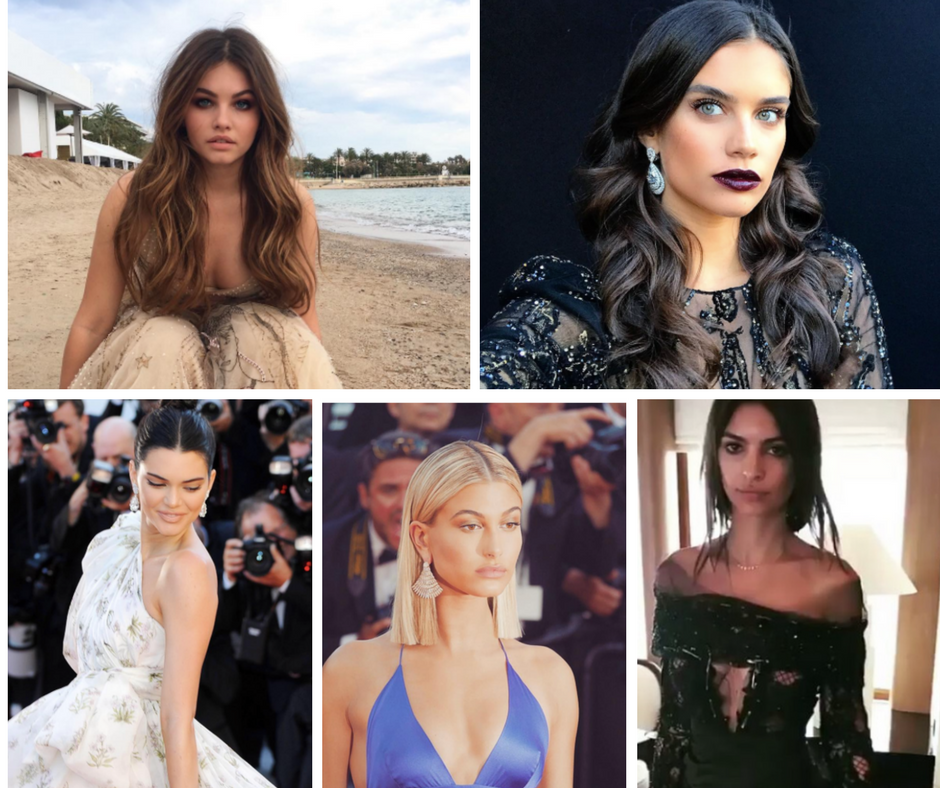 We love awards season and Cannes Film Festival is definitely one of our favourites. So we thought we would share with you our five favourite looks straight from the red carpet.
Kendall Jenner
Kendall turned heads in her stunning La Perla couture, complimented by her simple yet sophisticated slick-back-bun. Complete this look with Gold Class Argon Oil to keep stray hairs in check.
Thylane Blondeau
Thylane was not afraid of fly-aways, opting for an easily maintained beach wave look. Beach waves look great with ombré as it emphasises the different shades and layers in the hair. See our range of ombré clip-in hair extension shades, and talk to your extensionist about recreating this look.
Hailey Baldwin
Hailey's blunt bob is so sleek on and on trend. Mixing blonde hues like our …. give a more natural look whilst the extensions help to hold the shape and thickness of the lob on the shoulders.
Sara Sampaio
Sara Sampaio adopted a traditional red carpet chic look which beams class. Clip-in hair extensions can also recreate this look beautifully by adding volume and shape.

Check her Instagram feed for even more great looks from Cannes here.
Emily Ratajkowski
We love braids as you can dress them up or down and look great at any occasion, whether that's on the red carpet or basking in the sun. Emily opted for the messy braid look, completed with a black bow to complement her gorgeous gown.
Some of these looks can easily be mastered by yourself, but if in doubt, consult your stylist or ask your extensionist for a free colour match, fitting and styling at one of our elite salons.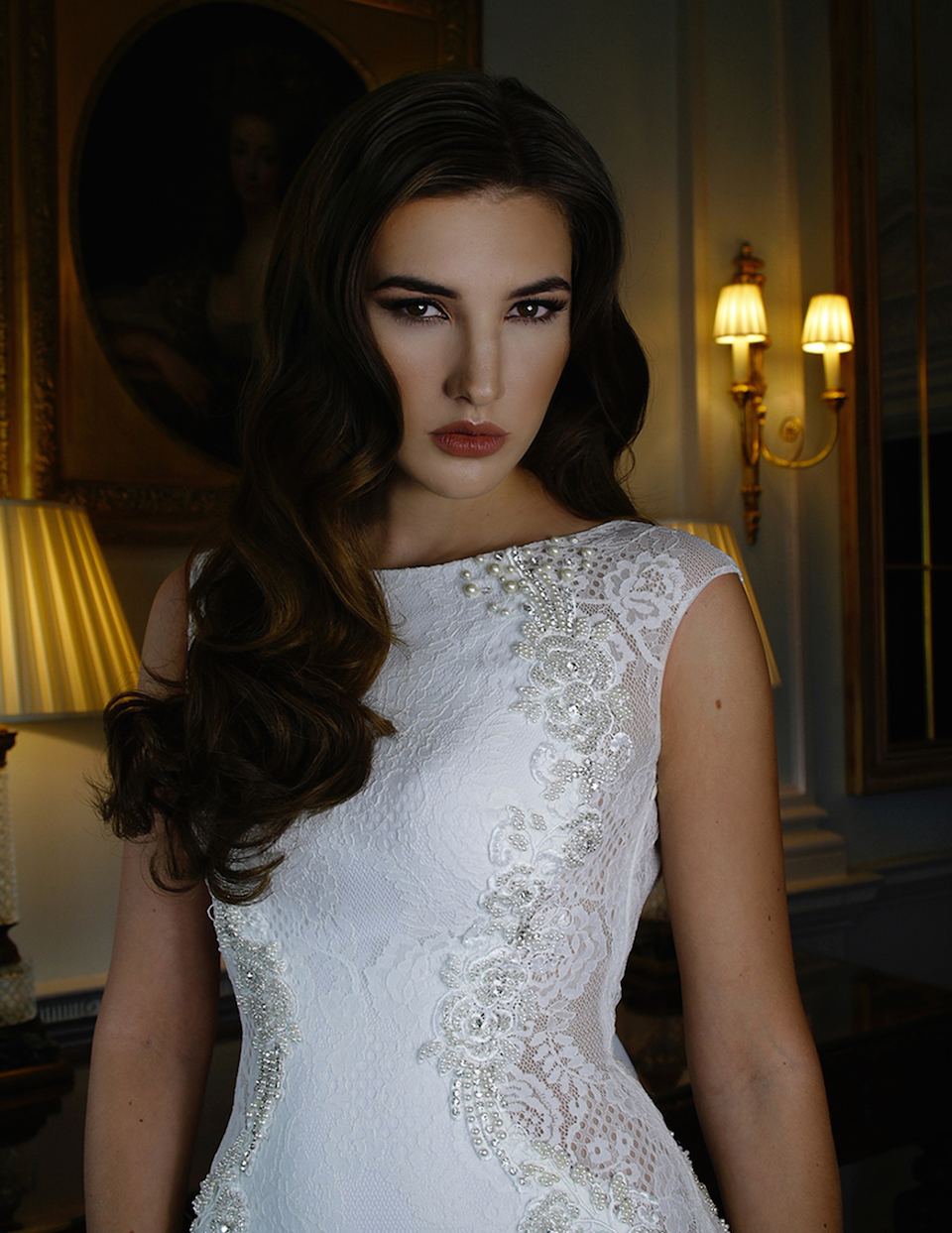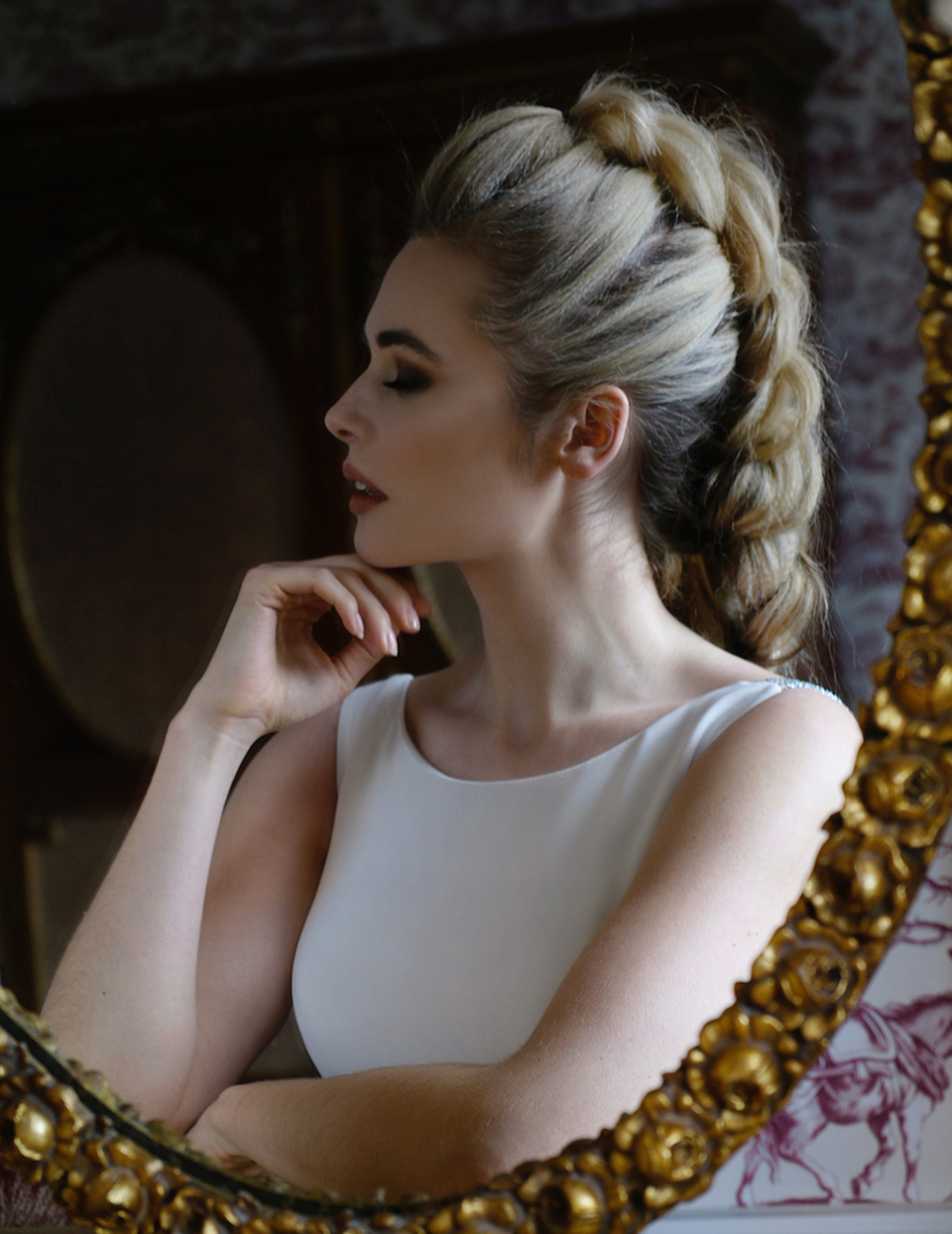 The date has been set, the dress found. Now it's time to start planning your most important hairstyle ever and our founder, Inanch, counts us down:
12 months to go…
It's never too early to start talking about wedding day hair, especially if you're planning on growing your hair or changing colour, that way your hairdresser can book in all the appointments you need in advance.
10 months to go…
As soon as you've sorted your venue, tell your hairdresser. They may also need to book time out of the salon to come and do your hair so the more notice you can give the better, advises Inanch.
9 months to go…
Now is the time to start thinking about the health of your hair so that it looks it's best. As well as booking in for in-salon conditioning treatments at every appointment, make sure you're using an at-home mask once a week at home. We love Philip Kingsely's Elasticizer. I know it sounds boring but it really does make a difference and when you've put so much time and effort into every other aspect of your big day doesn't it make sense?
6 months to go…
The dress is ordered, time to show your stylist. Now is when you can actually start planning your look. Take into consideration if you're wearing a veil or hair accessory or if you want to to be able to change your hair for the evening party. Take a look at our collections for more hair inspiration.
5 months to go…

Nearly all of my brides wear extensions as it makes such a difference to the appearance of your hair for photos. Try them out before your big day to get used to how they feel in your hair and to try the look you want with them to check you can't see any bonds.
3 months to go…
If you have your accessories and veil then have a trial of your hairstyle with your hairdresser. I always get my brides to try and keep the style in place for as long as they can after the appointment – rather than taking it down straight away – to get a feel for how comfortable it is and to check that it stays in place more than just a few hours!
2 weeks to go…
This is the time to get your ends trimmed and your roots and colour sorted. By having your cut and colour done a few weeks before your big day it will still look really fresh but more natural.
1 week to go…
If you've decided to opt for extension then now is the time to get them in.
To book your bridal hair consultation talk to one of our Gold Class extensionists at our select salons around the UK.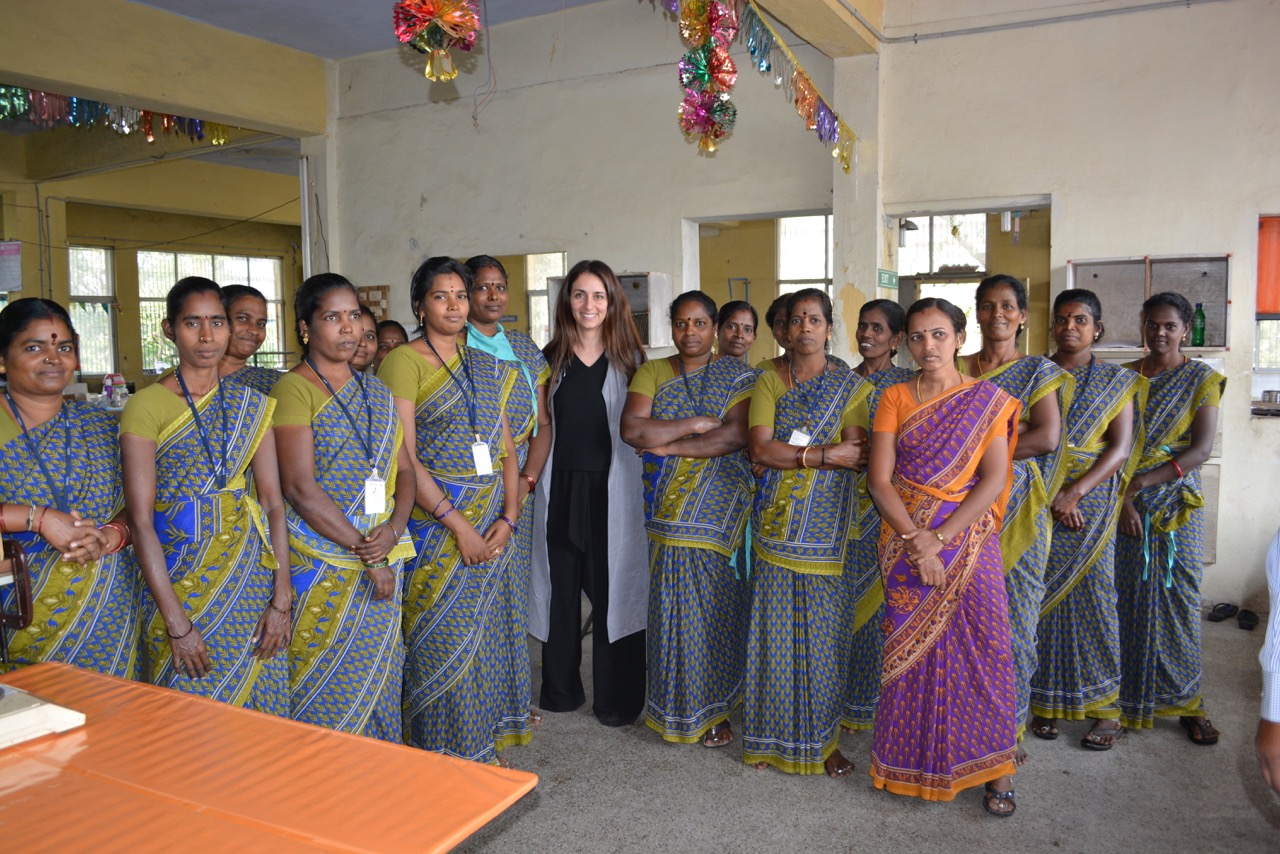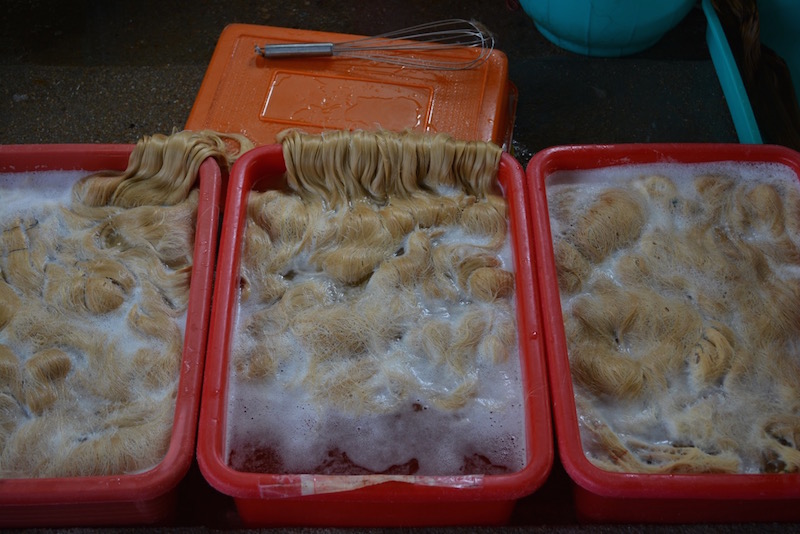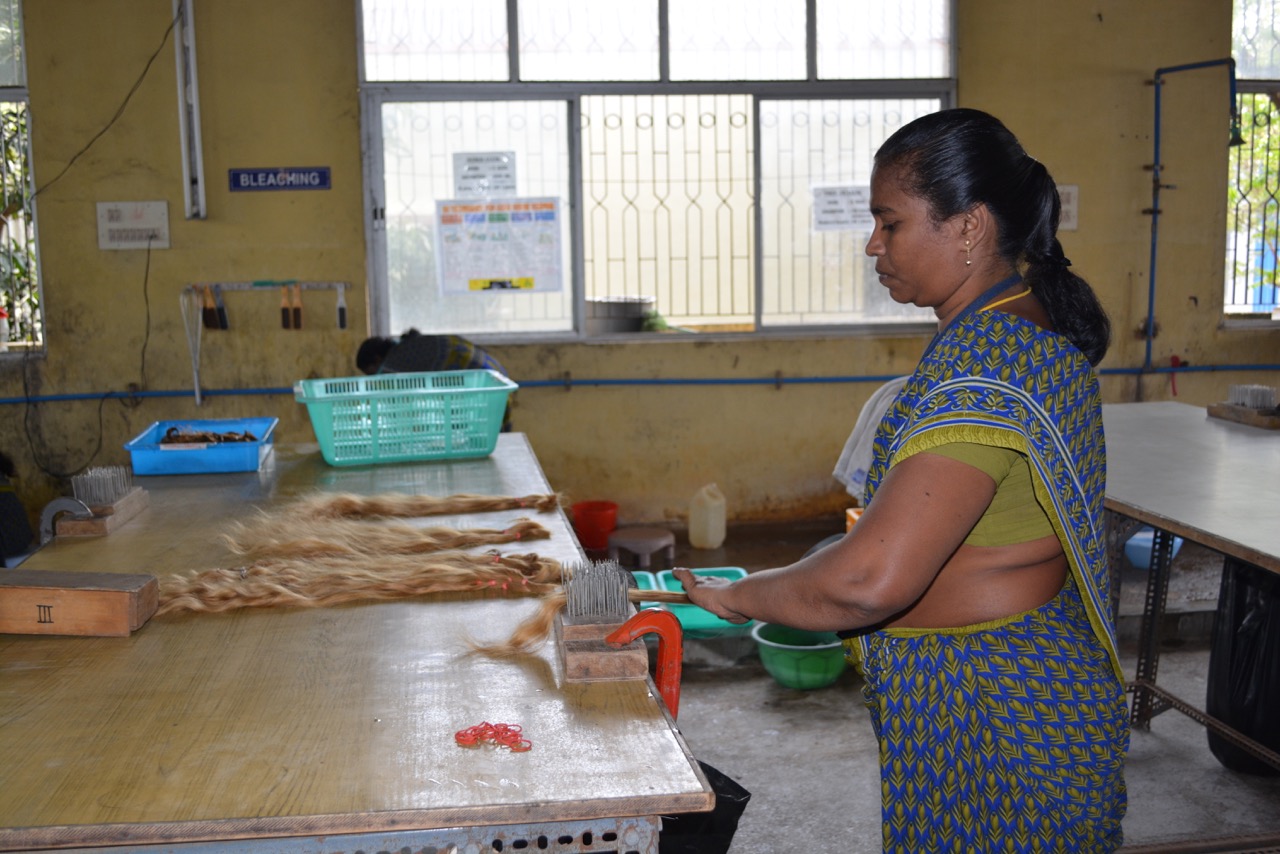 Earlier this year, our founder Inanch took a trip to Southern India to check on the production of our beautiful hair extensions. As you know, we are very precious about our hair quality from the authenticity, ethicality, pure quality and colour – this is our Gold Class Standard and it's good for us to see this with our own eyes regularly.
Our hair is hand-picked throughout the process. From the moment the hair is selected at the Temple, right through the processing to create the hair extensions. Working in small bundles allows the team to continually check the hair quality and create the best hair extensions possible. This process takes more time, but as they say "good things come to those who wait" and we promise it's worth waiting for. We asked Inanch to tell us more about the hair and the process.
"The hair is Indian Temple hair ethically sourced by our representative there who understands our requirement to have the very best quality hair. We pay a high price for this but like with anything you need to start with the best raw materials – as our partners in India say: "Good raw hair is as important to us as only the best and freshest food are to a gourmet chef". The hair is virgin remi which means that it has not been chemically treated to damage the hair cuticles and is collected in its original ponytail when cut from the donor. This ensures that the hair is the right way up with the cuticles all running in the same direction & this is so important to maintain throughout the process to prevent matting.
"Watching the ladies in the factory caring for the hair was wonderful. Working in small batches they work completely to order so we were able to witness the full process from conditioning, discolouring and removing henna stains through to the removal of weaker hair before colouring. Blondes are well known to take longer to create and this can take up to 2 weeks as we need to ensure the hair is not damaged from over bleaching. The Indian's favourite remedy Coconut Oil is used here to repair the hair and restore moisture. The ladies showed us how they work with the hair to ensure the colour is perfect throughout each strand, re-arranging the bundles regularly and even holding out the ends to ensure the hair takes the colour evenly. Testing the hair's elasticity at this stage is also crucial to preserve the healthy hair for our extensions."
"Brushing the hair is a complete art there and they work so fast! It's known as hackling and the hair is regularly hackled throughout the process to keep the hair tidy, in the same way, I tell my clients to brush their extensions at least twice a day!"
We are extremely proud of our hair process, custom making the hair in small batches to order. This is where we differ from many other extension brands who bulk process the hair which can lead to inconsistencies and a reduction in quality. It also allows us to reserve the best hair for our salons and clients and we are happy not to over-process the whole operation so that you know this hair is very special and exclusive at only a handful of select salons around the UK.
Regrettably there was no time for sightseeing, but at least there's a reason to go back regularly and see this wonderful country.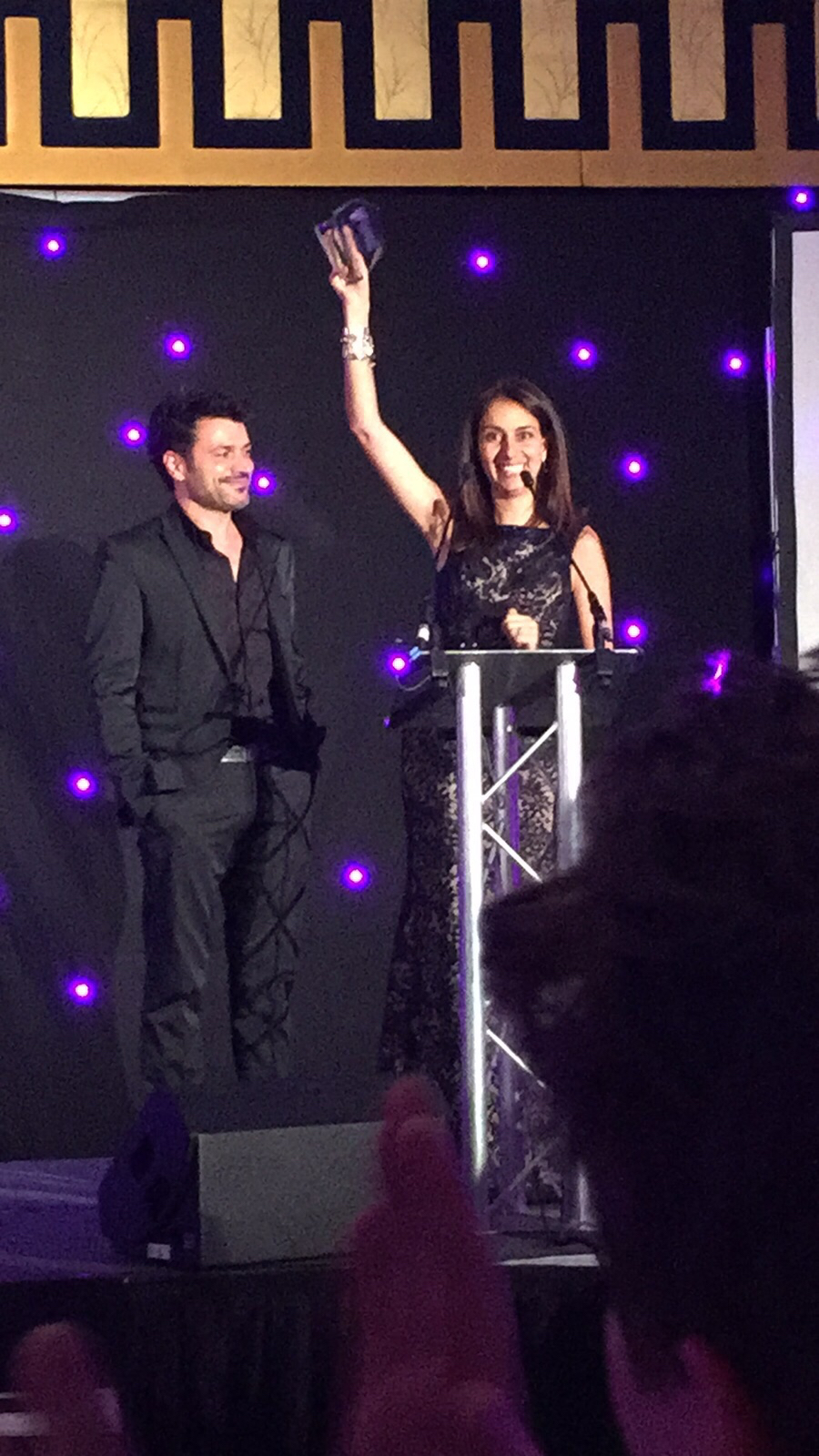 We are proud to announce ourselves as sponsors for the six regional Hair & Beauty Awards 2016. Designed to showcase the nation's appreciation for the service hair and beauty professionals provide – not to mention the looks and lives they transform – the awards will cover England, Wales, Ireland, Northern Ireland, Scotland and London. We'll be at each event too with Inanch herself taking to the stage to present the 'Hair Extensions Specialist of the Year' award to each regional winner.
As the winner of London's Hair Extension Specialist of the Year award at the back end of last year; Inanch knows just how special this is as the nominees are voted for the general public before going through to the final stages and being judged. With over 20 year experience in the industry and other multiple awards under her belt, Inanch is perfectly placed to be part of the judging panel and also handing over the trophies.
Boasting over 20 categories per region, speaking of the sponsorship Inanch said "We aim to find the crème de la crème in the hair industry and will look to add them to our elite group of select hair extension salons in the UK." So if you are a top UK salon and want to register your interest to be a Gold Class salon now, read about what it takes to be a select salon and send your application off to start the process.
The English Hair & Beauty Awards are first on 20th March 2016 in Manchester, closely followed by the remaining five award ceremonies at locations to be confirmed throughout the year. For further information on the Hair & Beauty Awards visit their website and link through to your region to find out about the nomination process and get involved.
Good luck and we hope to see you at the award ceremonies!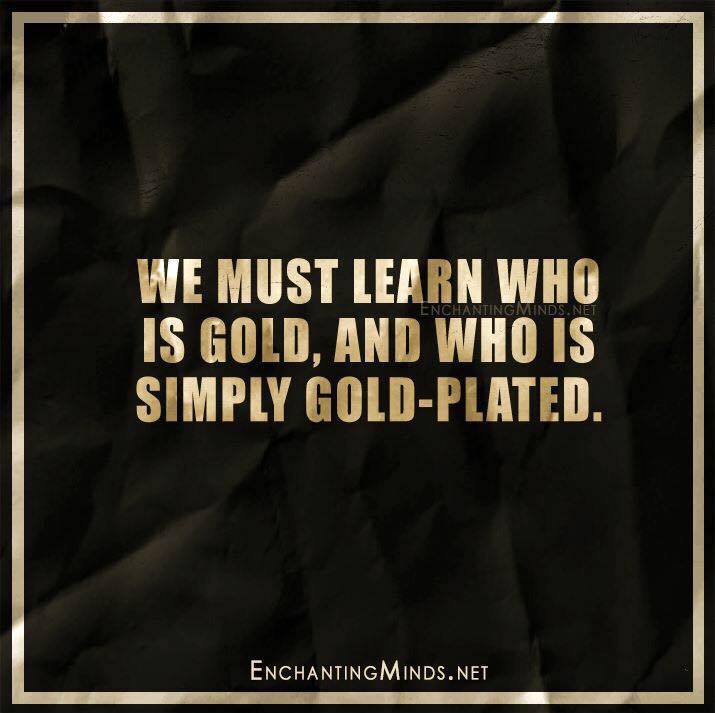 2015 was a fantastic year for Gold Class as we highlighted in our earlier blog and we predict that this year is going to be even better and we want to share with you some of our exciting projects for the year ahead!!
First of all we've headed to India where our superior quality hair is sourced for a tour of our partner's factory and to check the whole production process. A full report to follow next month.
Later this month we'll be celebrating the launch of Gold Class at our Elite 10 salon Daniel Galvin where all our lovely Gold Class salons are joining us alongside press and celebrities at their flagship salon in George Street. This promises to be a great evening and don't worry we will share some snaps with you over on Instagram.
We have some new products coming too that we've been working on throughout 2015 to perfect them before launching this year: a new state-of-the-art hair application machine, a blow-dry brush specifically designed for hair extensions and a full Gold Class wetline range formulated to care for your Gold Class extensions.
We also have a new and improved digital microscope for our stylists to share your hair and scalp analysis with you straight to your tablet or phone during your initial consultations.
Last but not least, there are more hair colours already in production! The most beautiful platinum blonde – a huge trend for 2016 so you have better get in with your Gold Class select salon now for a consultation and get it pre-ordered! We also have 9 new ombré's coming for Spring – you will just love these and if you can't tell we are super excited!
We don't stop there and will keep you updated on more exciting happenings with Gold Class. So have you done your #HairResolutions yet? Looking for some trend tips for the year ahead then read up on this in last week's blog.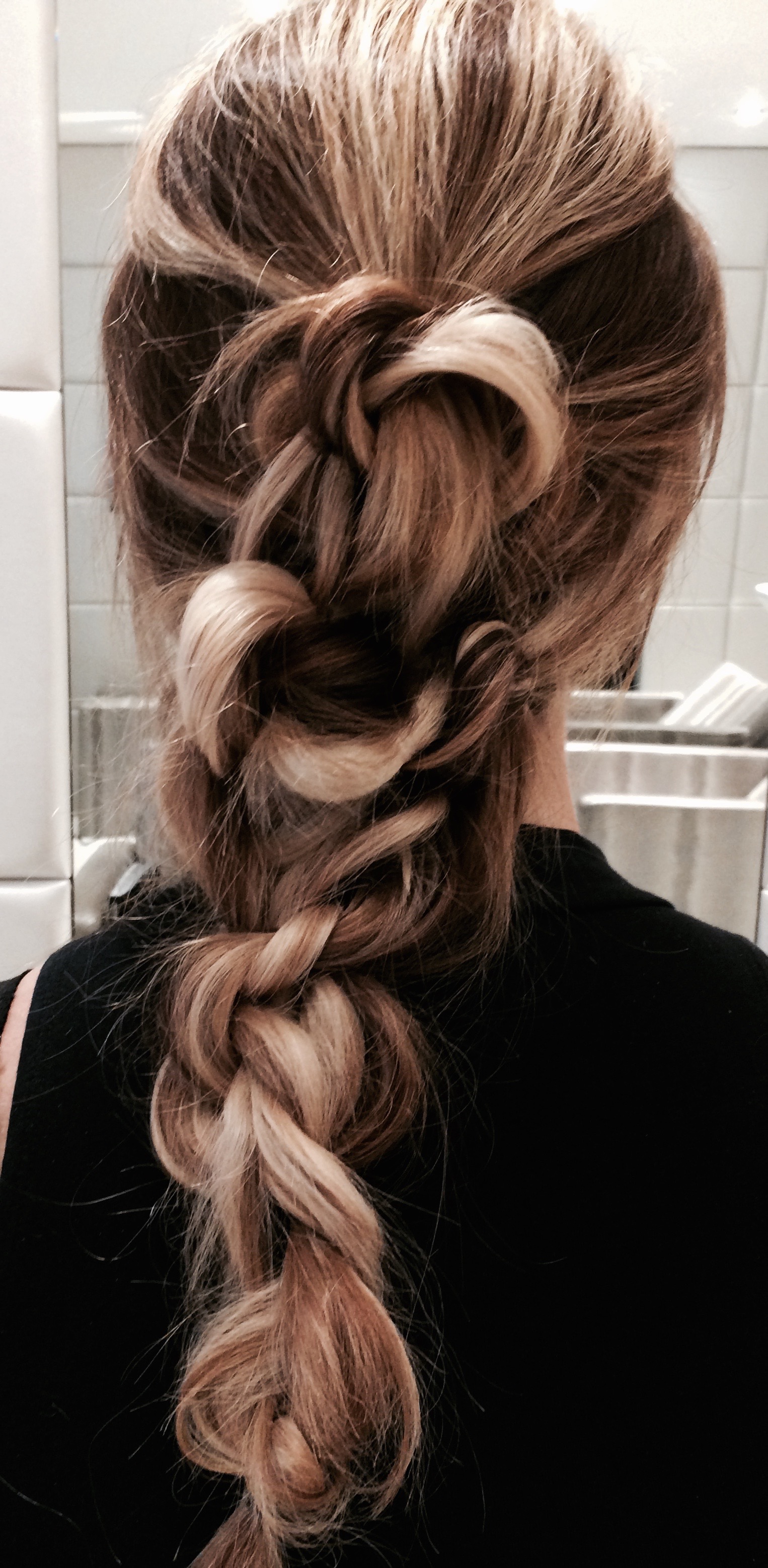 A new year gives us more confidence to try something new with your hair. If a whole new transformation is not your thing, and you just want to know the trends to try; then we've got it covered for you. Claire and Alison from our elite-10 salon Blo Bar shared their top three trend predication for 2016 with us.
1) Keeping you tresses looking their best has always been our motto but this year really is the year to be giving your locks some TLC. Healthy Hair Days is so now. Head to your nearest Gold Class elite salon and for a consultation and your personal hair prescription. Thick healthy hair is what you need to create, so the girls recommend that if your hair is long and straggly, then perhaps it's time for a chop and some Gold Class hair extensions to give it the right look.
2) Knots and to pull this off well they suggest you need plenty of hair. Any excuse for a hair extensions! Plaits are still around but it's all about putting a twist on them. "Wear them tighter, stronger and bolder" say the girls.
3) Embellish your 'do with big metallic clips and we've found you some gorgeous one's to get your accessories box going here.
Thanks to Claire & Alison from Blo Bar for their #hairspiration and give them a follow as the head off to LFW again next month.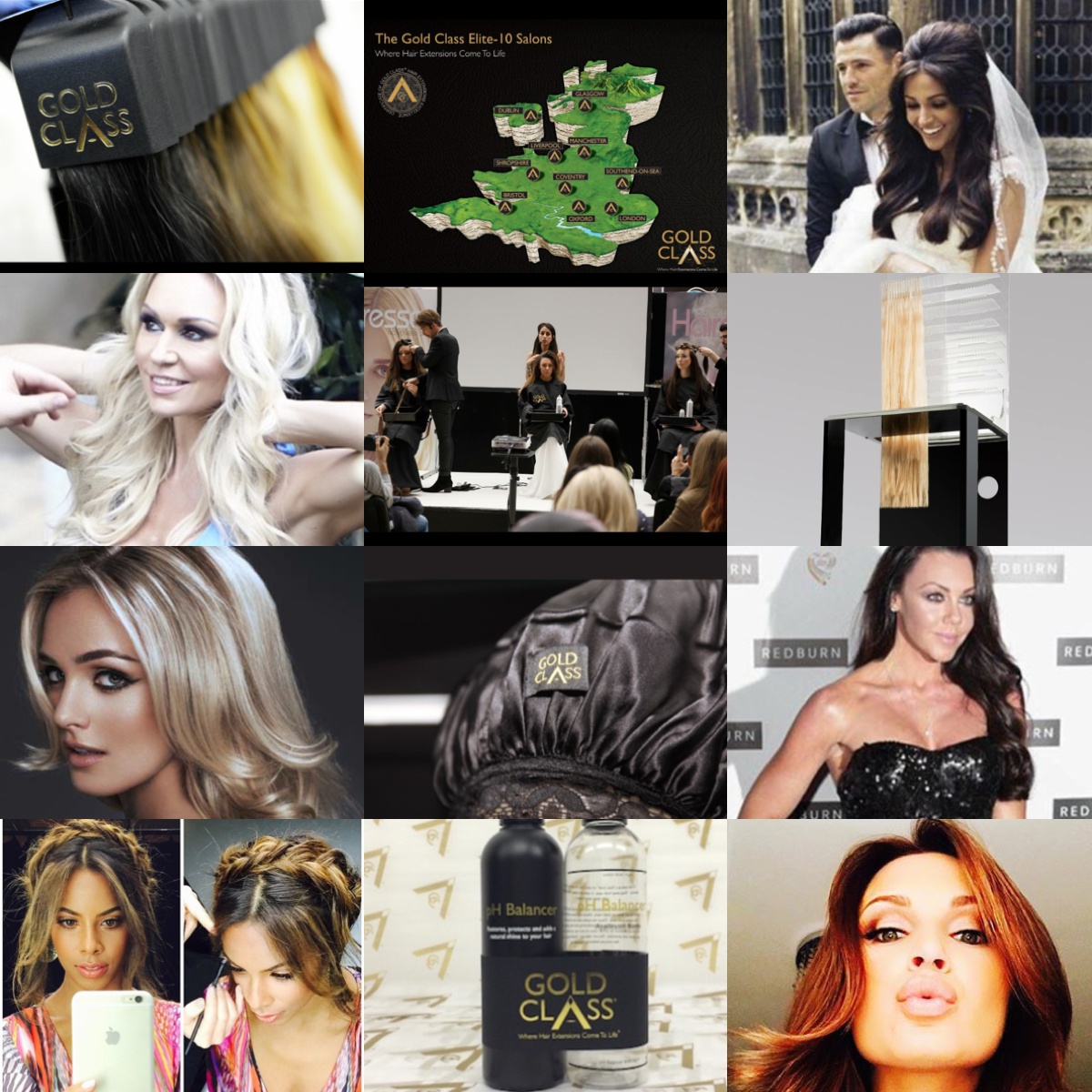 Another year has gone by and before we head into 2016, let's just take a moment to celebrate all that has been fabulous about Gold Class this year. Some might say it's been a journey but to us we're just excited about the future with so much to build on. We've launched to our industry, shared our hair and expert application skills with our Elite-10 salons and we're enjoying seeing all the fabulous transformations around the country.
Colour wise we've launched 26 beautiful shades and even gave them each a name to reflect the hue and to help you remember them. Ronze was the big colour trend and we have plenty of fiery reds to cover this. Catch up on what you missed with our blog here. We had several colour chameleons celebrity clients such as devote Gold Class fan Michelle Heaton changing her hue with each application. We didn't stop there with trends as celebrities went for the lob. You might have thought that Sam Faiers & Rochelle Humes had given up their hair extensions with the shorter crop, but our hair keeps their lob's shape, healthy & volumous. Read more in our previous blog. We were also delighted to welcome new celebrity names to the Gold Class family including Frankie Bridge, Vanessa White and Michelle Collins.
Our hair hasn't been off the TV Screens from XFactor to Strictly, the West End, numerous model campaigns and the Miss Great Britain & Miss Universe competition. Michelle Keegan's wedding was definitely a highlight as she chose Gold Class hair to help boost her volume for her special day and she's a pro at our Healthy Hair Days philosophy. We're pleased to with our select salons around the UK so you too can get your Gold Class hair extensions for yourselves.
We have just launched some fabulous products to help look after your hair at home too. Our pH Balancer and Silky Hair Days are perfect for hair extension wearers and non-wearers alike. It's all about beautiful hair and we all want that!
So what have we missed from these snaps? A team of people behind the company with great passion for all things hair extensions and of course our lovely fans who have helped our brand grow. There's been a lot of really beautiful hair too, just check out our Instagram feed for your #hairinspiration. So what's in store for 2016? Find out on in our next blog:))
Wishing you all a very Happy New Year and looking forward to seeing you all in 2016.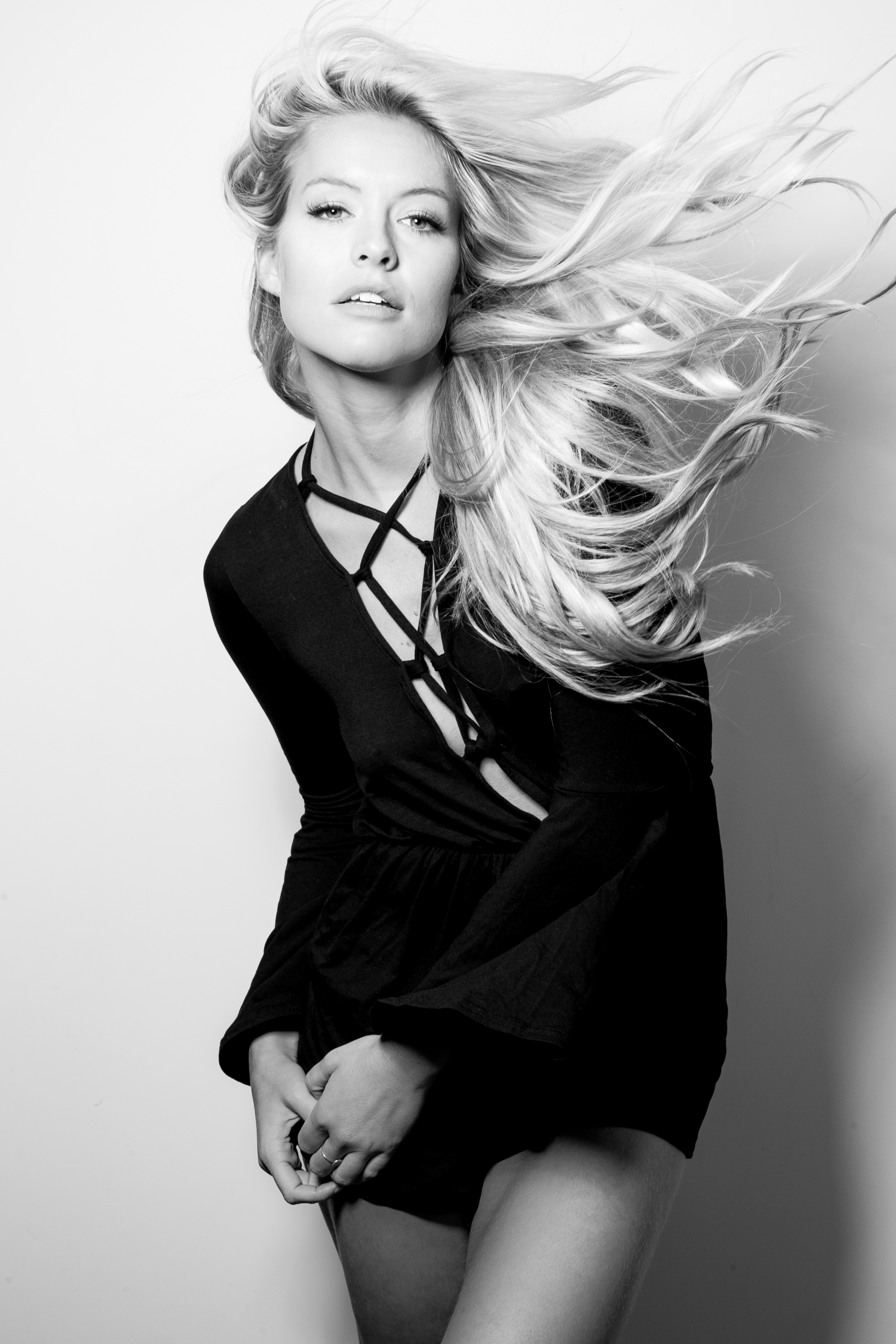 Stages Hair Design has two salons in Bristol and a strong reputation for hair extensions in the area. Keen to offer tailored professional services they have a diverse client base drawn to the talents of each stylist. The Stages team organise the annual Miss Bristol pageant with a catwalk show in the heart of the city. Their client's include the stunning Miss UK 2013/14 Kirsty Heslewood shown here with her Gold Class extensions.
Taking charge of Gold Class are James Jenkins based at the Patchway salon and Jade England, who was a recent finalist at HJ's Extension Specialist of the Year, for the Stoke Bishop salon. We caught up with them both to ask more
What is the most asked question about extensions?
Jade: Will extensions damage my hair? and How long will they last
James: Will they damage my hair?
Which celeb is the most requested hairstyle for extensions?
Jade: Kim Kardashian & Cheryl Fernandez-Versini.
James: Michele Coombs from the X-tra Factor
Tell us your best hair transformation story
Jade: Here is my client Diana, she has extremely baby fine hair and struggled to keep her hair in any style. When I suggested hair extensions as an option she was really shocked thinking "I'm way too old!" and "I don't think I'd like long hair". Everyone presumes hair extensions are for that 'glamour' look. Here we have achieved a natural, thickening effect with no tell tale signs of hair extensions. Extensions aren't just glamorous… they are life changing. With the Healthy Hair Days philosophy we replace her hair extensions every 3 months and each time we see her confidence shine when she leaves the salon.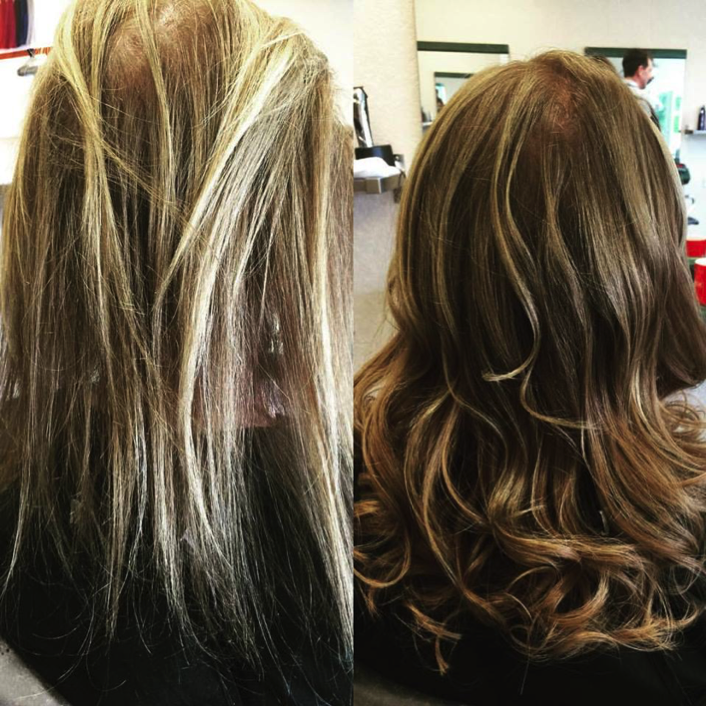 James: It has to be my mum's hair she was the hardest to convince, but now cannot live without them!
What tips do you get your extension clients to follow?
Jade: My main tip is not to go to sleep with wet hair, as this is the main cause for matting and damage at the root. My second tip would be about using conditioner. Use your ears as a guideline to condition the mid lengths and very ends that need TLC and avoid the roots.
James: Regular maintenance every 2 weeks and that's in salon with me!
What was the highlight of launching Gold Class in your salon?
Jade: Being the first salon in Bristol to work with Inanch and her exclusive brand. I have followed Inanch's work for some time, then one day I showed a photo of her work to my manager who replied 'That's my friend Inanch'- #starstruck
James: Being part of the best hair extensions in the world and meeting Inanch.
Proudest moment
Jade: Making the final 6 stylists competing for HJ's Hair Extension Specialist of the Year Award at this year's Salon International.
Preferred music to work to
Jade: Again as our clientele is so varied, our music is too! Some days we have music from the 80's … Disney themed, then current chart music.
James: Easy listening in the background.
Which industry show do you never miss and why?
James: Pro Hair and now its in London its even better.
What's the next big thing for your salon?
Jade: We are hosting Miss Bristol 2016 at The Grand, Thistle hotel in April.
James: Doing the avant garde models for the Miss Bristol show
What do you like to do on your day off
Jade: Pamper myself… Nails, Spray Tans, and I'm usually getting back to clients via Facebook regarding enquiries and bookings.
James: Chill Out.
Have you got a hidden talent?
Jade: I can play the violin, and took exams when I was younger, unfortunately not any more!
James: Art pencil drawing.
What's your favourite colour to work with at the moment
Jade: I love pre blending colours to give a bespoke finish to every client. No hair colour is the same, and I think that it gives a much more natural finish.
James: Blondes.
Where do you get hair inspiration from right now?
Jade: Instagram
James: My mentors.
Your mantra/quote to live by
Jade: "Where's Bank of Simon's Credit Card?"
James: Aim for perfection.

Get booked in with the Stages Hair Team for a consultation at either their Patchway or Stoke Bishop salons and give them a follow on social media to see their work: Facebook & Twitter.
CREDITS: Kirsty Heslewood image thanks to David Freeman Photography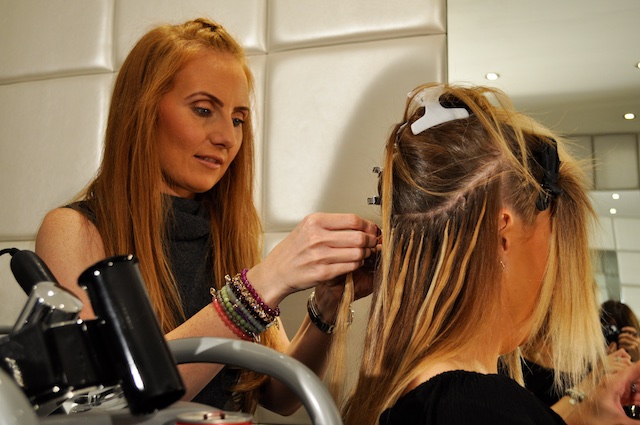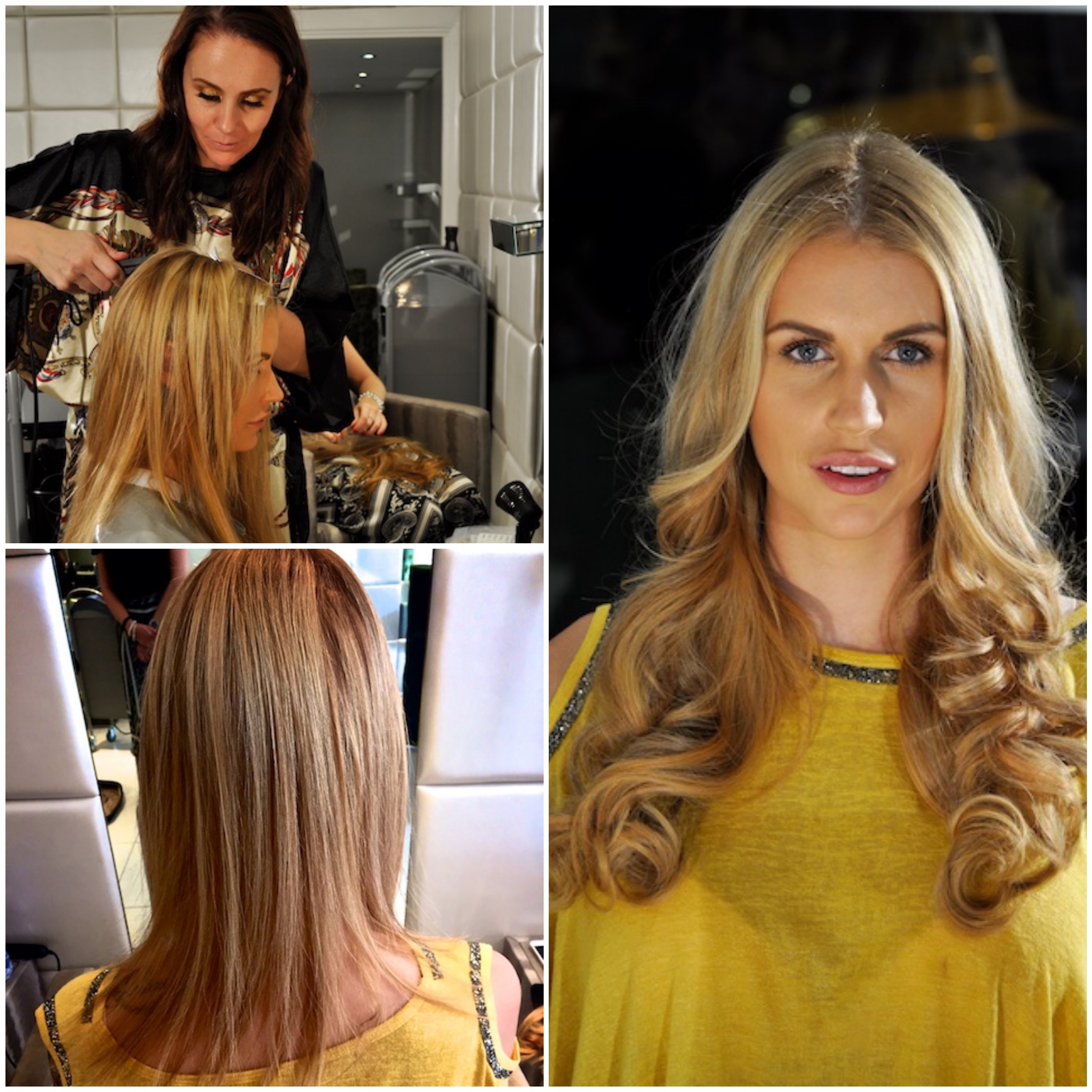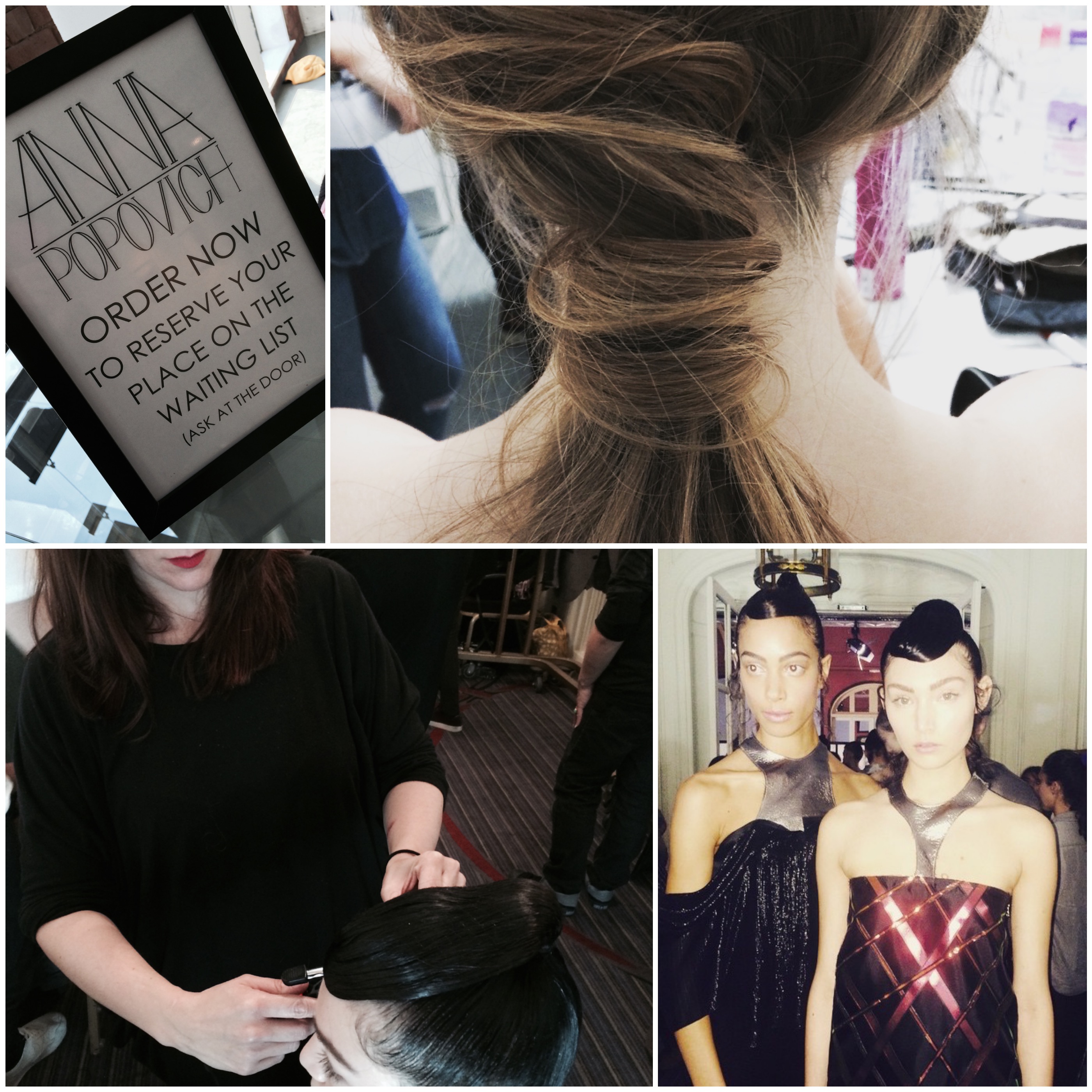 Set in the swanky Buckhurst Hill area of London, you will discover the beautiful Blo Bar. Described as a hub of hair, make up and glamour – it's the perfect place for Gold Class Hair Extensions. They had to wait for us as we launched our Elite 10 and training was in late September, but the wait has been worth it making our hair the focal point in the salon. Owner, Clare Jones and her team share their love of hair here:
Tell us about your clients
Our clients are fun and social people who always wanting to look their best.
What is the most asked question about extensions?
Are they easy to manage?
Which celeb is the most requested hairstyle for extensions?
Rochelle Humes.
Tell us your best hair transformation story
It's definitely a set of Gold Class extensions that have transformed a regular client of mine, even her husband calls us to say thank you for making his wife so gorgeous!
What tip do you get your extension clients to follow?
Brush the hair from bond to tip regularly throughout the day with your Gold Class brush.
What was the highlight of launching Gold Class in your salon?
Being a able to offer our clients such high quality hair that they love just as much as I did when I first had it put in mine. Its great to have the colour swatch that client's can see for themselves just how amazing the hair and colours are.
Proudest moment for your salon
Opening the doors to Blo Bar when I bought it last October, there have been some changes made to the décor, putting my own stamp on it. The salon is ultra feminine and unique with a boutique style. Since October all our stylists are now trained and experts in colour, extensions and cutting. We have recently taken on Philip Kingsley products, which works brilliantly with Gold Class, It is such a fabulous product, and really benefits the quality of our clients hair.
Alison has also continued her Fashion Week work heading up a team for Anna Popovic at LFW, and then heading to PFW to work alongside Darren Fowler for designer Bernard Chandran creating some beautiful hairstyles (images left). Most recently she has been working on the new Christmas M&S ad.
Preferred music to work to
Anything current, but not too 'pop-py,' Whatever comes on Spotify, especially Justin Bieber at the mo.
Which industry show do you never miss and why?
L'Oreal Colour Trophy Grand Final – it's a wonderful creative showcase.
What's the next big thing for your salon?
We have just taken on the highly respected product range Philip Kingsley to sit alongside our Gold Class hair extensions. Launching that will be big news for us and not to mention Christmas and lot's more glamorous hair!
Putting owner, Clare under the spotlight …
What do you like to do on your day off? Spending time with my family, working out and of course, shopping!
Have you got a hidden talent? I can sing!!
What's your favorite colour to work with at the moment? Blondes are my fave right now, I've been doing lots of really warm tones and apricots blondes.
Where do you get hair inspiration from right now? I always really like Olivia Palermo's style.
Your mantra/quote to live by Don't dilute your dreams. Keep your passion concentrated and strong.
Get booked in with Blo Bar for a consultation now and keep following them on social media: Facebook, Twitter & Instagram to see more of their fabulous work.