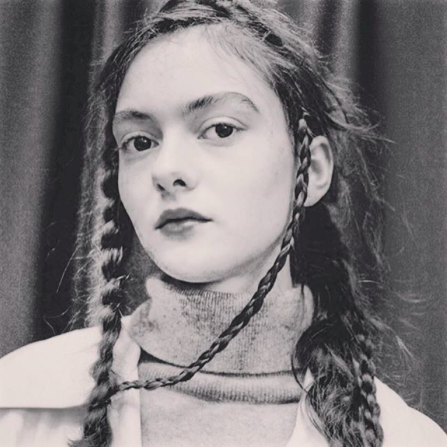 Healthy hair has been on trend for a while and this continues, as does natural looking hair. So spend a little more time on the TLC to ensure it is in good condition and show it off with these simple suggestions to have effortlessly beautiful hair in 2018.
COLOUR
Pantone's Colour of the Year has been announced as Ultra Violet. Whilst we are not planning on introducing a purple to our colour chart, this will work well with blondes and brunettes as a complimentary colour so we are looking forward to seeing some extensionists play with colour more this year.
Keep your eyes peeled at festival-season and next winter, as we will definitely be seeing more of this hue.
Selena Gomez recently went blonde and this trendsetter is already leading to enquiries for this look. Keep your roots and opt for a warm blonde like our Iced Pearl to help keep the volume and hold the style.
ACCESSORIES
Well good dressed hair deserves a treat too. So add some embellishments and try to make them gold of course! Barrette clips are in.
Think back to the SS18 catwalk and big hair bands were in with Channel and many more. Think back to Blair Waldorf for some style inspiration.
STYLING
Buns will be big in 2018, and even your looped pony can be called a bun. But get creative and try something like this from Preen with 3 different plaits to add texture and interest to your style. We still can't resist plaits!

See more here.
Head to our Pinterest page for more hair inspiration and if you are looking for a new look for 2018, then head to your nearest Gold Class elite salon for an in-depth consultation and talk about your colour and style requirements.
SaveSave
SaveSave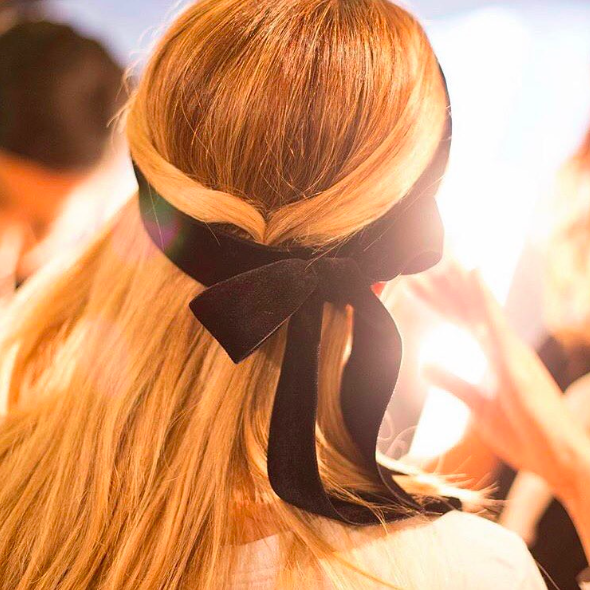 Summer has well and truly come to an end and as September is the month of Self Improvement, we thought we would inspire some change to find your perfect hair look.
This time of year has so many gorgeous autumnal hues and if you've never tried being a red head now's your chance. Lena Dunham has made the switch and by all accounts found her fire. We think our Rich Berry hue would achieve this look.
You can find more of our stunning reds on our colour chart and if you're not so daring, then our Rich Rose might be your ideal hair crush. If you're not too sure about a full block colour, then you can always blend them – ask your Gold Class extensionist for their expert advice to suit your colouring. With your colour sorted, we need to turn to styling. Cast your mind back to LFW AW17 best hair looks and this image was everywhere from Temperley London. 
So simple to recreate with your ribbon colour of choice, there's no excuse not to try it. We like this added detail of tying the sides of the hair back into a loose half-up ponytail to help give the ribbon something extra to hold to. Avoid smooth ribbons and secure with a few discreetly placed pins.
We love these messy Victoria rolls by hair icon Eugene Souleiman for Preen
Need more inspiration? Browse The Telegraph Fashion 41 of the Best Hair Looks for AW17 here.
We will keep harping on about healthy hair looks and this really starts with good hair care. Treat yourself to our new look aftercare range and our Conditioning Boost to really add extra nutrients to your locks and add shine. With the changeable weather, we really recommend having some supplies in your handbag too like our brush and Argan Oil to add to the ends of your hair and fight the frizz.
More tips on healthy hair can be found in our previous blog or get in touch with your nearest Gold Class salon to organize a hair health check.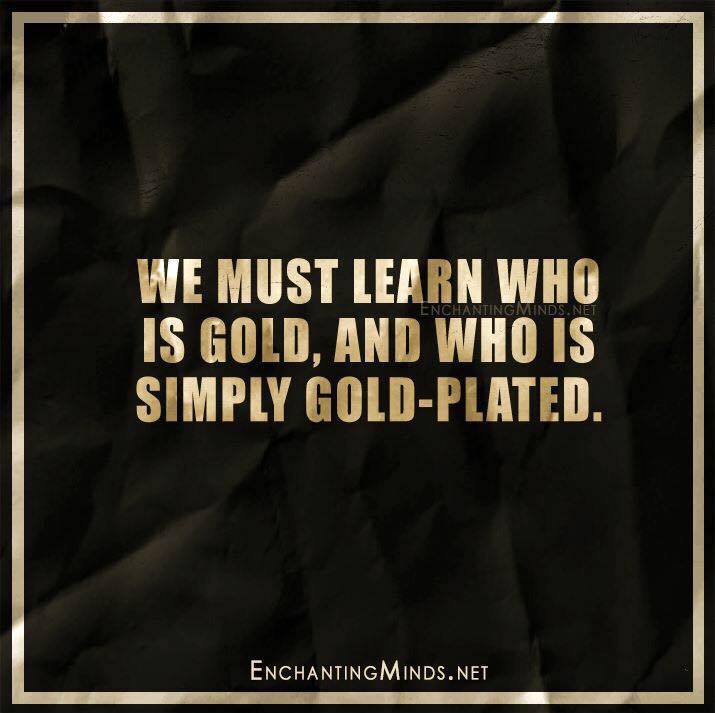 2015 was a fantastic year for Gold Class as we highlighted in our earlier blog and we predict that this year is going to be even better and we want to share with you some of our exciting projects for the year ahead!!
First of all we've headed to India where our superior quality hair is sourced for a tour of our partner's factory and to check the whole production process. A full report to follow next month.
Later this month we'll be celebrating the launch of Gold Class at our Elite 10 salon Daniel Galvin where all our lovely Gold Class salons are joining us alongside press and celebrities at their flagship salon in George Street. This promises to be a great evening and don't worry we will share some snaps with you over on Instagram.
We have some new products coming too that we've been working on throughout 2015 to perfect them before launching this year: a new state-of-the-art hair application machine, a blow-dry brush specifically designed for hair extensions and a full Gold Class wetline range formulated to care for your Gold Class extensions.
We also have a new and improved digital microscope for our stylists to share your hair and scalp analysis with you straight to your tablet or phone during your initial consultations.
Last but not least, there are more hair colours already in production! The most beautiful platinum blonde – a huge trend for 2016 so you have better get in with your Gold Class select salon now for a consultation and get it pre-ordered! We also have 9 new ombré's coming for Spring – you will just love these and if you can't tell we are super excited!
We don't stop there and will keep you updated on more exciting happenings with Gold Class. So have you done your #HairResolutions yet? Looking for some trend tips for the year ahead then read up on this in last week's blog.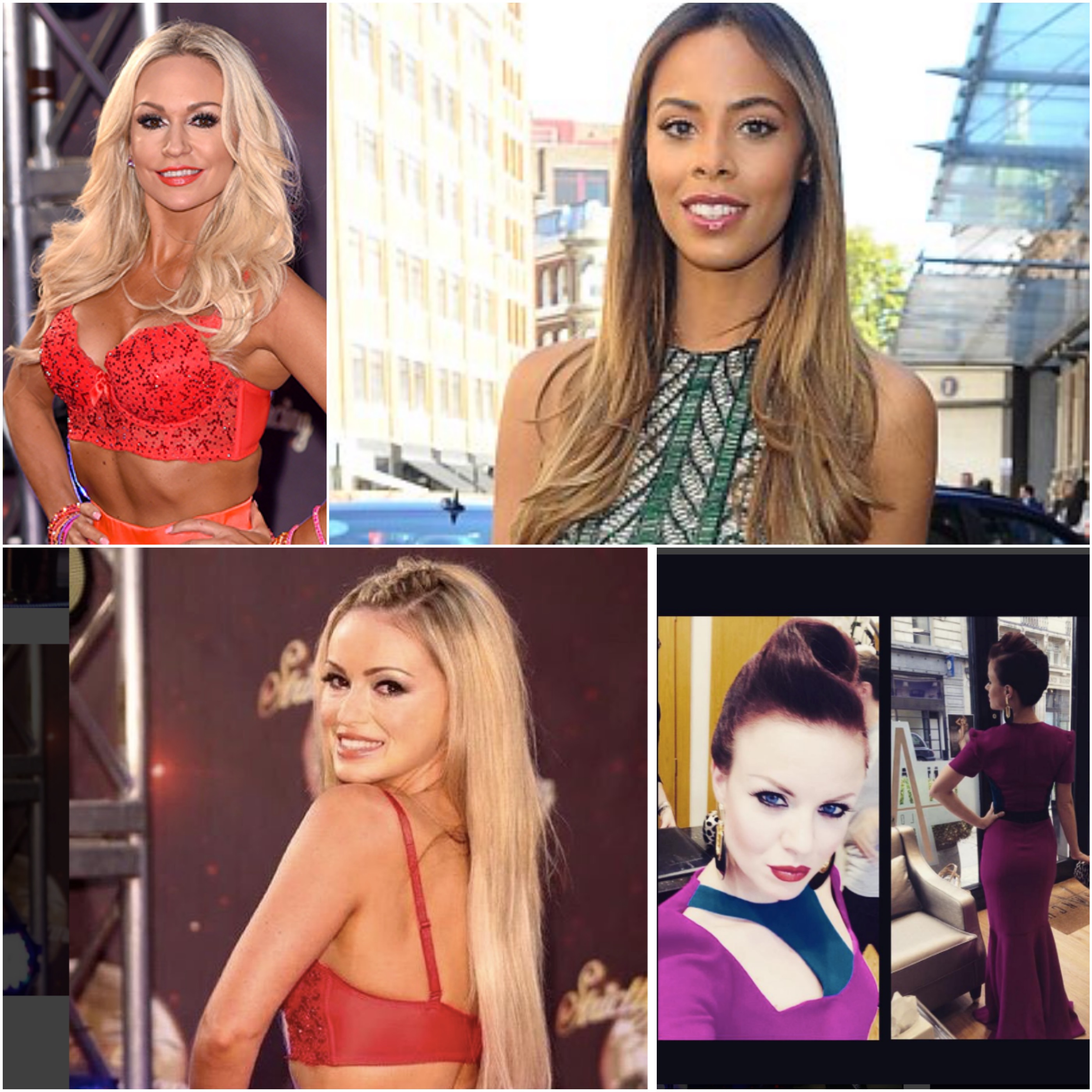 We are now moving in to full-on Strictly Fever and XFactor obsessing as the live shows start. Our loyalties are torn between these two shows and so we can't help but indulge in some Get the Looks for our Gold Class Girls working these shows. With all girls client's at Inanch London we spoke to the team behind each look to get the scoop on their individual looks.
If you follow Rochelle Humes on Instagram you will have spotted she has been tweaking her extensions over summer, going blonder and shorter but her most recent visit to Inanch Emir herself had her 50cm lengths back in. Rochelle is busy promoting her new Very line, Ninja Warriors trials as well as fitting in the XtraFactor. Inanch explains more about the colour change "using her lightest shade as new base to become the darkest shade, we mixed 3 colours to lighten her locks and create a natural blonde look ahead of her press work for her clothing range. We styled her hair with plenty of layers for a different look." Rochelle has to time her hair changes to tie in with her schedules, collections and launches and offer some point of difference.
Roberto meanwhile has helped Ola Jordan with her highly anticipated return to Strictly following her injury. Having played with dark hues, Ola feels much luckier as a blonde and Roberto added 45cm lengths of lighter more ash tones in her new set of extensions applied before the launch show last month. "Ola's hair is a little more complicated when she is working on the show as we need to be more mindful of where we place her bonds and work with much finer bonds to ensure they cannot be seen for even her most dramatic look or felt for back-combing to create those looks."
Roberto also created a beautiful 21st century twist on a chignon for Joanne Clifton this month ahead of her National Lottery Awards night. He keeps her vibrant colour and sharp lines for a very different look for Joanne.
Kristina is a loyal client of the very talented Vessy. Kristina has only been having her Gold Class extensions for a year now and as a devotee blonde she has started to add some on point 'bronde' into her tresses so we should start to see more depth on our TV screens.
Whichever show is your favourite please make sure you support our Gold Class Girls who look sensational as they showcase our hair on the dance floor and TV Screens across the UK.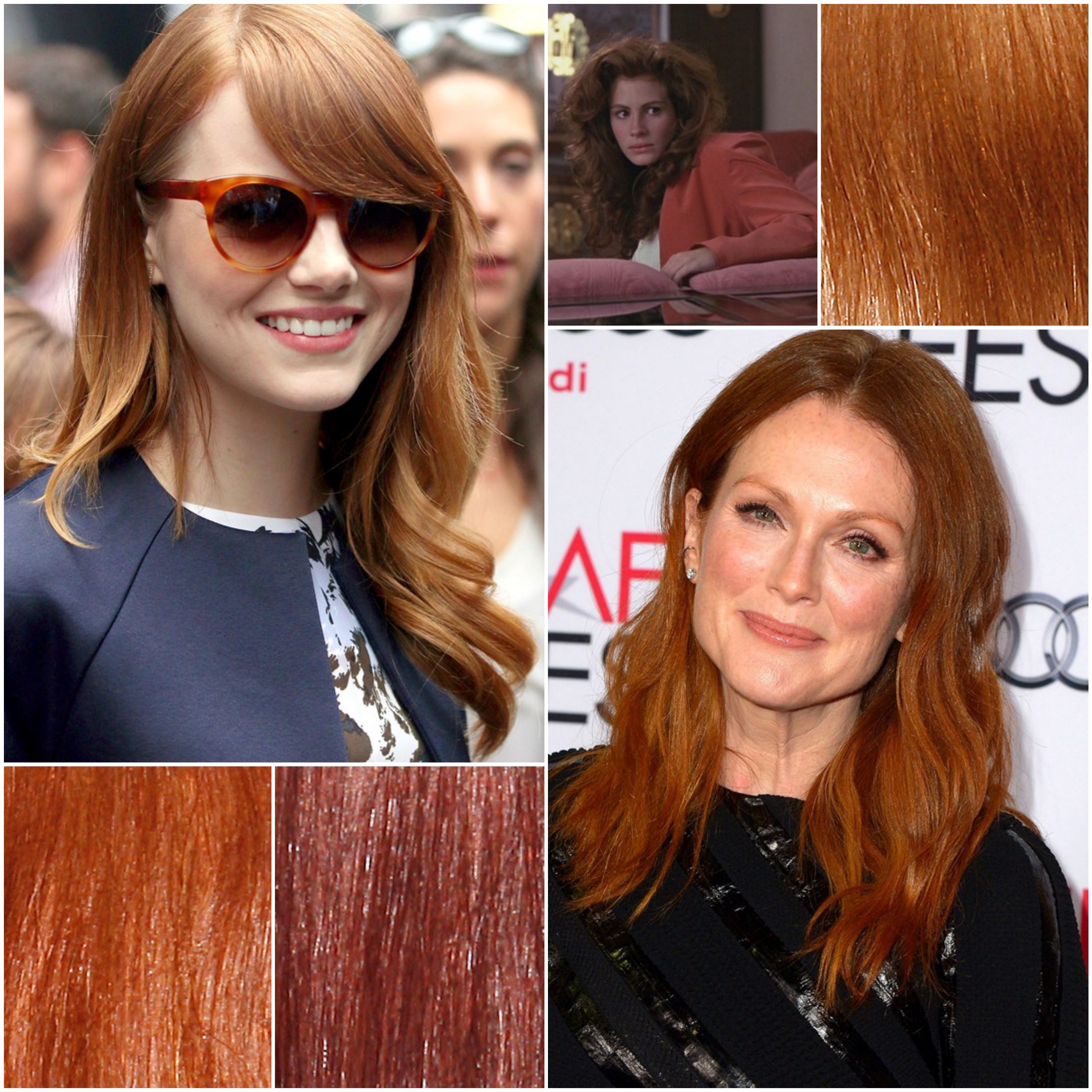 It might seem like another made up word but it's definitely the colour name on the lips of colourists right now. Quite simply its Red and Bronze and for this autumn is a perfect hue to offer warmth and shine which nod to the trend of luxury we are seeing right now. Catch up on the AW15 hair trends in our last blog
We are pleased to have a great range of reds to find your perfect match. From warm browns to rich red warm copper hues your expert extensionist will also be able to blend extensions to customise the look for you. Our hair quality will keep your tresses in perfect condition to maintain the shine and colour throughout autumn.
We've even spotted Inanch London's Gold Class extensionist Roberto Silva has already been 'Ronzing' his clients here: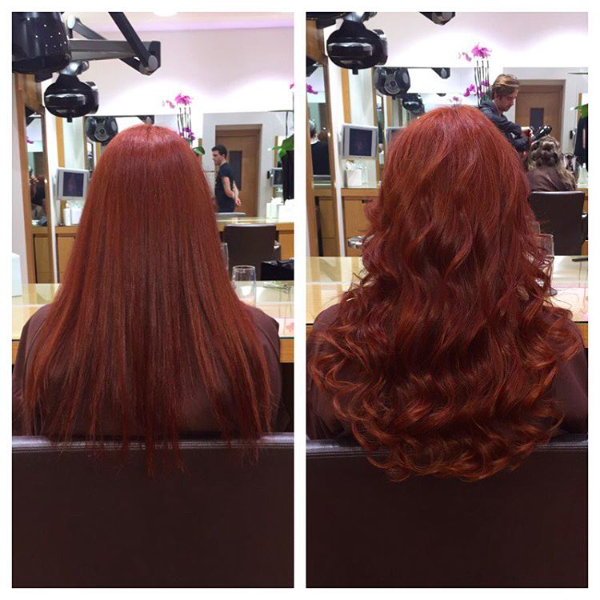 There are plenty of celeb red heads we can look to for inspiration from Emma Stone, Julianne Moore and of course Pretty Woman star Julia Roberts. Sienna Miller has recently sorted a Ronze look for a new role and other celebs who have dabbled include hair icon Blake Lively and Scarlette Johanson. Flick through some more red celebs here.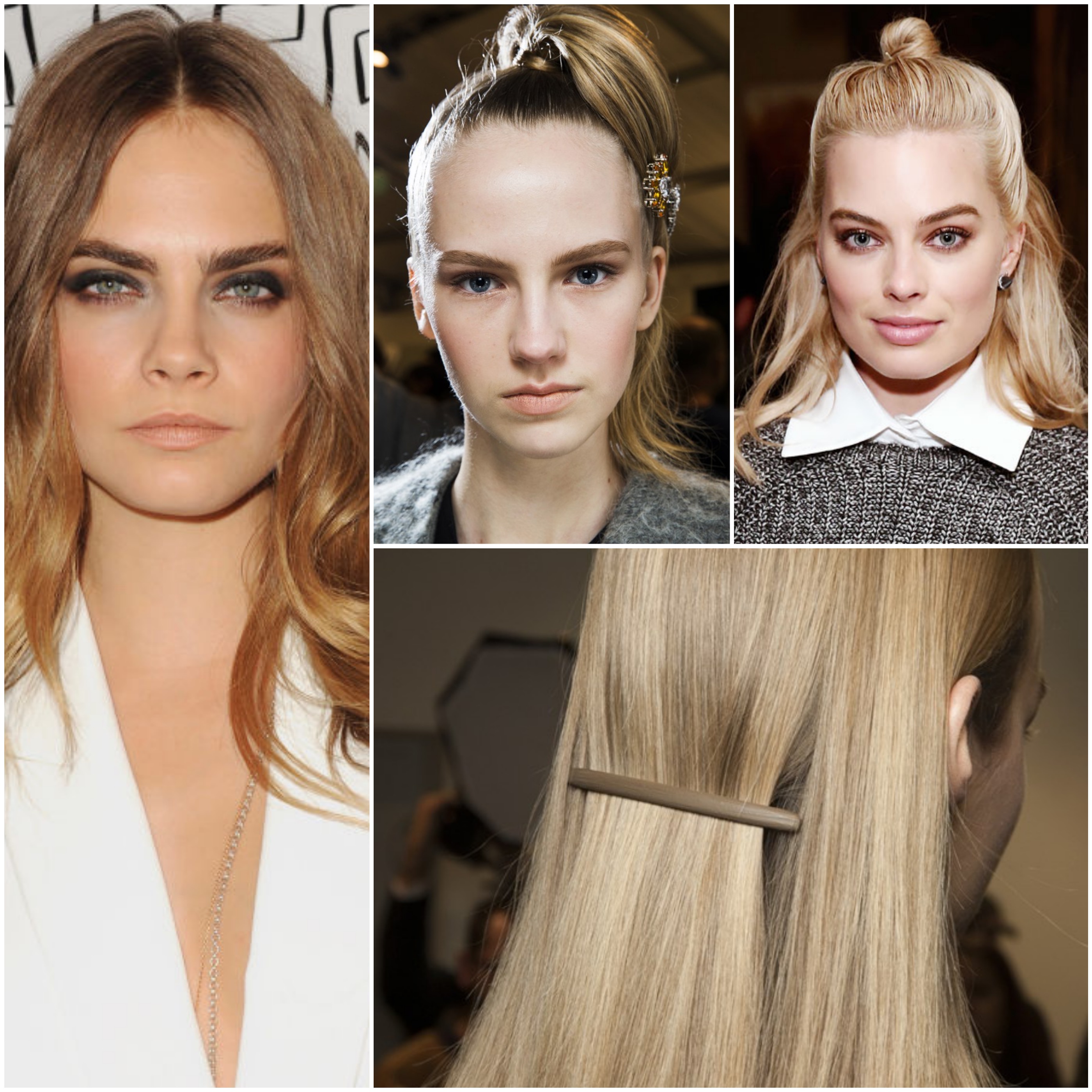 It's time to think ahead and turn our attention to the Autumn/Winter hair trends and start thinking makeover time! Vogue's review has Gold Class written all over it with a "move towards a more luxurious, expensive look."
Healthy well-kept hair is the order of the day and this fits perfectly with our Healthy Hair Days philosophy to keep your mane lustrous and strong. Bouncy blowdries, think Kate Middleton, are in!
Colour wise we always tend to move down the spectrum away from summer blondes and into the warm chocolate hue brunettes. But before you head straight there maybe opt for the on point Bronde look of the likes of Cara Delevingne and Blake Lively. It's in between blonde and brown – flick through these celeb blondes. If you fancy something a little different red heads are also popular – a rusted red shade is perfect.
Now how to Style your tresses? Don't be afraid to show off your healthy locks and bouncy blowdry with a few hair swooshes, but if you after a more casual look maybe opt for the 'hun' it's a half bun. For your night out and red carpet looks, sweep your tresses to the side and either pin in place or create a low side pony. You can then have fun with accessories and different takes on your pony. More accessorized updo's were seen on the catwalks with Oscar de la Renta jewelled topknots and Chanel ribboned-french twists.
Our Gold Class salons are taking bookings from September, so give them a bell to book your consultation now and get your new look sorted ahead of the change of season.