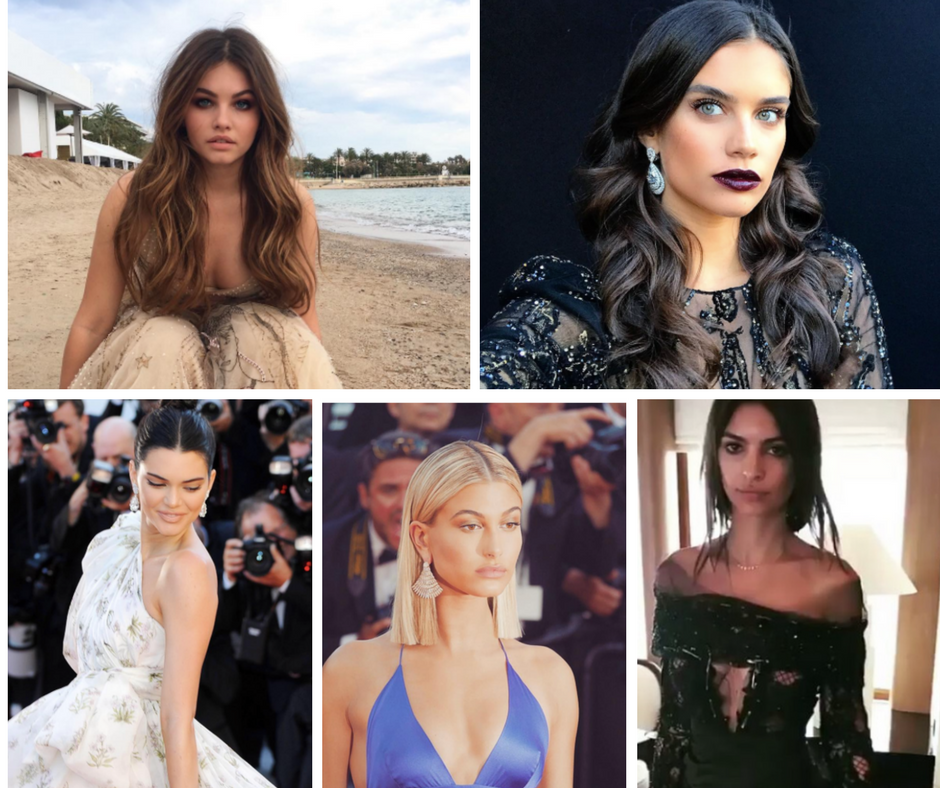 We love awards season and Cannes Film Festival is definitely one of our favourites. So we thought we would share with you our five favourite looks straight from the red carpet.
Kendall Jenner
Kendall turned heads in her stunning La Perla couture, complimented by her simple yet sophisticated slick-back-bun. Complete this look with Gold Class Argon Oil to keep stray hairs in check.
Thylane Blondeau
Thylane was not afraid of fly-aways, opting for an easily maintained beach wave look. Beach waves look great with ombré as it emphasises the different shades and layers in the hair. See our range of ombré clip-in hair extension shades, and talk to your extensionist about recreating this look.
Hailey Baldwin
Hailey's blunt bob is so sleek on and on trend. Mixing blonde hues like our …. give a more natural look whilst the extensions help to hold the shape and thickness of the lob on the shoulders.
Sara Sampaio
Sara Sampaio adopted a traditional red carpet chic look which beams class. Clip-in hair extensions can also recreate this look beautifully by adding volume and shape.

Check her Instagram feed for even more great looks from Cannes here.
Emily Ratajkowski
We love braids as you can dress them up or down and look great at any occasion, whether that's on the red carpet or basking in the sun. Emily opted for the messy braid look, completed with a black bow to complement her gorgeous gown.
Some of these looks can easily be mastered by yourself, but if in doubt, consult your stylist or ask your extensionist for a free colour match, fitting and styling at one of our elite salons.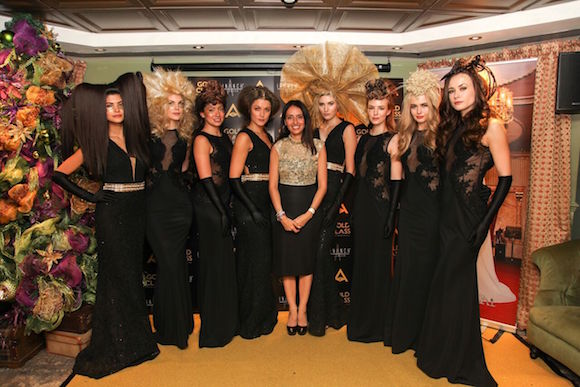 Last month's All That Hair show was the launch of our new luxury Gold Class Clip-In range and our founder, Inanch Emir, stunned us with her avant garde creations. Most of the looks worked with these clip-ins, so let's take a closer look at just how she created these incredible creations…
Left to right: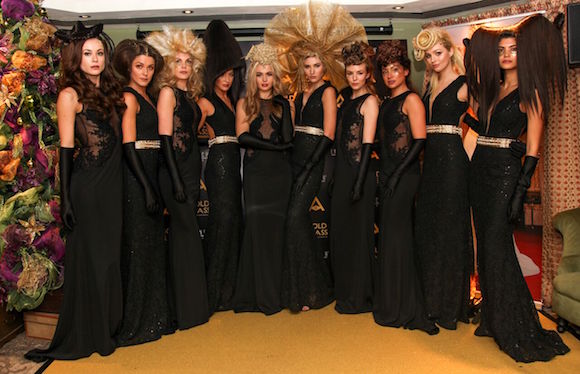 Imogen: Working with a spider frame, Inanch plaited hair to cover the shape with basket weave. Three Clip-Ins were added for uber-volume for hair to tumble down with the spider-legs dangling over the top.
'The Basket Cases' – Charlotte: her hair was plaited from her parting into a wide triangle to secure the hair, donuts were applied to the sides of her head with Clip Ins covering this, before crimping her own hair and securing into a low ponytail at the nape of the neck.
Jess: Starting with the flat sheets of hair, Inanch ripped sections to form individual tulip shapes with gold glitter centres. A clip in added length and volume for blending when backcombed to the tulips.
'The Pirate Hats' Anastasia: the spectacular sculptures wrapped in hair and with Clip Ins draped to flow and move with the model's movement.
'Twelve Twists' – Laura: Twirling long hair extensions into twelve twists onto a head piece sitting down the centre parting down the hair to create a Mohawk. Two Clip Ins added length and volume to the sides.
'The Fan' & 'The Tulip' Juste: Creating sheets of hair by slowly building this up before creating the pleated fan and sprayed with gold and wrapped around her head.
Ianthe: Sleek flower was sculpted to the front of the head with clips in added down the back into a double ponytail with plenty of texture.
Imogen: Working with a spider frame, Inanch plaited hair to cover the shape with basket weave. Three Clip-Ins were added for uber-volume for hair to tumble down with the spider-legs dangling over the top.
'Flower Power' – Daisy: A Clip In was added to a wire to sculpt into 12 large and 12 small flowers placed and sewn onto a chunky plait.
'The Pirate Hats' Nena: the spectacular sculptures wrapped in hair and with Clip Ins draped to flow and move with the model's movement.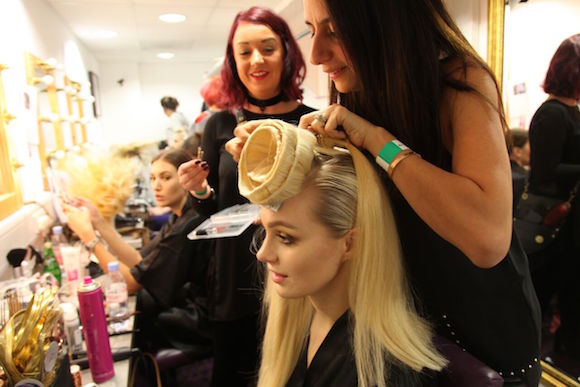 All of the preparation was made by Inanch Emir herself and was assisted on the night by her salon team members Lee McCrudden, Ivan Rachev and Alessandro Spitaleri alongside fellow Gold Class extenionists Anne Veck, Nicola Smyth and Elisa Didymus.
…and with a sprinkling of gold glitter, hair graffiti spray and gold make up; the models shone.
"This was my first real venture into the Avant Garde world and creating something experimental with our hair and I loved it. I spent a lot of time looking at various textiles and textures for inspiration before playing with the hair." Inanch Emir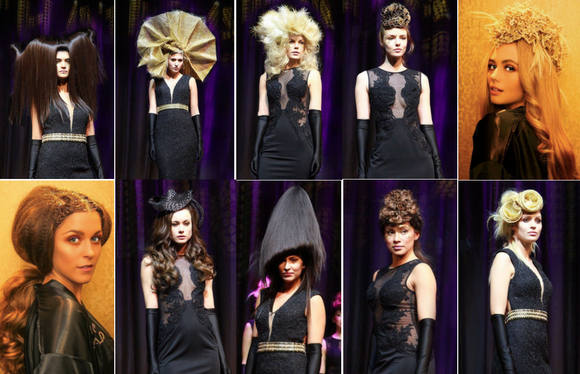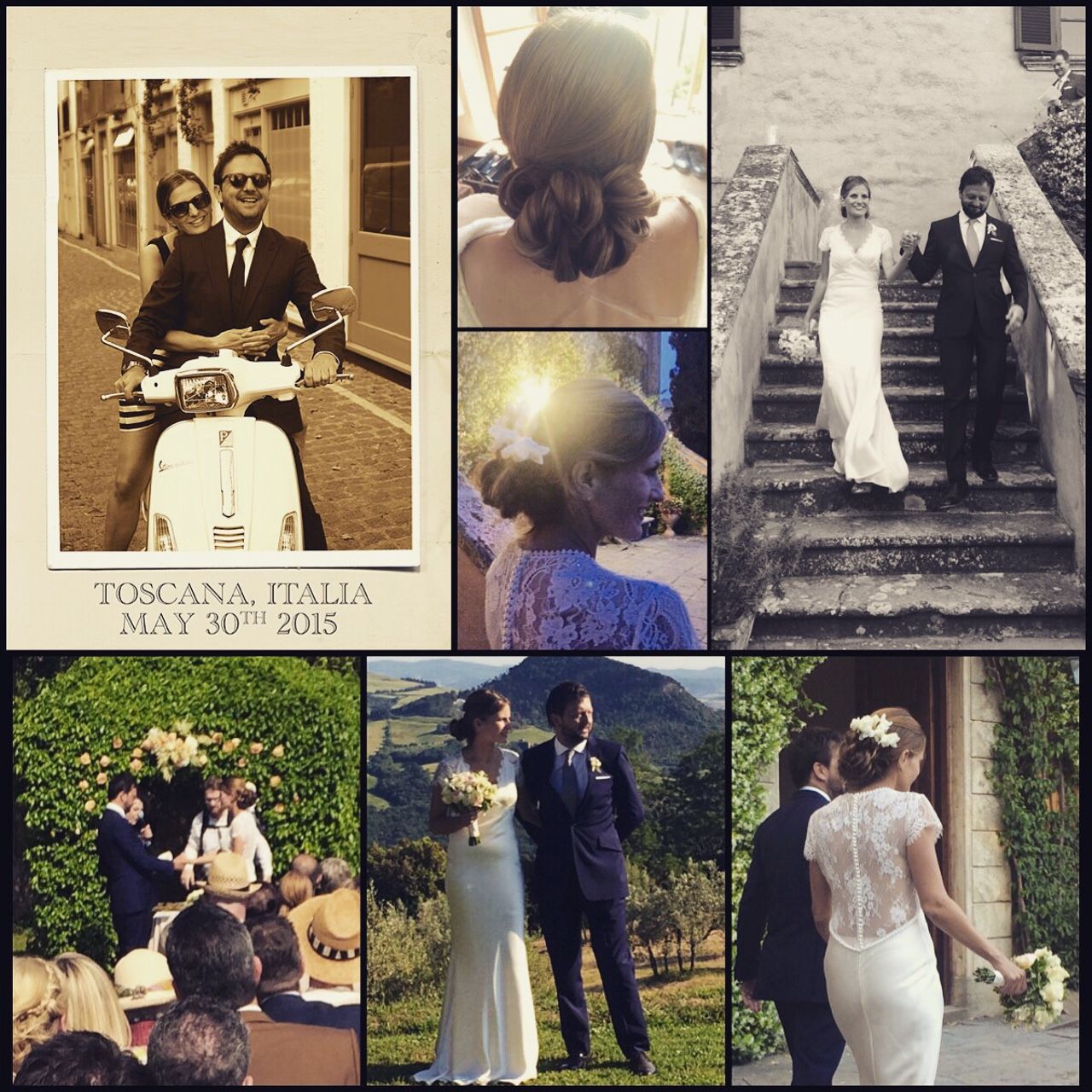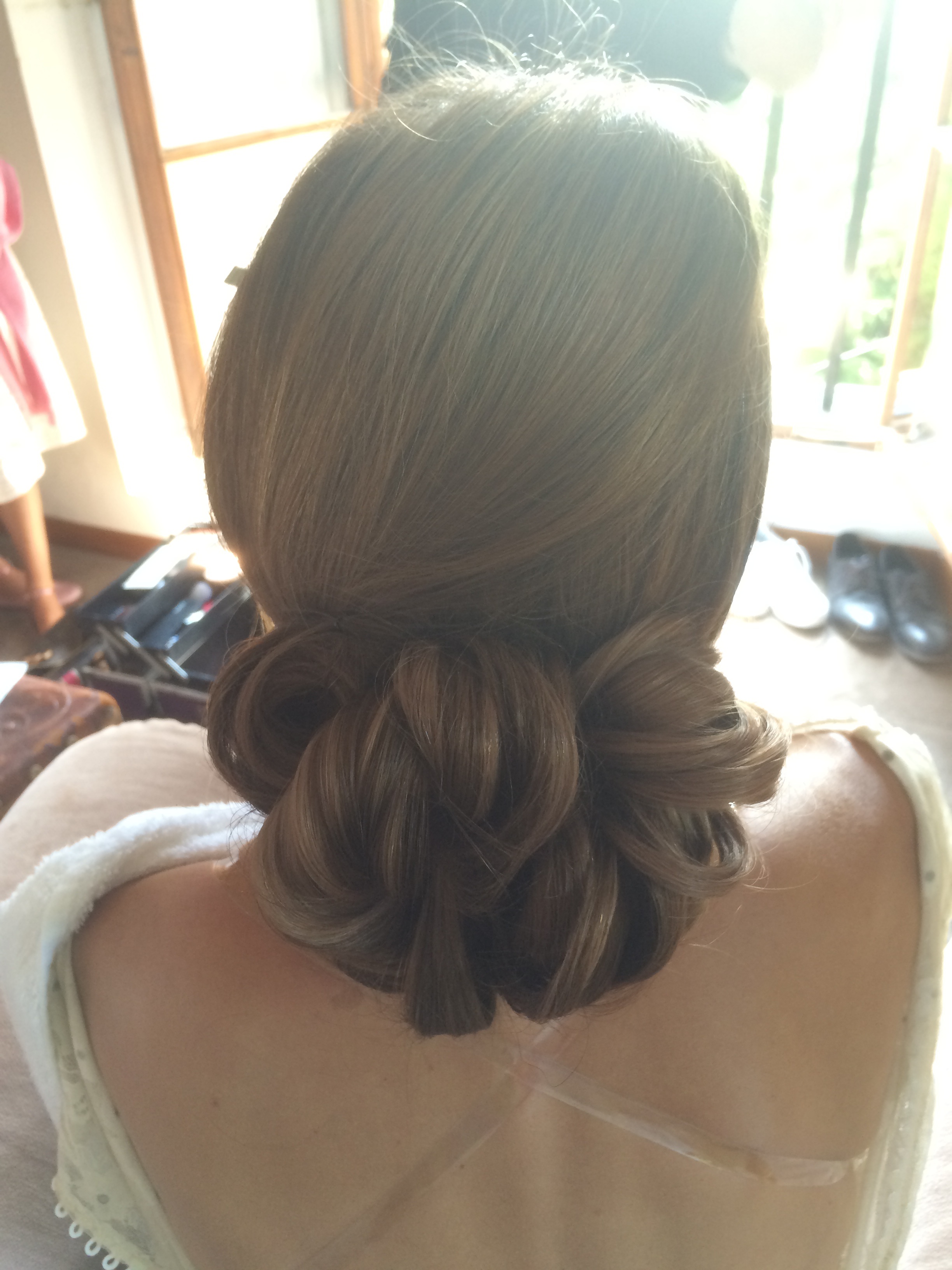 Hair extensions are often used to enhance a bride's hair for their special day, and it was even better when Inanch & Joe Emir from Inanch London were invited to the wedding itself – IN TUSCANY no less!!! We should really be talking about the hair but I think the photos from the magical venue and romantic setting for the Big Day have us very envious indeed.
The bride looked equally magical. Opting for a low romantic bun with plenty of volume and that's where Gold Class made it's debut. The bride-to-be popped into the salon a month before her big day for a consultation with Inanch and to talk through her look and colours. With her colours re-done a custom-made Gold Class Clip In was made by Inanch to take into account her new shades and blend naturally to her own hair.
Inanch fitted the Clip-In on the day. She started by blow-drying and tonging Nora's hair in to nice loose waves. Then, with the front section clipped out to one side, the back was tied in to a low ponytail, before adding the clip-in hair pieces around her ponytail. The hair extensions and Nora's hair had been pre-curled at this point and so all that remained was to pick the sections, create knots and pin securely to create this stunning elegant look. The side sections were loosely pinned and some strands were teased out for a natural, soft look. Finishing off by applying some light hairspray by Inanch's favourite, Unite Haircare.
Veil or no veil was still a last minute bridal decision but either way this style would have worked, and the bride finally went with fresh flowers to compliment the bun. We asked Inanch about using flowers in your hair "You can get a florist to put a wire in to the flower for you which then allows you to insert it in to the hair just like you would with a pin. If it's hot, and especially if you're abroad, try to keep the flowers in water as long as possible."
A truly fairytale wedding and many congratulations and thanks for sharing their special day must go to the new Mr & Mrs Jury. Wishing you the very best for you future happiness. xx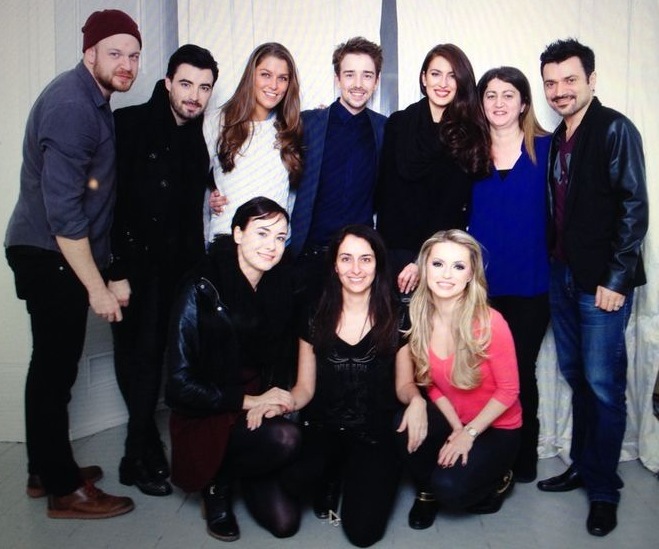 It was back in January when we shot our collection with the gorgeous Ola Jordan and our Gold Class Girls Imogen Holly Leaver, Anastasia Smith and Charlotte Holmes. We had already applied the extensions but we added some extra clip-ins to Ola for additional effects.
The location was absolutely stunning; we could have moved in. But no time to dream, as we wanted even more shots constantly changing and playing with the hair. We somehow managed to squeeze in some #GoldClassFever and Ola wasn't the only one dancing round.
Hope you like the images, Love Inanch xx
PS – Thanks to our photographer Chris Harris,  dresses from PiaMichi and hair by the team from Inanch London (of course!)