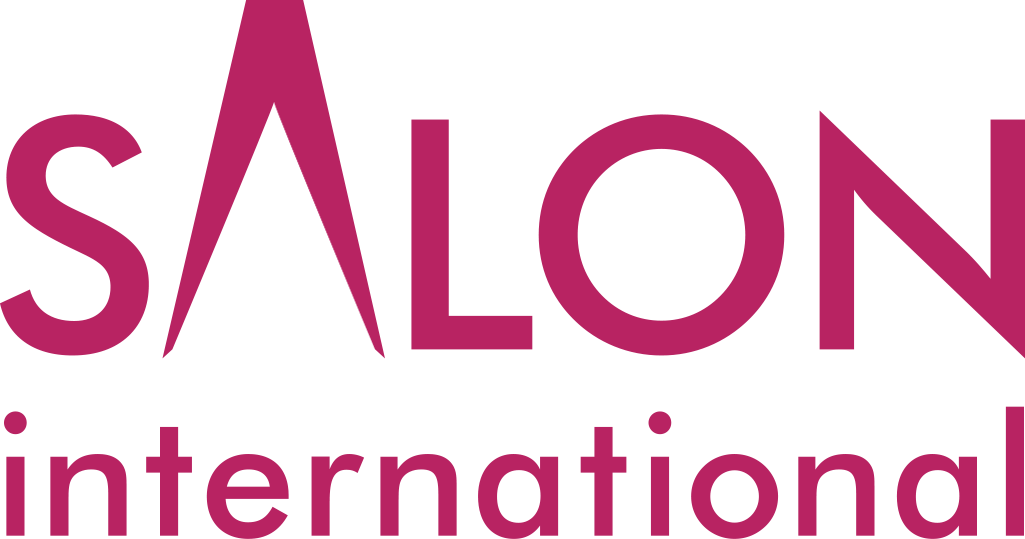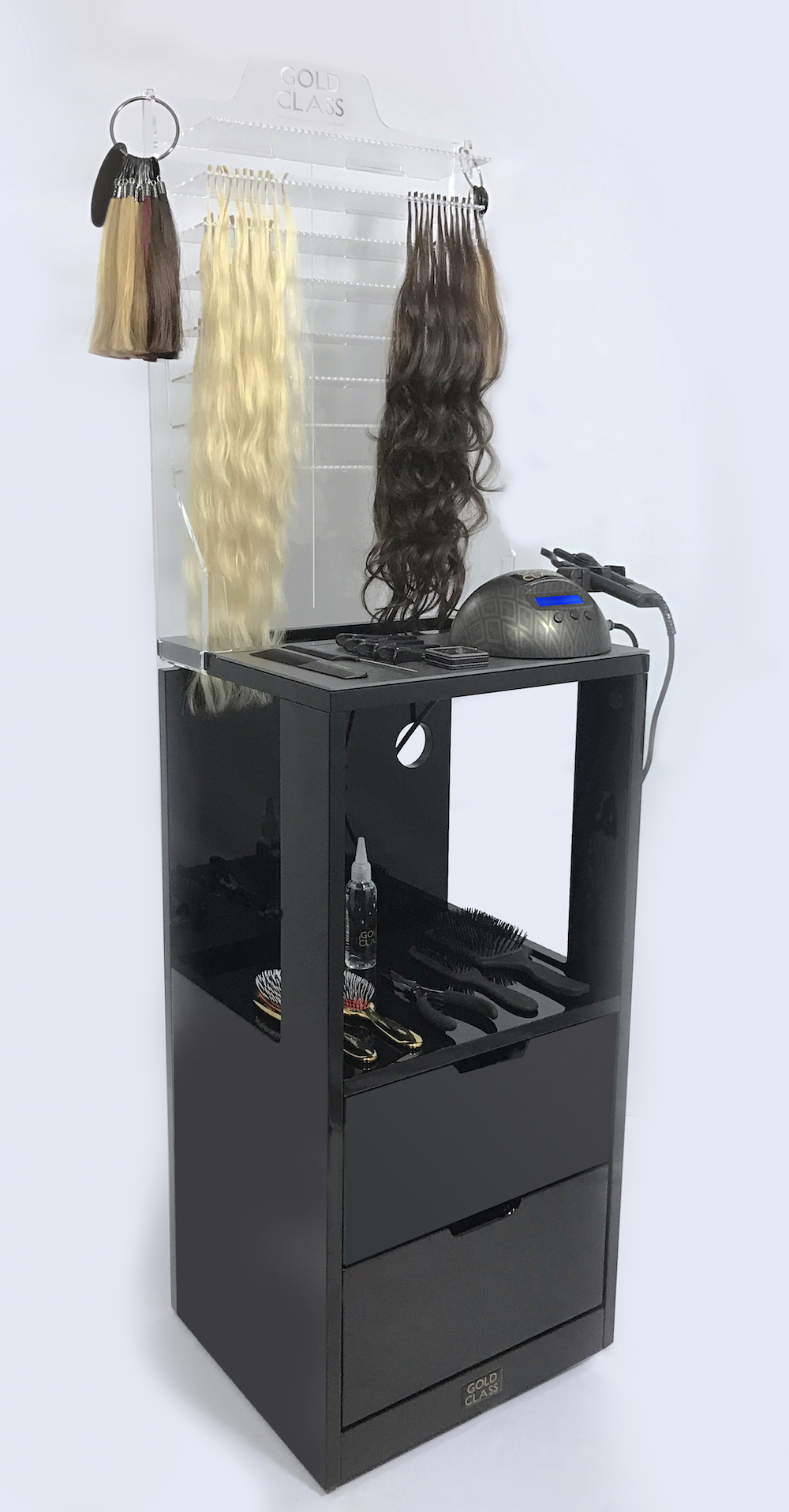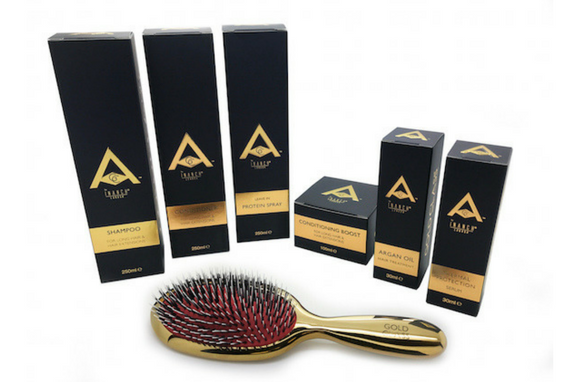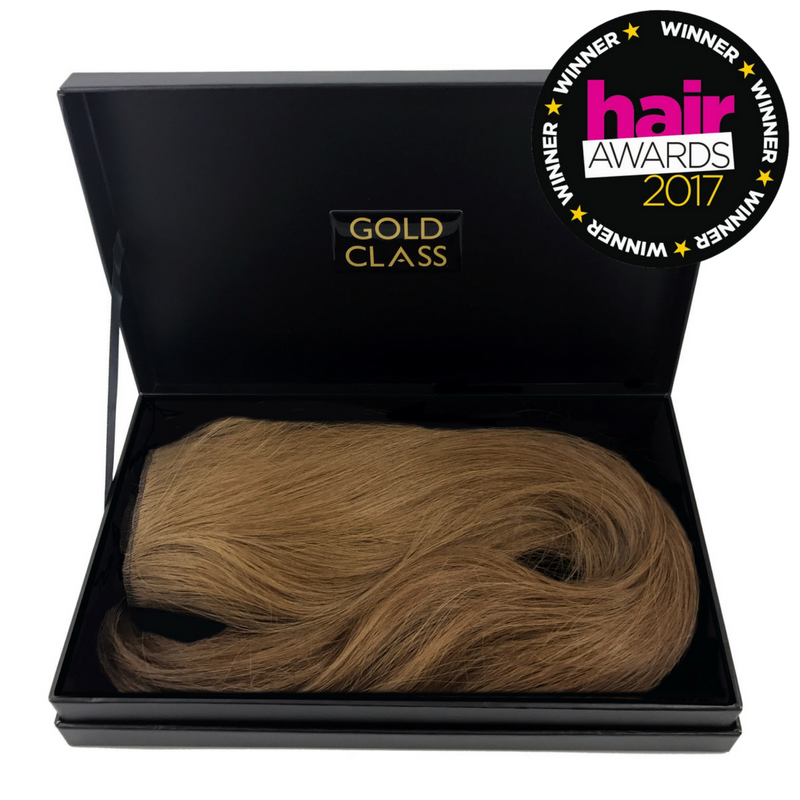 We are proud to announce we will be exhibiting at the world's biggest & best hair exhibition, Salon International 2017, now that we're in October.
We will continue to look for more Elite Salons to join our family around the UK and the rest of the world. With only a handful of carefully selected salons currently with us, our philosophy focuses on "quality over quantity" awarding Gold Class accreditation to salons that meet our strict criteria in the professional application, tailored client aftercare and our "healthy hair days" regime. Read more on our website or come and chat to the team on the stand.
Although Gold Class certification is by application only, we are now offering our world-class hair extensions equipment and tools to all professional extensionists. Choose from Application Workstation, Application Machine, Removal Tools, Bond Cutters, Brushes and our complete Aftercare Range – all vigorously trialed and tested by our founder Inanch Emir. These will be available to purchase at Salon International for the first time and with a great discount available at the show only!
"A hair extensions artist can only be as good as the quality of the tools they use."
Meet the lady herself Inanch Emir on Sunday 15th October at Stand N191. She will be judging the Hairdressers Journal Extension Specialist of the Year competition at lunchtime and will be available to meet and greet during the rest of the day. You can ask her yourself any questions about the Gold Class brand, the hair, the equipment and what really puts Gold Class on a different level.
GOLD CLASS GIVEAWAY
We're giving away one of our beautiful Hair Extension Workstations worth £780 complete with delivery to anywhere in the UK.
Simply head to our stand N191 at Salon International London Excel and drop your business card into the gold box to be in with a chance to win this amazing prize. The winner will be drawn on Monday 16th October at 4pm LIVE on our Gold Class Instagram feed!
If it's not in your diary then it's 14-16 October at ExCel London and you can find us at Stand No. N191. We hope to see you there!
Giveaway Terms & Conditions:
– Winner will be picked at random by Gold Class Managing Director Joe Emir LIVE on the Gold Class Instagram feed.
– All entries MUST submit business cards with full salon name, email address and address so we can get in touch to organise delivery.
– UK salon & stylists entries only for delivery in UK only.
– No cash alternatives will be offered.
– In the event of a dispute, Gold Class Hair Ltd decision shall be final.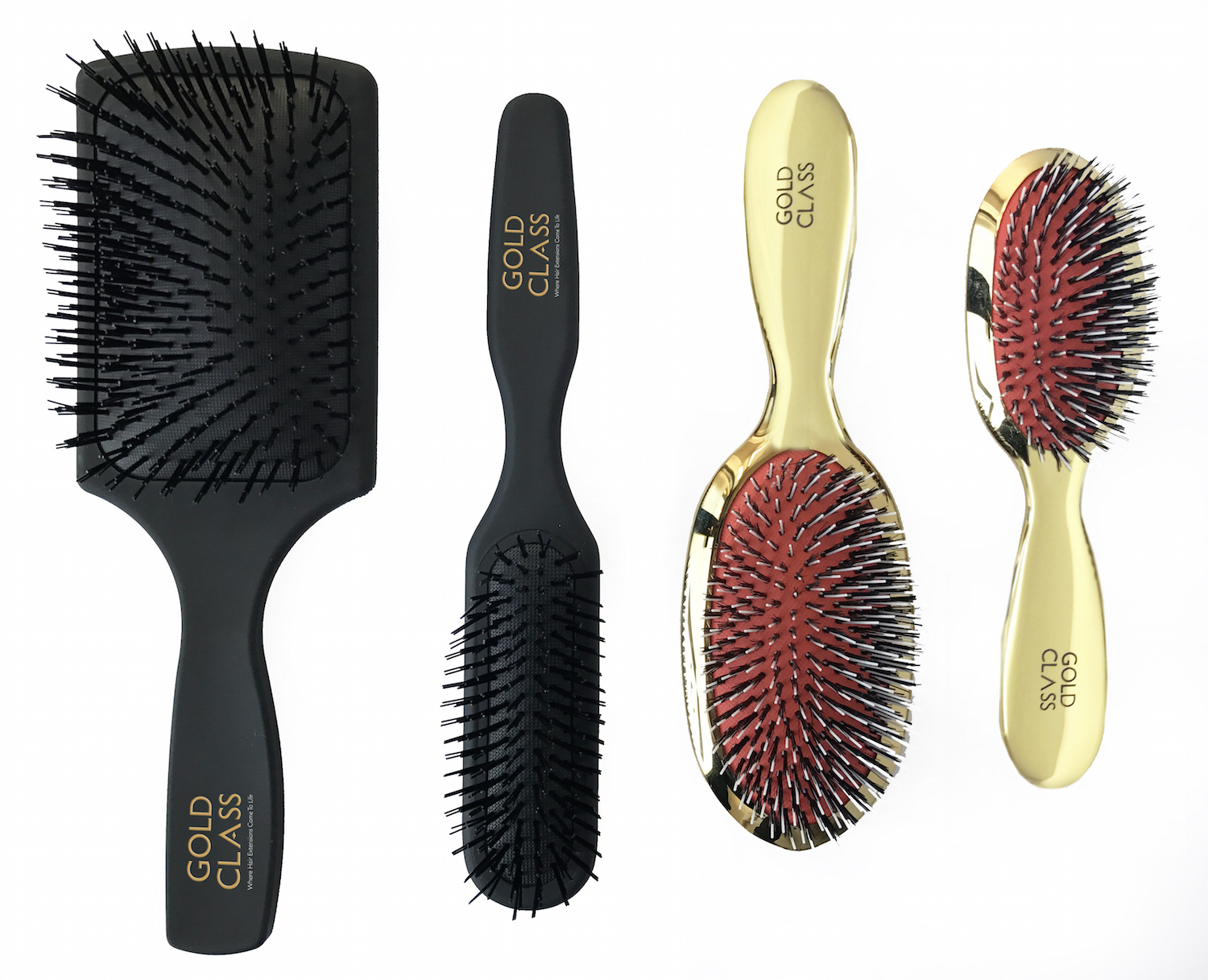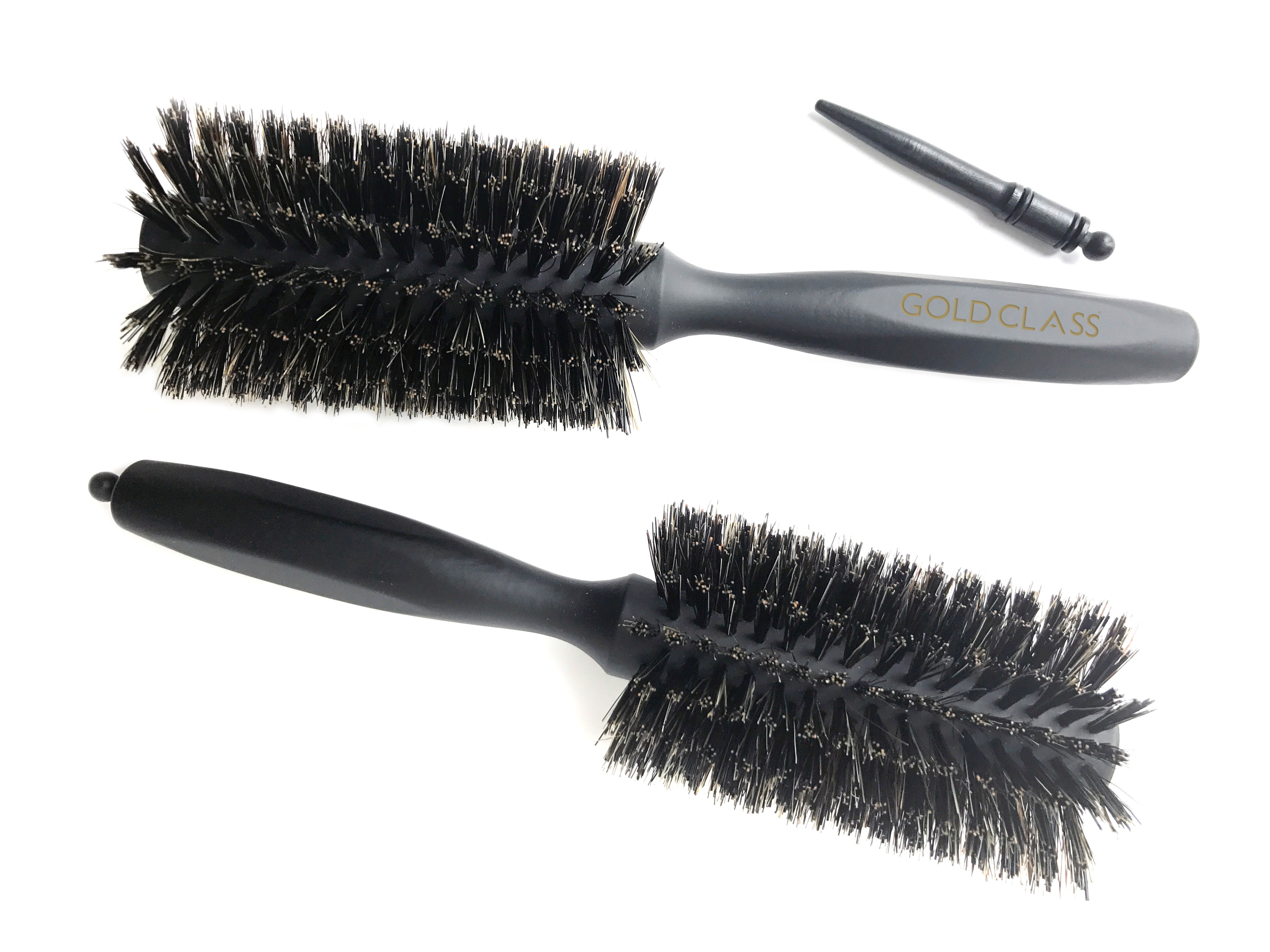 With so much choice, how do you pick the right brush for you?   We have a range of beautiful brushes that are not only designed to care for your hair extensions, cleaning your hair, detangling and add shine with every stroke, but those with softer bristles will also gently glide over your bonds.    Here's our guide to getting it right for your tresses:
WET HAIR
We all know that brushing your hair when wet is a "No No" so our combs are handy to have in and detangle those locks before you start styling.   Some of our combs are more suitable to styling, so we recommend our Cutting Comb with both a wide toothed section to start with and then follow up with the narrower teeth.  Keep to below your bonded areas and support your hair whilst comb to prevent tugging.
BLOW DRYING
New to our range is our soft-touch Italian Blow Dry Brush which creates volume, great curl and closes the cuticles to leave an in-salon professional finish to your bouncy blow dry,
If sleek locks are what you are craving, then use our Paddle Brush on a low to medium heat setting.
STYLING
Our Deluxe Styling Brush is such a workable tool, offering more control to shape the hair & de-tangle all hair lengths.  The Dressing Comb and Pintail Comb were made to make sectioning your hair easier, to help with those up-do's and can also be used for backcombing to add volume to your look.
DAILY BRUSHING 
Our founder, Inanch Emir, recommends brushing your hair regularly throughout the day, at least 4 times and so don't forget our smaller sizes of these brushes for your handbag or desk draw.
You really can't go wrong with our Paddle Brush.  Essential for hair extension wearers with medium to long lengths.  It's our best seller and a finalist for the Hair Awards in 2016.   We also offer a Large Oval Brush which is perfect for daily brushing, but if you want a real treat to look good on your dressing table then you absolutely have to have our Gold Brush.
TRAVELLING
We have a couple of handbag-sized brushes so you can preen on the move – a firm favourite has to be the Gold Class Extension Brush, but paddle brush fans with ultra long locks might prefer the Small Paddle.
It's well worth investing in a couple of brushes to make the most of your hair extensions.  Brushes to avoid include those with bobbles on the ends of the bristles as these catch on your bonds and will tug your hair.  This is the same for hard bristles that are inflexible and pull on your extensions too much.   If you want to know more about the correct way to brush your hair whilst wearing your extensions, then head to our aftercare guidelines or speak to your Gold Class extensionist for their top tips & demonstration.
So where can you get your hands on these, we hear you cry?  They are available at any of our select salons nationwide or buy online from our flagship salon Inanch London Shop.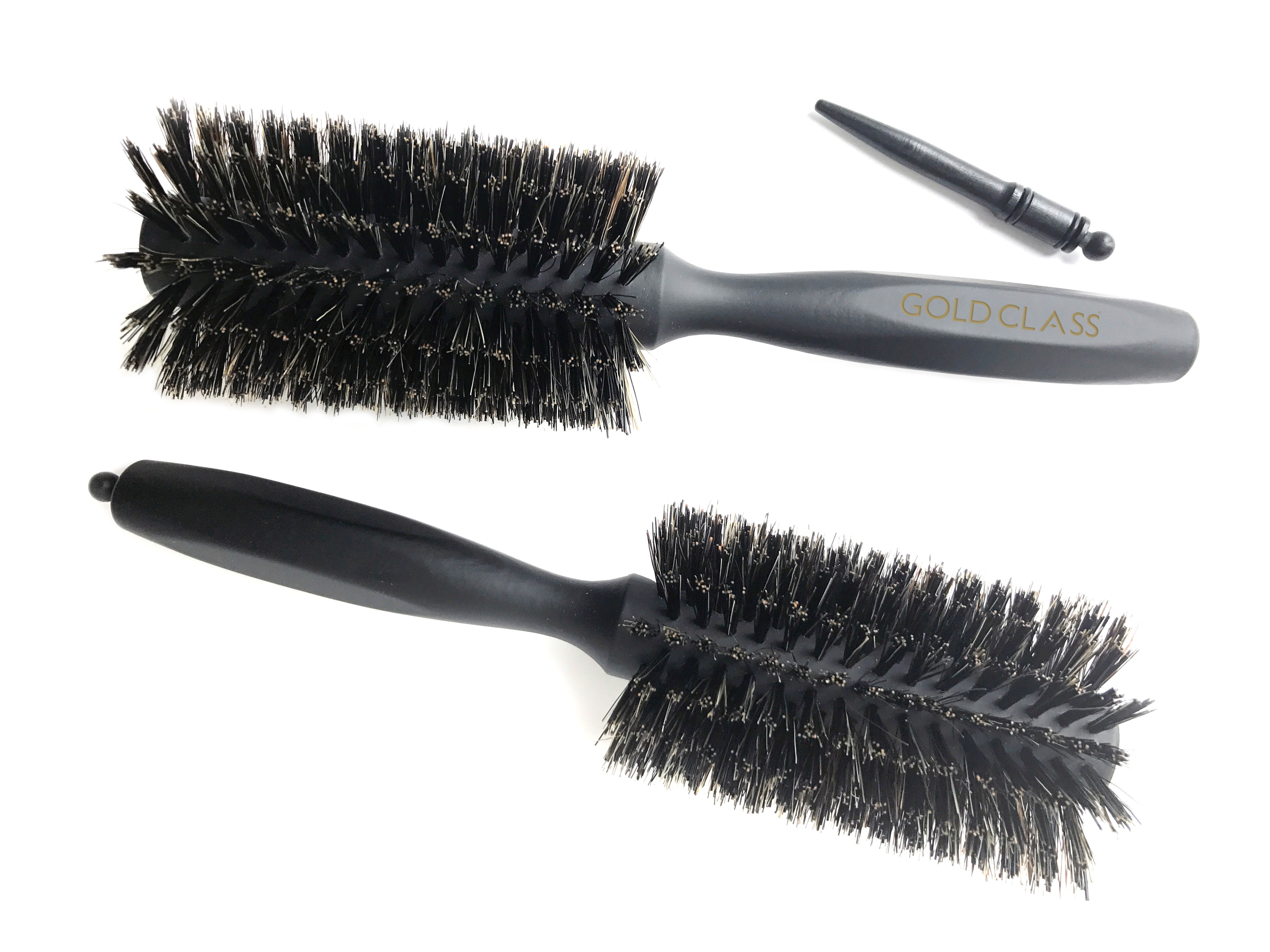 We are so excited to announce the release of our brand new professional brush to add to our aftercare range for blow-drying hair extensions.The Gold Class Soft Touch Italian Professional Blow Dry Brush, is an essential addition to your brush collection. Made in Italy exclusively for Gold Class, it features a wooden handle with a rubberised coating for ultimate comfort and easy gripping. The firm and heat-resistant Boar Bristles smoothes even the thickest of hair and with different bristle heights allowing an easy glide over the hair extension bonds, it is ideal for de-tangling mid-length and long hair whilst adding amazing shine.
The Gold Class Soft Touch Italian Blow Dry Brush also offers the correct amount of tension for total control when styling.  What's more, the brush comes with a retractable hair sectioning pin to help assist with blow drys, perfect for reaching the roots to clean and evenly distribute the natural oils.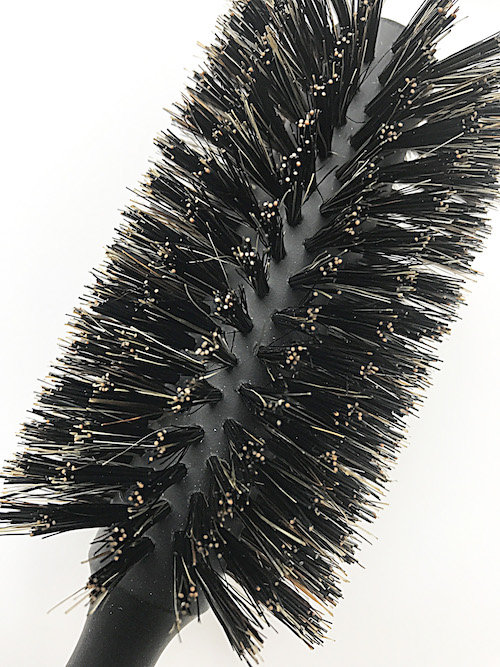 'But what is so different about this brush?' I hear you cry…
"We advise all our extension clients to brush their hair at least once a day to prevent tangles and keep their own hair and extensions looking healthy. Using the right blow dry brush for hair extensions is also extremely important and we are delighted to have introduced this brush to our aftercare range that gives you a smoother and shinier long-lasting finish." Inanch Emir, Founder of Gold Class hair extensions
You can now get your hands on the Gold Class Soft Touch Italian Professional Blow Dry Brush for just £30.00 from our elite salons nationwide or online through our flagship salon, Inanch.