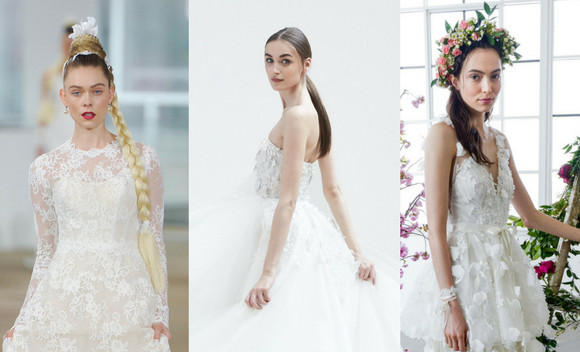 We haven't even made it to Summer 2017, yet we're looking ahead to top bridal hair trends in 2018, yikes! It's good to get ahead though and we're feeling inspired by New York Bridal Week, with bold up dos, plaits and waves leading the catwalk…
Less is more, and at Peter Langner, Marchesa and Mira Zwillinger, the up dos were kept low in neat chignons and ponytails. These sleek do's beam elegance when partnered with a white dress. They are also so quick and easy to create, so wave goodbye to the all-day wedding prep with the never-ending supply of hair pins!
As well as beaming elegance, ponytails can also be a statement of power and this look is leading trends for the SS18 bridal season. This wet-look sleeked backed style comes from shots taken from our founder's backstage work at the Pia Michi catwalk and whilst it looks simple, you might want to practice – or cheat and book in with your stylist.
If there's one thing short, long, curly and straight hair all have in common, it's that they all look super-stunning with a plait. Don't worry if you have thin hair, Gold Class Clip-In Hair Extensions can be fitted to add thickness, volume and length to the hair to create the perfect plait for your special day. Plaits went BIG at New York Bridal week with Ines Di Santo and Hayley Paige both displaying striking Rapunzel-like plaits. The benefit of having this style on your wedding day is that it will stay in place ALL DAY. So, you won't look back at your wedding day photos in 20 years and regret having a plait in your hair. They are unique, sturdy and totally timeless.
Gone is the season of straight hair and your au natural waves are breaking free! Beautiful boho unstructured locks are all the rage for SS18 bridal season, with stylists rebelling against over-styled, fussy, old fashioned wedding hair. Jenny Packham's crimpled hair and hidden plaits will most certainly turn-heads as you walk down the aisle. This amorous, boho-inspired hairstyle is perfect for ladies who are looking for a bold and low-maintenance way to wear their tresses down.
To enhance your big day 'do' and recreate these beautiful styles, book in for Gold Class Hair Extensions with one of our selected salons.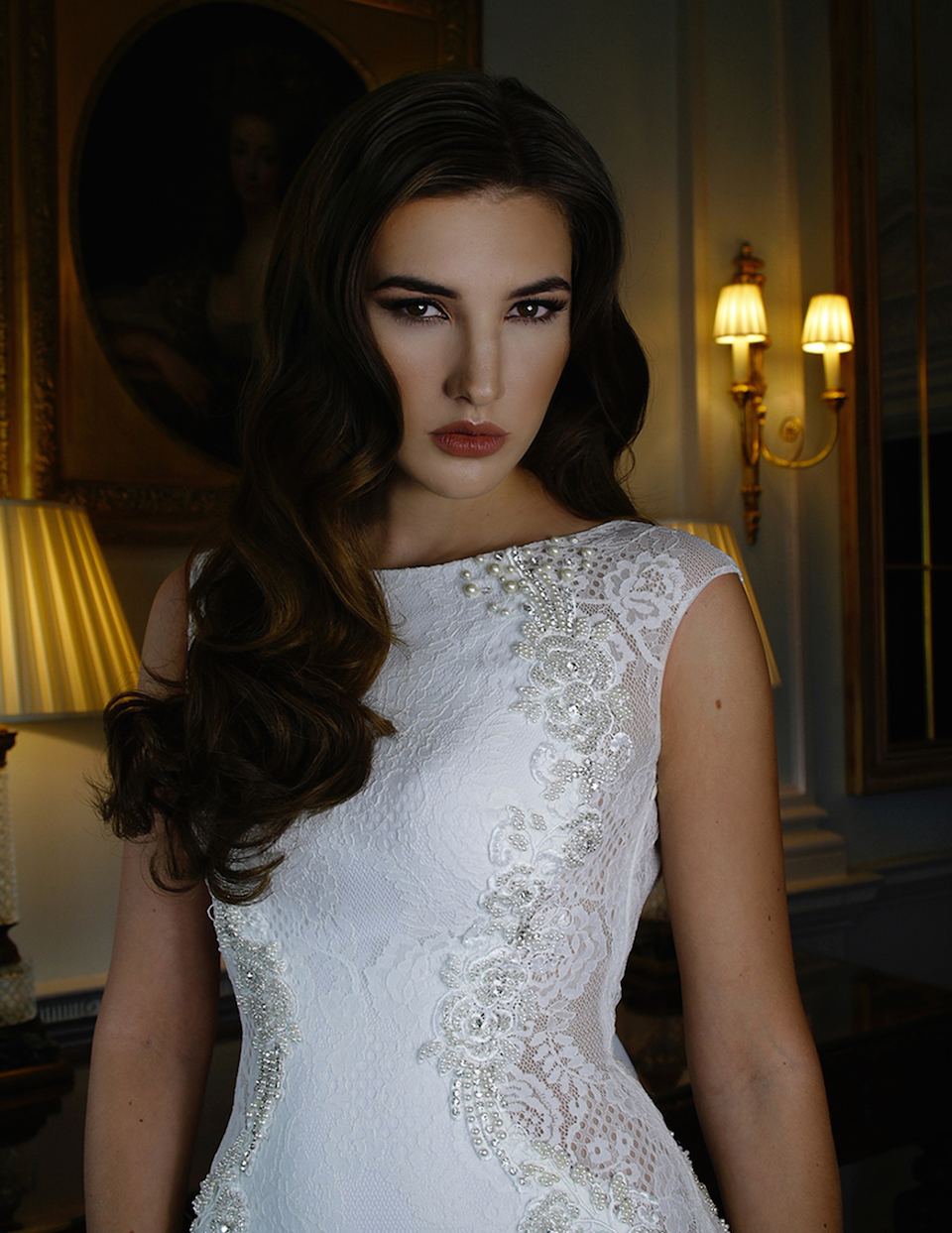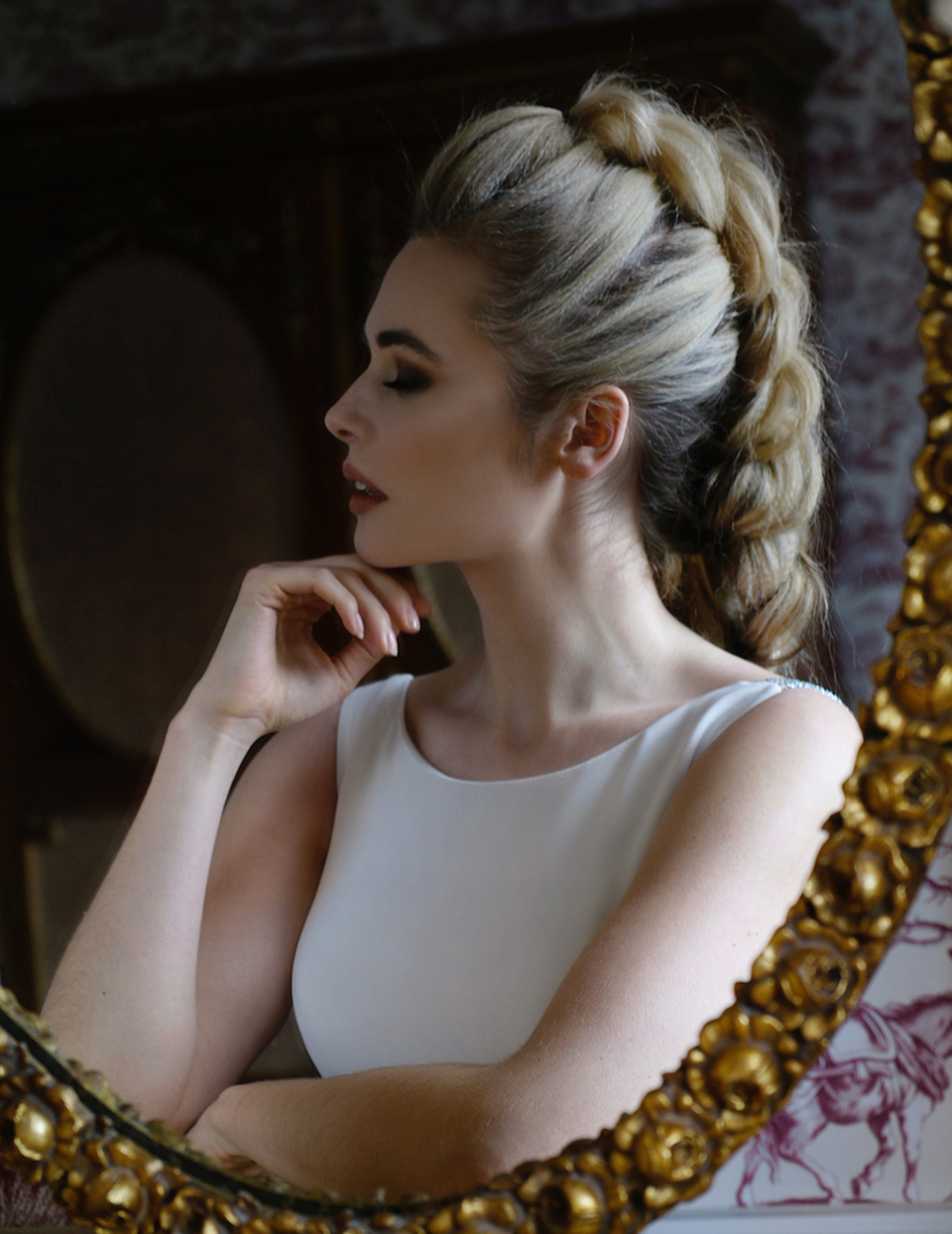 The date has been set, the dress found. Now it's time to start planning your most important hairstyle ever and our founder, Inanch, counts us down:
12 months to go…
It's never too early to start talking about wedding day hair, especially if you're planning on growing your hair or changing colour, that way your hairdresser can book in all the appointments you need in advance.
10 months to go…
As soon as you've sorted your venue, tell your hairdresser. They may also need to book time out of the salon to come and do your hair so the more notice you can give the better, advises Inanch.
9 months to go…
Now is the time to start thinking about the health of your hair so that it looks it's best. As well as booking in for in-salon conditioning treatments at every appointment, make sure you're using an at-home mask once a week at home. We love Philip Kingsely's Elasticizer. I know it sounds boring but it really does make a difference and when you've put so much time and effort into every other aspect of your big day doesn't it make sense?
6 months to go…
The dress is ordered, time to show your stylist. Now is when you can actually start planning your look. Take into consideration if you're wearing a veil or hair accessory or if you want to to be able to change your hair for the evening party. Take a look at our collections for more hair inspiration.
5 months to go…

Nearly all of my brides wear extensions as it makes such a difference to the appearance of your hair for photos. Try them out before your big day to get used to how they feel in your hair and to try the look you want with them to check you can't see any bonds.
3 months to go…
If you have your accessories and veil then have a trial of your hairstyle with your hairdresser. I always get my brides to try and keep the style in place for as long as they can after the appointment – rather than taking it down straight away – to get a feel for how comfortable it is and to check that it stays in place more than just a few hours!
2 weeks to go…
This is the time to get your ends trimmed and your roots and colour sorted. By having your cut and colour done a few weeks before your big day it will still look really fresh but more natural.
1 week to go…
If you've decided to opt for extension then now is the time to get them in.
To book your bridal hair consultation talk to one of our Gold Class extensionists at our select salons around the UK.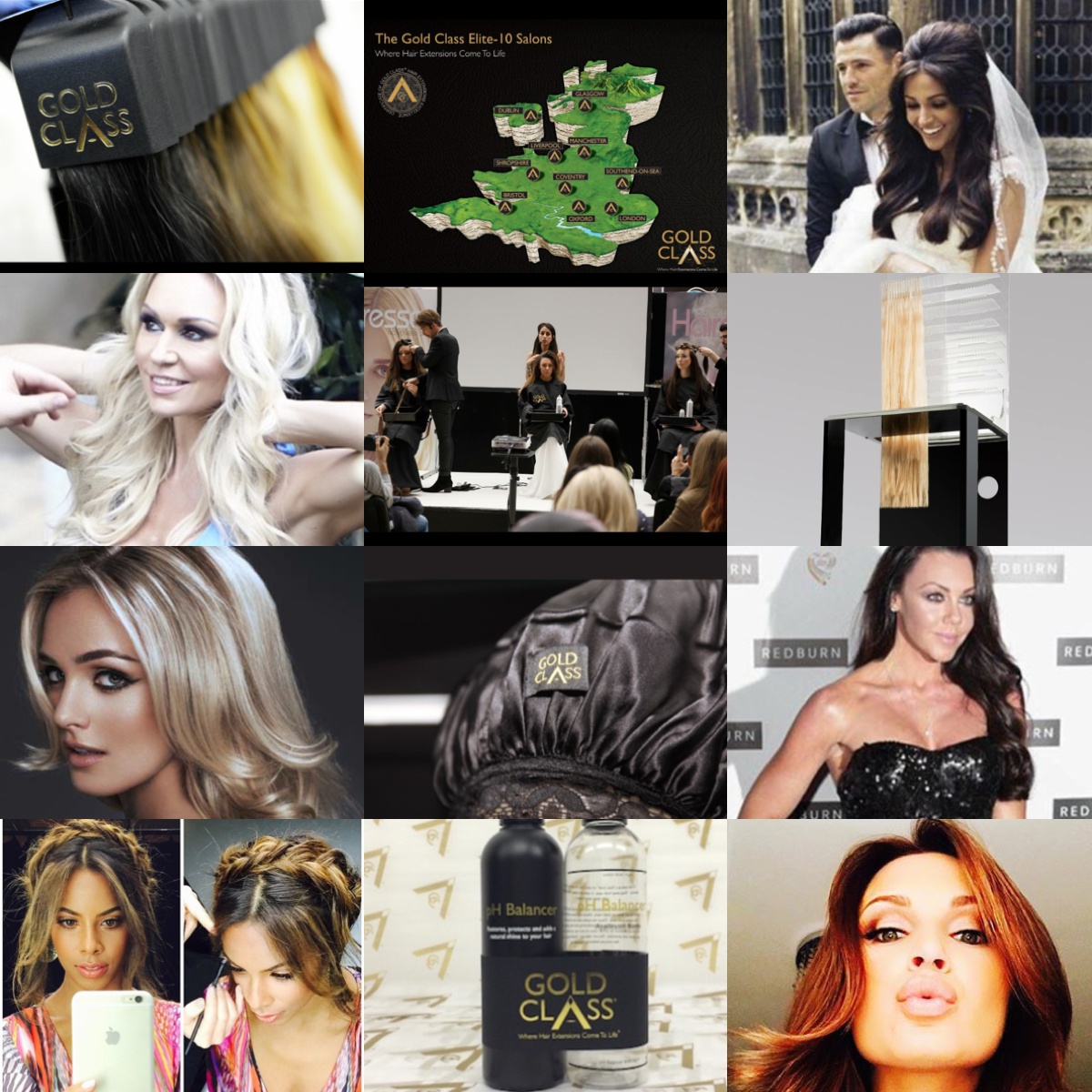 Another year has gone by and before we head into 2016, let's just take a moment to celebrate all that has been fabulous about Gold Class this year. Some might say it's been a journey but to us we're just excited about the future with so much to build on. We've launched to our industry, shared our hair and expert application skills with our Elite-10 salons and we're enjoying seeing all the fabulous transformations around the country.
Colour wise we've launched 26 beautiful shades and even gave them each a name to reflect the hue and to help you remember them. Ronze was the big colour trend and we have plenty of fiery reds to cover this. Catch up on what you missed with our blog here. We had several colour chameleons celebrity clients such as devote Gold Class fan Michelle Heaton changing her hue with each application. We didn't stop there with trends as celebrities went for the lob. You might have thought that Sam Faiers & Rochelle Humes had given up their hair extensions with the shorter crop, but our hair keeps their lob's shape, healthy & volumous. Read more in our previous blog. We were also delighted to welcome new celebrity names to the Gold Class family including Frankie Bridge, Vanessa White and Michelle Collins.
Our hair hasn't been off the TV Screens from XFactor to Strictly, the West End, numerous model campaigns and the Miss Great Britain & Miss Universe competition. Michelle Keegan's wedding was definitely a highlight as she chose Gold Class hair to help boost her volume for her special day and she's a pro at our Healthy Hair Days philosophy. We're pleased to with our select salons around the UK so you too can get your Gold Class hair extensions for yourselves.
We have just launched some fabulous products to help look after your hair at home too. Our pH Balancer and Silky Hair Days are perfect for hair extension wearers and non-wearers alike. It's all about beautiful hair and we all want that!
So what have we missed from these snaps? A team of people behind the company with great passion for all things hair extensions and of course our lovely fans who have helped our brand grow. There's been a lot of really beautiful hair too, just check out our Instagram feed for your #hairinspiration. So what's in store for 2016? Find out on in our next blog:))
Wishing you all a very Happy New Year and looking forward to seeing you all in 2016.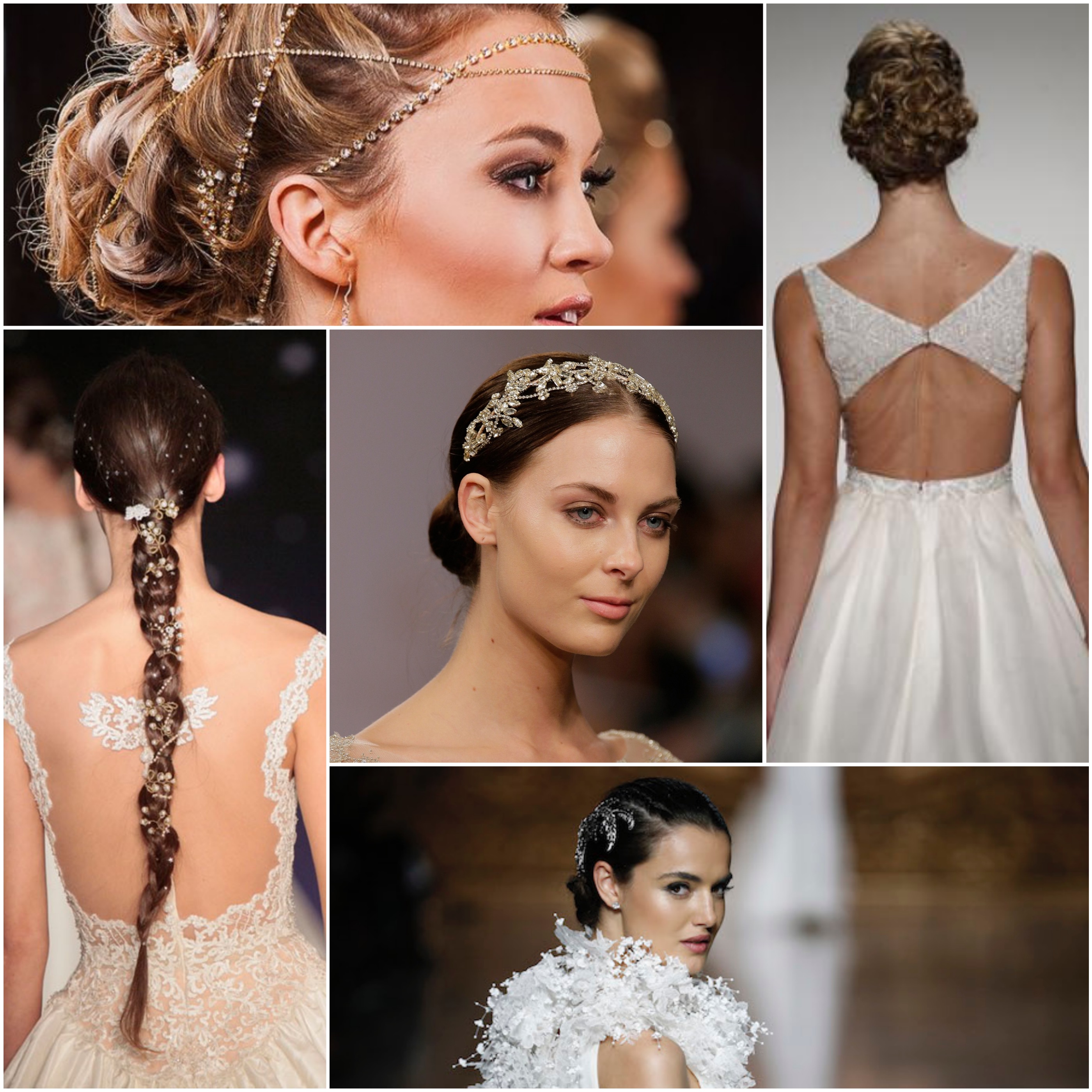 With Christmas approaching it's also lovely to see so many winter brides.   Our founder Inanch Emir has created some stunning bridal hair and you can see her Tuscan Summer creation in our earlier blog with wispy strands and flowers in her hair.  But what can we expect to see this winter time?
"Winter weddings are definitely more structured with brides opting for more classic clean lines.   Accessories are all about the sparkle and slide combs are very popular this year with a vintage feel."   
So with this in mind, we have trawled the AW16 Bridal Catwalks to find you some inspiration for your brides. These images show the elegance of the ballerina bun, through to a simple breathtaking plait as well as intricate undo's taking your hair off your face and making great use of all things sparkly.  It's worth thinking about your dress, the back shape and also how you normally wear your hair.   Brides may want the added volume and length for their wedding day, but it's not advisable to go too far away from how you like to have your hair.  The biggest catwalk trend has to be the accessory.  If you aren't wearing a veil you can have more fun with jewels and we can recommend this little page from Vivien J Accessories to find some beautiful bespoke hair jewellery.
Don't forget your autumnal hues too and add some warmth to your hair colour.  Our current favourite has to be our Rich Rose. 
Book a consultation with your Gold Class salon to chat more about creating that perfect wedding hair do.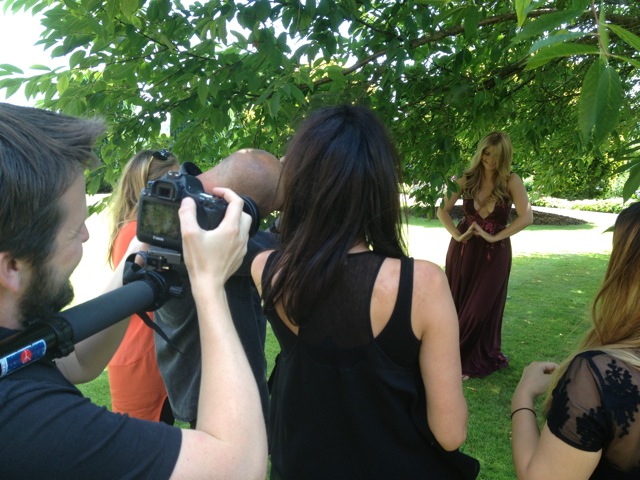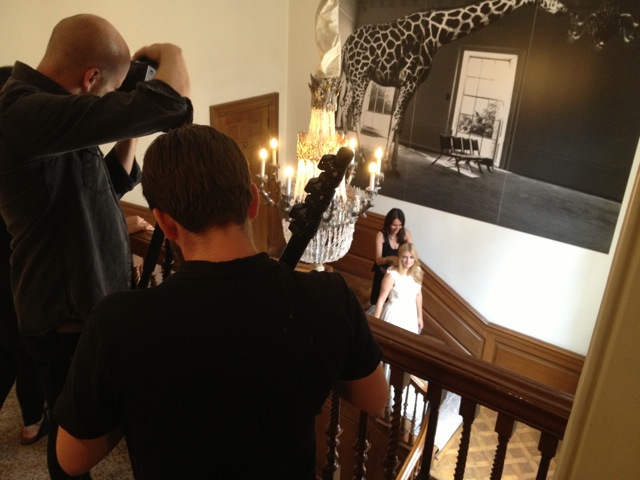 We've been keeping this one under wraps but we can't keep a secret long and can now share with you our exclusive behind the scenes snaps from our photo shoot with Mischa Barton back in the summer. We spent the day at the prestigious Grove Hotel & Country Club just outside London and made full use of the fabulous interior and exquisite gardens to get some magical shots.
Hollywood Actress, Mischa has been a loyal extension client for Inanch Emir, of Inanch London, for over five years and was keen to move over to the Gold Class Hair. What better excuse to tie in another shoot! Famed for her long hair we added extension for volume shooting a mid length before adding a clip-in for an instant longer length look with some loose waves. Teamed with understated couture bridal and bridesmaid dresses the overall look is rather ethereal. All ways a pleasure working with Mischa and if you want to see more images from the day check out our short VT.
Look out for the November issue of Professional Hairdresser Magazine to see the full collection.
Huge thanks to the team making everything possible – Chris Harris Photography, Pia Michi & Zeynep Kartal for the stunning couture gowns, stylist Natasha Lyons, makeup Sian Duke. and the team at The Grove Hotel for making us welcome.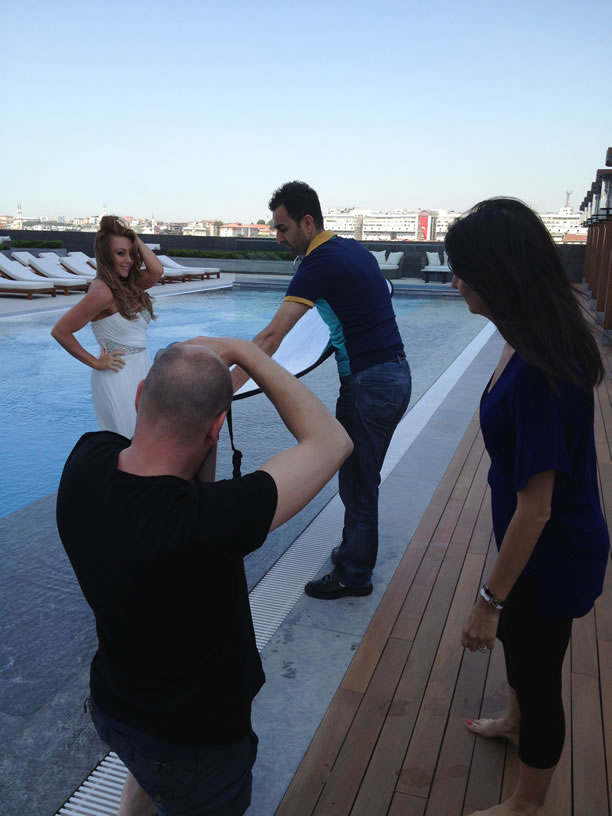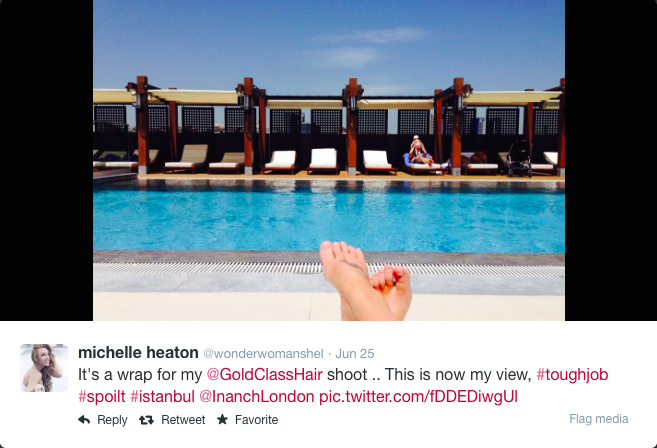 Can you believe we have already shot our 2015 collection?  How organised are we??
We flew the team to the beautiful city of Istanbul to capture our hair in the very best light.   Staying in the new Hilton Hotel in the heart of the city we had some amazing shots and then ran out to a former EFES beer factory currently being renovated for some more shots with models Imogen Leaver, Ianthe Rose and Tara Hoyos-Martinez.    On our second day of shooting, Michelle Heaton joined us for a special shoot wearing a magnificent wedding dress.
The shoot went so well we also managed to sneak in some downtime and had an amazing evening dinner on the island of Kiz Kulesi – you can only get there by boat but it was so worth it and very beautiful. A great way to celebrate the end of the shoot with the whole team.
Check out our images in our gallery – hope you love them.
Special thanks to Pia Michi for their beautiful dresses!
Hair by Inanch London using Gold Class.
Make-Up by Anastasia Smith.
Photography by Chris Harris.
Shot at the Hilton Hotel Bomonti, Istanbul.