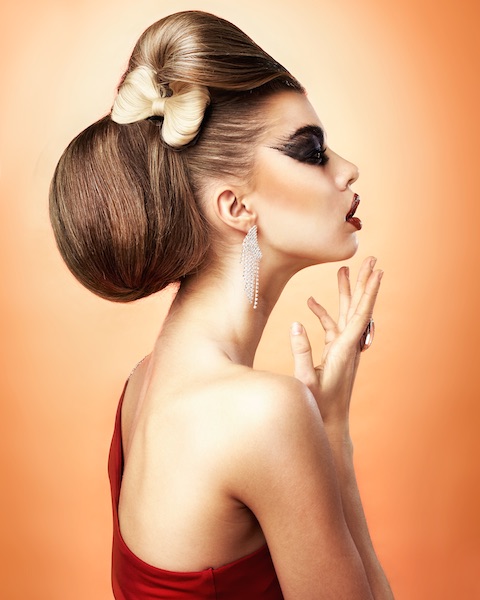 Anne & Inanch have admired each other's creativity for many years now and relish the opportunity to work together as often as their diaries can collide. You can see their last session here mastering Gold Class. With two salons in Oxford, one in the city centre and the other in trendy Bicester, they boast eco friendly yet stunning design with client comfort. With a VIP area in the main salon and Suzie having her own extension zone in Bicester, they were ready to launch Gold Class hair extensions to their fashionistas.
She has racked up countless awards for her creativity as well as salon design, salon of the year and customer service from across the industry and is seen on stage regularly, most recently at Alternative Hair Show. Hair Magazine have heralded Anne as "one of the world's most iconic hairdressers." We think it's fair to say we are excited to be working together and can't wait to see what Anne's going to create with our hair.
We took time out to ask Anne some quick questions to get to know her a little better and here are her answers.
What is the most asked question about extensions?
How long do they last? Will they damage my hair?
Which celeb is the most requested hairstyle for extensions?
Alexa Chung for the long bob cut is always being asked for and extensions are a great way to achieve the volume and shape here. Jennifer Aniston is, and has been for many years, a hair icon for the colour and cut.
What tip do you get your extension clients to follow?
Take the time to wash and condition your hair properly, as this is vital for the longevity of your extension.
Proudest moment for your salon
Becoming part of the Gold Class Elite 10 of course! Also the first time we were invited to present at The Alternative Hair Show back in 2009. Our Style Director Emmanuel Esteban recently won the International Visionary Award here for the Avant Garde category. We're still celebrating this.
Preferred music to work to
Chilled out Reggae.
Which industry show do you never miss and why?
I try to attend all the hairdressing trade shows through out the year, as I find watching my peers very inspirational. Haute Coiffure Francaise show at the Carousel du Louvre in Paris is one of my favorites. The problem is that as I'm usually presenting at most of the shows, the opportunities to see others' work can be limited!
Preferred social media channel where consumers can find more examples of your work
Instagram and Facebook – make sure you give them a Like & Follow!
What do you like to do on your day off
Running then back to my atelier at home to create weird and wonderful avant garde hairstyles.
Have you got a hidden talent?
I'm good at knitting.
What's your favourite colour to work with at the moment?
All the pastel shades on blondes
Where do you get hair inspiration from right now?
Social media has some amazing images for me.
What's your mantra to live by?
"Get myself out of my comfort zone in order to progress."
In term of imagery, I buy into fellow hairdresser Sam McKnight's philosophy that "Simple is Powerful."
We want to wish Anne & the team the very best of luck as finalists for the prestigious Hairdressers Journal British Hairdressing Awards later this month. We've got our fingers crossed for you xx
We love this image from Anne's Red Carpet collection which used extensions. See more of Anne's amazing work on her website and social media.
Instagram
Facebook
Twitter
Book your consultation with Anne & her team here.
Red Carpet image by Anne Veck; Photographer: Barry Jeffery