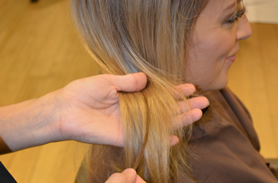 Our thorough consultations talk you through the extension process, different application methods and maintenance for Healthy Hair Days*.  We will be asking some personal questions about your lifestyle & health to make sure that Gold Class hair extension are suitable for you & to prescribe the most appropriate hair care products to keep your tresses top of the Class!
We will look carefully at the colours, texture, lengths & style you covet to make sure you look & feel amazing.
Consultations are with an expert Gold Class certified extensionist with no obligation to proceed.  Find your nearest salon here.
*Please click here to read our disclaimer