Sam Faiers Mermaid Mane EXPOSED!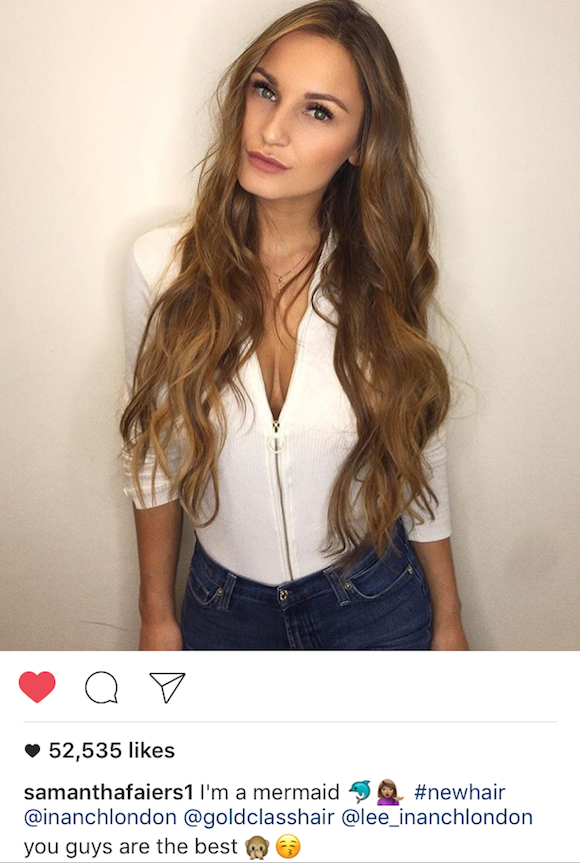 Long standing Gold Class client, Sam Faiers, unleashed her new long and luscious mane of hair last week. She unveiled her gorgeous Gold Class "mermaid" locks on Instagram, stating "I'm a mermaid @inanchlondon @goldclasshair @lee_inanchlondon you guys are the best " causing floods of enquires inundating our Gold Class flagship salon, Inanch London.
"How can this look be recreated?", many have asked.
The beautiful warm colour tones used by Lee McCrudden at Inanch London and bespoke shades of Gold Class Hair were applied by Inanch Emir herself. 150 strands, measuring 50cm in length were applied, consisting of three Gold Class shades, named; Walnut, Bronzed and London Gold, all blending seamlessly to reveal natural and healthy looking hair that are #SimplyGoldClass. Her magnificent mane was then styled using large GHD irons to create mermaid like soft beach waves.
"Why so long?", others have asked.
We love to show the versatility and natural look of our hair extensions even with a significant change. Sam wanted to go longer on this occasion so what better way to demonstrate this by adding extreme length to the hair and creating more volume – all resulting in an effortlessly gorgeous wavy style which fell to Sam's waist.
Sam opted for the ponytail look as she attended the launch of the new Gold Class Clip-In range at the Hippodrome Casino in London just days after revealing the new look, showing that the style and seamless application of the hair can look great no matter the style or occasion.
As the new year approaches, maybe you could get a new hair-do too! And why wouldn't you want to look like a mermaid? Book your consultation with an elite Gold Class salon now.