One of the best investments you'll ever make for your hair extensions business!
Designed by the lady herself, 3-time award winning British Hair Extensionist of the Year 2013-15 & Hair Awards Hall of Fame member Inanch Emir, with the professional extensionists in mind! This unique and state-of-the-art hair extension workstation has everything required to make an extensionist's life quicker, easier and at the same time, showcasing those beautiful hair strands ready to go on your client's hair!
"We are frequently contacted by extensionists from around the world who have seen our previous extensions stand on our salon's social media posts, so we knew we had to make this available to all professional extensionists out there. It was also an opportunity to improve on our first model to ensure it really is a piece of equipment that all extensionists need in their lives!" – Inanch Emir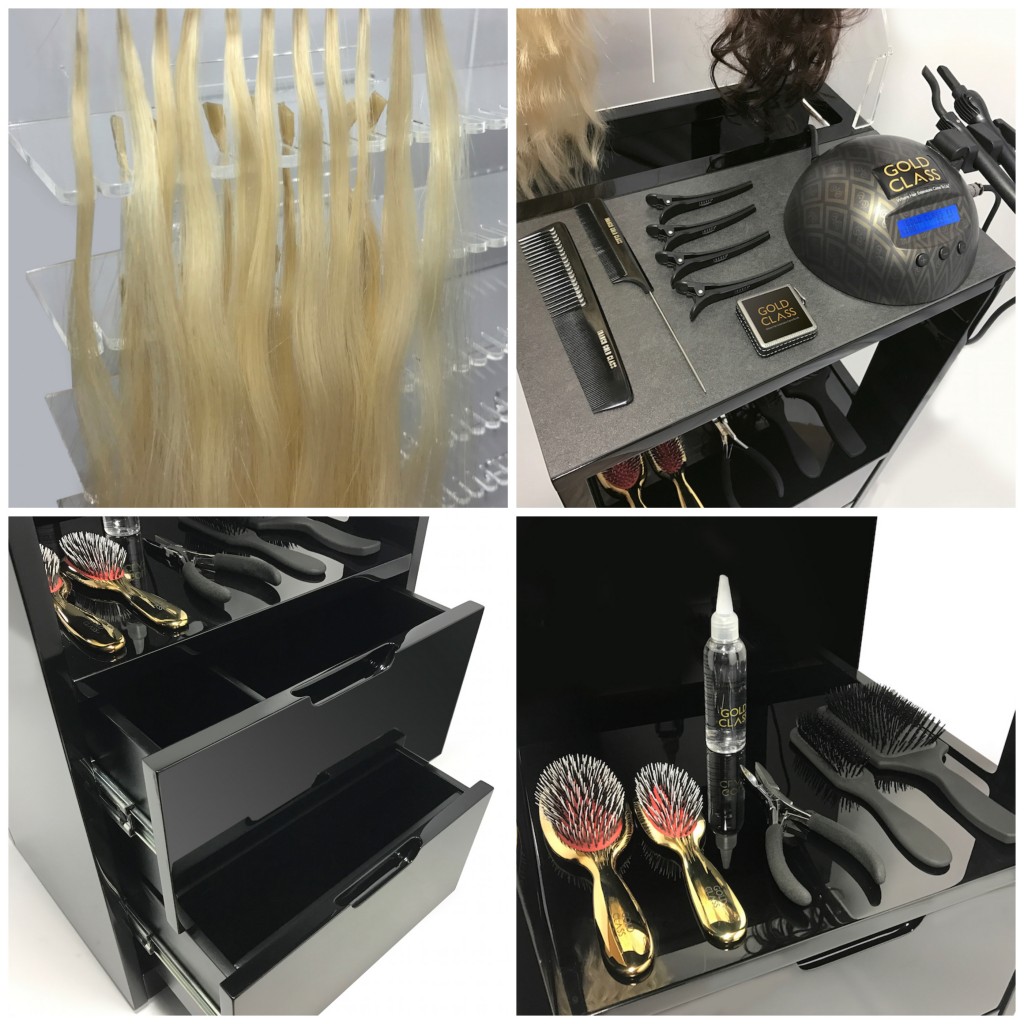 Keeping in line with the Inanch "Gold Class" standards, this product has been manufactured using the best quality materials including high-density fibreboard lacquered with rich gloss and scratchproof base unit that is easily wipeable. The non-slip and heat-resistant ceramic worktop also enables you to place your application machine and other styling tools as you work.
Rising up the stand is the individual hair strand holder slots, which has a capacity of holding up to 2 full heads of hair extensions and up to 60cm in hair length. The etched vertical divider line in the centre allows you to separate 2 sets of extensions so you can be ready for your next client, or can provide you as a guide for colour blending when you are using 2 or more shades of colours on your client.
The unit also comes with 2 soft closing draws (one with a divider) giving you ample space to keep your hair extension tools in as well as storage for your hair strands. All your heating and styling tool cables can be neatly tucked away through the back cable hole and the silent and discreet castor wheels allows you to smoothly move the unit around the salon to your desired position.
This is a "must have" for every professional hair extensionist and a stunning piece of furniture that every high-end salon deserves!
Price: £650 + VAT and available to buy online through their flagship salon, Inanch.
The design of this product is protected worldwide by: ACID UK – Anti Copying In Design UK.  Member ID: 00015348