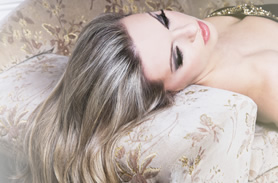 Our hair extensions were named Gold Class for a reason: starting with sourcing amazing quality virgin hair, before being gently processed by hand to create the finest hair.
To have been selected for Gold Class the hair must be remi where the cuticle layers of the hair all lie in the same direction; so it is tangle-free.  The hair is also double drawn; where the thickness of the strands are the same at the top as they are at the bottom of the extensions; so they are very healthy.  Hair is also free of Henna so the colours are perfect.
Combined with the Gold Class experience & our unique bonding technique; this is where our hair extensions come to life.
Having worked with various extension brands and as a full time extensionist, our founder, Inanch Emir has the experience to know the very best quality for the extensions to be worn & enjoyed; but also how to teach the stylists to be expert extensionists for their clients.