We are thrilled to announce that another Gold Class Extensionist, Georgie MacDonald from Gold Class Elite Salon, Simone Thomas Westbourne, has been shortlisted as a finalist for the Hair Awards Best Extensionist 2017. So, we've got Georgie in the hot seat today to get to know her a little better…
So, tell us a little about yourself.
I'm originally from the Midlands and I have been in the hair industry for four years now. For the last two of those, I've worked at Simone Thomas, helping clients suffering from hair thinning and hair loss. I went straight into this side of the business after meeting Simone and seeing how the salon helped people, and through that I started specialising in extensions.
What do you love most about doing hair extension work over other hairdressing services?
I can create huge transformations and give people back the confidence that they have lost. I meet some very interesting clients whilst working in hair loss and the relationships I form are different from those on a 'traditional' hairdressing floor. It's important that my clients trust me, as sometimes I am the only person with whom they share their problems and the only person who sees their natural appearance.
What made you apply for the Hair Awards?
It's actually the first competition I've applied for. I've built up my confidence and skills a lot over the last two years and am proud of the work I've done. Hair Magazine seemed the perfect platform for me to shout about it.
What do you think is different about your extension work than other extensionists?
Many of my hair extension clients have very fine or damaged hair, so I only work with extensions that are safe for them. A lot of people think of extensions as a thick, long mane of hair, whereas I am creating a more natural look for my clients so they can have 'normal' hair for the first time, or get back the hair they had years ago.
Tell us about your favourite transformation.  How did you achieve this and why is it so special for you?  
My favourite transformation was a lady whose hair changed dramatically after having her second child. She was also under a lot of stress and on medication. She was close to shaving off all her hair and getting a wig but after assessing her hair and advising her on a diet and care regime, I was able to give her back the kind of hair that she used to have. She was so happy and confident with the result – outcomes like this are the reason I love my job.
This was also one of the images that I used to enter Hair Awards Best Extensionist 2017.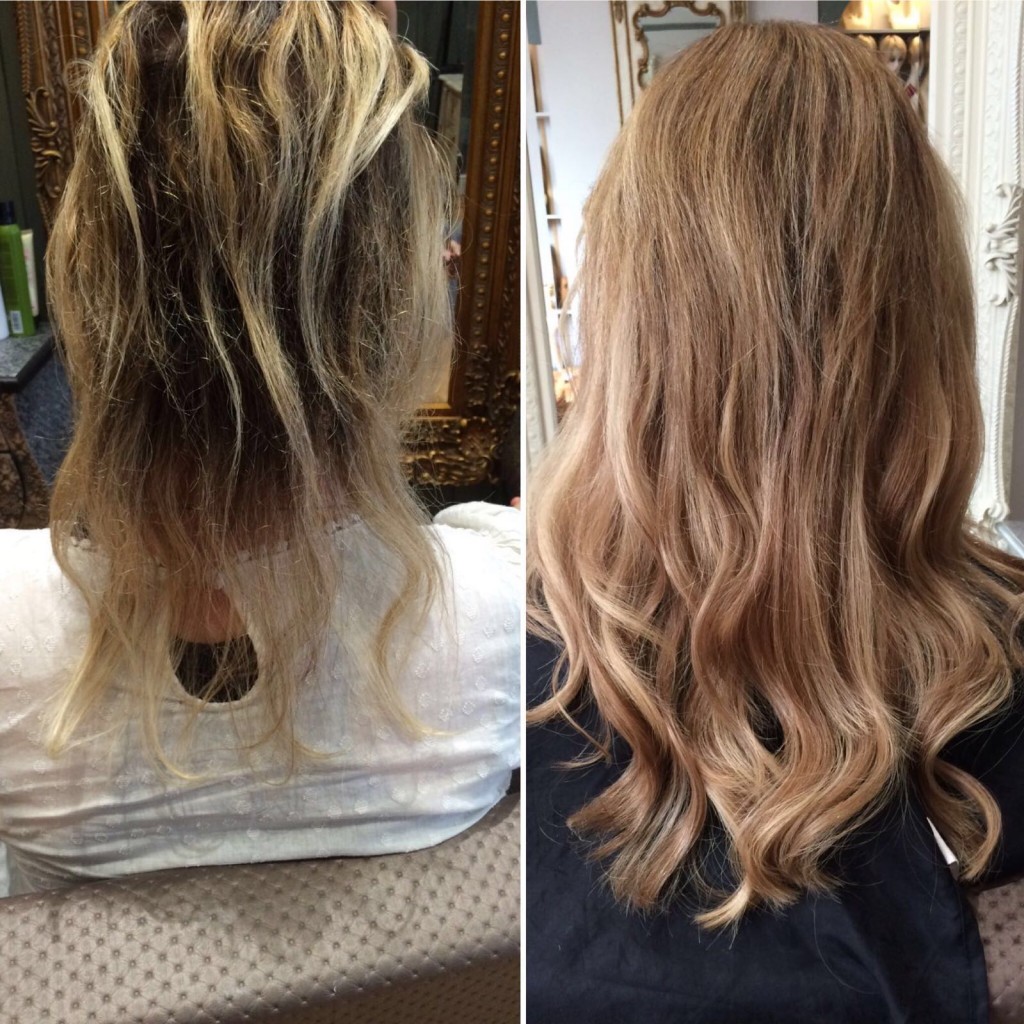 What is your top tip for someone looking into getting hair extensions?  
Do you research! Go to someone experienced, knowledgeable and reputable who cares about your hair. Cheap hair isn't nice – and nice hair isn't cheap! Always ask to see before and after photos and if you aren't sure, go elsewhere.
Give us your best aftercare tip.
Brush your hair extensions every day and always use the recommended professional products, including heat protection if you'll be styling with tongs or irons.
Tell us about your typical day in the salon.
My days are always very different, particularly as I deal with hair loss. My work varies from cuts and blow-dries one day to extensions, volumisers, wig consultations and hair loss consultations the next. I love the variety, it keeps me focused and motivated.
What do you like to do when you are away from the hair salon? 
I love to run at the beach nearby or just spend quality time with friends and family.7.
How will you celebrate if you win Best Extensionist?
I'll take the team to our favourite cheese and wine bar and toast our success with a glass of something special!