Fight the Frizz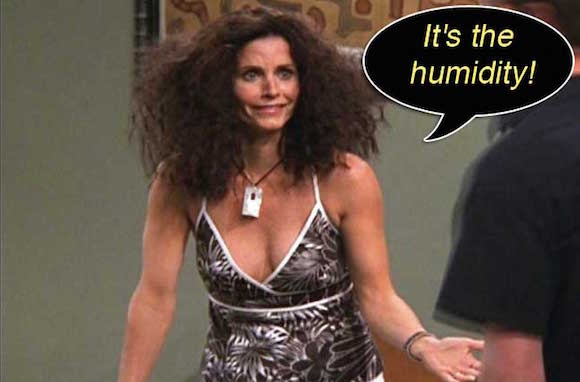 With the tropical temperatures not showing any signs of let up and the threat of a downpour; it's hard to know how to best to deal with our hair especially with the thought of 'Monica' hair unless we act now. Fight the frizz with these simple care and styling tips.
You still want your hair to look healthy, so keep your hair care routine with our aftercare range. The Shampoo & Conditioners will lock in moisture to leave your hair manageable. If your hair is particularly dry, then try the added effects of our Conditioning Boost. But before heading out the door use a little of our Argan Oil to seal the cuticles and prevent the humidity drying out the hair. Use sparingly on dry hair, warming in the palms of your hands before evenly applying to the lengths and ends of your hair.
Styling wise, there's plenty you can do to help curtail your hair curling at the ends. The key is to tie up as much of your hair as possible. With so many braid options, you can have plenty of fun, but even some of the most stylish red carpet updo's would work. If time is short, then a simple ponytail is perfect – check out these different versions to mix it up a little. If it's shorter strands around your hairline that cause you concern, try a sleeked back look or maybe a hairband with fabulous adornment to catch the eye. Make sure you have your travel brush and Protein Spray in your handbag to help care for your hair throughout the day.
To wake up without the frizz, try our SilkyHairDays™ hair cap. It has all the benefits of sleeping on silk bedding but also keeps your hair in a neat bun to prevent any tangling.