Category Archives:
New In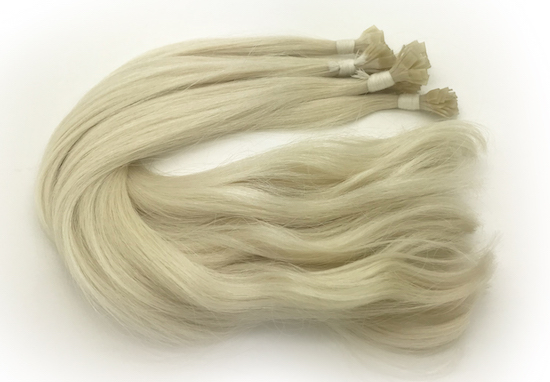 Achieving platinum hair is well known for being tricky and damaging to your hair. This is one reason to opt for hair extensions to achieve this without the colour commitment on your part, but actually the hair extensions are the same amazing Gold Class quality standard you expect. You can be assured that our sourcing from Indian Temples for the finest human hair, ethically managing  and processing of our hair are all the same for this platinum white hair. In fact, the sourcing process is even more stringent as this raw hair is extremely rare to get hold of – the exceptional quality that we aim for of course! So how have we achieved this, you might ask.
The secret behind our White Platinum Hair is actually that the hair starts our process as naturally grey.
"Our factory in India takes months to source and process this hair in to pure white bundles by carefully bleaching each to bundle of hair to remove any yellowish grey from the strands" explains Gold Class founder Inanch Emir, "The results are even healthier than our lightest blondes since the original colour starts from a light virgin base colour".
So if you've always wanted the ice, ice baby look of celebs like Kylie Jenner, Taylor Swift or Margot Robbie then head to your nearest Gold Class elite salon to see our new hue for yourself.
See more ice queen hair inspiration here and check out this recent bride who was one the first to try our White Platinum hair.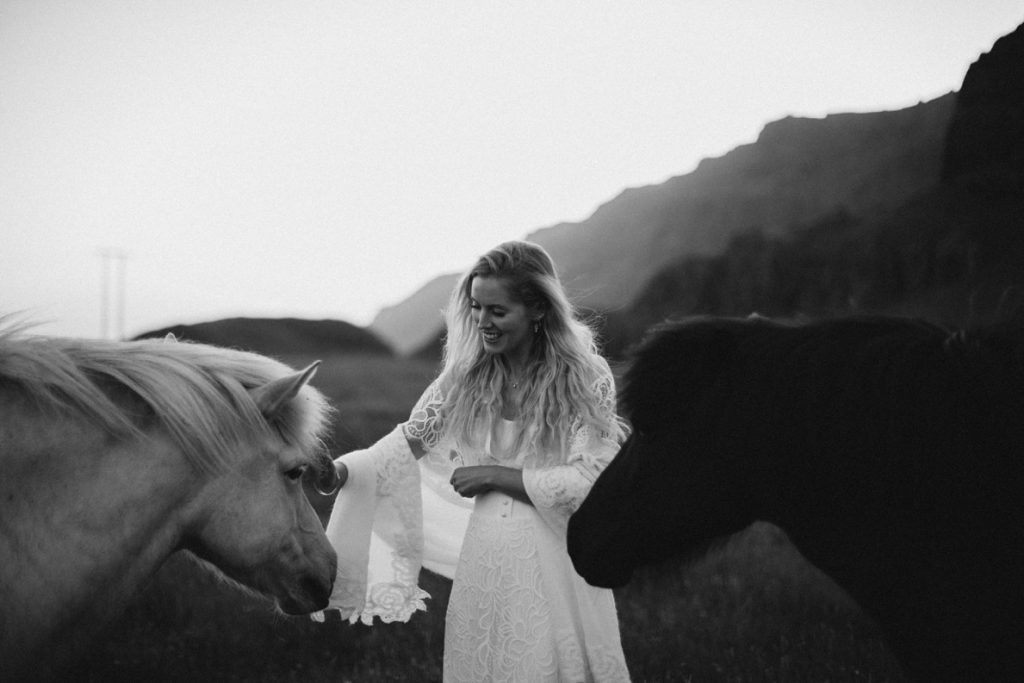 Photographer: James Frost
SaveSave
SaveSave
SaveSaveSaveSave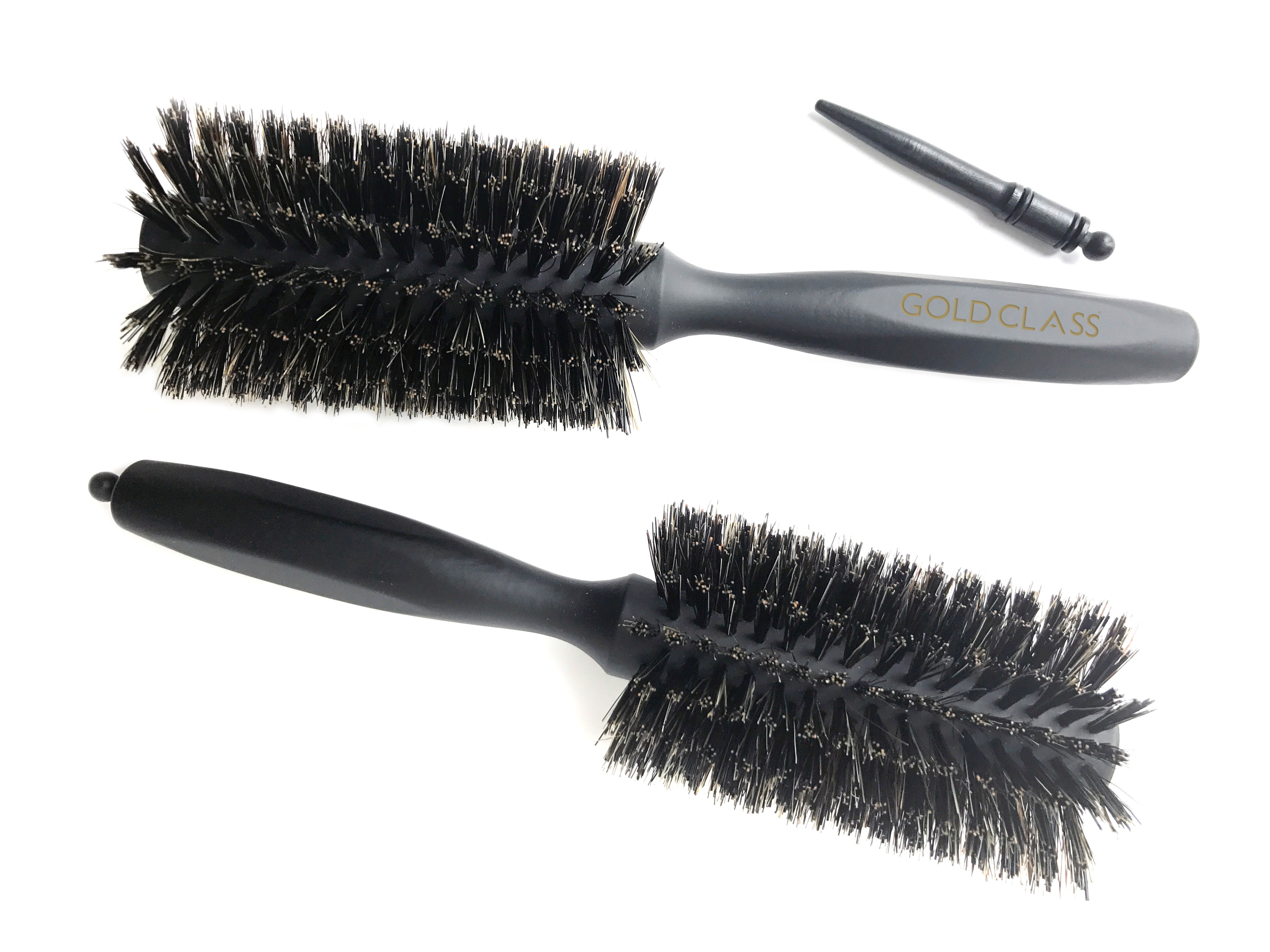 We are so excited to announce the release of our brand new professional brush to add to our aftercare range for blow-drying hair extensions.The Gold Class Soft Touch Italian Professional Blow Dry Brush, is an essential addition to your brush collection. Made in Italy exclusively for Gold Class, it features a wooden handle with a rubberised coating for ultimate comfort and easy gripping. The firm and heat-resistant Boar Bristles smoothes even the thickest of hair and with different bristle heights allowing an easy glide over the hair extension bonds, it is ideal for de-tangling mid-length and long hair whilst adding amazing shine.
The Gold Class Soft Touch Italian Blow Dry Brush also offers the correct amount of tension for total control when styling.  What's more, the brush comes with a retractable hair sectioning pin to help assist with blow drys, perfect for reaching the roots to clean and evenly distribute the natural oils.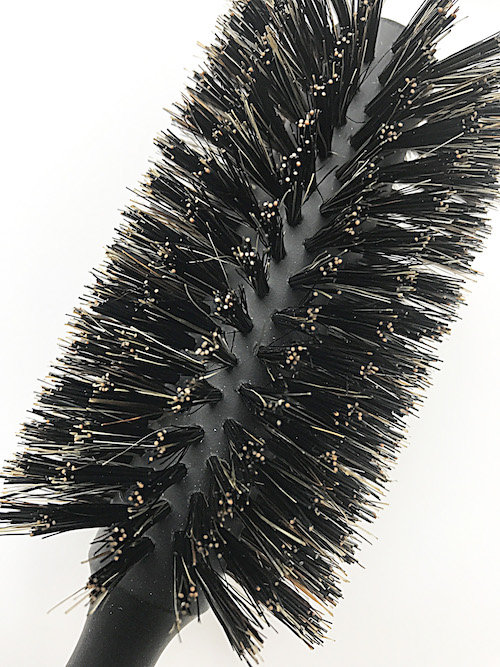 'But what is so different about this brush?' I hear you cry…
"We advise all our extension clients to brush their hair at least once a day to prevent tangles and keep their own hair and extensions looking healthy. Using the right blow dry brush for hair extensions is also extremely important and we are delighted to have introduced this brush to our aftercare range that gives you a smoother and shinier long-lasting finish." Inanch Emir, Founder of Gold Class hair extensions
You can now get your hands on the Gold Class Soft Touch Italian Professional Blow Dry Brush for just £30.00 from our elite salons nationwide or online through our flagship salon, Inanch.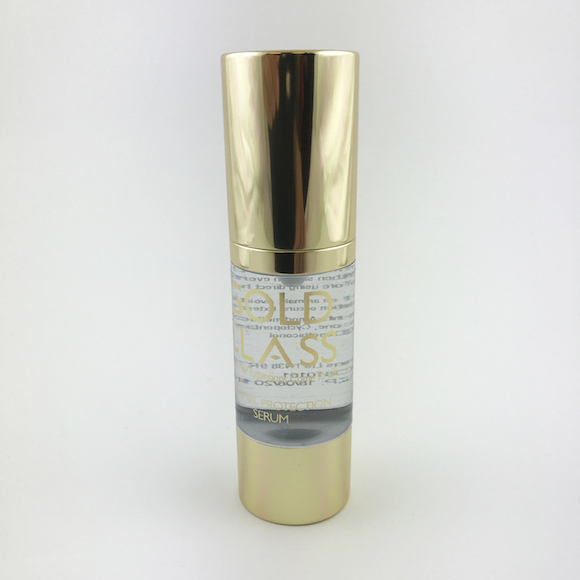 We have added a Thermal Protection Serum to our aftercare range and packaged in our signature 'gold' colour.
The beautiful leave-in Thermal Protection Serum is the first of its kind in our range to shield the hair from the damaging effects of heat styling.  Thoroughly drying hair extensions after washing is essential and so a small amount of serum will care for the hair as well as leaving it looking healthy, smooth and shiny. Enriched rich in vitamin E and essential fatty acids to help moisturise, feed and protect from free radicals, this serum is the new 'must-have' product for all hair lovers.
 "We advise all of our extension clients to use thermal protection products especially those who want uber straight tresses so we are delighted to offer our own product that does exactly that and prolongs the health of their Gold Class Hair Extensions. " Inanch Emir, Founder of Gold Class hair extensions.
Priced at £15.00 for a 30ml bottle, our Thermal Protection Serum is available to buy through our elite salons or online through our flagship salon, Inanch and the new Gold Class shop on Amazon.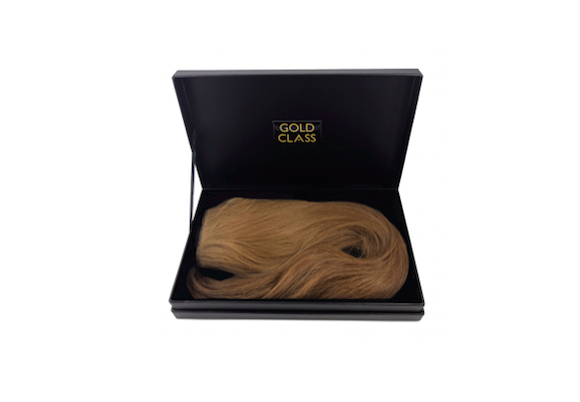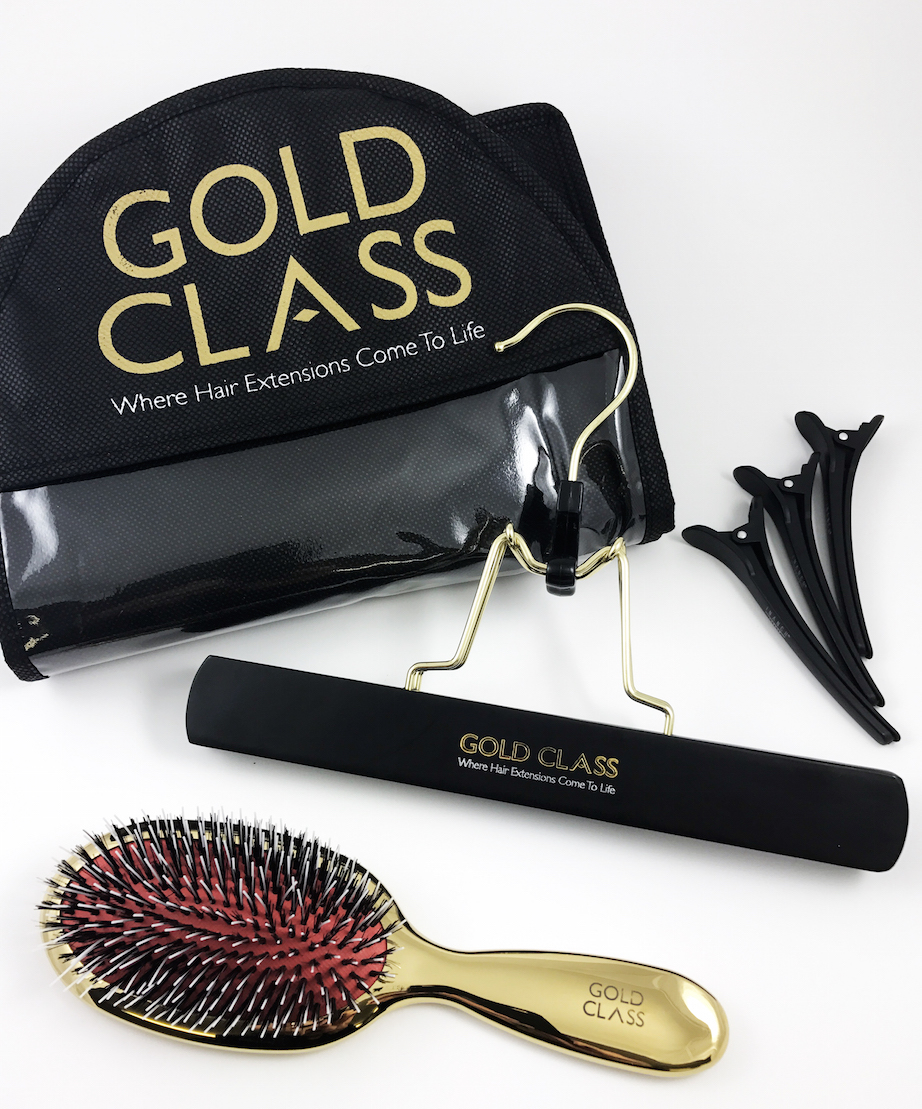 You've probably heard, but we are unveiling our new luxury Clip Ins hair piece next week at a star-studded bash here in London.
Here are the essential stats:
– 100% human hair, ethically sourced Indian hair of the finest quality
– 15 colours naturally blended for a perfect match
– 50cm length
– Weight of 140g for thick hair
– Soft lock clips give a secure and comfortable attachment
– Shaped to fit closely around you head shape and flat to the head for a natural look
– beautiful presentation box: the clip-ins come with a special Gold Class hair extensions brush, hair hanger, section clips and hair bag cover.
Our founder Inanch London, is collaborating with other Gold Class elite extensionists to create an 'All That Hair' show spectacle and it's set to be memorable. We just can't wait to share this with you.
So firstly you need to tune in on Inanch London's Facebook this TUESDAY to follow our live feed – put it in your calendars now!
Then to be the first to get your luxury Clip In you will soon be able to pre-order yours at www.inanch.com/shop.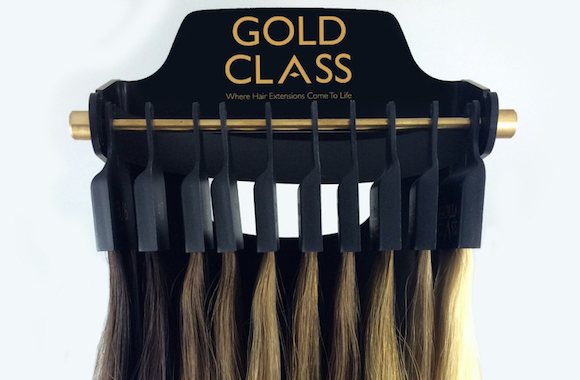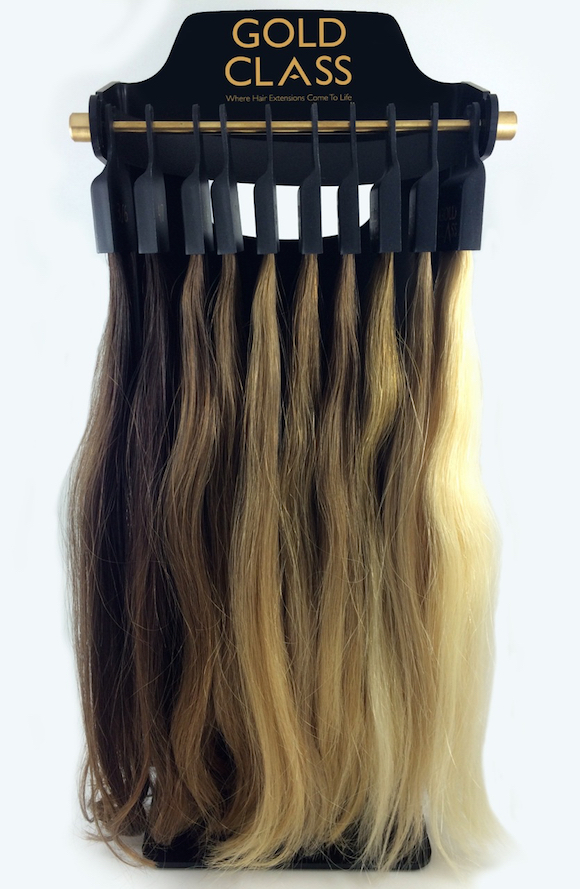 Exclusive hair extensions brand, Gold Class, has introduced a range of Ombre shades to their luxury hair collection. The ten new hues have been created each with their own unique name to tie in with their base-to-end hair colours.
Hair quality is of the upmost importance to Gold Class with hair production taking a minimum of 8 weeks to produce the finest 100% human hair extensions into 26 base shades. The new colours are blends of the most popular shades and processed gently to retain the hair's integrity. The Ombres have also been blended with a very soft and subtle transition from root to end keeping in line with the brand's "natural look with extensions" proposition.
NUMBERS:      NAME:
03/06         Chocolate Blend
04/07         Walnut Blend
07/09         Chestnut Fusion
07/12         Truffle Edge
07/15         Golden Truffle
08/13         Sunkissed Blonde
08/14         Liquid Gold
08/17         Vintage Gold
11/14         Smooth Vanilla
15/17         Ice Gold
"We always planned to introduce Gold Class Ombres since launching but we needed to ensure the highest quality and consistency in production before releasing them nationwide. Our expert extensionists love the natural effect they create for clients adding both length/volume and stunning colour effects as well as avoiding the issues of bleaching the client's hair."   Inanch Emir, Founder of Gold Class hair extensions.
Celebrity fans of the new colours include Rochelle Humes & Billie Faiers. Having had a break from extensions for a few months, Rochelle added shades of Walnut Blend to regain her length, whilst Billie opted for a shorter-style with Vintage Gold.
Available through any Gold Class select salon www.goldclasshair.com/salon in 40cm and 50cm lengths. Prices for Gold Class Ombres start from £250.00.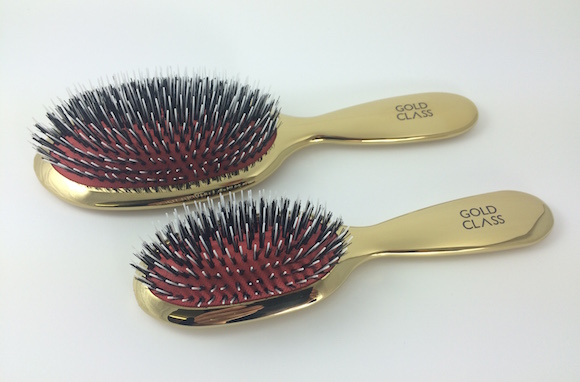 Premium hair extensions brand, Gold Class, has revealed two new brushes to their range and this time in their signature 'gold' colour.
Hand crafted and polished to perfection, these brushes are made of the finest materials and workmanship. Electro-plating creates a strong scratch-free finish to the gold design so they will look good on your dressing table or in your designer handbag.
The bristles are at different heights to glide over the hair extension bonds whilst reaching the roots to clean and evenly distribute the natural oils – ideal for de-tangling mid-length and long hair.
"We advise all our extension clients to brush their hair at least once a day to prevent tangles and keep their hair looking healthy; so we are really pleased to share these new brushes as they not only look good but are an essential part of our maintenance program."
Inanch Emir, Founder of Gold Class hair extensions.
Priced at £28 for the large brush and £25 for the travel-sized version, these brushes are available to buy through any Gold Class select salon and online through their flagship salon Inanch London Shop.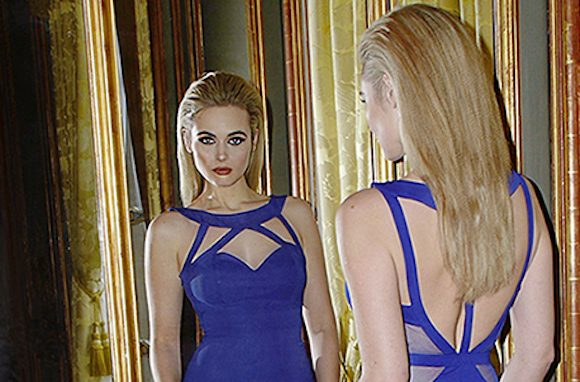 We have expanded our range of hair extensions from the Classic Pre-bonded to now offer more choice with our Micro Rings and Taped Wefts (coming soon!). Retaining the same level of superior quality and ethicality these different applications offer the extensionist and yourself more choice. You may prefer a certain method or need to opt for a particular method to get the most benefit from the hair extensions with your lifestyle; so here's a short guide to help you understand the differences.
Pre-Bonded extensions are for the volume lovers and highly durable bonds offering virtually undetectable bonds securing the extensions to your own hair. With the extension strands individually bonded, your hair will move more naturally and can easily be worn up too. Even if you don't opt for a full head, this method offers precision application so you can have just a few for highlights.
Micro Rings are similar to the pre-bonded method but attach the extensions with a tiny ring. These are sometimes preferred as no heat is used to bond the hair but this method requires you to return to the salon every 6-8 weeks to have them adjusted as part of the maintenance. The extensions can be re-used for up to 9 months providing that the aftercare guide is followed.
Taped Wefts is perfect for those with fine hair with the tape attachments lying flat to the head and spread the weight of the extension hair. It's also the fastest application method by far with a full set along less than an hour to apply, cut & style. Whilst they need to be re-applied every six weeks, the hair can be re-used and it is a great way to perhaps try extensions for the first time.
Not only does it come down to your preference, but after a thorough consultation and hair and scalp check, your stylist may recommend one method over another, in a similar way to maybe recommending a shorter length as well, to be able to ensure that the look you want can be achieved without causing any damage to your own hair and to look as natural as possible.
For more information about the different application methods, head to your nearest Gold Class salon and book your consultation where your extensionist will be able to show you the extensions and talk you through the application process and aftercare in more detail.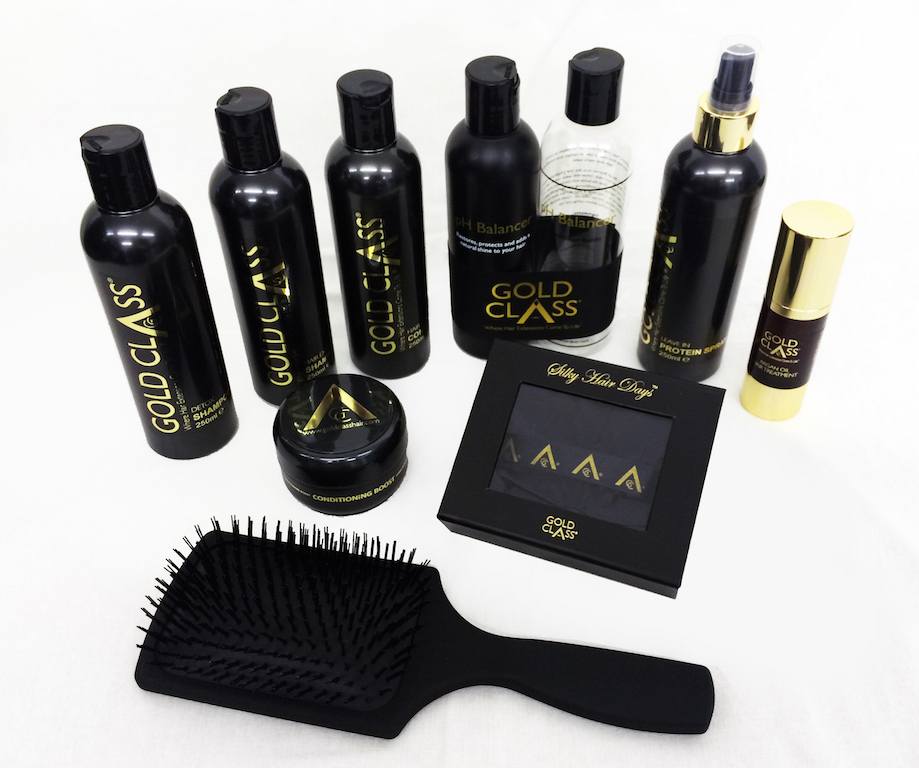 Great news! We've created our own range of exclusive Gold Class hair care to ensure your tresses remain beautiful and healthy, so you can thoroughly enjoy your Gold Class hair experience.
"A healthy hair & scalp are the key to natural & beautiful hair extensions; and so it was an essential step that we developed our own range of aftercare products to support our salons and clients." Inanch Emir founder of Gold Class hair extensions.
"Although our is 100% human hair, once made into hair extensions they no longer are receiving the essential oils from the scalp that keeps the hair healthy. Hair extensions aftercare is therefore a little different from your everyday hair care products. Our aftercare products have been specially formulated to ensure that the client's hair extensions as well as their own hair & scalp are receiving the correct nourishment in order to have beautiful, healthy hair each and every day."
Getting into a good hair care routine with the right products will prolong the life of the hair extensions as well as maintaining the integrity and optimum health of your own hair. The key the Gold Class hair care range is the "moisturising" aspect of each product rehydrating the extensions and preventing dry ends and hair breakage. This is in two stages; firstly hydrating the hair to allow it to function and maintain it's elasticity allowing styling of the hair. The second stage is to lock the moisture in to enhance the brilliance and lustre of the hair.
Having released the Silky Hair Days™, pH Balancer and the paddle brush at the end of 2015, we are now introducing five further products to complete the range and offer not only the everyday essentials for mositurising the hair but also offering products to protect the hair from the environment and heat damage.
Introducing:
Gold Class Hair Extension Shampoo 250ml
Gold Class Hair Extension Conditioner 250ml
Gold Class Leave in Protein Spray 250ml
Gold Class Conditioning Boost 100ml
Gold Class Argon Oil Hair Treatment 30ml
The Gold Class aftercare range is available through Gold Class select salons around the UK.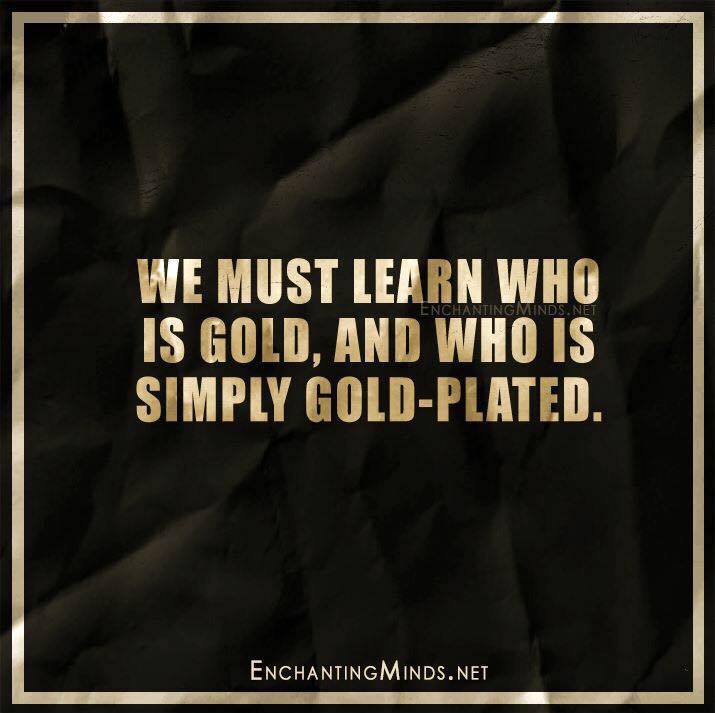 2015 was a fantastic year for Gold Class as we highlighted in our earlier blog and we predict that this year is going to be even better and we want to share with you some of our exciting projects for the year ahead!!
First of all we've headed to India where our superior quality hair is sourced for a tour of our partner's factory and to check the whole production process. A full report to follow next month.
Later this month we'll be celebrating the launch of Gold Class at our Elite 10 salon Daniel Galvin where all our lovely Gold Class salons are joining us alongside press and celebrities at their flagship salon in George Street. This promises to be a great evening and don't worry we will share some snaps with you over on Instagram.
We have some new products coming too that we've been working on throughout 2015 to perfect them before launching this year: a new state-of-the-art hair application machine, a blow-dry brush specifically designed for hair extensions and a full Gold Class wetline range formulated to care for your Gold Class extensions.
We also have a new and improved digital microscope for our stylists to share your hair and scalp analysis with you straight to your tablet or phone during your initial consultations.
Last but not least, there are more hair colours already in production! The most beautiful platinum blonde – a huge trend for 2016 so you have better get in with your Gold Class select salon now for a consultation and get it pre-ordered! We also have 9 new ombré's coming for Spring – you will just love these and if you can't tell we are super excited!
We don't stop there and will keep you updated on more exciting happenings with Gold Class. So have you done your #HairResolutions yet? Looking for some trend tips for the year ahead then read up on this in last week's blog.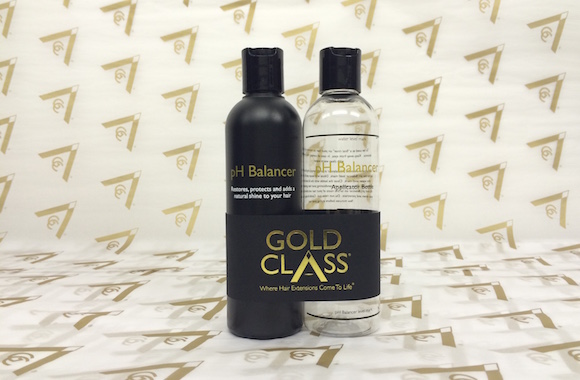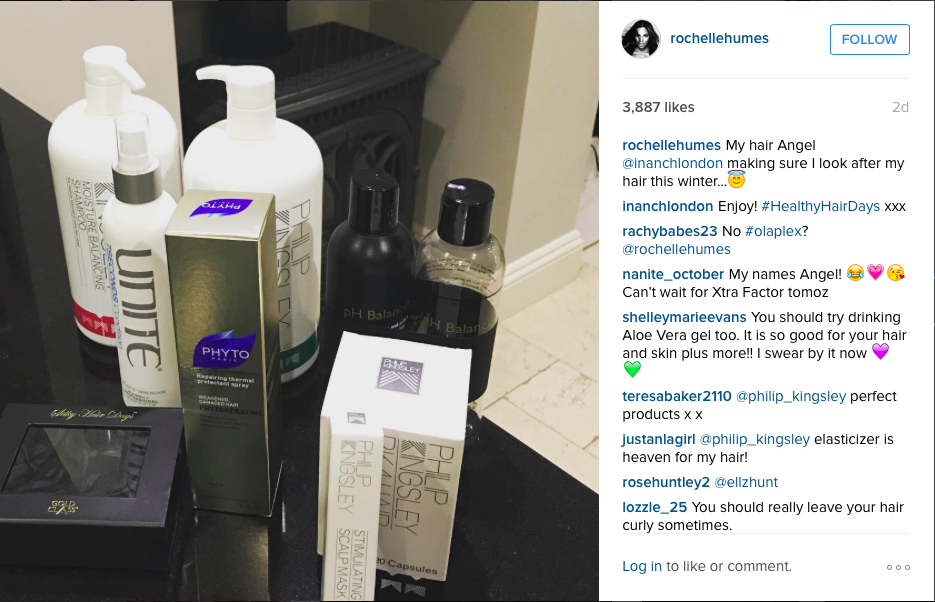 We are really excited to be releasing our very first hair care product in time to add to your winter hair care regime. The pH Balancer is the hero product for all hair extension wearers to offer protection against the environment. Essential for holidays, swimming and as added protection to fight against the everyday stresses on the hair; the pH Balancer acts as a deep conditioning treatment.
A simple rinse (the final rinse) with this leave in conditioning treatment will restore your scalp and hair to it's true pH balance and lock in moisture to create healthy looking hair with a natural shine.
Rochelle Humes instagrammed her pH Balancer as part of her winter hair care regime alongside the Gold Class Silky Hair Days and other prescribed products to give her locks the Xtra Factor!
Bottle size 250ml and comes with diluter bottle. Available to buy from your Gold Class select salon.