Category Archives:
Hair Care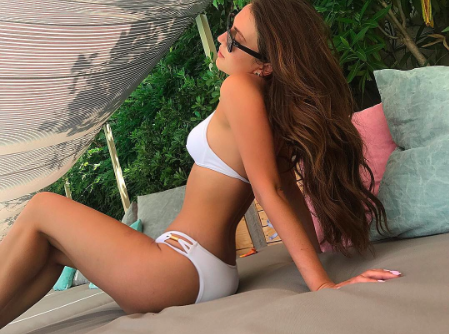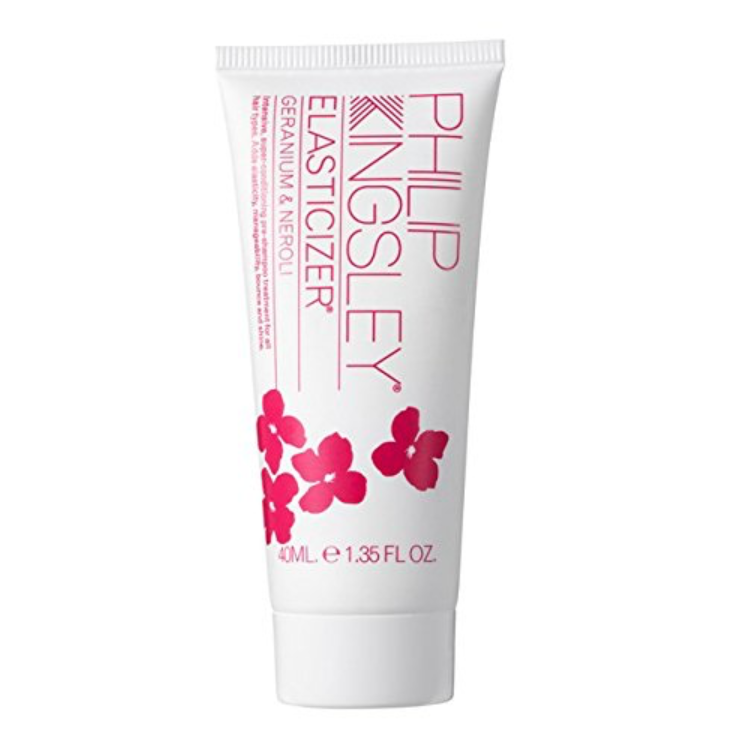 We asked the current Hair Awards Best Extensionist, Lee McCrudden, to tell us the advice he gives his clients at Inanch London for the perfect summer holiday hair care routine.
"I try to tell my clients to avoid getting their hair wet in sea water and chlorinated pools by keeping their hair tied up. But if they do get their hair wet then they absolutely have to wash it as soon as possible.
"Here at Inanch we are really big fans of Philip Kingsley products and no more so then Elasticizer. This is a must for your holiday packing. Damp your hair and add as a leave-in conditioner. It's heat activated so the sunshine will do all the hard work and deeply nourish your hair whilst you chill out. Leave it in all day long and your hair will be AMAZING.
"If you're looking to protect your locks from the UV rays, spritz over Phytoplage Sublime to protect the colour and lock in moisture; and don't forget your hat!
"We know plaits or a messy topknot are perfect beach hair inspiration. For those beach waves, Lee recommends plaiting your hair whilst damp (don't forget to add your Elasticizer) and leaving it all day before undoing for the evening for a nice gentle wave and ultra soft tresses. A little R+CO Dry Shampoo Paste adds a little texture too."
Don't forget all your usual hair care routine too keeping your tresses tame and all your favourite Gold Class products to help.
To see Lee's latest hair transformations, check out the Inanch Instagram stream. Our Summer Hair Pinterest Board has plenty of great inspiration for you.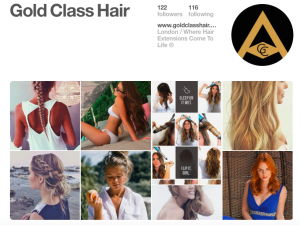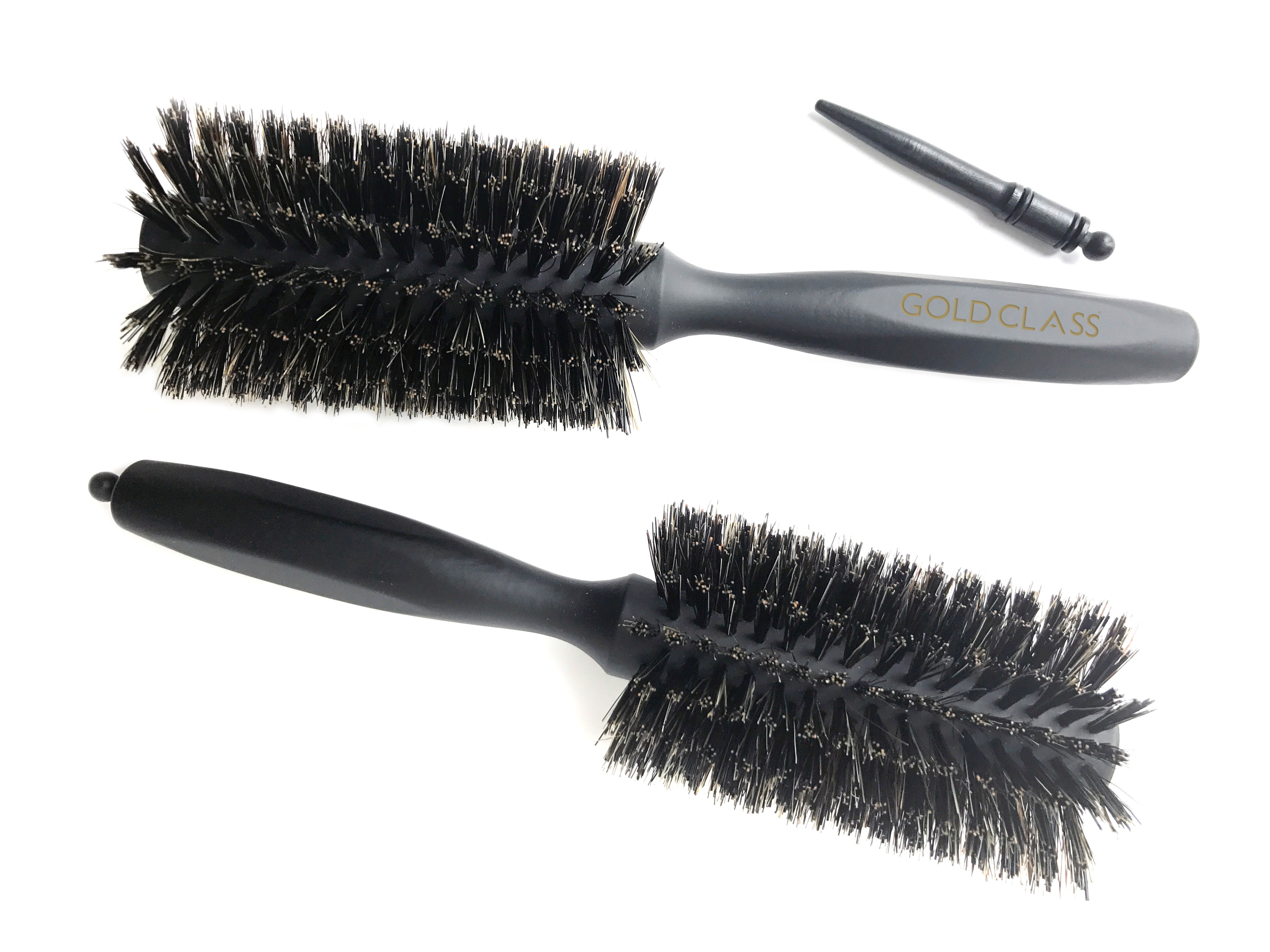 We are so excited to announce the release of our brand new professional brush to add to our aftercare range for blow-drying hair extensions.The Gold Class Soft Touch Italian Professional Blow Dry Brush, is an essential addition to your brush collection. Made in Italy exclusively for Gold Class, it features a wooden handle with a rubberised coating for ultimate comfort and easy gripping. The firm and heat-resistant Boar Bristles smoothes even the thickest of hair and with different bristle heights allowing an easy glide over the hair extension bonds, it is ideal for de-tangling mid-length and long hair whilst adding amazing shine.
The Gold Class Soft Touch Italian Blow Dry Brush also offers the correct amount of tension for total control when styling.  What's more, the brush comes with a retractable hair sectioning pin to help assist with blow drys, perfect for reaching the roots to clean and evenly distribute the natural oils.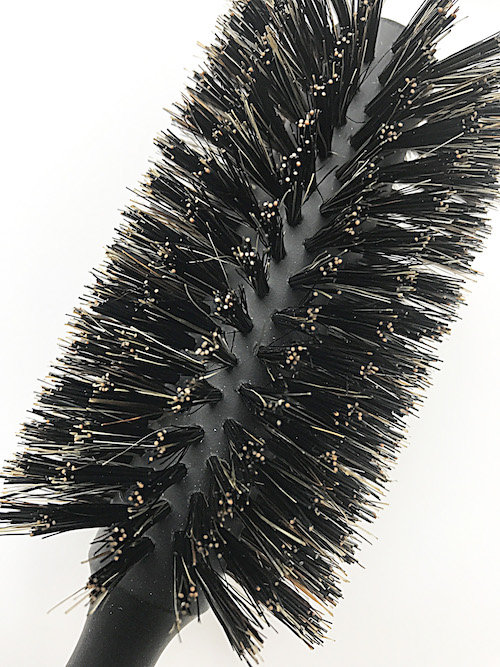 'But what is so different about this brush?' I hear you cry…
"We advise all our extension clients to brush their hair at least once a day to prevent tangles and keep their own hair and extensions looking healthy. Using the right blow dry brush for hair extensions is also extremely important and we are delighted to have introduced this brush to our aftercare range that gives you a smoother and shinier long-lasting finish." Inanch Emir, Founder of Gold Class hair extensions
You can now get your hands on the Gold Class Soft Touch Italian Professional Blow Dry Brush for just £30.00 from our elite salons nationwide or online through our flagship salon, Inanch.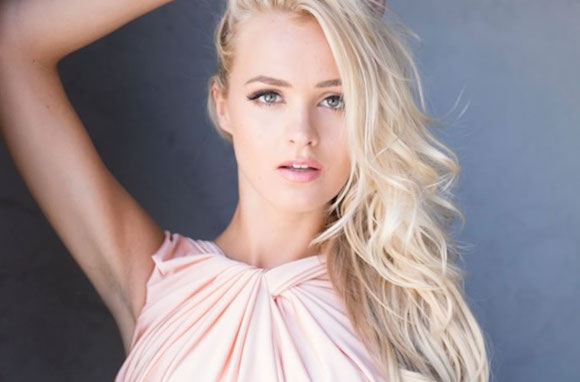 Hands up who's enjoyed their Easter Eggs. We all know that over-indulging in chocolate is commonly associated with weight gain; however, your hair also suffers. So, we're here to save those breakages and get your shine back with our 8 top tips for re-gaining healthy hair!
1) Wash your hair twice a week
Over-washing your hair can strip it of its natural oils, leaving it drier and more prone to breakage. Not only does it strip the hair of its natural oils, but also if you have coloured hair then it strips your colour as most toners eventually wash out. So, we would suggest washing your hair just twice a week to increase shine, prevent dryness and preserve luster. But don't give up if you feel your hair is too greasy when you start this routine, your hair needs training. Grab a can of dry shampoo to get you through!
Remember your extension hair needs the added nutrients from the Shampoo and Conditioner to 'feed' them and lock in moisture so don't skimp and use the right products too.
2) Reverse your hair washing routine
There's lots of talk about reversing your hair care routine to use your conditioner first, but try a pre-wash product like Philip Kingsley Elasticizer that's tailored made for this and will put the bounce back in your locks.
3) Eat your way to healthy hair
Spinach is commonly known for increasing muscle strength, yet many of us are unaware of the benefits it has on our hair. Spinach contains iron and sebum, which acts as a natural conditioner for hair, leaving it super soft! It also provides omega-3 acids, magnesium, potassium, calcium and iron, which all help keep hair lustrous and shiny.
Believe it or not, tangerines are amazing for your hair. Its Vitamin C content allows your body to absorb iron easier and the Vitamin B12 promotes hair growth, reduces hair loss and stops those greys from peeking through!
Go Nuts. Guys, eat your pistachios as they have been linked to helping with male baldness. Girls, cashews have biotin, and walnuts contain oils that add to the amount of elastin in your hair, which keeps hair supple and stops breakage. So simply replacing your afternoon snack with a bag of nuts can do wonders for your hair!
Greek yogurt is high in protein and rich in vitamin B5, which helps with blood flow to your scalp and hair growth. So, add a pot of Greek Yoghurt to your weekly shop and you can have thick, wavy hair like a Greek Goddess!
4) Avoid alcohol
Much to our disappointment, alcohol slows the levels of zinc in your body, which provides for healthy hair and growth. It also dehydrates your hair, making it more brittle and likely to break. We're not saying stop drinking alcohol, but you will see a noticeable difference to your hair if you cut it down!
5) Don't brush wet hair
Wet hair it is especially vulnerable to damage as water weakens the bonds within strands of hair and brushing can cause severe breakage in this weakened state. We understand that you're busy and have things to do, but your hair will thank you if you wait until it's dry to brush it. We would recommend using our Classic Gold Class Brush, a high-quality bristle brush, beginning at the bottom and working your way up until all of your hair is tangle-free. Brushing will not just clean your hair but stimulate your scalp too.
6) Apply little heat
We're all after shiny and sleek locks and applying heat can often achieve this look. However, too much heat can remove the natural oils from the hair and dry it out, as a result causing frizz overload, which is not ideal!! So, blow dry your hair on a cool setting and put down those straighteners. To help a little more, try using our Gold Class Thermal Protection Serum to moisturise and protect the hair.
7) Silk suits
Silk is amazing for your hair as it allows your hair to breathe and prevents hair breakage. It also eliminates any frizz from your hair, great! That's why we always recommend Gold Class Silky Hair Days™ Cap to keep your hair looking fabulous!
8) Healthy Hair Days
Our philosophy of Healthy Hair Days for wearing your hair extensions is well worth a read and talk to your stylist to make sure your are happy with the health of your hair and scalp from our analysis before re-applying extensions. Use our expertise to make sure we get your own hair and scalp healthy as a priority first.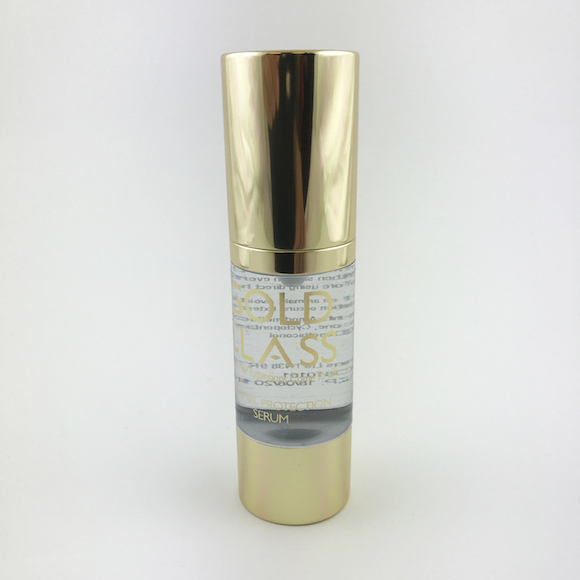 We have added a Thermal Protection Serum to our aftercare range and packaged in our signature 'gold' colour.
The beautiful leave-in Thermal Protection Serum is the first of its kind in our range to shield the hair from the damaging effects of heat styling.  Thoroughly drying hair extensions after washing is essential and so a small amount of serum will care for the hair as well as leaving it looking healthy, smooth and shiny. Enriched rich in vitamin E and essential fatty acids to help moisturise, feed and protect from free radicals, this serum is the new 'must-have' product for all hair lovers.
 "We advise all of our extension clients to use thermal protection products especially those who want uber straight tresses so we are delighted to offer our own product that does exactly that and prolongs the health of their Gold Class Hair Extensions. " Inanch Emir, Founder of Gold Class hair extensions.
Priced at £15.00 for a 30ml bottle, our Thermal Protection Serum is available to buy through our elite salons or online through our flagship salon, Inanch and the new Gold Class shop on Amazon.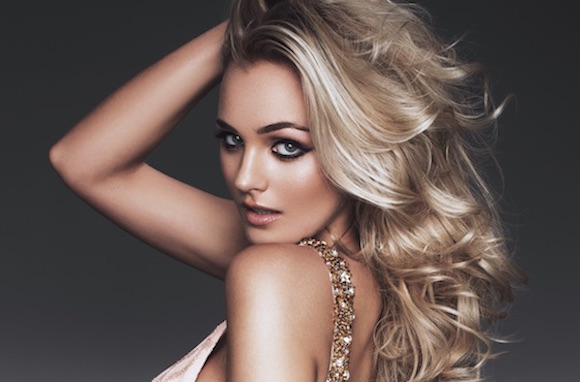 The clocks have gone back and we are at the start of November which means it's time to think about that winter hair care seriously. Here are our top tips:
1) Your Gold Class Shampoo & Conditioner are great but add in the Conditioning Boost once a week to make that added different to lock in moisture, improve elasticity & suppleness.
2) Don't forget to dry your hair thoroughly, including your bonds to prevent water getting in and invest in a good hat for those bitter days. Just make sure you have our other winter wonder products include our Argan Oil to prevent static hair when you take your hat off & new gold brush – partly as it gets us in the festive mood with it's colour, but also it's perfect for your handbag to keep your tresses tangle-free all day long.
3) If it's particularly harsh outside, try our Protein Spray to protect against the environment.
4) With the heating now on inside your hair can easily dry out quickly so our Silky Hair Days™ cap will help, as well as preventing mating and static first thing in the morning.
With a last few appointments available before Christmas, book your consultation now with your elite salon if you are after a fresh set of hair extensions this side of Christmas.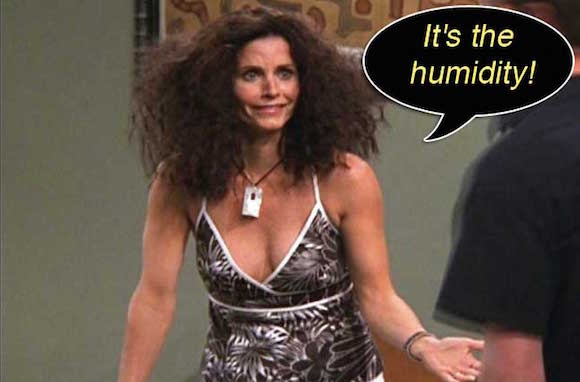 With the tropical temperatures not showing any signs of let up and the threat of a downpour; it's hard to know how to best to deal with our hair especially with the thought of 'Monica' hair unless we act now. Fight the frizz with these simple care and styling tips.
You still want your hair to look healthy, so keep your hair care routine with our aftercare range. The Shampoo & Conditioners will lock in moisture to leave your hair manageable. If your hair is particularly dry, then try the added effects of our Conditioning Boost. But before heading out the door use a little of our Argan Oil to seal the cuticles and prevent the humidity drying out the hair. Use sparingly on dry hair, warming in the palms of your hands before evenly applying to the lengths and ends of your hair.
Styling wise, there's plenty you can do to help curtail your hair curling at the ends. The key is to tie up as much of your hair as possible. With so many braid options, you can have plenty of fun, but even some of the most stylish red carpet updo's would work. If time is short, then a simple ponytail is perfect – check out these different versions to mix it up a little. If it's shorter strands around your hairline that cause you concern, try a sleeked back look or maybe a hairband with fabulous adornment to catch the eye. Make sure you have your travel brush and Protein Spray in your handbag to help care for your hair throughout the day.
To wake up without the frizz, try our SilkyHairDays™ hair cap. It has all the benefits of sleeping on silk bedding but also keeps your hair in a neat bun to prevent any tangling.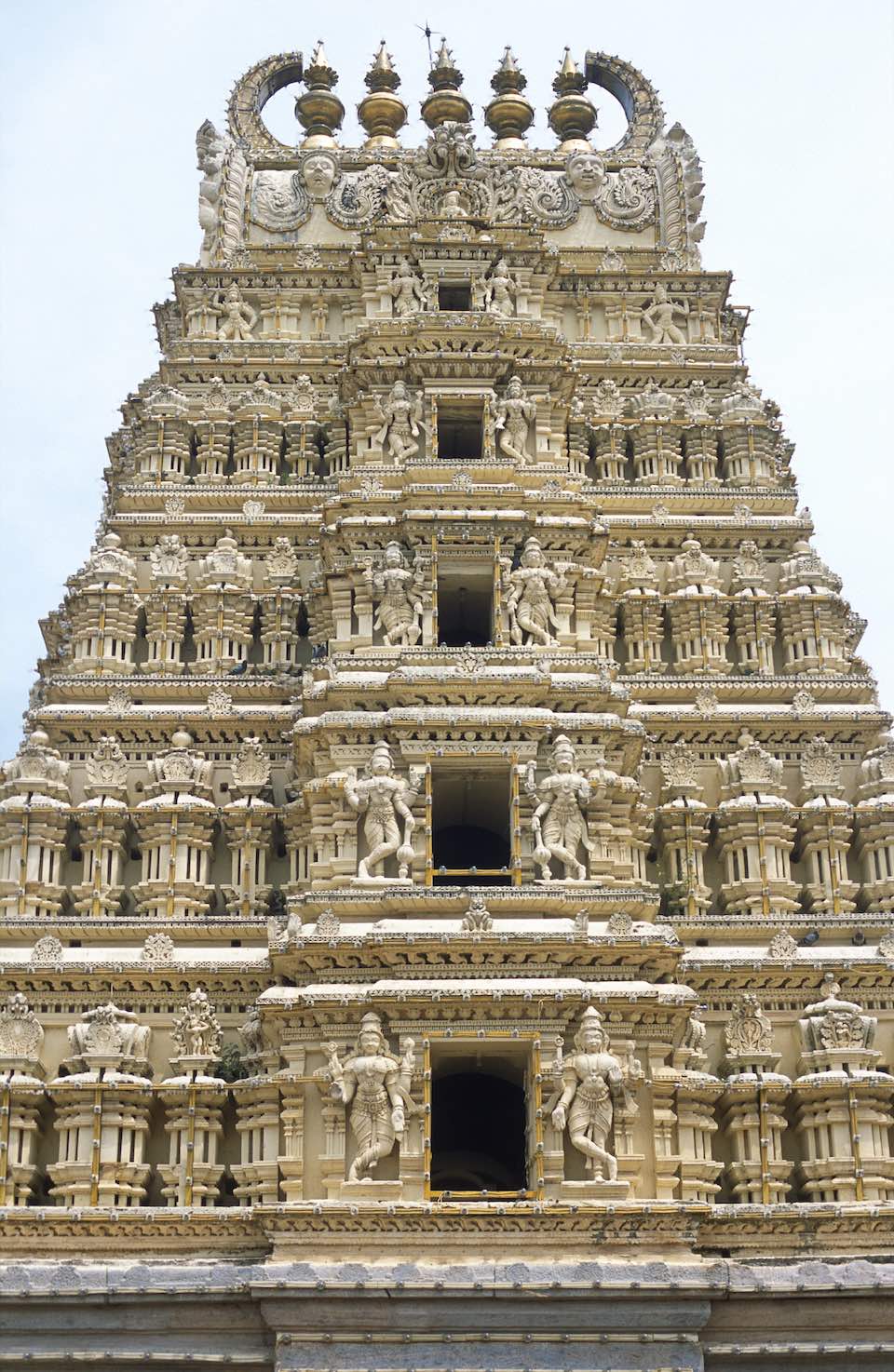 We love our Indian Temple hair and here is our top five reasons why:
1) Just with any high-quality product; it all starts with the very best raw materials and our hair is no exception. Our hair is hand selected from the finest quality Indian temple hair. Known as virgin hair, we are looking for hair that has not been chemically treated or dyed by Henna; so that is healthy and will work well in our next processes to offer a range of colours.
2) You know you are buying an ethically sourced product and that we know which Indian Temple the hair is sourced from, to give you peace of mind.
3) Indian hair texture is a good match to European hair and with a natural wave to the shape it flows to give the most natural-looking effect; whilst it's strength holds your curls and wave-styling well.
4) Our hair extensions are 100% human hair with no mixing of hair types and so blends with your own hair to give the most natural effect. This also means you can style your hair with hot tools, just as you would your own hair.
5) Quality that lasts so your hair will be beautiful everyday you wear them. We can take our hair for granted and put it through some harsh treatment with everyday styling and the environment, but follow the simple Gold Class at home haircare regime with the aftercare range; then your Gold Class tresses will look fabulous day after day.
Ask your Gold Class select salon more about our hair in your consultation.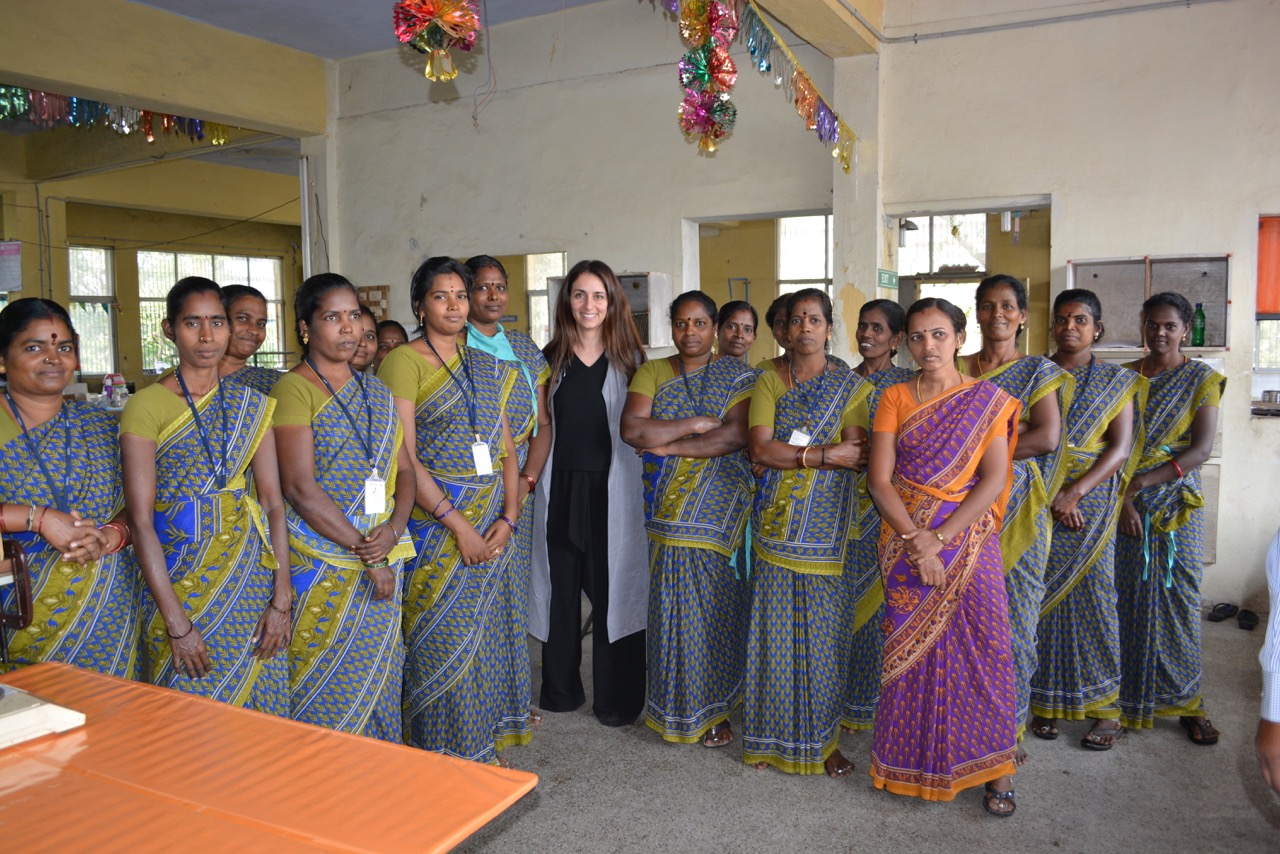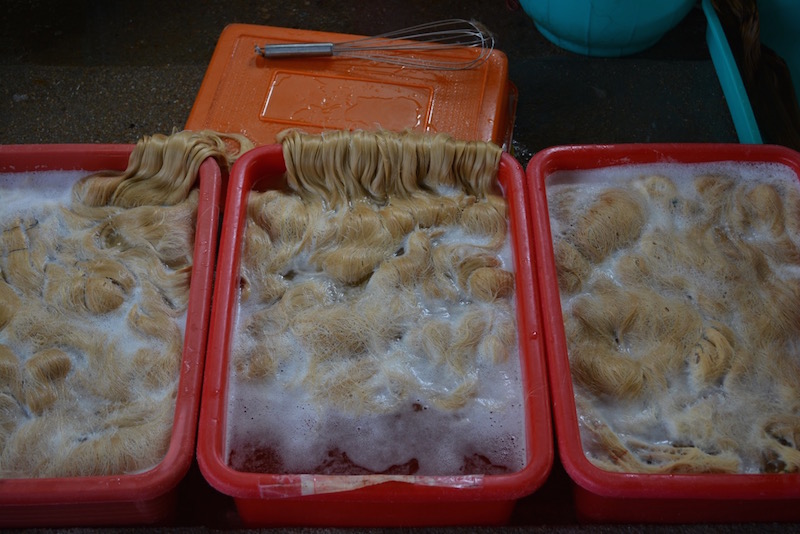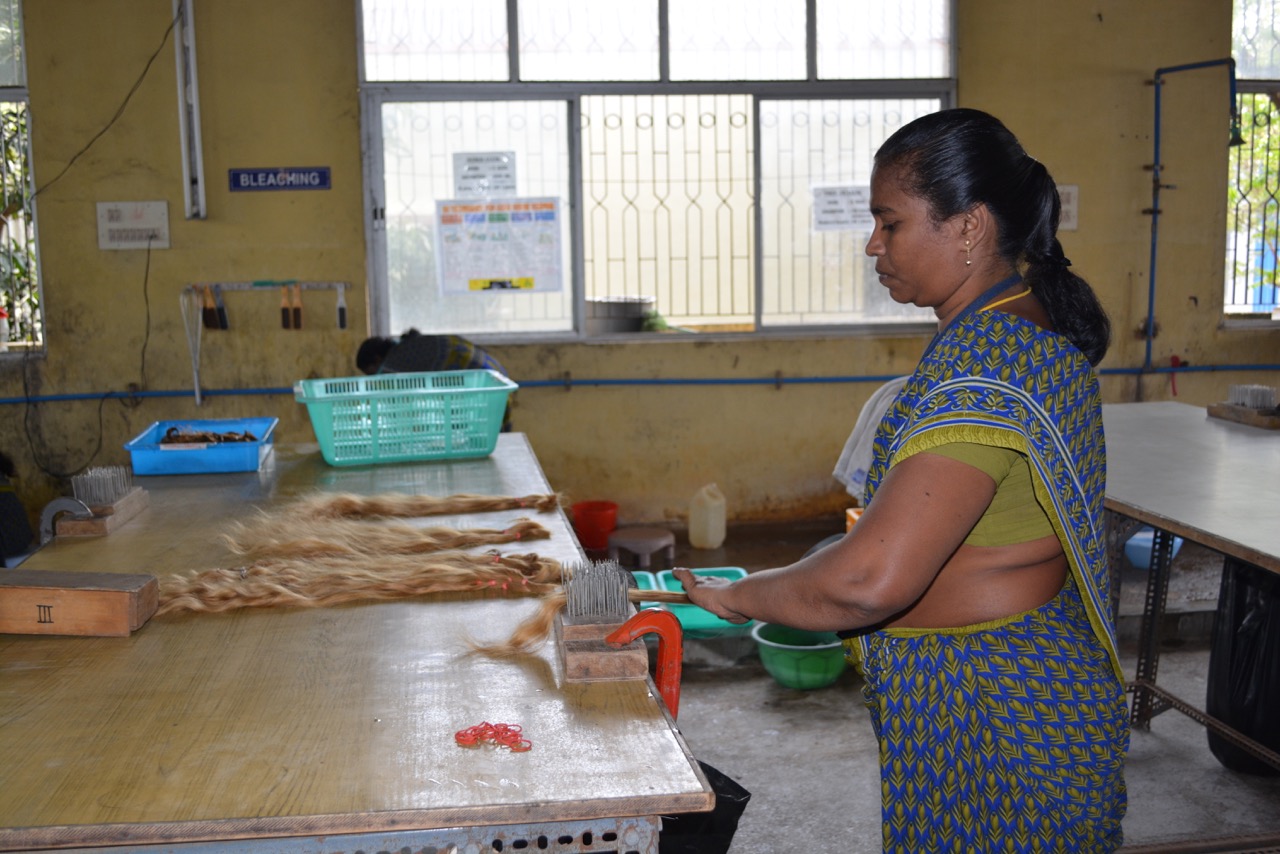 Earlier this year, our founder Inanch took a trip to Southern India to check on the production of our beautiful hair extensions. As you know, we are very precious about our hair quality from the authenticity, ethicality, pure quality and colour – this is our Gold Class Standard and it's good for us to see this with our own eyes regularly.
Our hair is hand-picked throughout the process. From the moment the hair is selected at the Temple, right through the processing to create the hair extensions. Working in small bundles allows the team to continually check the hair quality and create the best hair extensions possible. This process takes more time, but as they say "good things come to those who wait" and we promise it's worth waiting for. We asked Inanch to tell us more about the hair and the process.
"The hair is Indian Temple hair ethically sourced by our representative there who understands our requirement to have the very best quality hair. We pay a high price for this but like with anything you need to start with the best raw materials – as our partners in India say: "Good raw hair is as important to us as only the best and freshest food are to a gourmet chef". The hair is virgin remi which means that it has not been chemically treated to damage the hair cuticles and is collected in its original ponytail when cut from the donor. This ensures that the hair is the right way up with the cuticles all running in the same direction & this is so important to maintain throughout the process to prevent matting.
"Watching the ladies in the factory caring for the hair was wonderful. Working in small batches they work completely to order so we were able to witness the full process from conditioning, discolouring and removing henna stains through to the removal of weaker hair before colouring. Blondes are well known to take longer to create and this can take up to 2 weeks as we need to ensure the hair is not damaged from over bleaching. The Indian's favourite remedy Coconut Oil is used here to repair the hair and restore moisture. The ladies showed us how they work with the hair to ensure the colour is perfect throughout each strand, re-arranging the bundles regularly and even holding out the ends to ensure the hair takes the colour evenly. Testing the hair's elasticity at this stage is also crucial to preserve the healthy hair for our extensions."
"Brushing the hair is a complete art there and they work so fast! It's known as hackling and the hair is regularly hackled throughout the process to keep the hair tidy, in the same way, I tell my clients to brush their extensions at least twice a day!"
We are extremely proud of our hair process, custom making the hair in small batches to order. This is where we differ from many other extension brands who bulk process the hair which can lead to inconsistencies and a reduction in quality. It also allows us to reserve the best hair for our salons and clients and we are happy not to over-process the whole operation so that you know this hair is very special and exclusive at only a handful of select salons around the UK.
Regrettably there was no time for sightseeing, but at least there's a reason to go back regularly and see this wonderful country.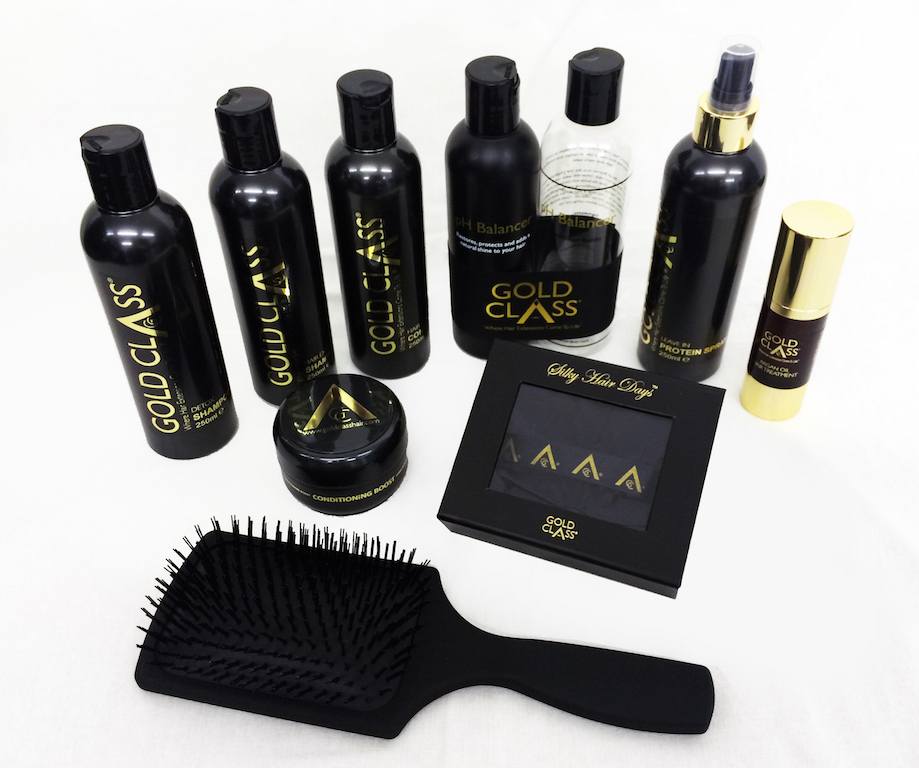 Great news! We've created our own range of exclusive Gold Class hair care to ensure your tresses remain beautiful and healthy, so you can thoroughly enjoy your Gold Class hair experience.
"A healthy hair & scalp are the key to natural & beautiful hair extensions; and so it was an essential step that we developed our own range of aftercare products to support our salons and clients." Inanch Emir founder of Gold Class hair extensions.
"Although our is 100% human hair, once made into hair extensions they no longer are receiving the essential oils from the scalp that keeps the hair healthy. Hair extensions aftercare is therefore a little different from your everyday hair care products. Our aftercare products have been specially formulated to ensure that the client's hair extensions as well as their own hair & scalp are receiving the correct nourishment in order to have beautiful, healthy hair each and every day."
Getting into a good hair care routine with the right products will prolong the life of the hair extensions as well as maintaining the integrity and optimum health of your own hair. The key the Gold Class hair care range is the "moisturising" aspect of each product rehydrating the extensions and preventing dry ends and hair breakage. This is in two stages; firstly hydrating the hair to allow it to function and maintain it's elasticity allowing styling of the hair. The second stage is to lock the moisture in to enhance the brilliance and lustre of the hair.
Having released the Silky Hair Days™, pH Balancer and the paddle brush at the end of 2015, we are now introducing five further products to complete the range and offer not only the everyday essentials for mositurising the hair but also offering products to protect the hair from the environment and heat damage.
Introducing:
Gold Class Hair Extension Shampoo 250ml
Gold Class Hair Extension Conditioner 250ml
Gold Class Leave in Protein Spray 250ml
Gold Class Conditioning Boost 100ml
Gold Class Argon Oil Hair Treatment 30ml
The Gold Class aftercare range is available through Gold Class select salons around the UK.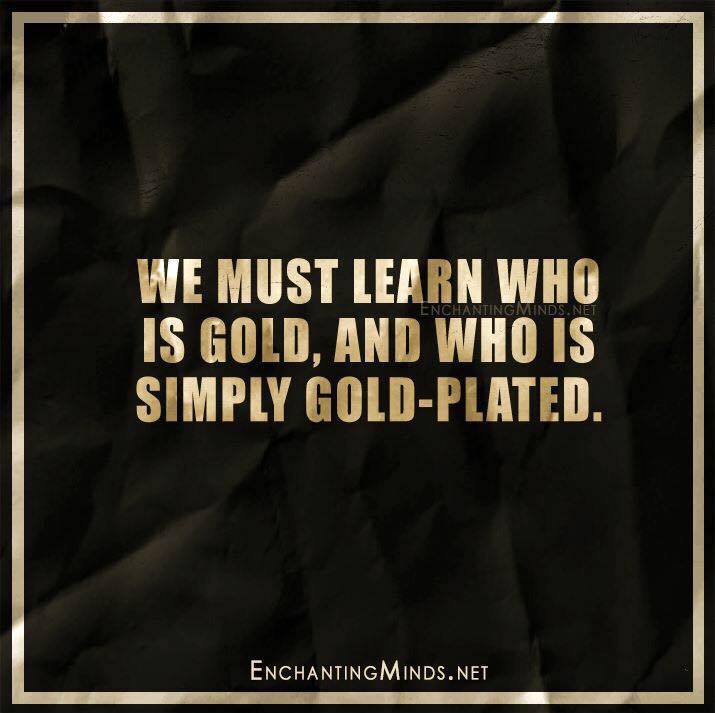 2015 was a fantastic year for Gold Class as we highlighted in our earlier blog and we predict that this year is going to be even better and we want to share with you some of our exciting projects for the year ahead!!
First of all we've headed to India where our superior quality hair is sourced for a tour of our partner's factory and to check the whole production process. A full report to follow next month.
Later this month we'll be celebrating the launch of Gold Class at our Elite 10 salon Daniel Galvin where all our lovely Gold Class salons are joining us alongside press and celebrities at their flagship salon in George Street. This promises to be a great evening and don't worry we will share some snaps with you over on Instagram.
We have some new products coming too that we've been working on throughout 2015 to perfect them before launching this year: a new state-of-the-art hair application machine, a blow-dry brush specifically designed for hair extensions and a full Gold Class wetline range formulated to care for your Gold Class extensions.
We also have a new and improved digital microscope for our stylists to share your hair and scalp analysis with you straight to your tablet or phone during your initial consultations.
Last but not least, there are more hair colours already in production! The most beautiful platinum blonde – a huge trend for 2016 so you have better get in with your Gold Class select salon now for a consultation and get it pre-ordered! We also have 9 new ombré's coming for Spring – you will just love these and if you can't tell we are super excited!
We don't stop there and will keep you updated on more exciting happenings with Gold Class. So have you done your #HairResolutions yet? Looking for some trend tips for the year ahead then read up on this in last week's blog.