Category Archives:
Gold Class Range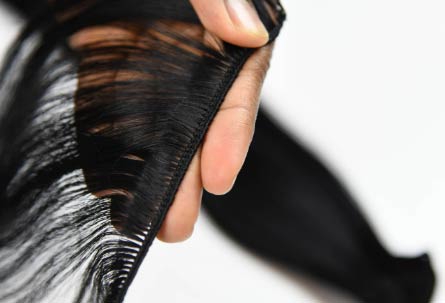 Hair extensions have been favoured by celebrities, models and VIP's as a clever way to add volume and life to their locks. However, over the last decade we have seen vast improvements in the natural looking quality and texture of hair extensions available and wefts have undoubtedly become a stunning and affordable choice to women looking for beautiful, natural and long-lasting results. Celebrity fans of weft hair extensions include Cheryl Cole and Paris Hilton.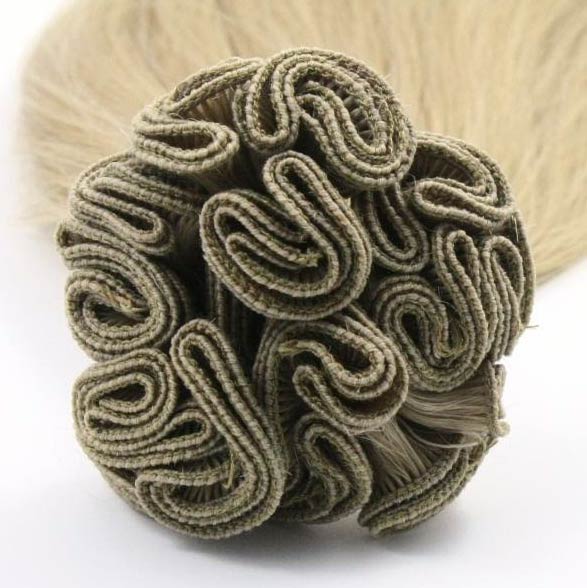 Gold Class Weft Extensions at Inanch London
Gold Class Hair are pleased to announce that our beautiful hand-tied weft extensions are now available at Inanch London. Available in layered (single drawn), beginning with full hair from the first 5-6 inches from the roots, working down to a tapered effect near the ends, resulting in a full bodied and natural look.
Our hand-tied weft hair extensions are made from 100% Indian Remy cuticle hair in natural textures; this is the same superior quality we use for our four-signature polymer (pre-bonded) and cylinder tip (micro-ring) hair extensions.
Specifically hand-tied with intricate machine sewn tracks to prevent any shedding, they have been woven into one continuous thread so cannot be cut or altered once made. All of the tracks are designed to be thin density pieces, which we can easily embed with clips, micro-rings or sewn-in braids. With regular salon maintenance and correct after-care, your weft extensions can last up to 18 months.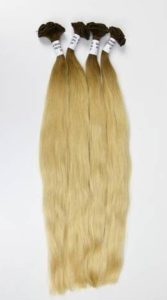 Custom-Made for our Clients
Just as each body shape is unique, so is your head and hair; in order to make sure we offer our clients the very best, bespoke hair extensions – all of our hand-tied wefts are custom-made to fit each client's unique style and needs. As each set of extensions is unique, prices are quoted on an individual basis, depending on the amount and length needed. For example, a typical cost
based on an average head of shoulder-length hair might be £300.00 plus fitting.
As each set of weft extensions is bespoke they can take up to six weeks to arrive at the salon. If you are seeking to get extensions ahead of a special occasion, we recommend booking a consultation with one of our talented team as soon as possible.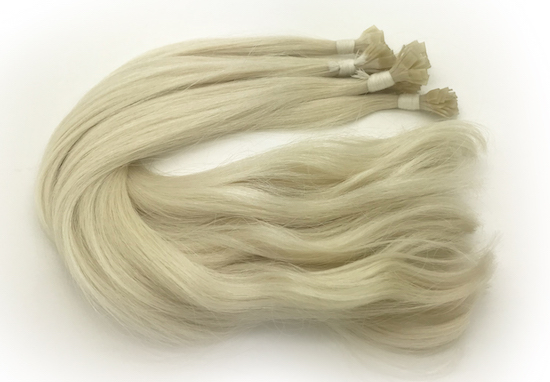 Achieving platinum hair is well known for being tricky and damaging to your hair. This is one reason to opt for hair extensions to achieve this without the colour commitment on your part, but actually the hair extensions are the same amazing Gold Class quality standard you expect. You can be assured that our sourcing from Indian Temples for the finest human hair, ethically managing  and processing of our hair are all the same for this platinum white hair. In fact, the sourcing process is even more stringent as this raw hair is extremely rare to get hold of – the exceptional quality that we aim for of course! So how have we achieved this, you might ask.
The secret behind our White Platinum Hair is actually that the hair starts our process as naturally grey.
"Our factory in India takes months to source and process this hair in to pure white bundles by carefully bleaching each to bundle of hair to remove any yellowish grey from the strands" explains Gold Class founder Inanch Emir, "The results are even healthier than our lightest blondes since the original colour starts from a light virgin base colour".
So if you've always wanted the ice, ice baby look of celebs like Kylie Jenner, Taylor Swift or Margot Robbie then head to your nearest Gold Class elite salon to see our new hue for yourself.
See more ice queen hair inspiration here and check out this recent bride who was one the first to try our White Platinum hair.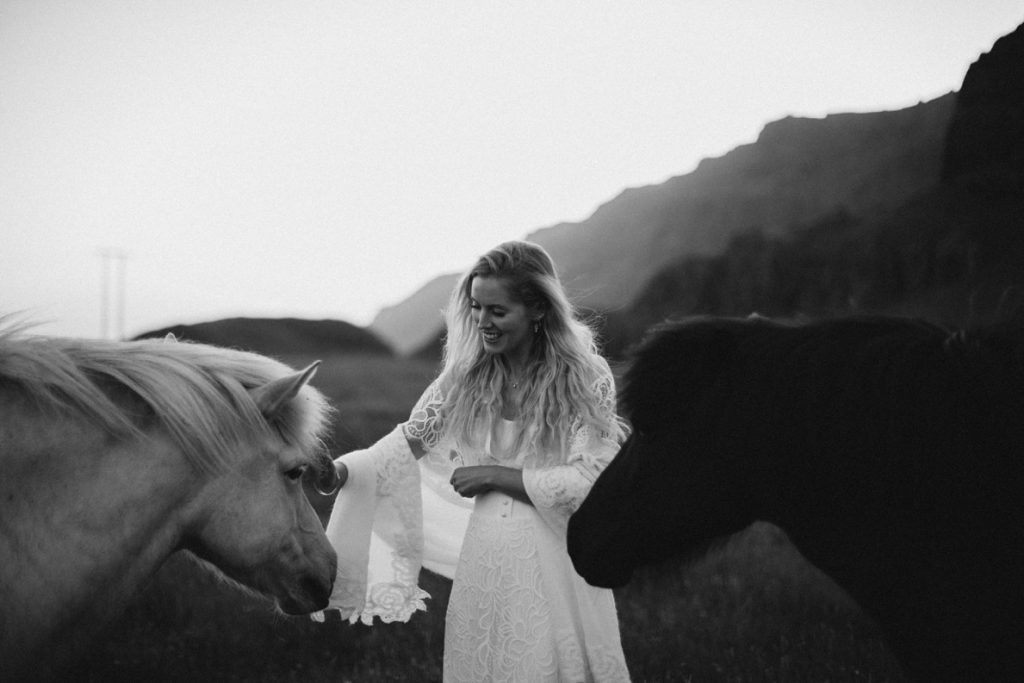 Photographer: James Frost
SaveSave
SaveSave
SaveSaveSaveSave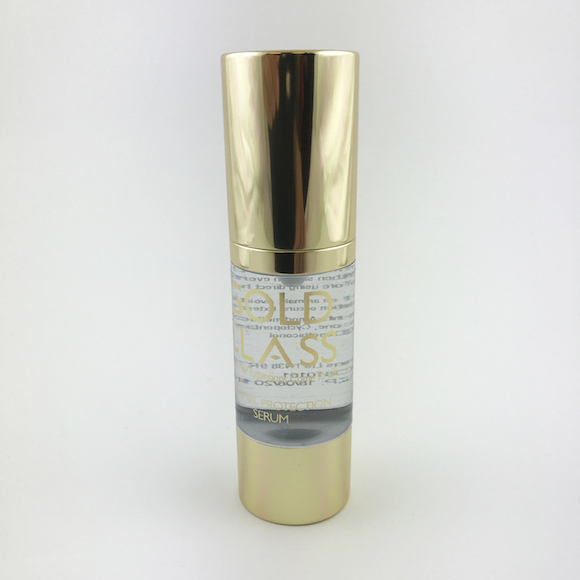 We have added a Thermal Protection Serum to our aftercare range and packaged in our signature 'gold' colour.
The beautiful leave-in Thermal Protection Serum is the first of its kind in our range to shield the hair from the damaging effects of heat styling.  Thoroughly drying hair extensions after washing is essential and so a small amount of serum will care for the hair as well as leaving it looking healthy, smooth and shiny. Enriched rich in vitamin E and essential fatty acids to help moisturise, feed and protect from free radicals, this serum is the new 'must-have' product for all hair lovers.
 "We advise all of our extension clients to use thermal protection products especially those who want uber straight tresses so we are delighted to offer our own product that does exactly that and prolongs the health of their Gold Class Hair Extensions. " Inanch Emir, Founder of Gold Class hair extensions.
Priced at £15.00 for a 30ml bottle, our Thermal Protection Serum is available to buy through our elite salons or online through our flagship salon, Inanch and the new Gold Class shop on Amazon.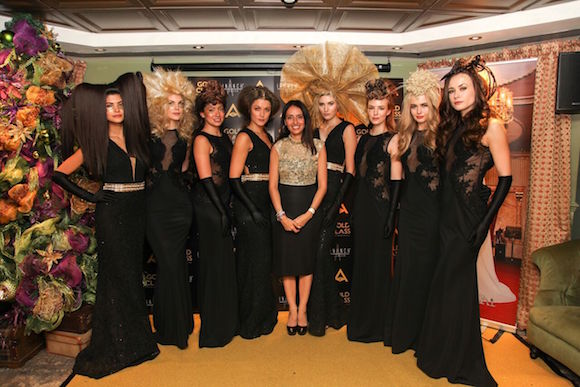 Last month's All That Hair show was the launch of our new luxury Gold Class Clip-In range and our founder, Inanch Emir, stunned us with her avant garde creations. Most of the looks worked with these clip-ins, so let's take a closer look at just how she created these incredible creations…
Left to right: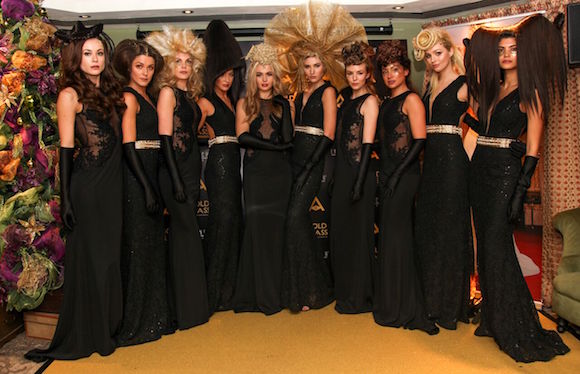 Imogen: Working with a spider frame, Inanch plaited hair to cover the shape with basket weave. Three Clip-Ins were added for uber-volume for hair to tumble down with the spider-legs dangling over the top.
'The Basket Cases' – Charlotte: her hair was plaited from her parting into a wide triangle to secure the hair, donuts were applied to the sides of her head with Clip Ins covering this, before crimping her own hair and securing into a low ponytail at the nape of the neck.
Jess: Starting with the flat sheets of hair, Inanch ripped sections to form individual tulip shapes with gold glitter centres. A clip in added length and volume for blending when backcombed to the tulips.
'The Pirate Hats' Anastasia: the spectacular sculptures wrapped in hair and with Clip Ins draped to flow and move with the model's movement.
'Twelve Twists' – Laura: Twirling long hair extensions into twelve twists onto a head piece sitting down the centre parting down the hair to create a Mohawk. Two Clip Ins added length and volume to the sides.
'The Fan' & 'The Tulip' Juste: Creating sheets of hair by slowly building this up before creating the pleated fan and sprayed with gold and wrapped around her head.
Ianthe: Sleek flower was sculpted to the front of the head with clips in added down the back into a double ponytail with plenty of texture.
Imogen: Working with a spider frame, Inanch plaited hair to cover the shape with basket weave. Three Clip-Ins were added for uber-volume for hair to tumble down with the spider-legs dangling over the top.
'Flower Power' – Daisy: A Clip In was added to a wire to sculpt into 12 large and 12 small flowers placed and sewn onto a chunky plait.
'The Pirate Hats' Nena: the spectacular sculptures wrapped in hair and with Clip Ins draped to flow and move with the model's movement.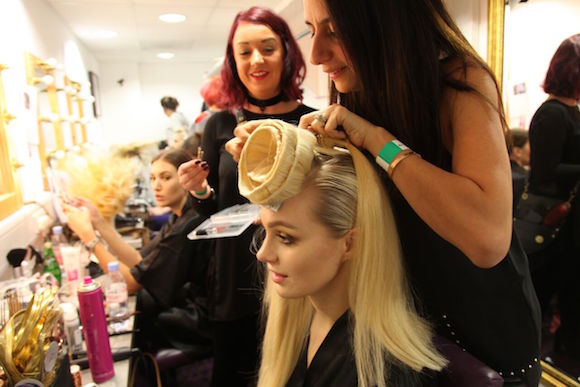 All of the preparation was made by Inanch Emir herself and was assisted on the night by her salon team members Lee McCrudden, Ivan Rachev and Alessandro Spitaleri alongside fellow Gold Class extenionists Anne Veck, Nicola Smyth and Elisa Didymus.
…and with a sprinkling of gold glitter, hair graffiti spray and gold make up; the models shone.
"This was my first real venture into the Avant Garde world and creating something experimental with our hair and I loved it. I spent a lot of time looking at various textiles and textures for inspiration before playing with the hair." Inanch Emir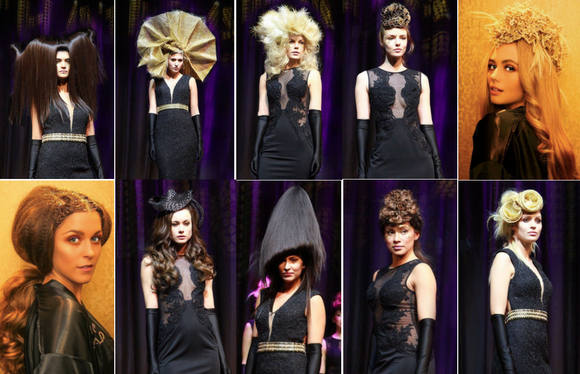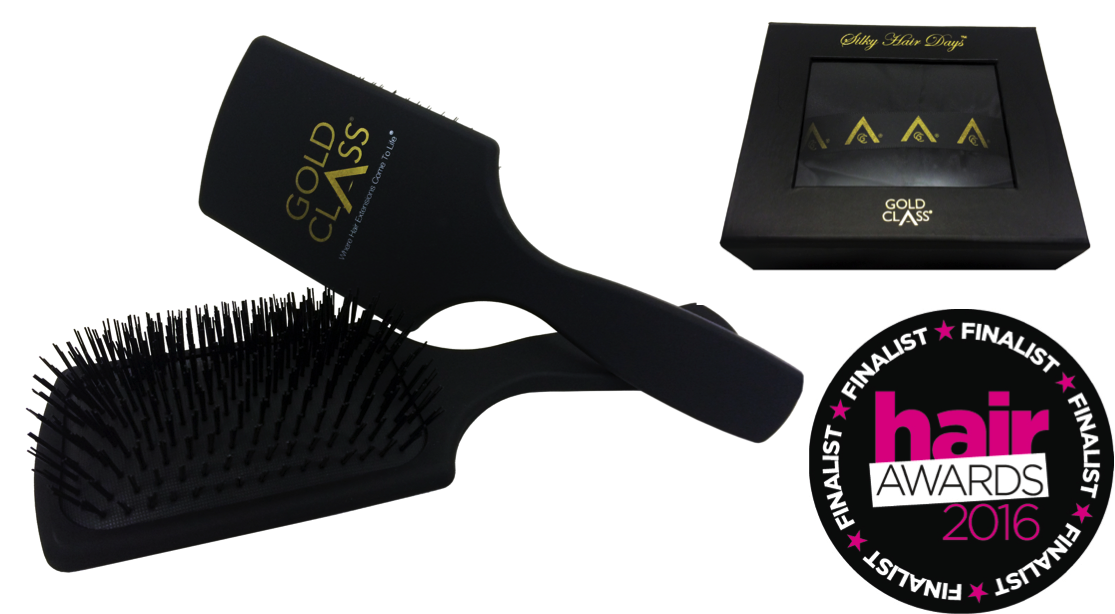 Two of our brand new products have made it as finalists at the recent Hair Awards. This is the first time we have entered these awards for with our aftercare range and are proud that our Paddle Brush was selected in the large brush category and our Silky Hair Days™ for the Star Product.
The Hair Awards are run by the consumer magazine Hair and are the only consumer and industry tested hair products awards.
The winners were announced this week and although we have not won this time, we are really proud of these two essential haircare items – we know you love them too; to take care of your hair extensions.
You can buy both of these products online now at www.inanch.com/shop and enter code 'SHOPHAPPY' before the end of the month to get FREE Delivery too!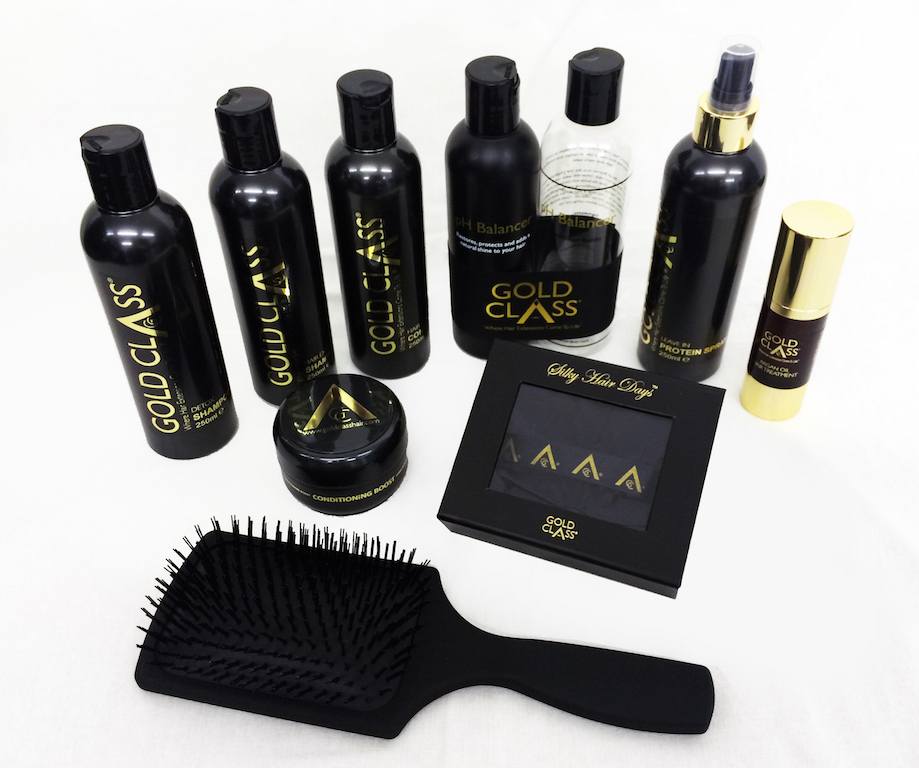 Great news! We've created our own range of exclusive Gold Class hair care to ensure your tresses remain beautiful and healthy, so you can thoroughly enjoy your Gold Class hair experience.
"A healthy hair & scalp are the key to natural & beautiful hair extensions; and so it was an essential step that we developed our own range of aftercare products to support our salons and clients." Inanch Emir founder of Gold Class hair extensions.
"Although our is 100% human hair, once made into hair extensions they no longer are receiving the essential oils from the scalp that keeps the hair healthy. Hair extensions aftercare is therefore a little different from your everyday hair care products. Our aftercare products have been specially formulated to ensure that the client's hair extensions as well as their own hair & scalp are receiving the correct nourishment in order to have beautiful, healthy hair each and every day."
Getting into a good hair care routine with the right products will prolong the life of the hair extensions as well as maintaining the integrity and optimum health of your own hair. The key the Gold Class hair care range is the "moisturising" aspect of each product rehydrating the extensions and preventing dry ends and hair breakage. This is in two stages; firstly hydrating the hair to allow it to function and maintain it's elasticity allowing styling of the hair. The second stage is to lock the moisture in to enhance the brilliance and lustre of the hair.
Having released the Silky Hair Days™, pH Balancer and the paddle brush at the end of 2015, we are now introducing five further products to complete the range and offer not only the everyday essentials for mositurising the hair but also offering products to protect the hair from the environment and heat damage.
Introducing:
Gold Class Hair Extension Shampoo 250ml
Gold Class Hair Extension Conditioner 250ml
Gold Class Leave in Protein Spray 250ml
Gold Class Conditioning Boost 100ml
Gold Class Argon Oil Hair Treatment 30ml
The Gold Class aftercare range is available through Gold Class select salons around the UK.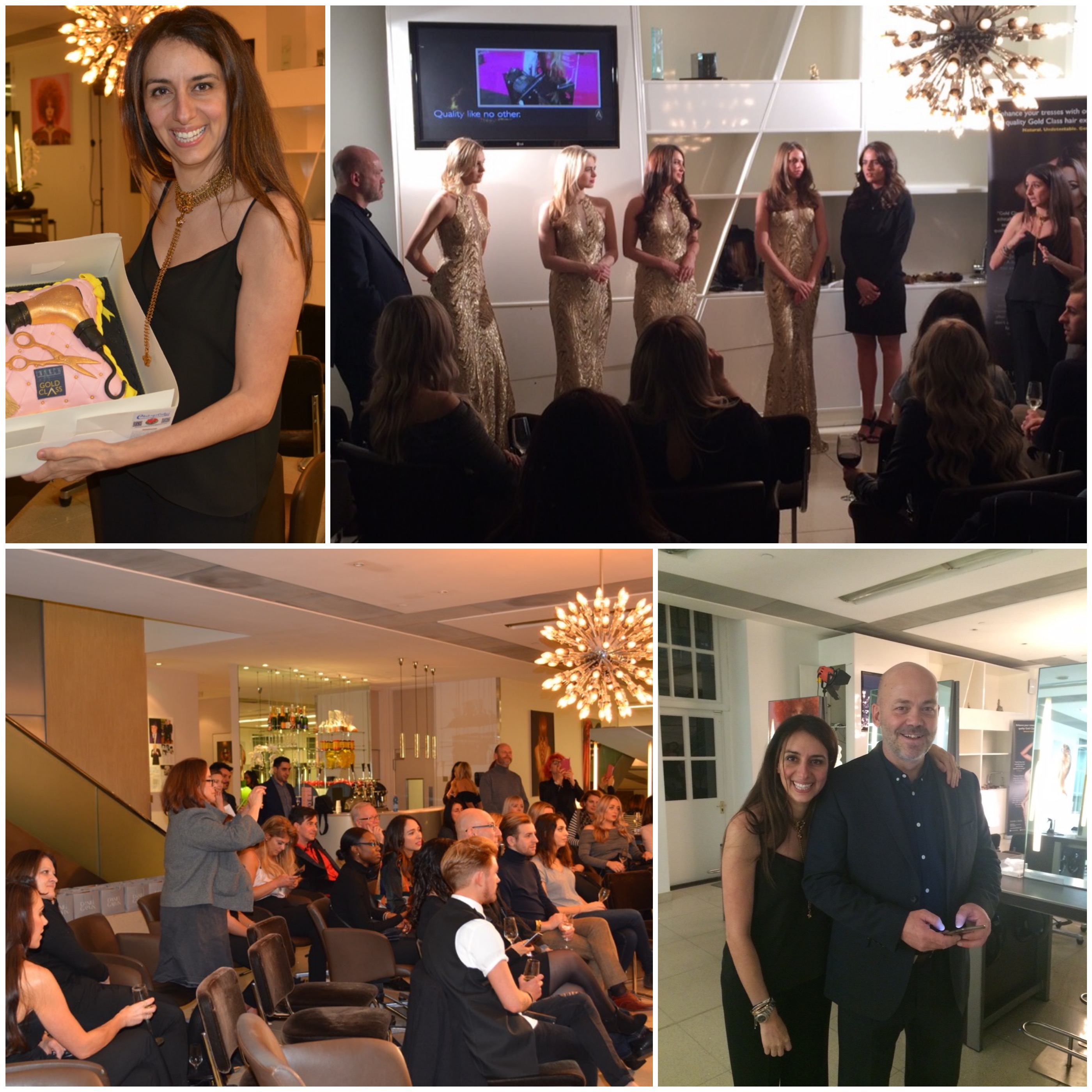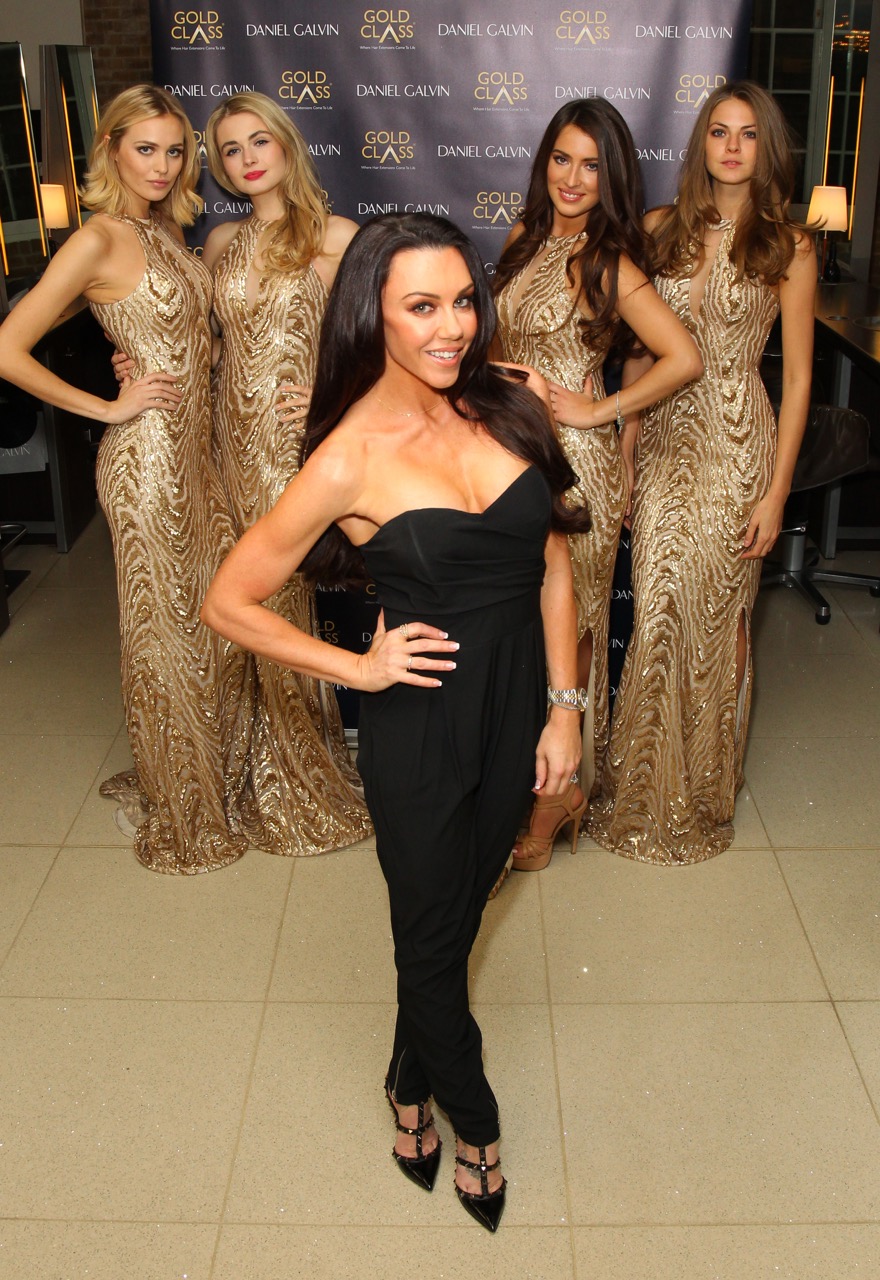 You already know Daniel Galvin is an Elite-10 salon but we wanted to have a joint launch party and share exactly why they have chosen to work with us at an exclusive press event. We didn't want you to miss out too so here are the evening's highlights….
We took over the lower ground floor of the flagship Daniel Galvin salon in Marylebone with over 50 guests joining as Stephen Nurse, Operations Director for Daniel Galvin, introduced Inanch Emir & Rebecca Lennon (Daniel Galvin's Principle Extensionist) to talk about Gold Class extensions and what makes our brand a class above the rest. The audience included trade & consumer press, bloggers, personalities and members of our other Elite-10 salons; listening on as Inanch talked about her passion for hair extensions and why she started Gold Class. Becky (Rebecca Lennon) talked about her client type and how she can use extensions with her team to create natural looking hair – at the heart of what Daniel Galvin are all about. Alongside their questions, Inanch and Becky had prepared four models to discuss their looks and benefits of extensions to each: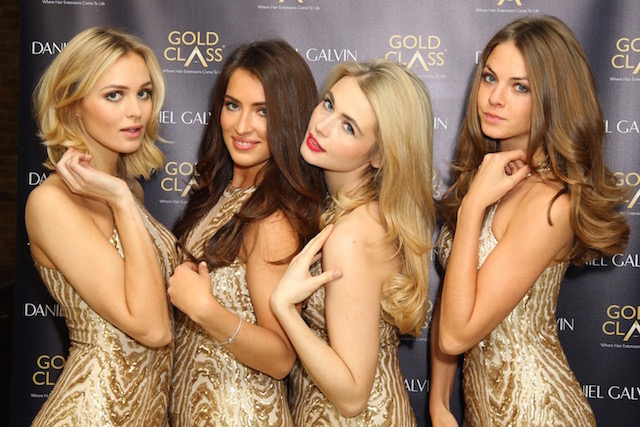 Ianthe – with only around 25 strands of Gold Class to help keep the volume of her on trend lob which she had for a couple of months.
Laura – full head of warm blondes new in that afternoon and so natural everyone thinks it's her own hair which is perfect for her modelling work.
Anastasia – likes her length at 50cm and full head of extensions curled.
Beth – full head for 'new to extensions' Beth who can't stop swooshing her hair.
Right on cue Michelle Heaton pulled out her Gold Class brush in her handbag to prove the point about caring for your hair extensions. The models joined in to share their top tips of caring for extensions too #SimplyGoldClass. Journalists were then invited to see the hair and equipment up close and to mingle with the team to ask their most burning questions whilst enjoying nibbles and some fizz. We also had our latest products there – more hair care essentials and some new hues – more to follow on these soon.
You did miss a rare opportunity as Inanch herself modelled our Silky Hair Days cap beautifully and the team at Stages Hair Design from Bristol brought along a beautiful Gold Class cake for everyone to share. #nomnom
Watch the exclusive Gold Class treatment VT we shared at the beginning of the evening here
Credit: Andy Barnes Photography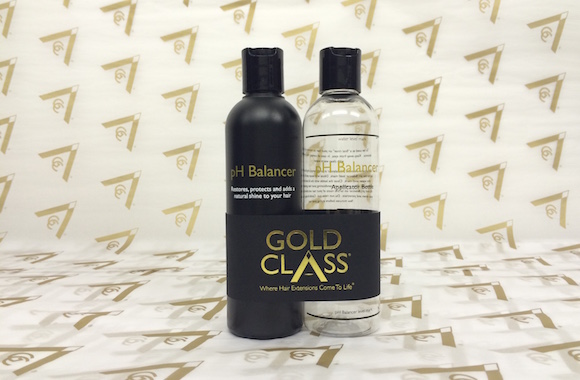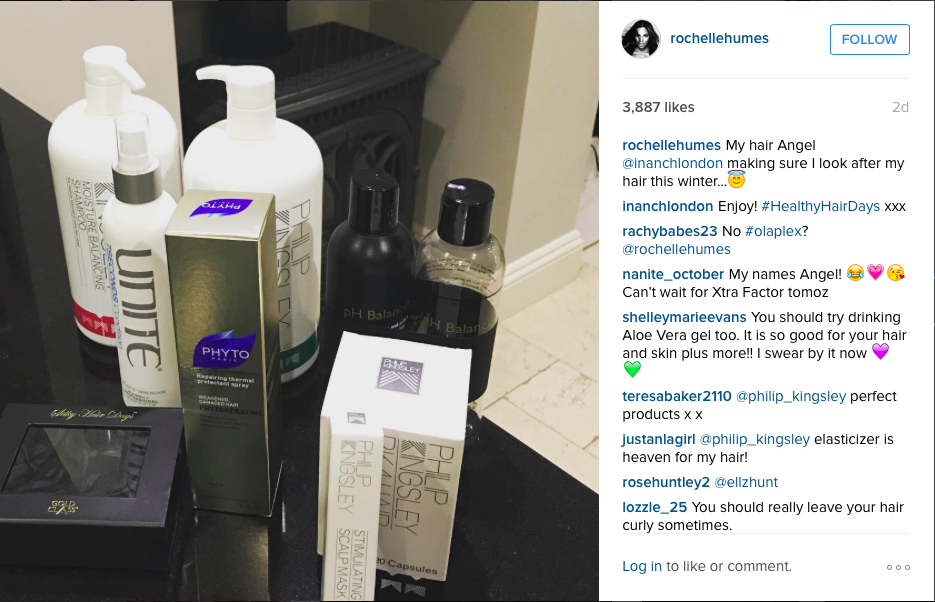 We are really excited to be releasing our very first hair care product in time to add to your winter hair care regime. The pH Balancer is the hero product for all hair extension wearers to offer protection against the environment. Essential for holidays, swimming and as added protection to fight against the everyday stresses on the hair; the pH Balancer acts as a deep conditioning treatment.
A simple rinse (the final rinse) with this leave in conditioning treatment will restore your scalp and hair to it's true pH balance and lock in moisture to create healthy looking hair with a natural shine.
Rochelle Humes instagrammed her pH Balancer as part of her winter hair care regime alongside the Gold Class Silky Hair Days and other prescribed products to give her locks the Xtra Factor!
Bottle size 250ml and comes with diluter bottle. Available to buy from your Gold Class select salon.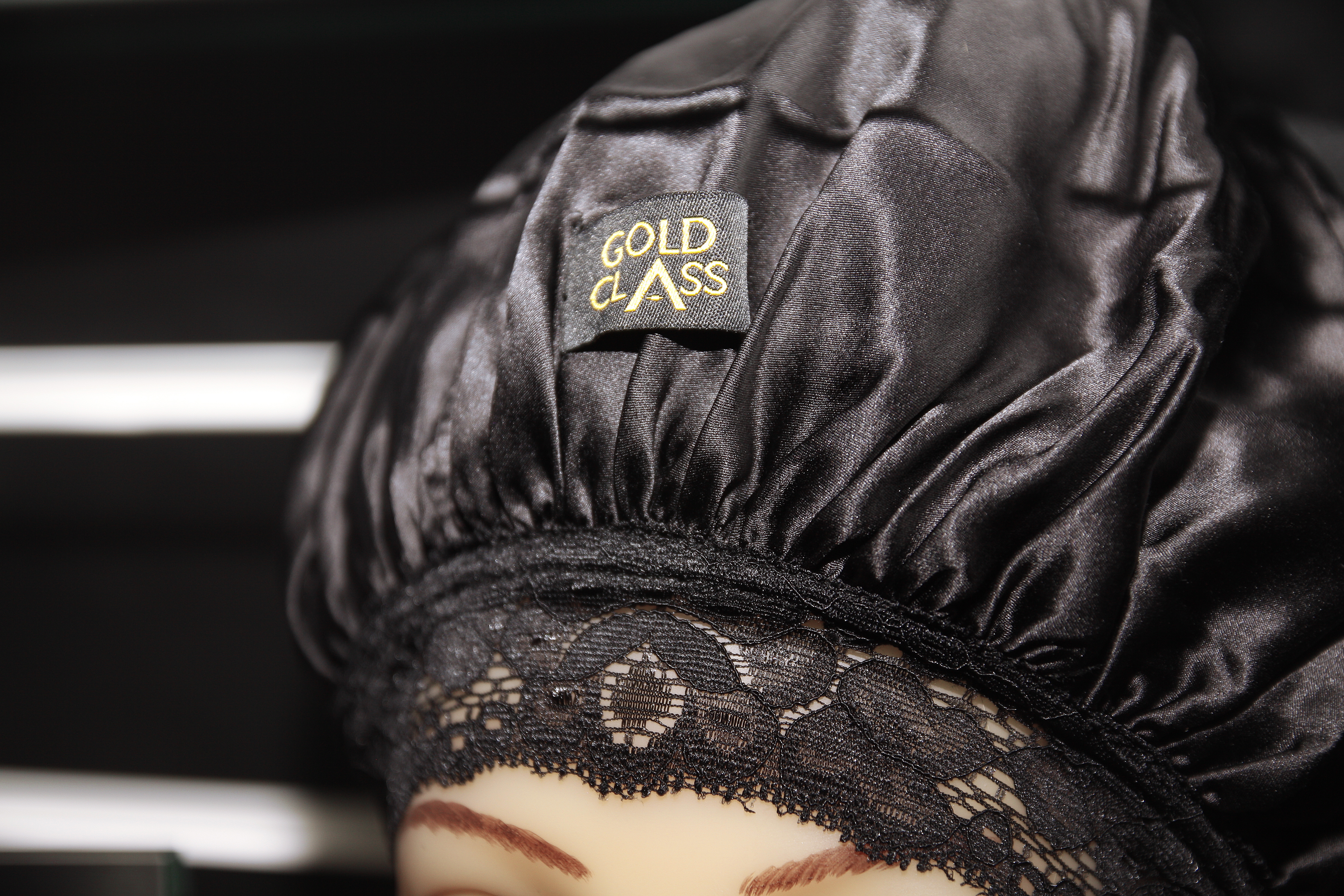 You know how keen we are about our Healthy Hair Days philosophy, well our latest product will help. Introducing our Silky Hair Days hair cap. Made from 100% mulberry silk (nothing but the best of course!) it helps keep your hair and extensions in place overnight to prevent matting. With winter drawing in, it has the added benefit of combatting frizz too. So whilst you get your beauty sleep, your hair is getting the best care too.
The secret is all in the silk. It has some amazing benefits for your hair just in the same way silk bedding comes highly recommended. It's hypoallergenic and the silk allows your hair and scalp to breathe. Being so soft & smooth, your hair glides over it and therefore prevents tugging, hair breakage and matting. This is music to the ears of all extension wearers. But silk also contains proteins that stop your hair drying out and leave it with a healthy shine. The perfect way to start the day.
It's available in an exclusive presentation gift box so it makes the ideal gift for your hair goddess this Christmas. Grab yours from any of our Select Salons or online here.
Wake up with immaculate hair everyday with our #SilkyHairDays #SimplyGoldClass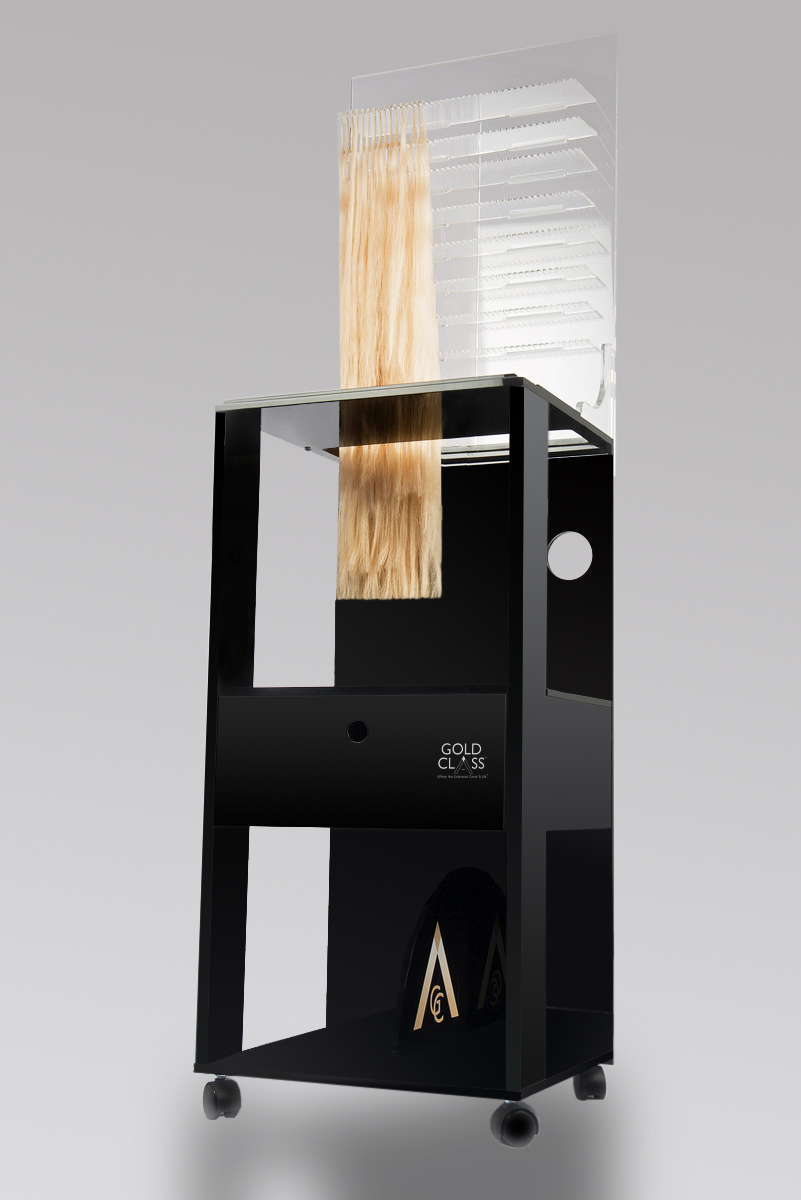 Our hair extensions trolley in the salon has been the envy of many extensionists from around the world and we are often contacted about it to ask where we got it from. We have now produced our very own bespoke version designed by the lady herself, Inanch, with the professional extensionists in mind. A year in the making, this state-of-the-art trolley has everything required to make an extensionist's life easier, quicker and at the same time, showcasing those beautiful hair strands ready to go on your clients' hair.
We have created two versions – the full trolley and also a handy counter-top version for mobile work or tighter spaces. We are also opening this up to non-Gold Class salons to be able to purchase, although our own #Elite10 salons will get these at a preferential rate and with full Gold Class branding to help promote the service at their salon.
The main trolley is made from black perspex to give a professional finish that is easily wipeable and comes with a draw to keep your hair extension tools safe & tidy as well as offering storage for your spare hair. The non-slip matt on top holds either your application machine or tools as you work. Rising up the back of the trolley is the individual hair strand holder with 8 rows and to a maximum length of 60cm. The etched vertical divider-line in the centre allows you to hold 2 heads of hair extensions so you can be ready for your next client, or can help you with colour blending by arranging your extensions to customise the look you are creating. All on silent wheels, allows the trolley to swiftly move around the salon to whichever position is needed.
The counter top is the hair stand alone and sits neatly on your work station or reception to help attract your extension service.
Here's a first glimpse but these will be on our stand at ProHairLive later this month so come and see them for yourselves. They will be available with an exclusive Show Offer for those ordered at Pro Hair Live and delivered free-of-charge to your salon.
If you can't make it to Pro Hair Live and want to place an order for one, please email to get your name on the waiting list and we will be in touch soon.