Category Archives:
Events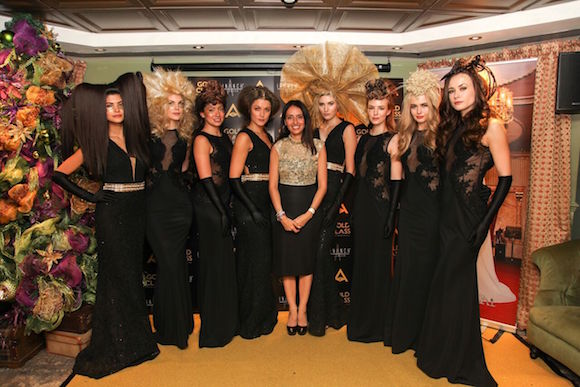 Last month's All That Hair show was the launch of our new luxury Gold Class Clip-In range and our founder, Inanch Emir, stunned us with her avant garde creations. Most of the looks worked with these clip-ins, so let's take a closer look at just how she created these incredible creations…
Left to right: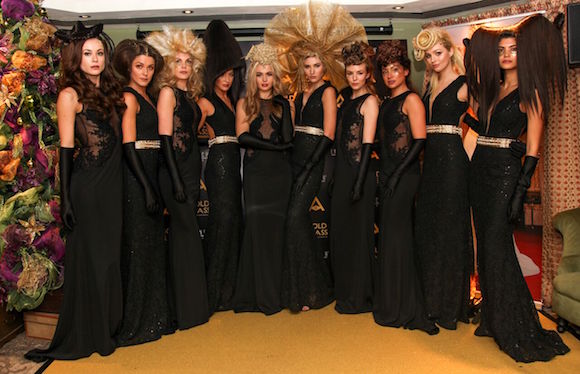 Imogen: Working with a spider frame, Inanch plaited hair to cover the shape with basket weave. Three Clip-Ins were added for uber-volume for hair to tumble down with the spider-legs dangling over the top.
'The Basket Cases' – Charlotte: her hair was plaited from her parting into a wide triangle to secure the hair, donuts were applied to the sides of her head with Clip Ins covering this, before crimping her own hair and securing into a low ponytail at the nape of the neck.
Jess: Starting with the flat sheets of hair, Inanch ripped sections to form individual tulip shapes with gold glitter centres. A clip in added length and volume for blending when backcombed to the tulips.
'The Pirate Hats' Anastasia: the spectacular sculptures wrapped in hair and with Clip Ins draped to flow and move with the model's movement.
'Twelve Twists' – Laura: Twirling long hair extensions into twelve twists onto a head piece sitting down the centre parting down the hair to create a Mohawk. Two Clip Ins added length and volume to the sides.
'The Fan' & 'The Tulip' Juste: Creating sheets of hair by slowly building this up before creating the pleated fan and sprayed with gold and wrapped around her head.
Ianthe: Sleek flower was sculpted to the front of the head with clips in added down the back into a double ponytail with plenty of texture.
Imogen: Working with a spider frame, Inanch plaited hair to cover the shape with basket weave. Three Clip-Ins were added for uber-volume for hair to tumble down with the spider-legs dangling over the top.
'Flower Power' – Daisy: A Clip In was added to a wire to sculpt into 12 large and 12 small flowers placed and sewn onto a chunky plait.
'The Pirate Hats' Nena: the spectacular sculptures wrapped in hair and with Clip Ins draped to flow and move with the model's movement.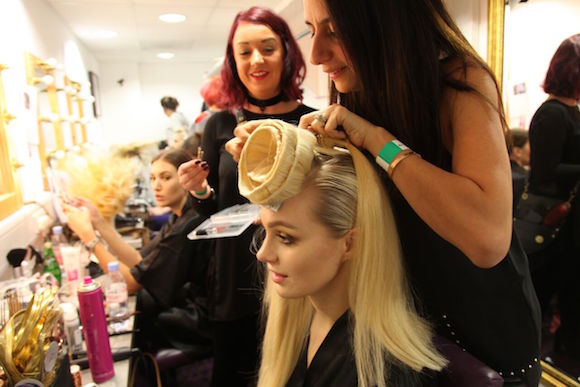 All of the preparation was made by Inanch Emir herself and was assisted on the night by her salon team members Lee McCrudden, Ivan Rachev and Alessandro Spitaleri alongside fellow Gold Class extenionists Anne Veck, Nicola Smyth and Elisa Didymus.
…and with a sprinkling of gold glitter, hair graffiti spray and gold make up; the models shone.
"This was my first real venture into the Avant Garde world and creating something experimental with our hair and I loved it. I spent a lot of time looking at various textiles and textures for inspiration before playing with the hair." Inanch Emir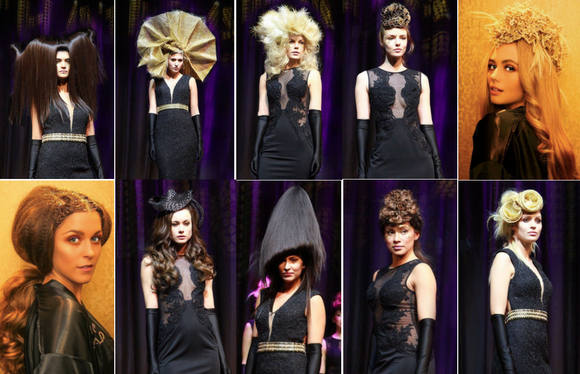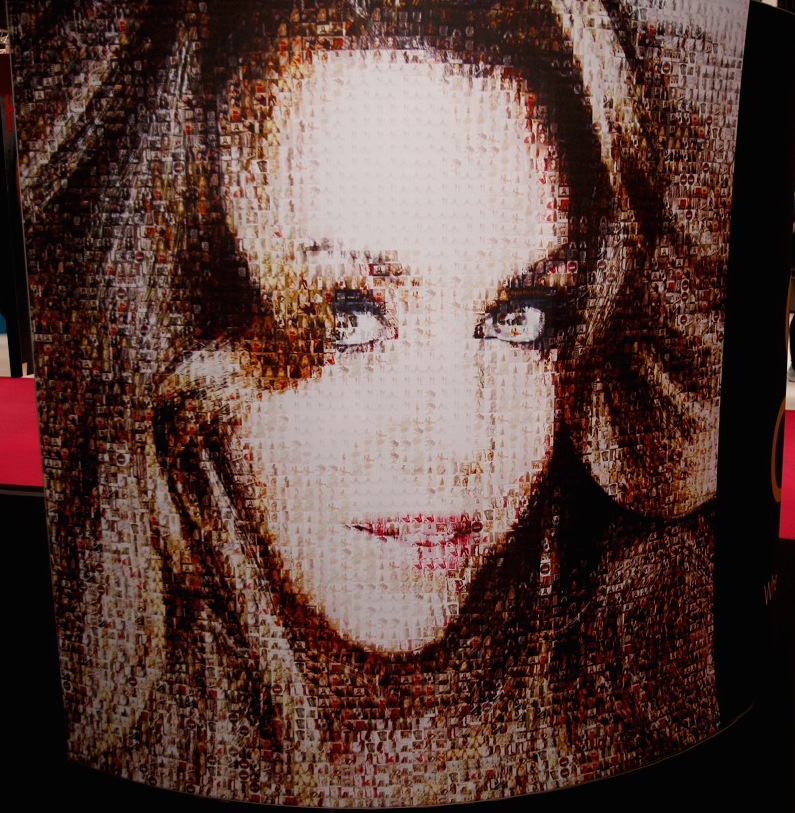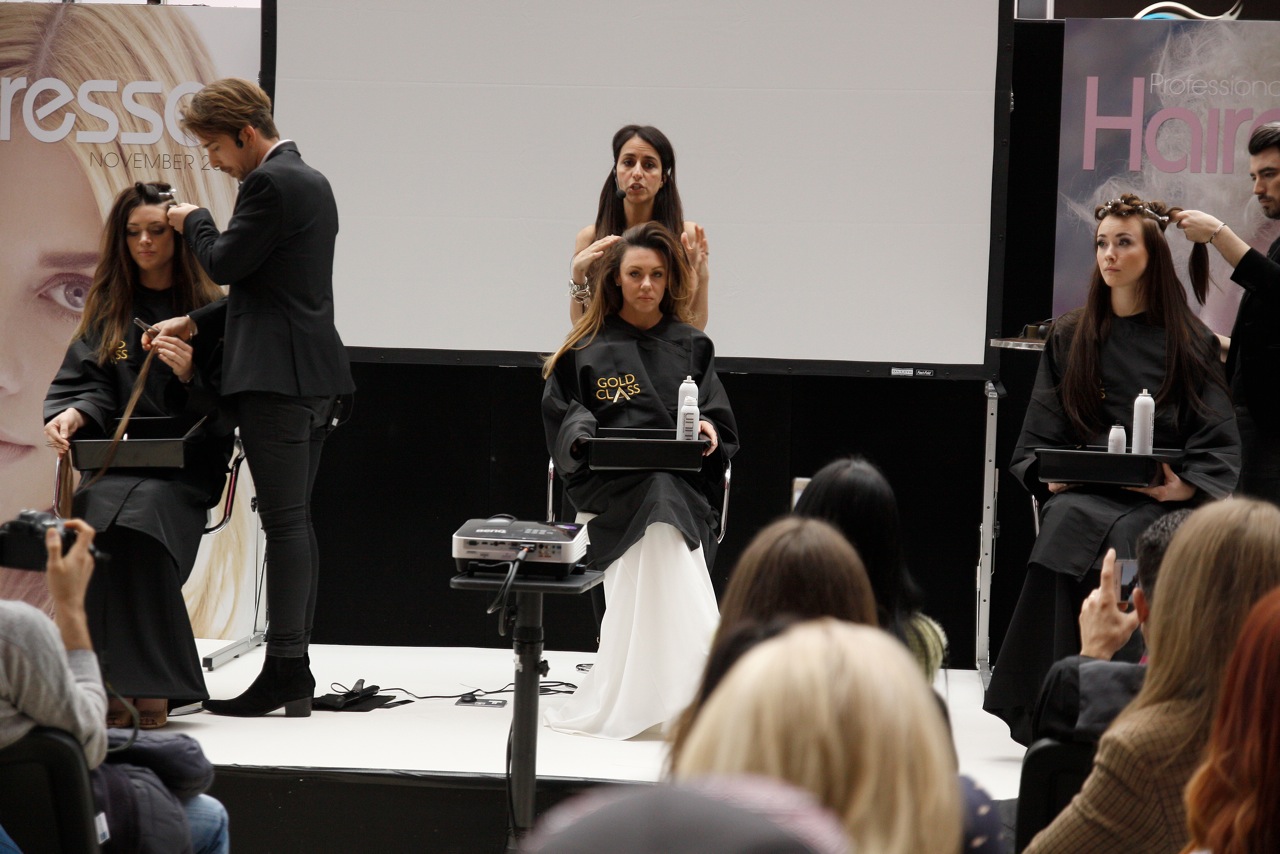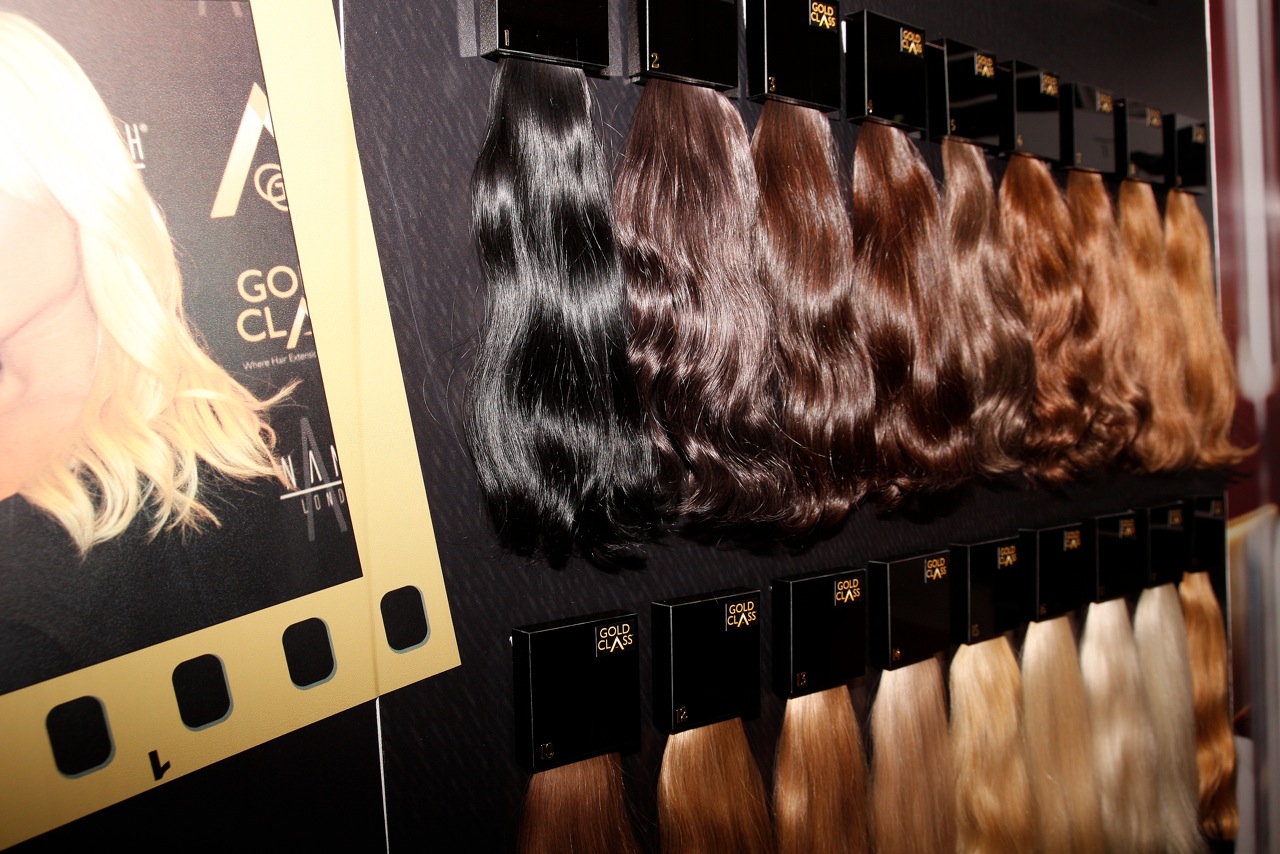 Well our very first exhibition is over and we loved it! Pro Hair Live 2015 London at Olympia was a great way to launch Gold Class to fellow passionate extensionists. Sat alongside the Professional Hairdressers own stand and the Red Carpet & Bridal Stage, our stand looked amazing with a pod using our media coverage montage to make Michelle Heaton's face from one of our collection images. Michelle spotted this on twitter and replied "Wow! That's a rather large picture of my face hahaha xxx"
We were staying in the Hilton Hotel Olympia with quite a few other exhibitors and we had a good laugh with the Balmain bunch on the table next to us at dinner each evening.
It was the first time we had shown our application machine and we can say how impressed everyone was on the compact size and design. We even had a suggestion to give it a name it was so cute. So if you have a suggestion, please let us know. Our complete range of brushes and combs were on show, alongside our clip-ins and aftercare ranges with UNITE and Philip Kingsley. Although it was our Hair Wall with our 25 shades that stole the show.
Day 1 was quite a nervous affair as the Inanch Team were on stage demonstrating application and cutting & styling techniques. With not a spare seat in the seminar, crowds formed to hear the team share their passion for glamorous hair and tips for working with the different methods with Inanch showing pre-bonded, Lee working with micro rings and Roberto on taped hair. Our models were of course our own Gold Class Girls including close friend to Inanch, Michelle Heaton. Inanch had also on stage the gorgeous models Ianthe Rose, Imogen Leaver and Sara McLean.
With old Miss England friend and compare Andrew Minarick asking questions, the team were on stage for around an hour and available for photographs and questions afterwards. Michelle kindly had a quick interview with the Pro Hair Live team which should be featured online and in the magazine soon. We will keep you posted as soon as it's available to see! Our beautiful models roamed around the show and enjoyed a snap on the Fudge stand and were stopped everywhere to have a closer look at their hair and show-stopping PiaMichi gowns.
Day 2 meant we had a much needed lie in as the stand was ready for us to start working on our models again. MTV's Ex On The Beach star, model and DJ Mel Reeves joined us as Roberto applied a full head of extensions and styled her hair to perfection with a crowd of on-lookers. It was also a day to catch up with the great and good from the industry and share our story.
Our Elite-10 campaign had salons making the journey to Pro Hair Live just to see us. Completely humbled by this and the response of salons wanting to be one of the first exclusive destination salons for us. We have some tough choices to be making now as we look through the applications. We even had stylists claiming to be 'Gold Class Stalkers' as they have been following our work on social media and waiting for us to come to Pro Hair and see for themselves. A huge thanks to everyone who stopped by to wish us well and take an interest in our hair and products.
We have a couple of our new Trolleys available to buy at our show offer price for the next 10 days only. To get one of our state-of-the-art trolleys delivered to your salon for only £750+VAT, please get in touch by the end of Friday 8h May.
To check out more pictures from our two days – check out our Twitter & Instagram feeds.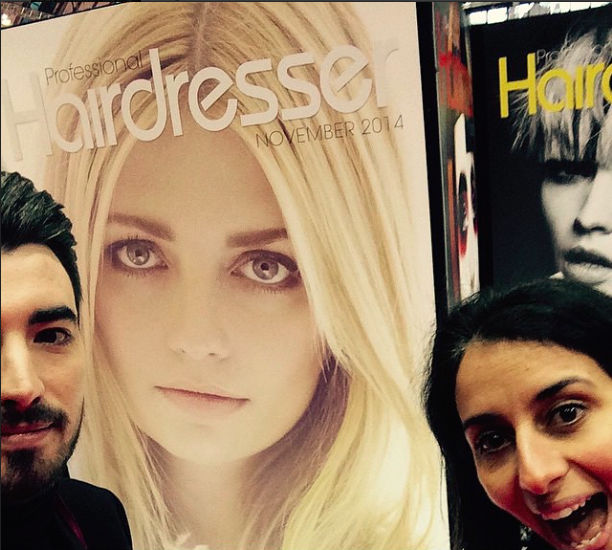 We headed to Pro Hair Live Manchester earlier this month on a scouting mission! We are proud to be at the next ProHairLive event which will be in London for the first time next month so we wanted to head up north to touch base with some of our fellow exhibitors and check out the amazing free seminars as Inanch herself will be on the Bridal & Creative Zone stage during the exhibition so it's your chance to get top tips for red carpet hair.
It was a great chance to catch up with some industry friends and stopped by the Glenn Lyons seminar at the Business Zone to hear him talking about the basic principles of trichology and the connection with hairdressing which was brilliant. We couldn't miss a stint on the Bridal Stage when the lovely Paul Falltrick was talking bridal, hair extensions & updo's to give us some great hair inspiration and presentation pointers!
It's always great to get tapped on the shoulder by your peers to have a natter and answer your questions about our new Gold Class brand. Lovely to see you all and make sure you come and see us on Stand D6 – tickets are on sale now and add a diary note to head to the Bridal Stage on Sunday at 12pm as we show you how to transform three models & maybe a celeb or two!
Highlight of the day had to be Roberto & Inanch spotting our Professional Hairdresser Mag Front Cover with Mischa Barton from November last year – it was huge and we couldn't miss a selfie opportunity!
The journey home wasn't bad too as we got an email to confirm we are FINALIST for this year's Hair Awards with our Clip In extensions!!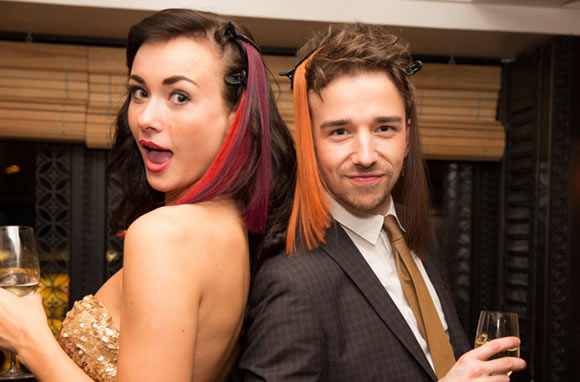 Partying Gold Class Style with some of our closest friends, supporters and stunning clients was a fabulous way to launch Gold Class. Gold Class Fever has officially hit London! Iberica London was the venue and very convenient for getting some of our loyal clients ready in the salon opposite before getting together for a champagne reception and a first look at our gorgeous hair stand with our colour range and packaging – so pleased with these. Good to see the boys joining in with the hair too.