Category Archives:
Awards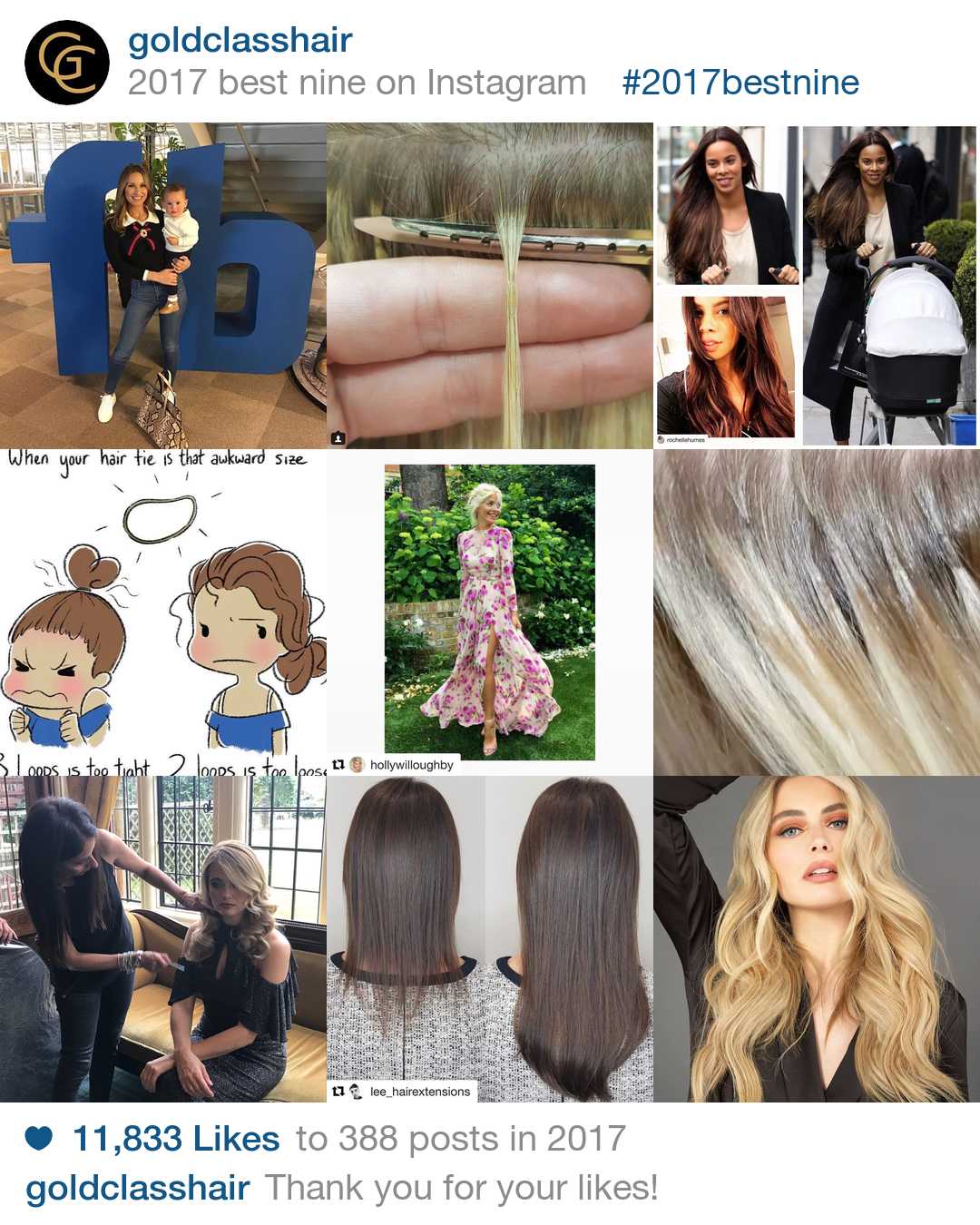 What a year and can someone please tell us where has it gone? We've got some exciting plans for 2018 already but before we say too much more, let's take a moment to reminisce on a wonderful year.
We've welcomed some fabulous salons to the Gold Class family. Award-winning Nicola Smyth Salon; the team from LAC+CO Canada came over to train in March and La Bella Vita in Belfast joined us earlier this month. If you've not already checked them out, please do and make sure you are following them on social media too.
Our Gold Class Clip-Ins won The Hair Awards 2017 Best Instant Human Hair Extensions, two of our extension experts were up for Best Extensionists with the Awards too, and Lee McCrudden from Inanch London clinched it with his collection using our hair.
We were also awarded an ADSL Certification for our Removal Solution for safe removal of hair extensions – something that is very important to us and sets us apart with our philosophy on this.
Always evolving, we have introduced so many new products to support our extension lovers care for their hair at home and also equipping stylists with the very best tools to make sure their work is nothing short of perfection. To name a few our Thermal Super Brush, Italian Blow Dry Brush , Thermal Protection Serum not to mention our Pre-bonded Toolkit. We then took these to exhibit at the world's leading hair show Salon International in October for the very first time as well and it was so lovely to meet so many amazing stylists keen to become a Gold Class Elite Salon.
Of course, we have loved all the amazing transformations with our hair and there are so many great ones we cannot choose.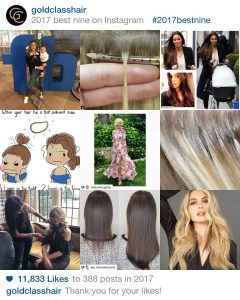 2018 is set to be an amazing year with our plans in place for some new product releases as well as new salons joining the Gold Class Elite Salons network in the UK and Europe! Stay tuned on social to be the first to know.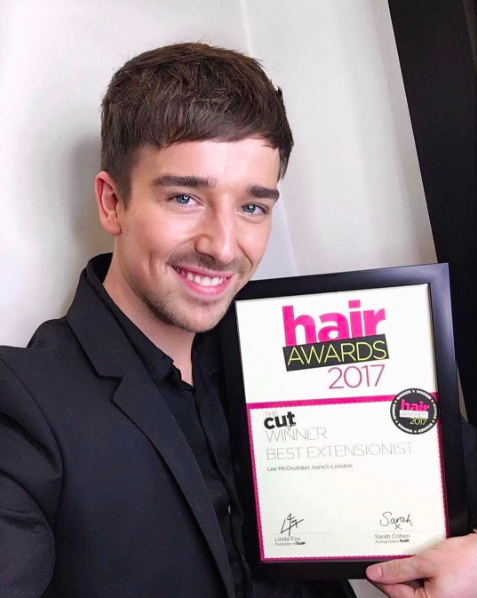 We are so pleased that our flagship salon, Inanch London's very own Lee McCrudden has been crowned the winner of the Hair Awards Best Extensionist 2017! Lee follows in the footsteps of his mentor, namesake of the salon and our founder, Inanch Emir, who has won the prestigious title for three years running and therefore earned the Hall of Fame status.
After submitting examples of his work, images of his expert application and client testimonials, Lee was shortlisted for the award. See our question and answer blog with Lee after he had received the news that he had been shortlisted back in March.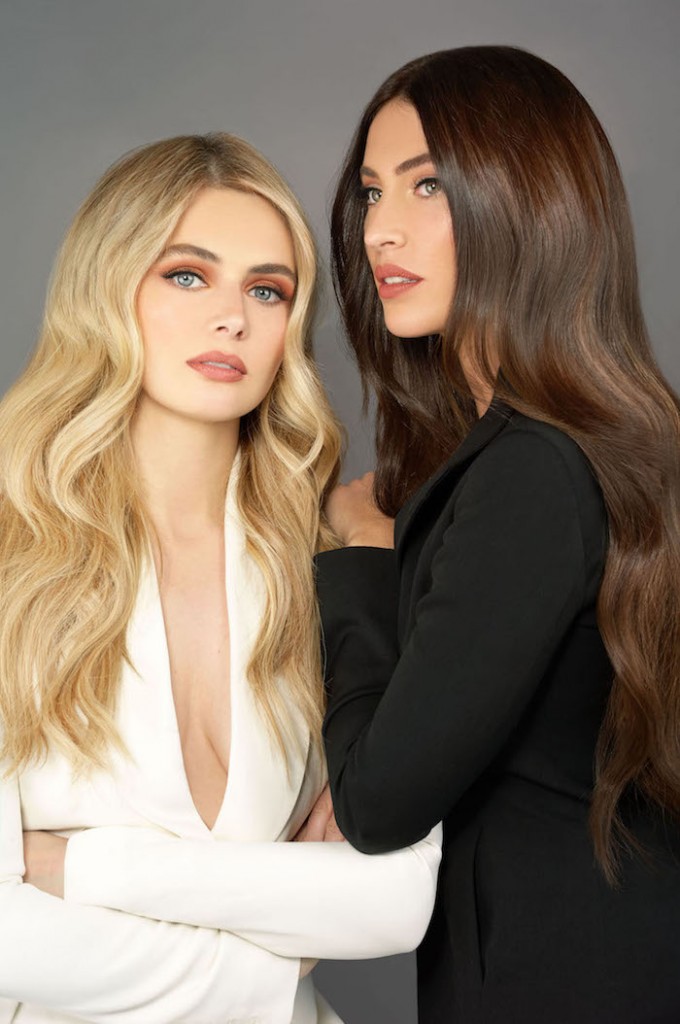 (Left to Right) Laura and Anastasia
Lee created these looks using a combination of Gold Class Pre-Bonded and Clip-In Hair Extensions. Laura's pre-bonded extensions consisted of a bespoke blend of Rich Truffle, London Gold and Champagne, with added London Gold clip-in hair extensions for added volume for the shoot. Lee opted for a natural look with Anastasia, using Hot Chocolate pre-bonded extensions, complimented by Rich Truffle clip-in hair extensions.
A mystery reader-tester was sent to the salon for Lee to work his magic before a panel of experts reviewed his work further and later announced him as the winner.
"It's a dream come true to win this award and something that I have been working hard to achieve for a couple of years.  I'm very passionate about hair extensions and how they can work well for my clients so it will be great to share this news with them." Lee McCrudden
Book an appointment with Lee here or ask your extensionist for a free colour match, fitting and styling at one of our elite salons.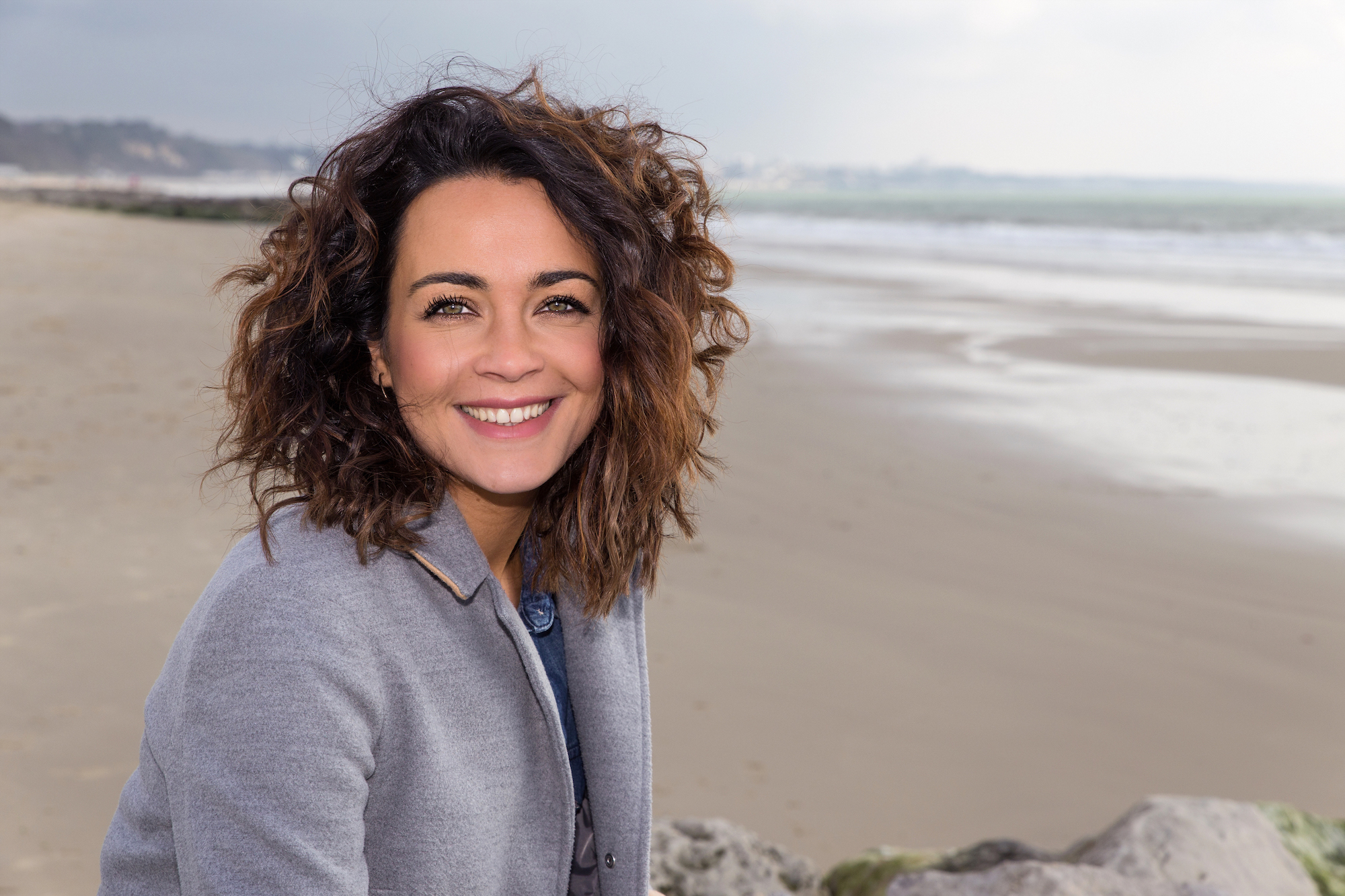 We are thrilled to announce that another Gold Class Extensionist, Georgie MacDonald from Gold Class Elite Salon, Simone Thomas Westbourne, has been shortlisted as a finalist for the Hair Awards Best Extensionist 2017. So, we've got Georgie in the hot seat today to get to know her a little better…
So, tell us a little about yourself.
I'm originally from the Midlands and I have been in the hair industry for four years now. For the last two of those, I've worked at Simone Thomas, helping clients suffering from hair thinning and hair loss. I went straight into this side of the business after meeting Simone and seeing how the salon helped people, and through that I started specialising in extensions.
What do you love most about doing hair extension work over other hairdressing services?
I can create huge transformations and give people back the confidence that they have lost. I meet some very interesting clients whilst working in hair loss and the relationships I form are different from those on a 'traditional' hairdressing floor. It's important that my clients trust me, as sometimes I am the only person with whom they share their problems and the only person who sees their natural appearance.
What made you apply for the Hair Awards?
It's actually the first competition I've applied for. I've built up my confidence and skills a lot over the last two years and am proud of the work I've done. Hair Magazine seemed the perfect platform for me to shout about it.
What do you think is different about your extension work than other extensionists?
Many of my hair extension clients have very fine or damaged hair, so I only work with extensions that are safe for them. A lot of people think of extensions as a thick, long mane of hair, whereas I am creating a more natural look for my clients so they can have 'normal' hair for the first time, or get back the hair they had years ago.
Tell us about your favourite transformation.  How did you achieve this and why is it so special for you?  
My favourite transformation was a lady whose hair changed dramatically after having her second child. She was also under a lot of stress and on medication. She was close to shaving off all her hair and getting a wig but after assessing her hair and advising her on a diet and care regime, I was able to give her back the kind of hair that she used to have. She was so happy and confident with the result – outcomes like this are the reason I love my job.
This was also one of the images that I used to enter Hair Awards Best Extensionist 2017.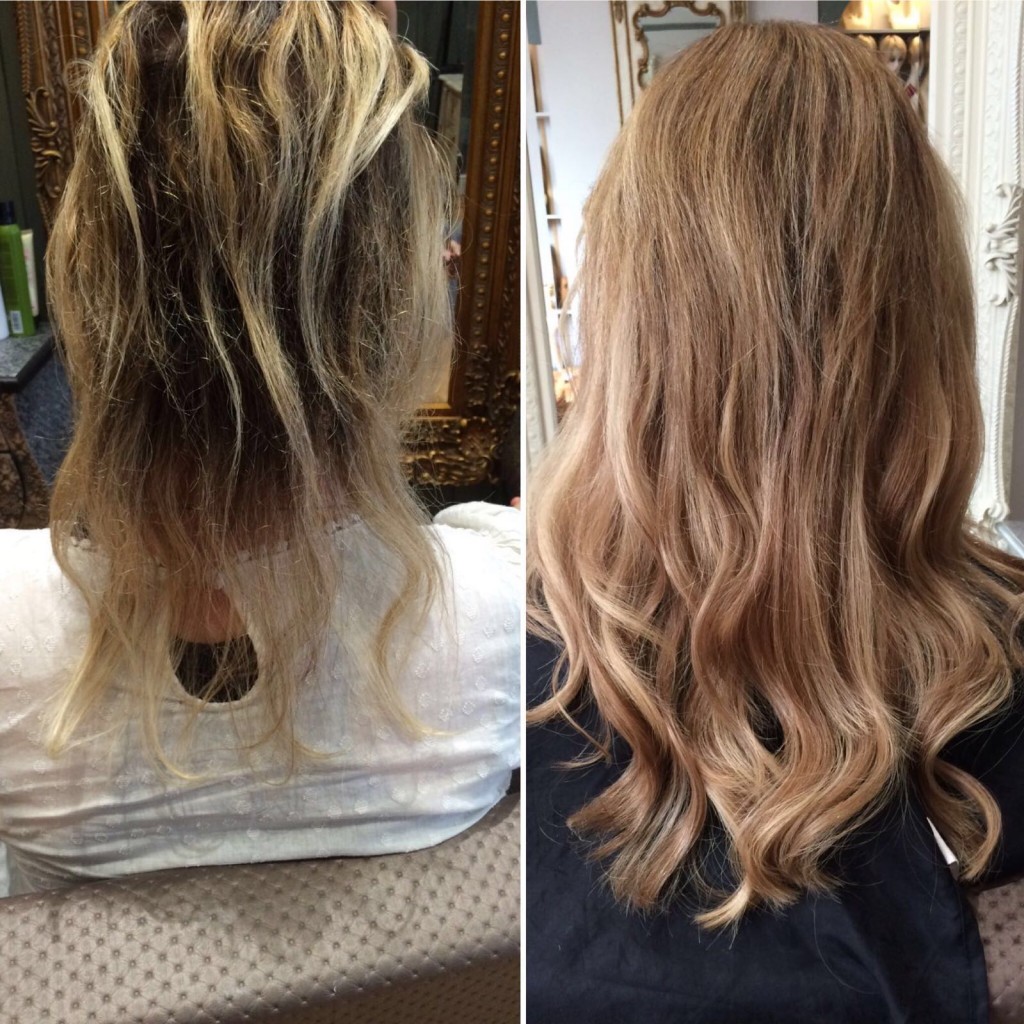 What is your top tip for someone looking into getting hair extensions?  
Do you research! Go to someone experienced, knowledgeable and reputable who cares about your hair. Cheap hair isn't nice – and nice hair isn't cheap! Always ask to see before and after photos and if you aren't sure, go elsewhere.
Give us your best aftercare tip.
Brush your hair extensions every day and always use the recommended professional products, including heat protection if you'll be styling with tongs or irons.
Tell us about your typical day in the salon.
My days are always very different, particularly as I deal with hair loss. My work varies from cuts and blow-dries one day to extensions, volumisers, wig consultations and hair loss consultations the next. I love the variety, it keeps me focused and motivated.
What do you like to do when you are away from the hair salon? 
I love to run at the beach nearby or just spend quality time with friends and family.7.
How will you celebrate if you win Best Extensionist?
I'll take the team to our favourite cheese and wine bar and toast our success with a glass of something special!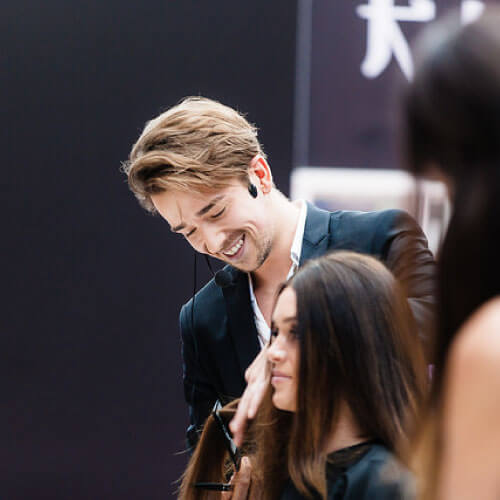 We are so pleased to announce that Gold Class' Flagship Salon, Inanch London's very own Lee McCrudden has been shortlisted as a finalist for the Hair Awards Best Extensionist 2017; following in the footsteps of the founder of Inanch London and Gold Class, Inanch Emir. So, we thought we would dig a little deeper with Lee and get the Gold Class goss!
So, tell us a little about yourself.
My name is Lee McCrudden I'm 26 originally from Coventry in the West Midlands.
And what inspired you to get into hair extensions?
I was watching MTV and they ran a show showing what celebrities spend their money on and hair extensions were featured. I was intrigued instantly. I didn't have a computer back then, so I used my friends and googled it and was obsessed. I then started doing my sisters hair, her Barbie dolls, friends at school and my mum took full advantage of it too. When I found my first human hair shop I was in my element. After leaving school I went straight to college and studied hairdressing. After I qualified I became a welder for 3 years, YES a welder! Simply because my salon couldn't keep me on anymore. Whilst welding, I did hair a night times and weekends to keep me on top of it.
What do you love most about doing hair extension work over other hairdressing services?
Hair extensions are my favourite thing to do. Purely because it's so satisfying. To see the transformation on a client and of course the smile on your client's face is so rewarding! I remember when I was 16 I had my first client come from London to Coventry and I did her hair extensions. When she looked in the Mirror she burst into happy tears. I will never forget that moment.
What made you apply for the Hair Awards?
I applied because I feel like I'm ready to showcase my work. The last couple of years I've gained a lot of experience and I feel much more confident now. I guess I believe in myself which I never did before.
What do you think is different about your extension work than other extensionists?
I do put 100% of myself into my client's transformations. I listen to what the client wants. Also, it's about having that connection with your clients that's hugely important to me. It's not just about the application of the extensions it's about applying them safely and also cutting and blending them properly.
Tell us about your favourite transformation. How did you achieve this and why is it so special for you?
My favourite transformation is a lady that came in with such short and broken hair from being over processed and she also had a weave that broke her hair. I recommended her to go dark all over with a semi-permanent to give her hair shine and a break from highlight tint and bleach. A year on her hair has grown drastically with the right after care and now she is actually going without extensions.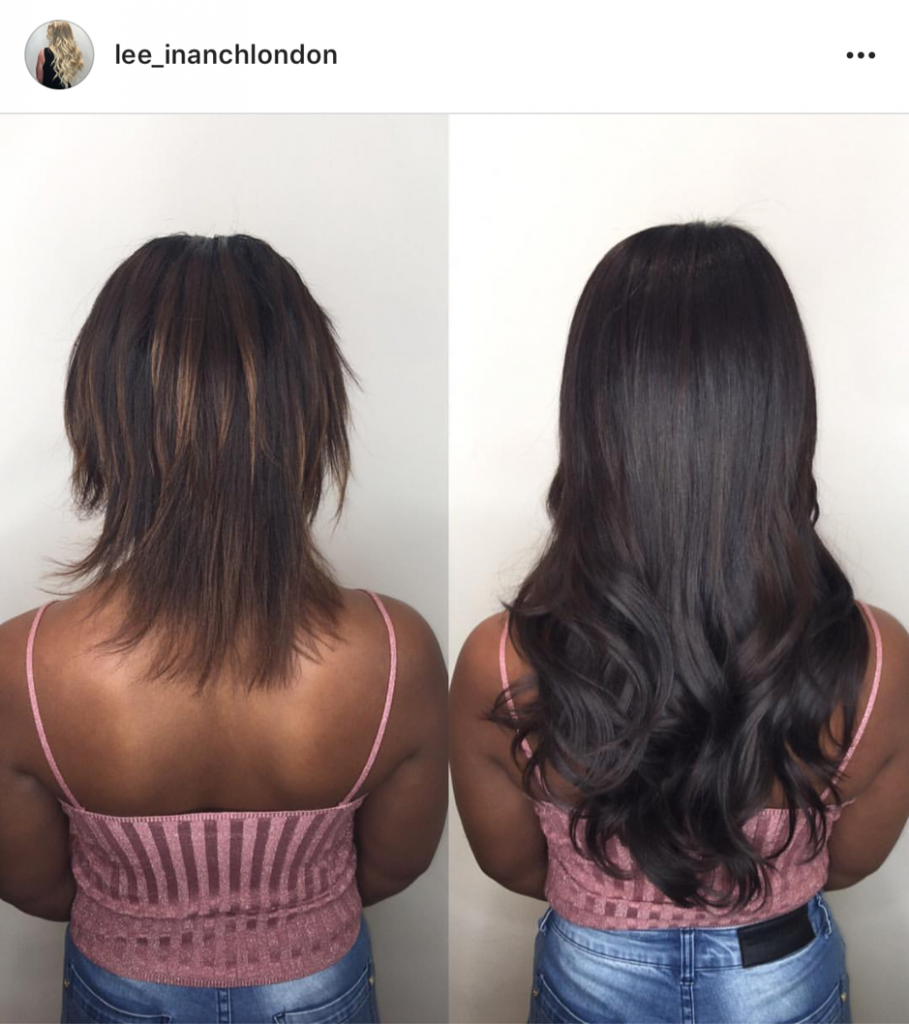 What is your preferred application method for extensions and why?
My preferred method of extensions is and always will be pre-bonded. It's not suitable for everyone's hair but it is for most people. Some client's hair can't take them so I will offer them alternative such as clip-ins or micro rings. Our pre-bonded hair is easy to apply and it is safe to remove causing zero damage. I find also you get a more natural result.
What is your top tip for someone looking into getting hair extensions?
Make sure your capable of taking care of your extensions. You need to brush and wash them correctly, and keep them tangle free. By the time you get yourself into that routine it's all plain sailing from there. You have to look after them otherwise they can damage your hair. I always take my clients through this upon consultation.
Tell us about your typical day in the salon.
My typical day in the salon is lovely! I am very lucky with my clients. I have a great connection with them. I try and be organised so that my day won't be stressful. Generally, I am smiling all day!
And what do you like to do when you are away from the hair salon?
I like to travel. See places. However, I spend most of my travels on the motorway going back home to Coventry! I am from such a big family so I love to go home, especially to see my mum as I'm still a complete mummy's boy!
Let's see the image that could possibly award you with Hair Awards Best Extensionist 2017.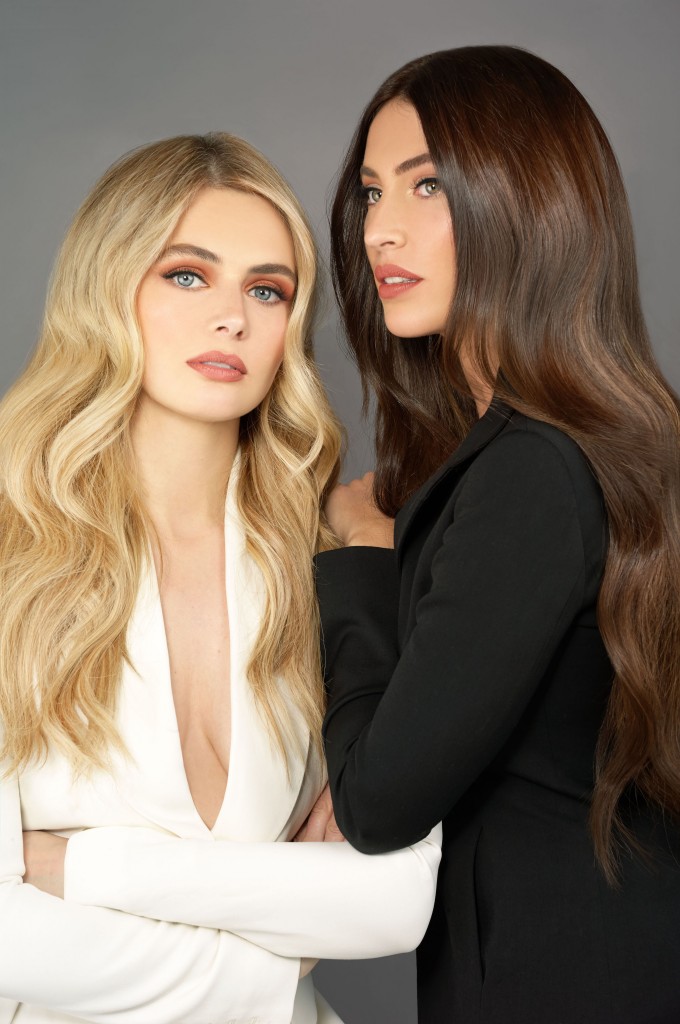 And finally, how will you celebrate if you win Hair Awards Best Extensionist 2017?
Obviously being in London we aren't short of a few bars! I am then going to Florida to visit family shortly after the announcement, so if I do win, I'm sure I can do a lot of celebrating whilst I'm there!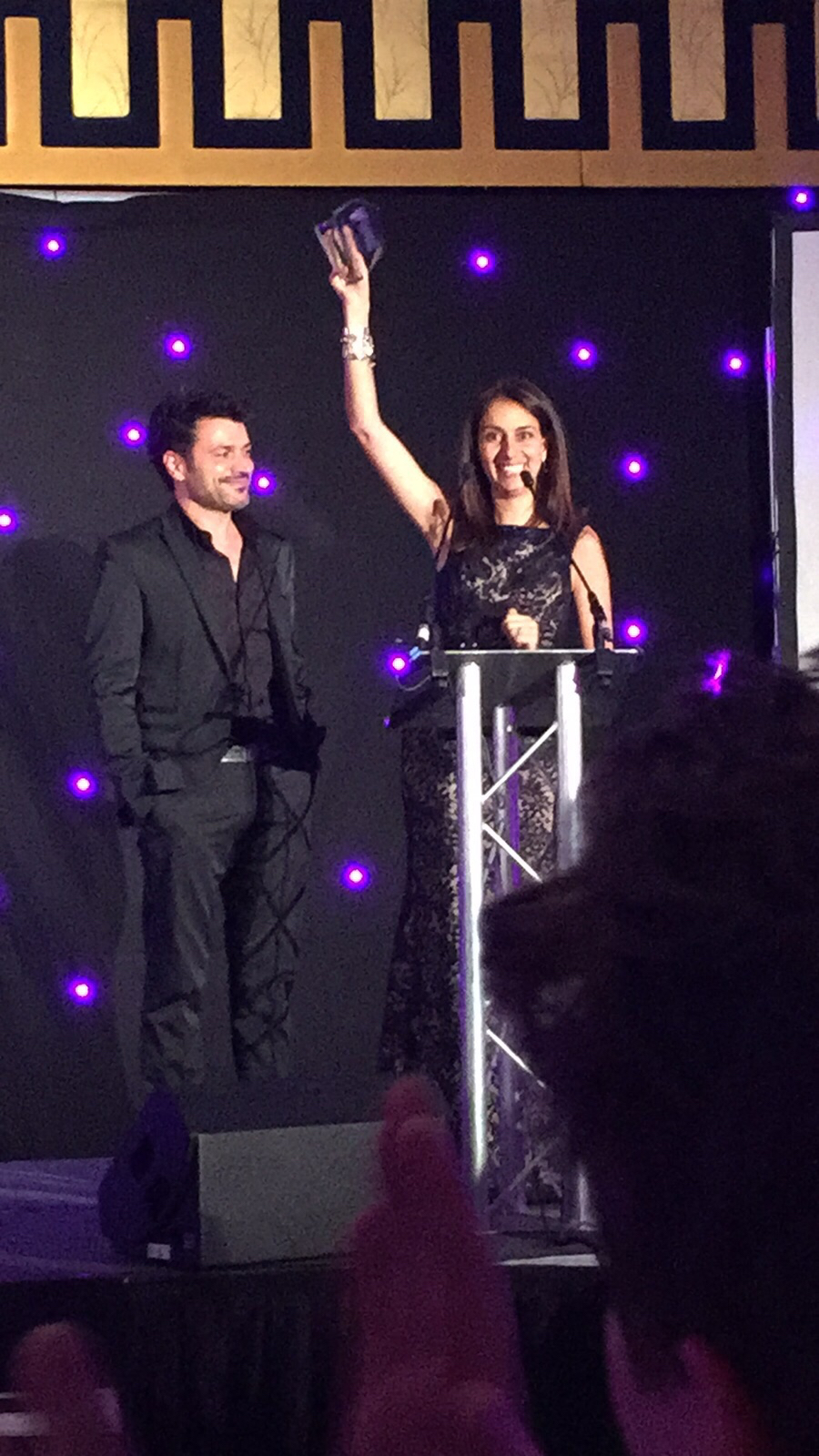 We are proud to announce ourselves as sponsors for the six regional Hair & Beauty Awards 2016. Designed to showcase the nation's appreciation for the service hair and beauty professionals provide – not to mention the looks and lives they transform – the awards will cover England, Wales, Ireland, Northern Ireland, Scotland and London. We'll be at each event too with Inanch herself taking to the stage to present the 'Hair Extensions Specialist of the Year' award to each regional winner.
As the winner of London's Hair Extension Specialist of the Year award at the back end of last year; Inanch knows just how special this is as the nominees are voted for the general public before going through to the final stages and being judged. With over 20 year experience in the industry and other multiple awards under her belt, Inanch is perfectly placed to be part of the judging panel and also handing over the trophies.
Boasting over 20 categories per region, speaking of the sponsorship Inanch said "We aim to find the crème de la crème in the hair industry and will look to add them to our elite group of select hair extension salons in the UK." So if you are a top UK salon and want to register your interest to be a Gold Class salon now, read about what it takes to be a select salon and send your application off to start the process.
The English Hair & Beauty Awards are first on 20th March 2016 in Manchester, closely followed by the remaining five award ceremonies at locations to be confirmed throughout the year. For further information on the Hair & Beauty Awards visit their website and link through to your region to find out about the nomination process and get involved.
Good luck and we hope to see you at the award ceremonies!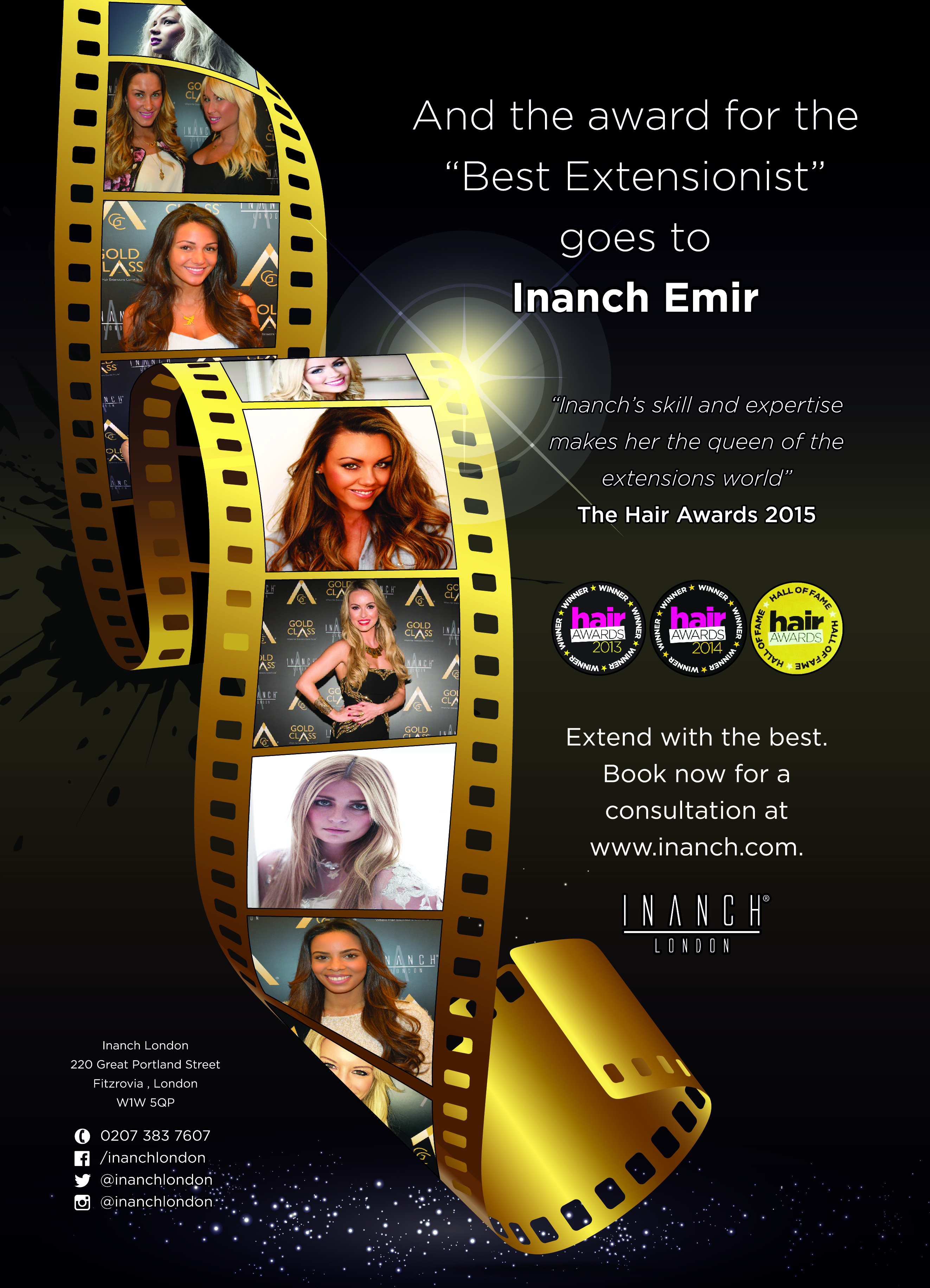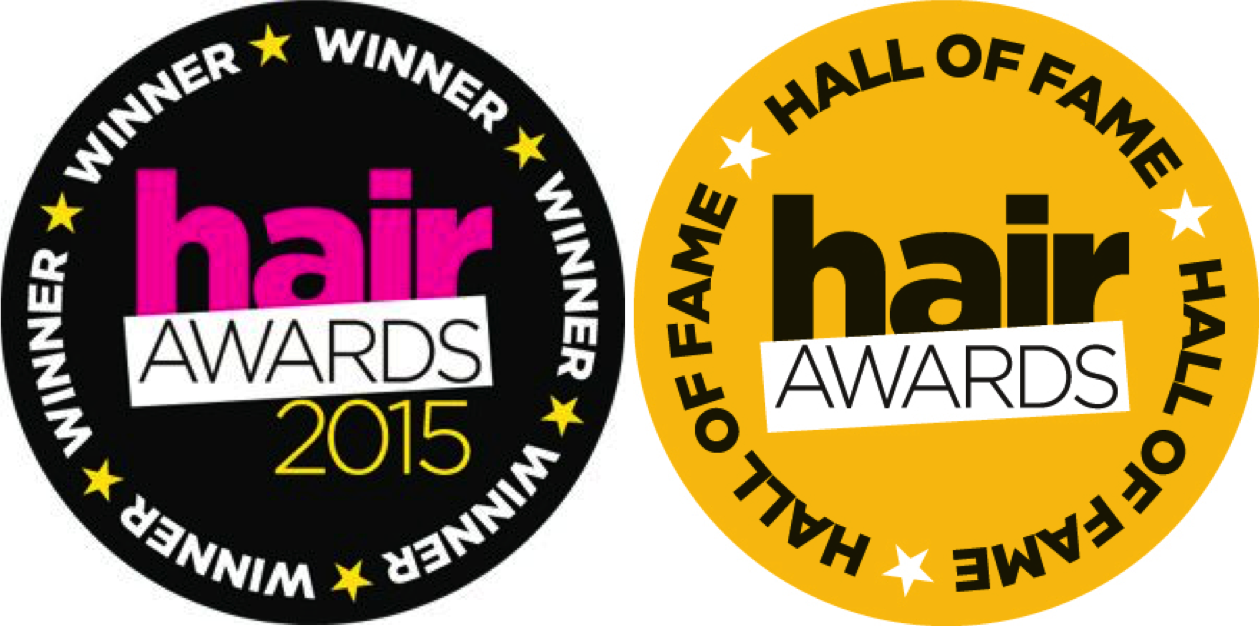 She's only gone and done it again! Three wins in a row for our Inanch claiming the fiercely contested Best Extensionist accolade from The Hair Awards. This also lands her in the coveted Hall of Fame too. Only a handful of hairdressers are in the Hair Awards "Hall of Fame" and Inanch is the first extensionist to achieve this in the history of The Hair Awards!
The Hair Awards are run by Hair Magazine, the UK's leading consumer hair publication, and is judged by both readers of the magazine and an elite panel of hairdressing industry experts. It's the Hair Oscars! If you've not already got yourself a copy of this month's Hair Magazine The Big Reveal then you can take a sneak peek here.
Having fought off some other leading extensionists in the UK, Inanch had been able to show that she has moved on from pure application to be breaking ground and moving extension application on with her Healthy Hair Days philosophy and creation of our fabulous private label hair extensions, Gold Class. "Inanch's skill and expertise make her the queen of the extensions world" – The Hair Awards 2015
"We are absolutely thrilled to earn this prestigious accolade" Inanch Emir "And we can't wait to support the rest of our team and lucky Elite-10 salons extensionists in their entry next year."
We're just waiting for the award itself to land and we will share some more snaps of Inanch's fabulous achievement as we celebrate some more! Inanch will also be exhibiting her 3 fabulous Hair Awards entries from 2013, 2014 & 2015 at her London salon from next month and invites our Gold Class certified salons to visit her salon to have a look at each entry for inspiration and ideas.