Monthly Archives:
April 2017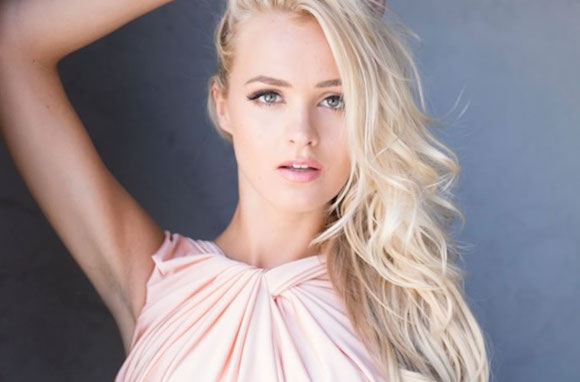 Hands up who's enjoyed their Easter Eggs. We all know that over-indulging in chocolate is commonly associated with weight gain; however, your hair also suffers. So, we're here to save those breakages and get your shine back with our 8 top tips for re-gaining healthy hair!
1) Wash your hair twice a week
Over-washing your hair can strip it of its natural oils, leaving it drier and more prone to breakage. Not only does it strip the hair of its natural oils, but also if you have coloured hair then it strips your colour as most toners eventually wash out. So, we would suggest washing your hair just twice a week to increase shine, prevent dryness and preserve luster. But don't give up if you feel your hair is too greasy when you start this routine, your hair needs training. Grab a can of dry shampoo to get you through!
Remember your extension hair needs the added nutrients from the Shampoo and Conditioner to 'feed' them and lock in moisture so don't skimp and use the right products too.
2) Reverse your hair washing routine
There's lots of talk about reversing your hair care routine to use your conditioner first, but try a pre-wash product like Philip Kingsley Elasticizer that's tailored made for this and will put the bounce back in your locks.
3) Eat your way to healthy hair
Spinach is commonly known for increasing muscle strength, yet many of us are unaware of the benefits it has on our hair. Spinach contains iron and sebum, which acts as a natural conditioner for hair, leaving it super soft! It also provides omega-3 acids, magnesium, potassium, calcium and iron, which all help keep hair lustrous and shiny.
Believe it or not, tangerines are amazing for your hair. Its Vitamin C content allows your body to absorb iron easier and the Vitamin B12 promotes hair growth, reduces hair loss and stops those greys from peeking through!
Go Nuts. Guys, eat your pistachios as they have been linked to helping with male baldness. Girls, cashews have biotin, and walnuts contain oils that add to the amount of elastin in your hair, which keeps hair supple and stops breakage. So simply replacing your afternoon snack with a bag of nuts can do wonders for your hair!
Greek yogurt is high in protein and rich in vitamin B5, which helps with blood flow to your scalp and hair growth. So, add a pot of Greek Yoghurt to your weekly shop and you can have thick, wavy hair like a Greek Goddess!
4) Avoid alcohol
Much to our disappointment, alcohol slows the levels of zinc in your body, which provides for healthy hair and growth. It also dehydrates your hair, making it more brittle and likely to break. We're not saying stop drinking alcohol, but you will see a noticeable difference to your hair if you cut it down!
5) Don't brush wet hair
Wet hair it is especially vulnerable to damage as water weakens the bonds within strands of hair and brushing can cause severe breakage in this weakened state. We understand that you're busy and have things to do, but your hair will thank you if you wait until it's dry to brush it. We would recommend using our Classic Gold Class Brush, a high-quality bristle brush, beginning at the bottom and working your way up until all of your hair is tangle-free. Brushing will not just clean your hair but stimulate your scalp too.
6) Apply little heat
We're all after shiny and sleek locks and applying heat can often achieve this look. However, too much heat can remove the natural oils from the hair and dry it out, as a result causing frizz overload, which is not ideal!! So, blow dry your hair on a cool setting and put down those straighteners. To help a little more, try using our Gold Class Thermal Protection Serum to moisturise and protect the hair.
7) Silk suits
Silk is amazing for your hair as it allows your hair to breathe and prevents hair breakage. It also eliminates any frizz from your hair, great! That's why we always recommend Gold Class Silky Hair Days™ Cap to keep your hair looking fabulous!
8) Healthy Hair Days
Our philosophy of Healthy Hair Days for wearing your hair extensions is well worth a read and talk to your stylist to make sure your are happy with the health of your hair and scalp from our analysis before re-applying extensions. Use our expertise to make sure we get your own hair and scalp healthy as a priority first.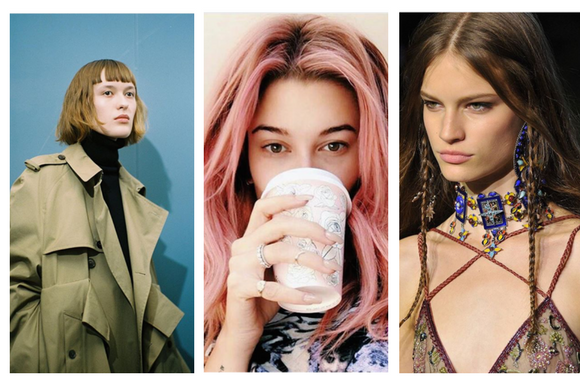 Thankfully it's getting warmer and lighter in the morning and evening and with Easter approaching, we need to share the hair trends to try before the summer heat wave arrives.
COLOUR 
Forget just going blonde, the much raved about hue is Rose Gold with some beautiful inspiration out there think Emma Roberts and Sienna Miller.    If you can't be persuaded by pink, then our range of ombre hair shades offer a subtle balayage effect to talk to your stylist more about.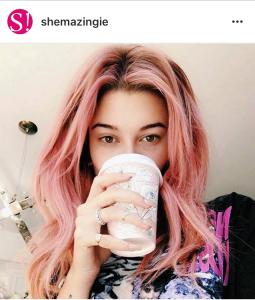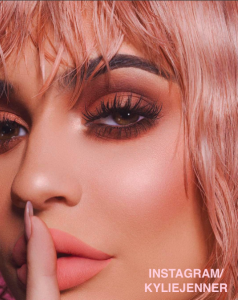 THROWBACK TO THE '80's
A few of the trends this season are a nod back to the '80's era with curls in.  Here's a great snap from Gold Class Girl and fashion blogger Naomi Milbank-Smith showing us just how curly you can go.   As our Indian hair is of the finest quality and strong structure, you can play with your curling wands as much as you like and the hair will hold it's shape – just don't forget a drop of Thermal Protection Serum first to protect against the heat and to help with styling.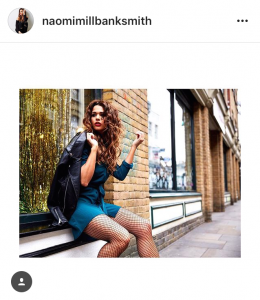 Power looks liked the wet-look sleeked backed style.   Yep, we're back in the 80's; yet try this half-up style for a modern twist.   These shots are from our founder's backstage work at the Pia Michi catwalk and whilst it looks simple, you might want to practise to get it perfectly sleek – or cheat and book in with your stylist.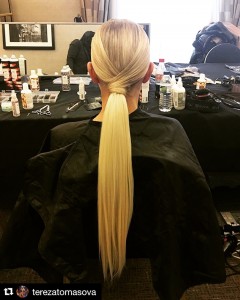 SMALL IS BEAUTIFUL
The mini fringe is in.  Not convinced?  Well, check out these pretty styles straight from the catwalk.
Super cute plaits blended with your loose hair, or wrapped up into an updo, show a little detail and texture to your look.  This isn't just a weekend look to try either.
HEALTHY HAIR
Natural, healthy hair is very much on trend and even if you're not on a health kick as such, you can have healthy hair with our aftercare range looking after your locks. If you need some more help here, book in for a consultation with your Gold Class extensionist who can run a hair and scalp analysis and prescribe the best treatments for your hair.