Monthly Archives:
September 2016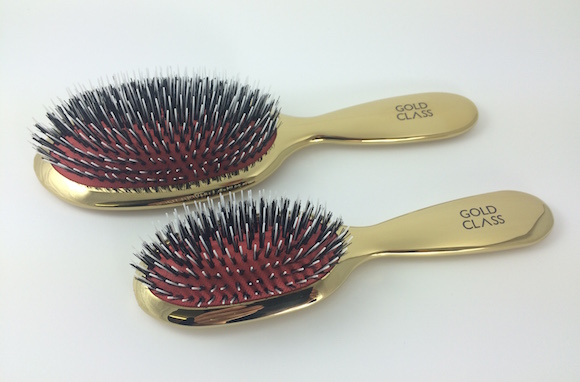 Premium hair extensions brand, Gold Class, has revealed two new brushes to their range and this time in their signature 'gold' colour.
Hand crafted and polished to perfection, these brushes are made of the finest materials and workmanship. Electro-plating creates a strong scratch-free finish to the gold design so they will look good on your dressing table or in your designer handbag.
The bristles are at different heights to glide over the hair extension bonds whilst reaching the roots to clean and evenly distribute the natural oils – ideal for de-tangling mid-length and long hair.
"We advise all our extension clients to brush their hair at least once a day to prevent tangles and keep their hair looking healthy; so we are really pleased to share these new brushes as they not only look good but are an essential part of our maintenance program."
Inanch Emir, Founder of Gold Class hair extensions.
Priced at £28 for the large brush and £25 for the travel-sized version, these brushes are available to buy through any Gold Class select salon and online through their flagship salon Inanch London Shop.