Monthly Archives:
February 2016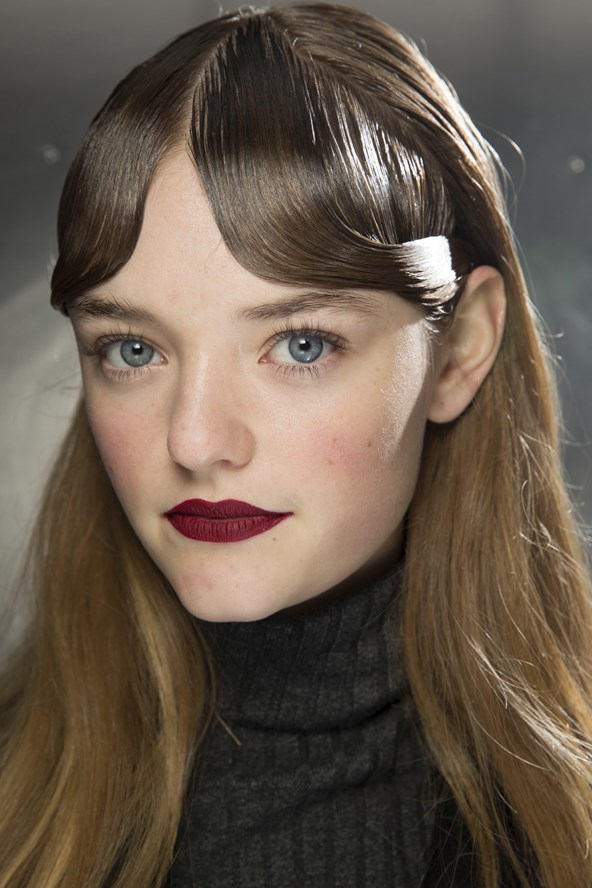 The doors on Fashion Week have closed again and this AW16 collection had some fabulous hair inspiration really capturing beautiful natural looking hair. In fact, many stylists were asked to embrace the model's own natural hair and simply enhance it's natural cut, colour and texture. Check out Michael Kors' unique looks over on Vogue.
Paris' highlight was of course, the Channel croissant. Perfect for those with lots of hair to create this, but small chignons would look equally as good and great for summer balls and bridal hair.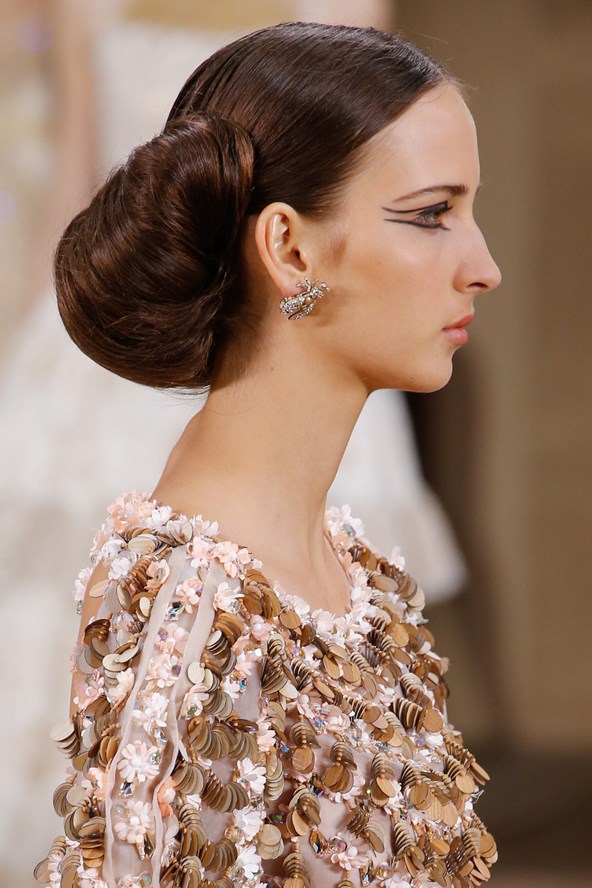 New York's shows featured lots of ponytails; mainly gathered low at the nape and with some lovely accessory detailing or hair wrapping to hide the band. Plaits and braids continue to feature and show off the natural hair texture.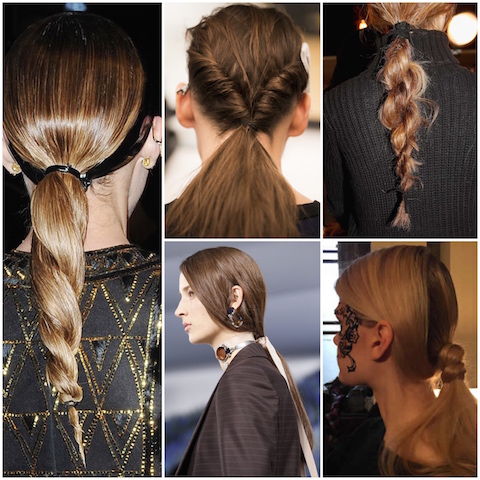 London's most significant trend was the wet look with plenty of sleeked back looks and windswept wet looks too. One of the most photographed looks, we're sure will be the sleek parting from Mary Katrantzou's show. The original inspiration is to form a star with the face shape; this wet look parting and contrasting then long flowing natural locks is what caught our eye.
The AW16 season captures the beauty of long flowing hair and swaps between sleep perfect manes to textured voluminous tresses so there is something for everyone.
To re-create these looks with Gold Class hair extensions, head to our select salons to book in for a consultation now.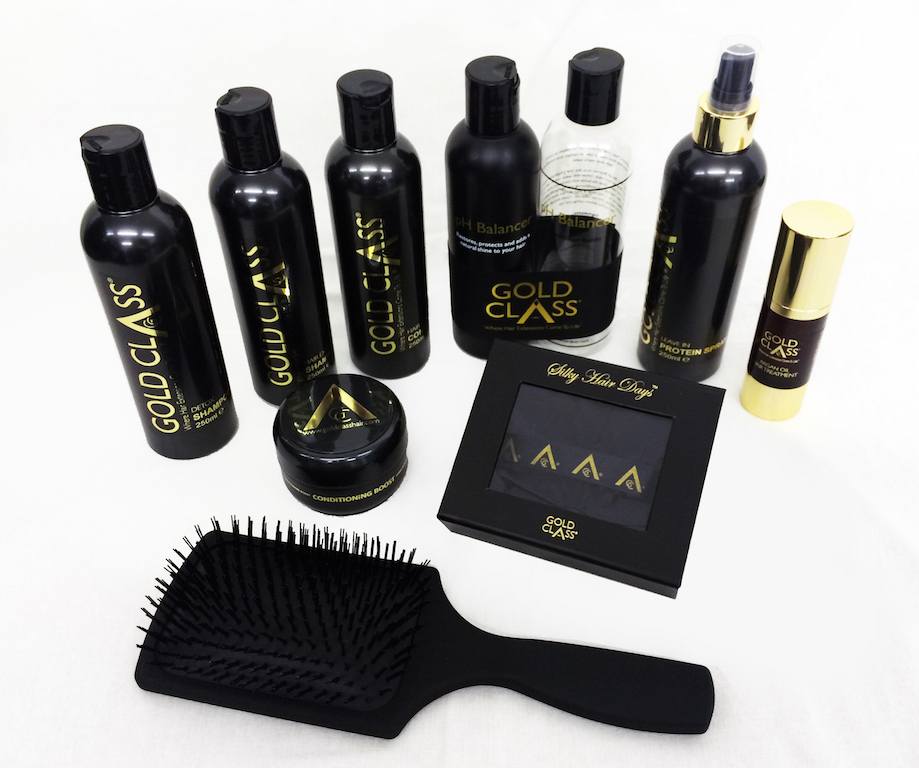 Great news! We've created our own range of exclusive Gold Class hair care to ensure your tresses remain beautiful and healthy, so you can thoroughly enjoy your Gold Class hair experience.
"A healthy hair & scalp are the key to natural & beautiful hair extensions; and so it was an essential step that we developed our own range of aftercare products to support our salons and clients." Inanch Emir founder of Gold Class hair extensions.
"Although our is 100% human hair, once made into hair extensions they no longer are receiving the essential oils from the scalp that keeps the hair healthy. Hair extensions aftercare is therefore a little different from your everyday hair care products. Our aftercare products have been specially formulated to ensure that the client's hair extensions as well as their own hair & scalp are receiving the correct nourishment in order to have beautiful, healthy hair each and every day."
Getting into a good hair care routine with the right products will prolong the life of the hair extensions as well as maintaining the integrity and optimum health of your own hair. The key the Gold Class hair care range is the "moisturising" aspect of each product rehydrating the extensions and preventing dry ends and hair breakage. This is in two stages; firstly hydrating the hair to allow it to function and maintain it's elasticity allowing styling of the hair. The second stage is to lock the moisture in to enhance the brilliance and lustre of the hair.
Having released the Silky Hair Days™, pH Balancer and the paddle brush at the end of 2015, we are now introducing five further products to complete the range and offer not only the everyday essentials for mositurising the hair but also offering products to protect the hair from the environment and heat damage.
Introducing:
Gold Class Hair Extension Shampoo 250ml
Gold Class Hair Extension Conditioner 250ml
Gold Class Leave in Protein Spray 250ml
Gold Class Conditioning Boost 100ml
Gold Class Argon Oil Hair Treatment 30ml
The Gold Class aftercare range is available through Gold Class select salons around the UK.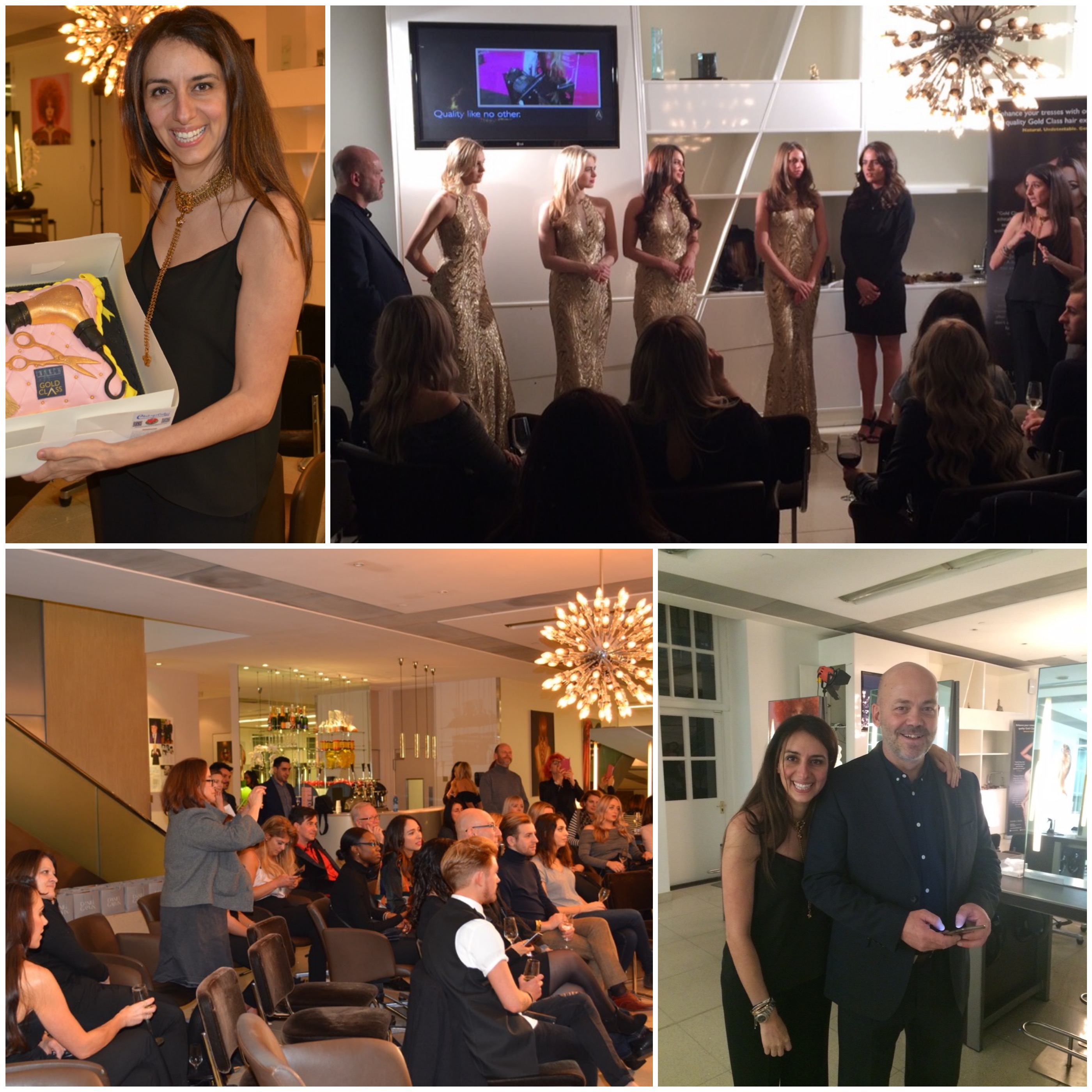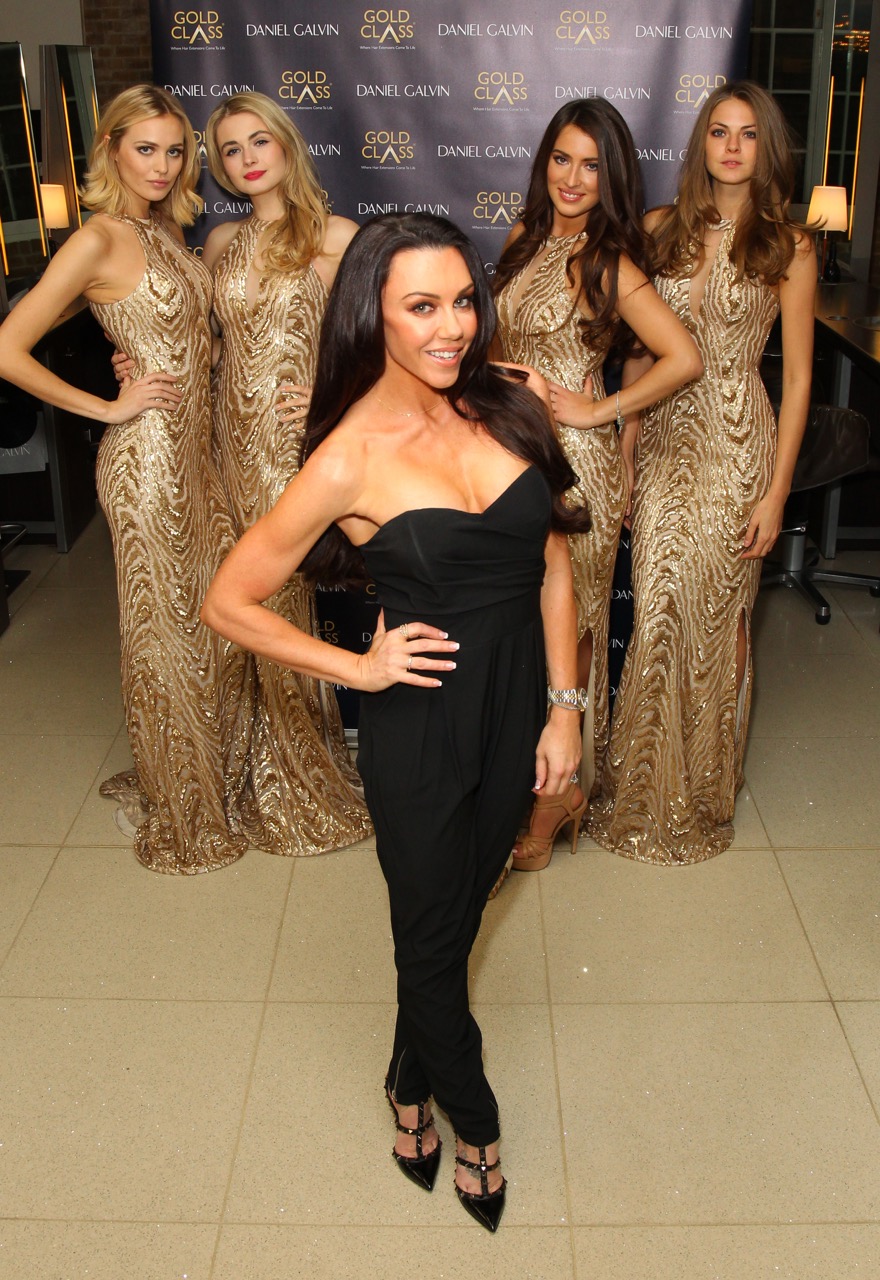 You already know Daniel Galvin is an Elite-10 salon but we wanted to have a joint launch party and share exactly why they have chosen to work with us at an exclusive press event. We didn't want you to miss out too so here are the evening's highlights….
We took over the lower ground floor of the flagship Daniel Galvin salon in Marylebone with over 50 guests joining as Stephen Nurse, Operations Director for Daniel Galvin, introduced Inanch Emir & Rebecca Lennon (Daniel Galvin's Principle Extensionist) to talk about Gold Class extensions and what makes our brand a class above the rest. The audience included trade & consumer press, bloggers, personalities and members of our other Elite-10 salons; listening on as Inanch talked about her passion for hair extensions and why she started Gold Class. Becky (Rebecca Lennon) talked about her client type and how she can use extensions with her team to create natural looking hair – at the heart of what Daniel Galvin are all about. Alongside their questions, Inanch and Becky had prepared four models to discuss their looks and benefits of extensions to each: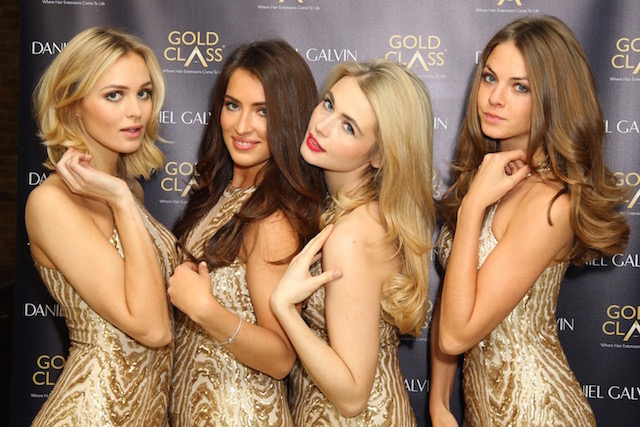 Ianthe – with only around 25 strands of Gold Class to help keep the volume of her on trend lob which she had for a couple of months.
Laura – full head of warm blondes new in that afternoon and so natural everyone thinks it's her own hair which is perfect for her modelling work.
Anastasia – likes her length at 50cm and full head of extensions curled.
Beth – full head for 'new to extensions' Beth who can't stop swooshing her hair.
Right on cue Michelle Heaton pulled out her Gold Class brush in her handbag to prove the point about caring for your hair extensions. The models joined in to share their top tips of caring for extensions too #SimplyGoldClass. Journalists were then invited to see the hair and equipment up close and to mingle with the team to ask their most burning questions whilst enjoying nibbles and some fizz. We also had our latest products there – more hair care essentials and some new hues – more to follow on these soon.
You did miss a rare opportunity as Inanch herself modelled our Silky Hair Days cap beautifully and the team at Stages Hair Design from Bristol brought along a beautiful Gold Class cake for everyone to share. #nomnom
Watch the exclusive Gold Class treatment VT we shared at the beginning of the evening here
Credit: Andy Barnes Photography