Monthly Archives:
June 2015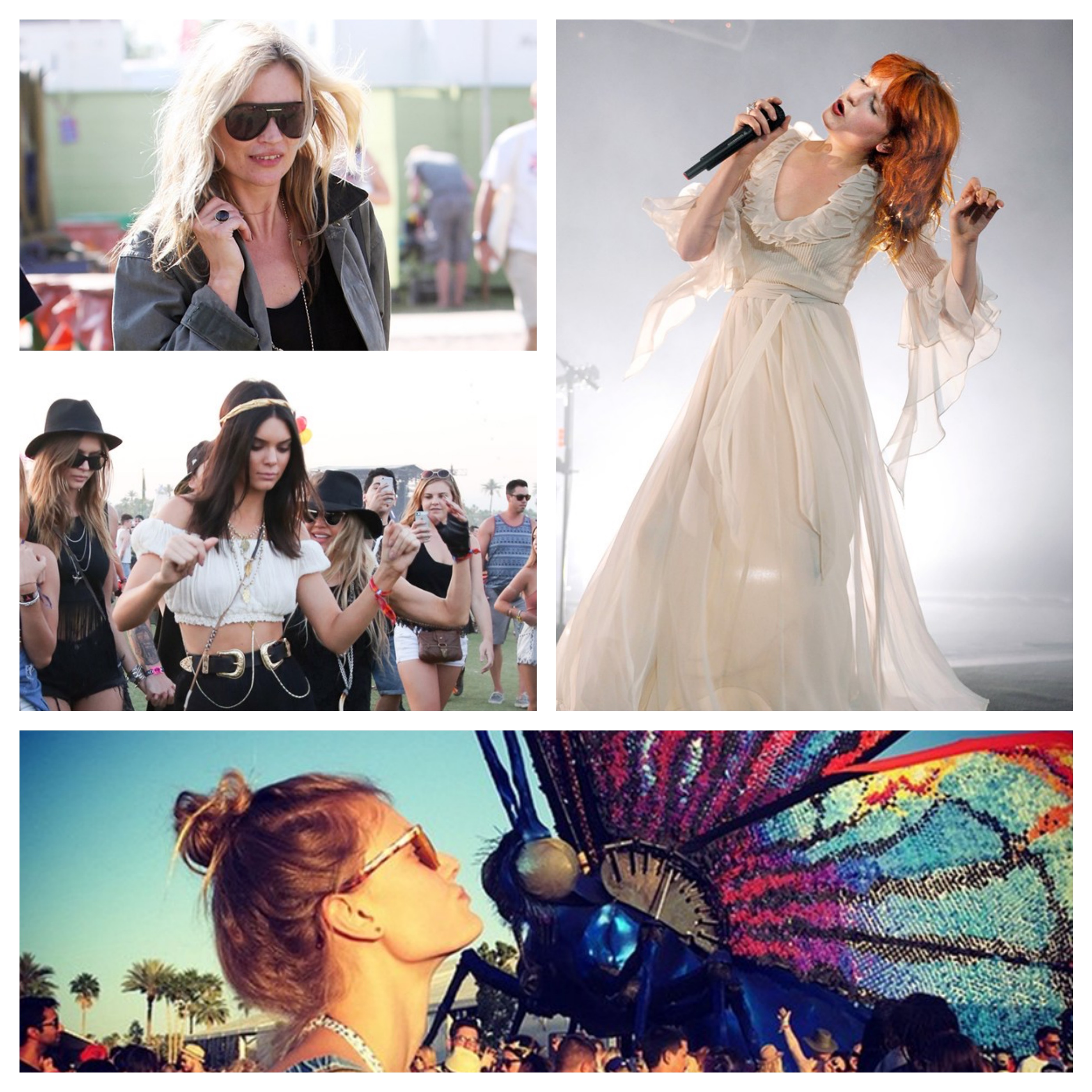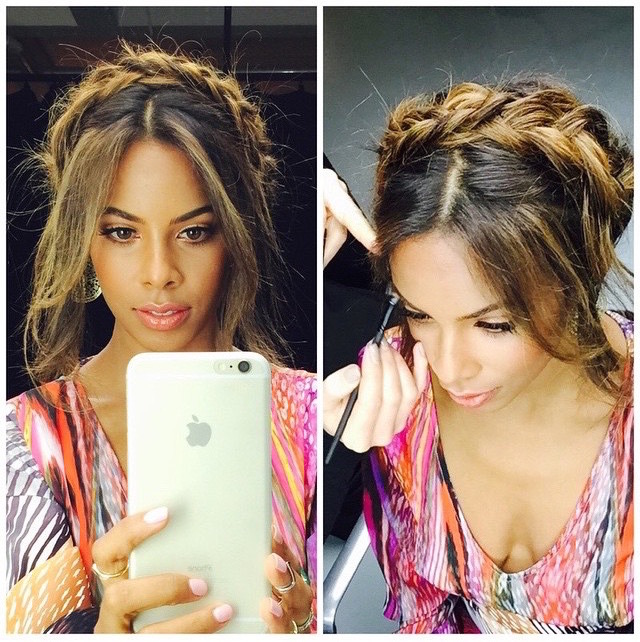 Yep even Gold Class Girls can rock festival hair and with such healthy hair it's great to show it off in lots of ways. So we've picked some of our fav festival looks from Coachella earlier this year to see you through this weekend's Glastonbury and into V Festival, T in the Park, Leeds & Reading and all the other fabulous summer time gatherings.
Beachy blonde waves are a staple for supermodel & festival reveller Kate Moss. Headliner Florence Welch also enjoys letting her hair down with waves throughout her trademarked fiery red tresses. One trick to save you taking your tools is to plait your hair the night before to achieve great waves. Just use your fingers to work through once undone to leave dishevelled a little. Maybe look to accessorise like Kendall Jenner with a headband and maybe some oversized flowers.
We love this snap of our very own #GoldClassGirl Rochelle Humes which from earlier this year as she shot her new collection with Very. Super bohemian and with her fringe softening her face. So simple and shows off her colours beautifully. The famous Kate Bosworth centre parting plait from Coachella is everywhere but if you need even more plaitinspo then all you could ever need can be found in this great celebrity braids collection – have fun trying these out.
Cool down with a top knot and a great way to hide your locks suffering from a few days of revelling. In fact the messier the better so don't spend time perfecting the stands but tease them out. Day old hair will also help hold an undo much better then freshly washed.
Don't forget to make sure you take extra care of your hair extensions when you get home for that much needed bath. Maybe treat your hair to some Philip Kingsley Elasticizer for some added TLC.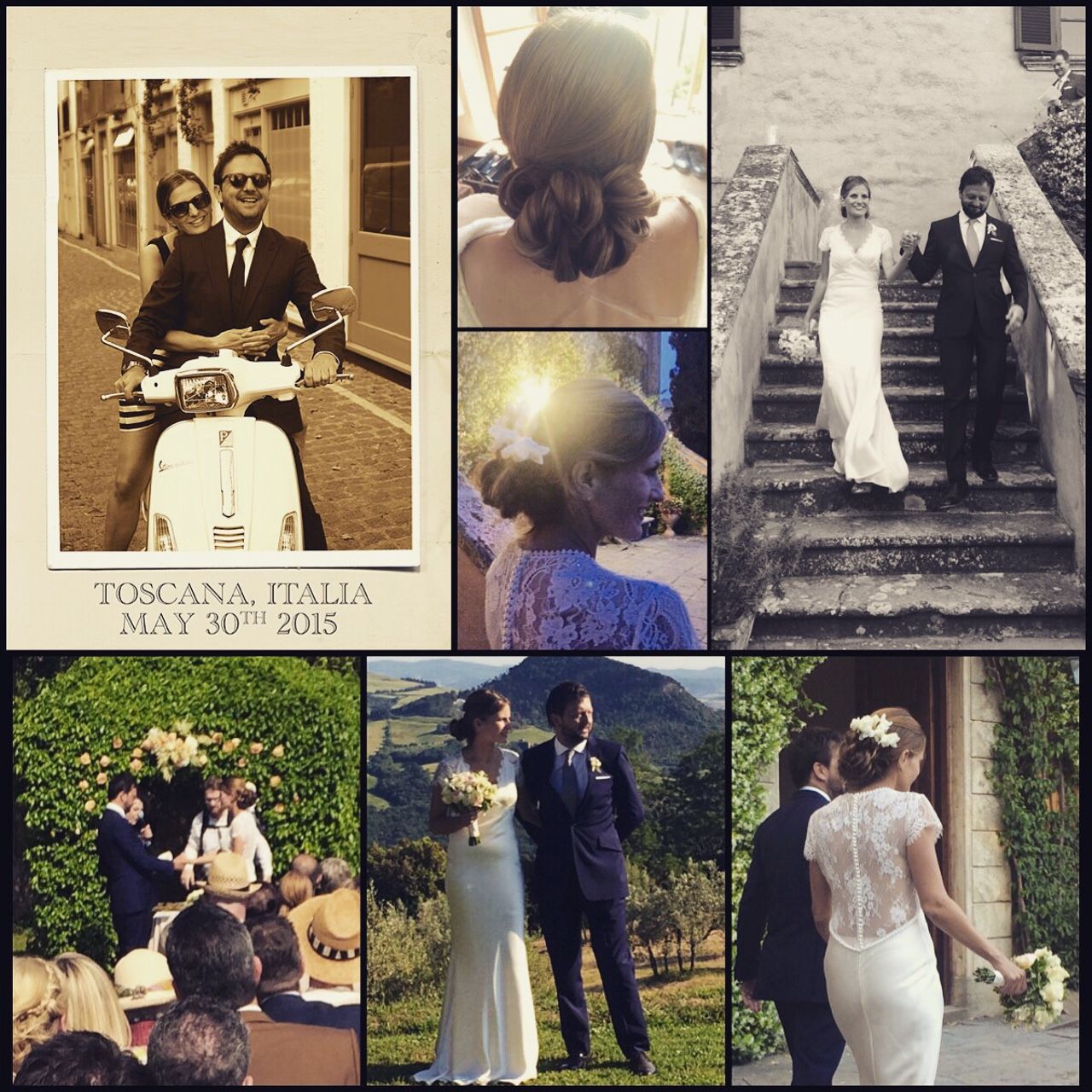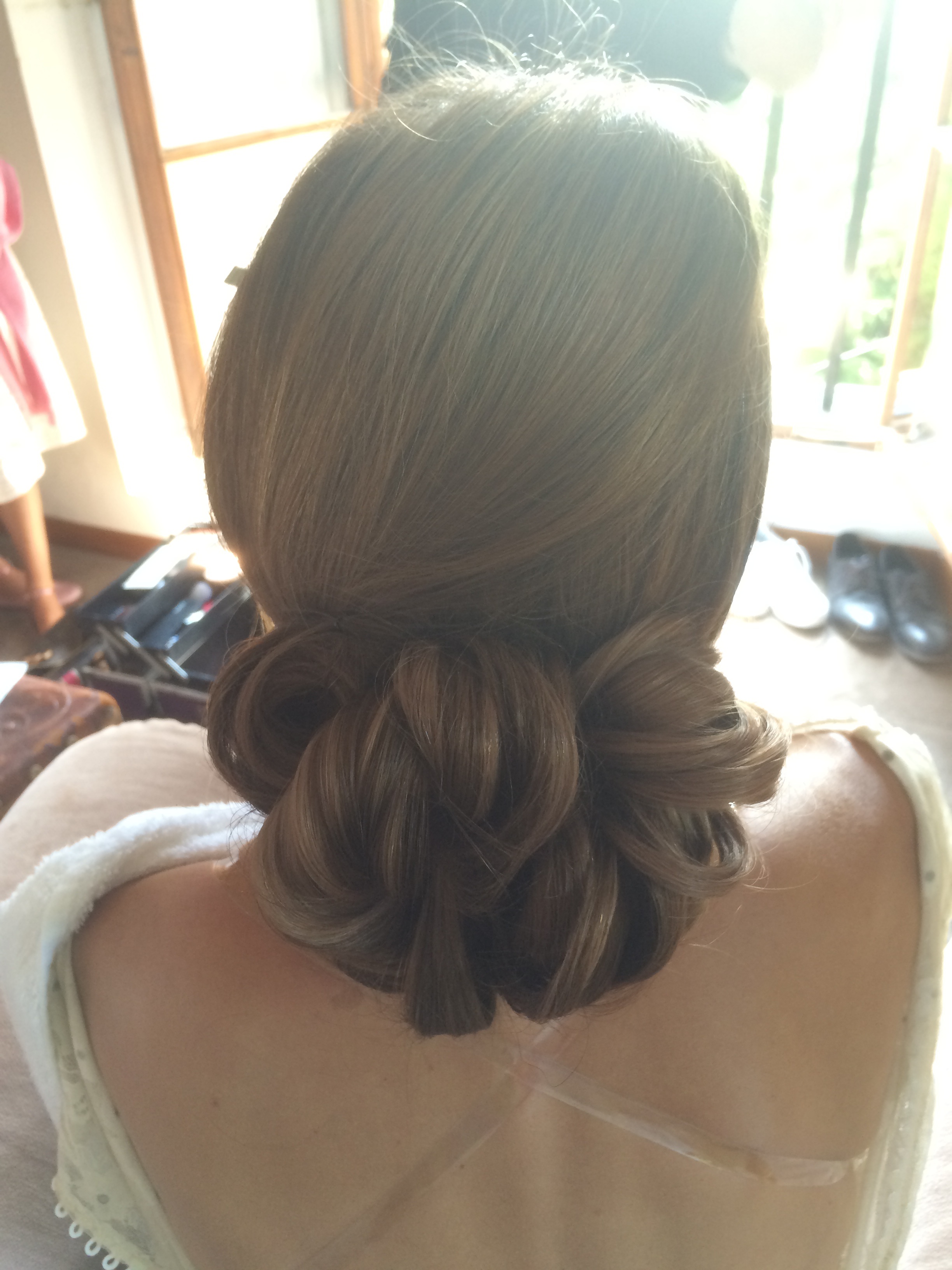 Hair extensions are often used to enhance a bride's hair for their special day, and it was even better when Inanch & Joe Emir from Inanch London were invited to the wedding itself – IN TUSCANY no less!!! We should really be talking about the hair but I think the photos from the magical venue and romantic setting for the Big Day have us very envious indeed.
The bride looked equally magical. Opting for a low romantic bun with plenty of volume and that's where Gold Class made it's debut. The bride-to-be popped into the salon a month before her big day for a consultation with Inanch and to talk through her look and colours. With her colours re-done a custom-made Gold Class Clip In was made by Inanch to take into account her new shades and blend naturally to her own hair.
Inanch fitted the Clip-In on the day. She started by blow-drying and tonging Nora's hair in to nice loose waves. Then, with the front section clipped out to one side, the back was tied in to a low ponytail, before adding the clip-in hair pieces around her ponytail. The hair extensions and Nora's hair had been pre-curled at this point and so all that remained was to pick the sections, create knots and pin securely to create this stunning elegant look. The side sections were loosely pinned and some strands were teased out for a natural, soft look. Finishing off by applying some light hairspray by Inanch's favourite, Unite Haircare.
Veil or no veil was still a last minute bridal decision but either way this style would have worked, and the bride finally went with fresh flowers to compliment the bun. We asked Inanch about using flowers in your hair "You can get a florist to put a wire in to the flower for you which then allows you to insert it in to the hair just like you would with a pin. If it's hot, and especially if you're abroad, try to keep the flowers in water as long as possible."
A truly fairytale wedding and many congratulations and thanks for sharing their special day must go to the new Mr & Mrs Jury. Wishing you the very best for you future happiness. xx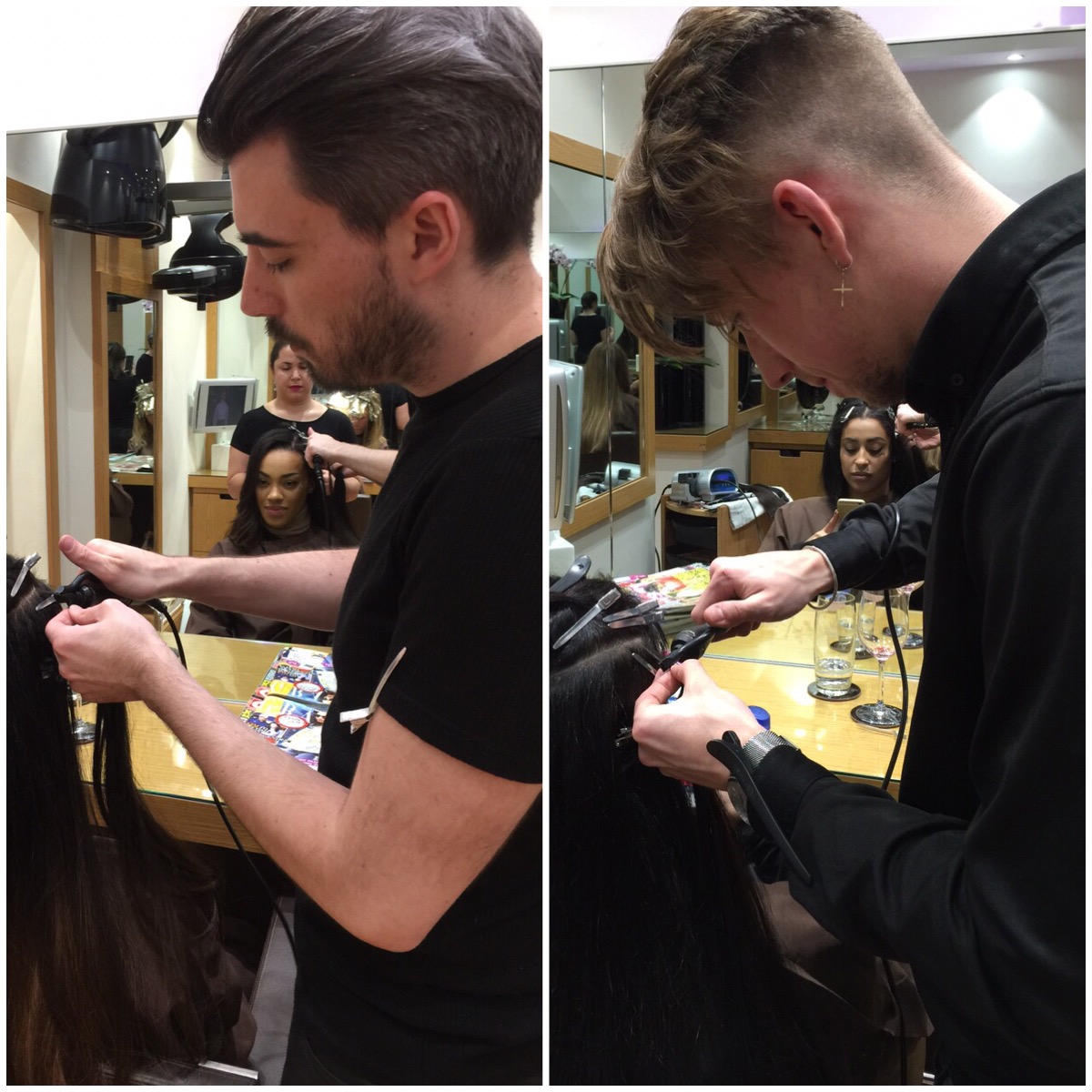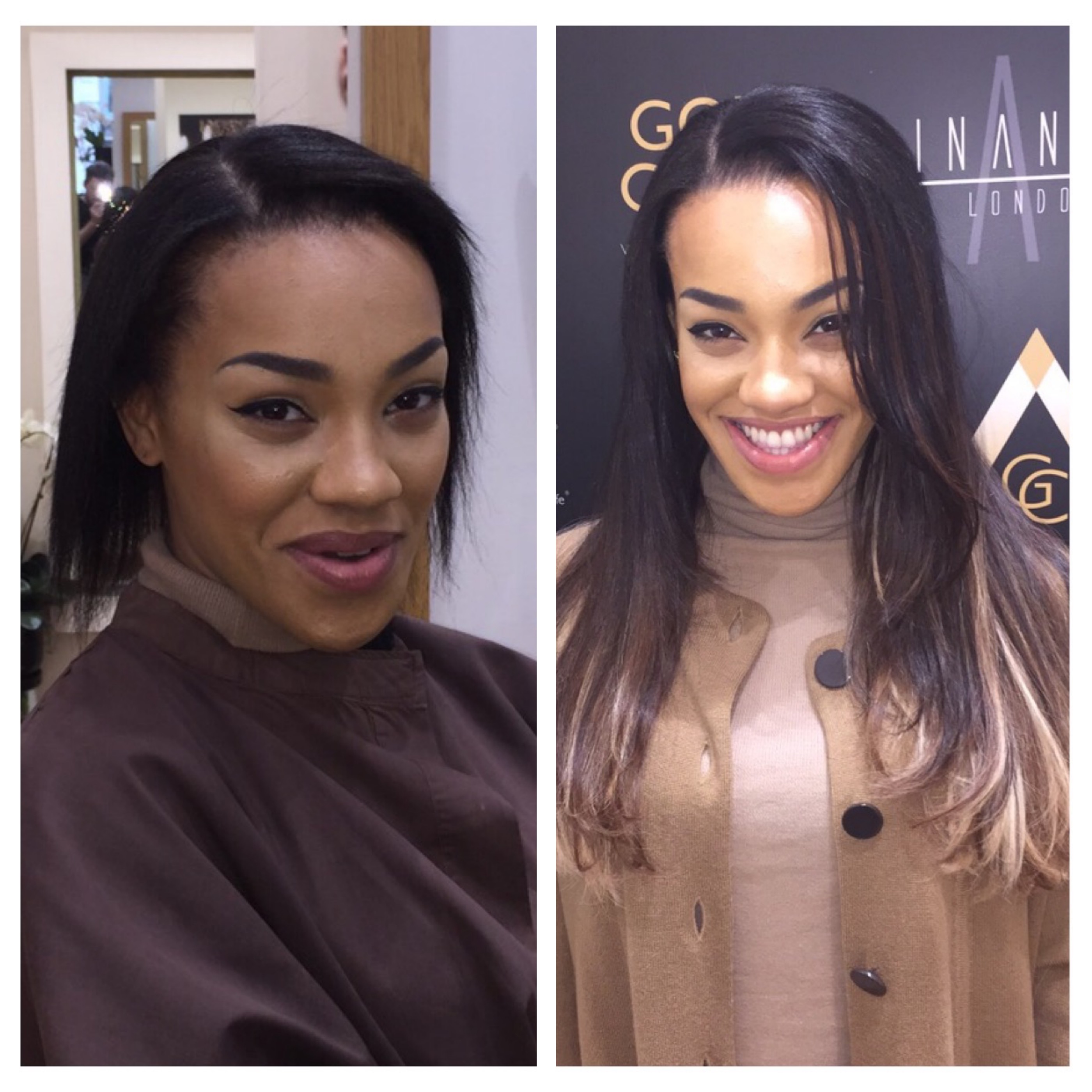 The girls from Stooshe took time out from recording their new album to head to Inanch London for some much needed TLC and a fresh look ahead of some of their promotional touring. At the consultation, it was clear that using heavy hair pieces regularly had taken their toll on Karis' hair in particular so they were keen to learn more about Gold Class' Healthy Hair Days*. Safer, permanent extensions are the way forward to reduce the damage caused.
In the safe hands of Roberto Silva, Karis wanted a dramatic new look and so some custom dyed ombre Gold Class hair extensions were made and a full head application to create a softer look for summer.
Lee McCrudden got to work on Alexandra blending dark brown and black pre-bonded extensions to create a flawless look. Length and volume were the order of the day so 200 strands of 20" Gold Class were used to create the look before cutting and styling to ensure the extensions looked effortless natural.
The wonderful team at Inanch London couldn't leave the lovely Courtney out and treated her to a Olaplex colour correction session to maintain her platinum blonde hue and improve the condition, followed by a Nano Keratin treatment by Ivan to help improve the manageability of her hair when back home.
Glad to see the girls out and about showing off their new hair and we spotted them at last night's Now Magazine Summer Party alongside Roberto and Lee again.