Monthly Archives:
April 2015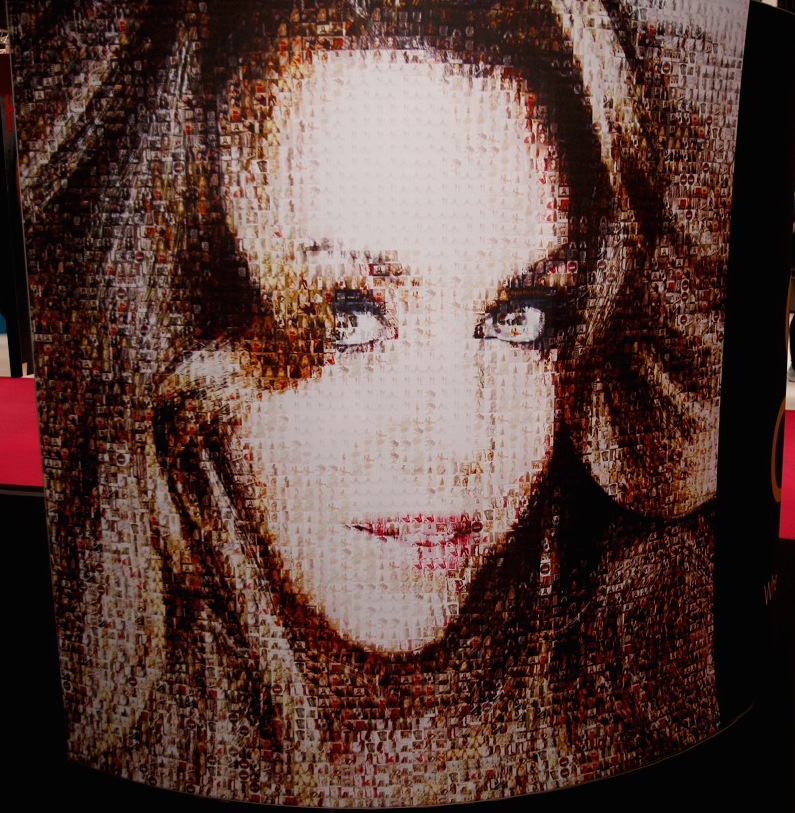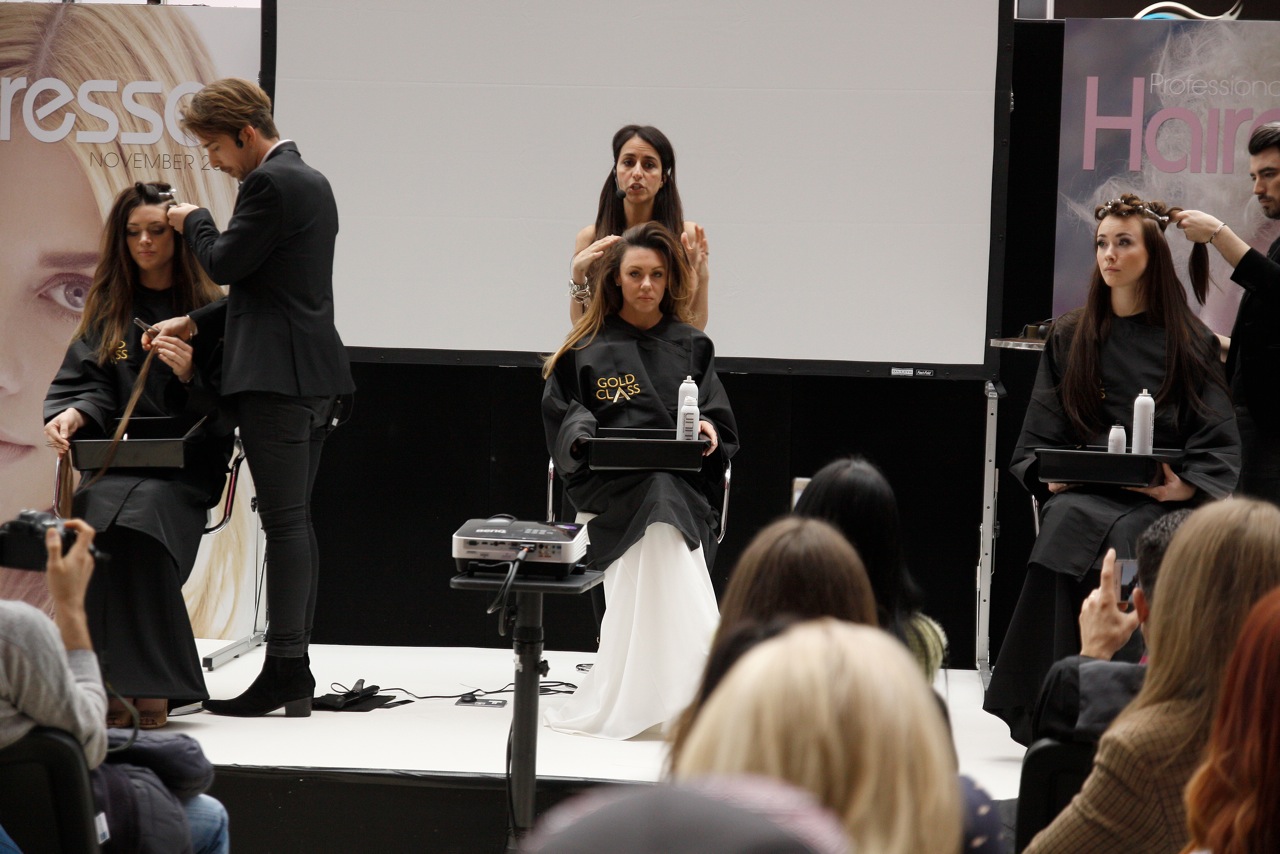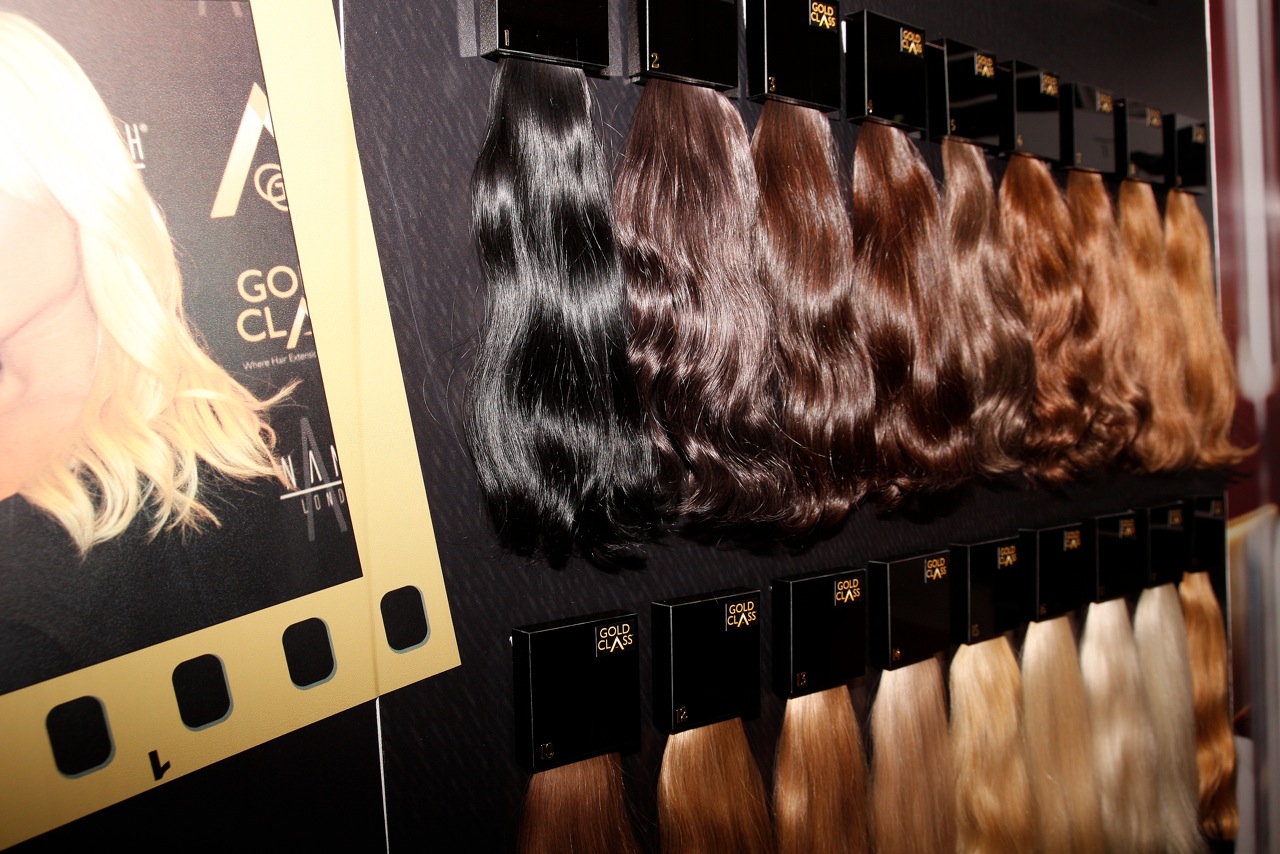 Well our very first exhibition is over and we loved it! Pro Hair Live 2015 London at Olympia was a great way to launch Gold Class to fellow passionate extensionists. Sat alongside the Professional Hairdressers own stand and the Red Carpet & Bridal Stage, our stand looked amazing with a pod using our media coverage montage to make Michelle Heaton's face from one of our collection images. Michelle spotted this on twitter and replied "Wow! That's a rather large picture of my face hahaha xxx"
We were staying in the Hilton Hotel Olympia with quite a few other exhibitors and we had a good laugh with the Balmain bunch on the table next to us at dinner each evening.
It was the first time we had shown our application machine and we can say how impressed everyone was on the compact size and design. We even had a suggestion to give it a name it was so cute. So if you have a suggestion, please let us know. Our complete range of brushes and combs were on show, alongside our clip-ins and aftercare ranges with UNITE and Philip Kingsley. Although it was our Hair Wall with our 25 shades that stole the show.
Day 1 was quite a nervous affair as the Inanch Team were on stage demonstrating application and cutting & styling techniques. With not a spare seat in the seminar, crowds formed to hear the team share their passion for glamorous hair and tips for working with the different methods with Inanch showing pre-bonded, Lee working with micro rings and Roberto on taped hair. Our models were of course our own Gold Class Girls including close friend to Inanch, Michelle Heaton. Inanch had also on stage the gorgeous models Ianthe Rose, Imogen Leaver and Sara McLean.
With old Miss England friend and compare Andrew Minarick asking questions, the team were on stage for around an hour and available for photographs and questions afterwards. Michelle kindly had a quick interview with the Pro Hair Live team which should be featured online and in the magazine soon. We will keep you posted as soon as it's available to see! Our beautiful models roamed around the show and enjoyed a snap on the Fudge stand and were stopped everywhere to have a closer look at their hair and show-stopping PiaMichi gowns.
Day 2 meant we had a much needed lie in as the stand was ready for us to start working on our models again. MTV's Ex On The Beach star, model and DJ Mel Reeves joined us as Roberto applied a full head of extensions and styled her hair to perfection with a crowd of on-lookers. It was also a day to catch up with the great and good from the industry and share our story.
Our Elite-10 campaign had salons making the journey to Pro Hair Live just to see us. Completely humbled by this and the response of salons wanting to be one of the first exclusive destination salons for us. We have some tough choices to be making now as we look through the applications. We even had stylists claiming to be 'Gold Class Stalkers' as they have been following our work on social media and waiting for us to come to Pro Hair and see for themselves. A huge thanks to everyone who stopped by to wish us well and take an interest in our hair and products.
We have a couple of our new Trolleys available to buy at our show offer price for the next 10 days only. To get one of our state-of-the-art trolleys delivered to your salon for only £750+VAT, please get in touch by the end of Friday 8h May.
To check out more pictures from our two days – check out our Twitter & Instagram feeds.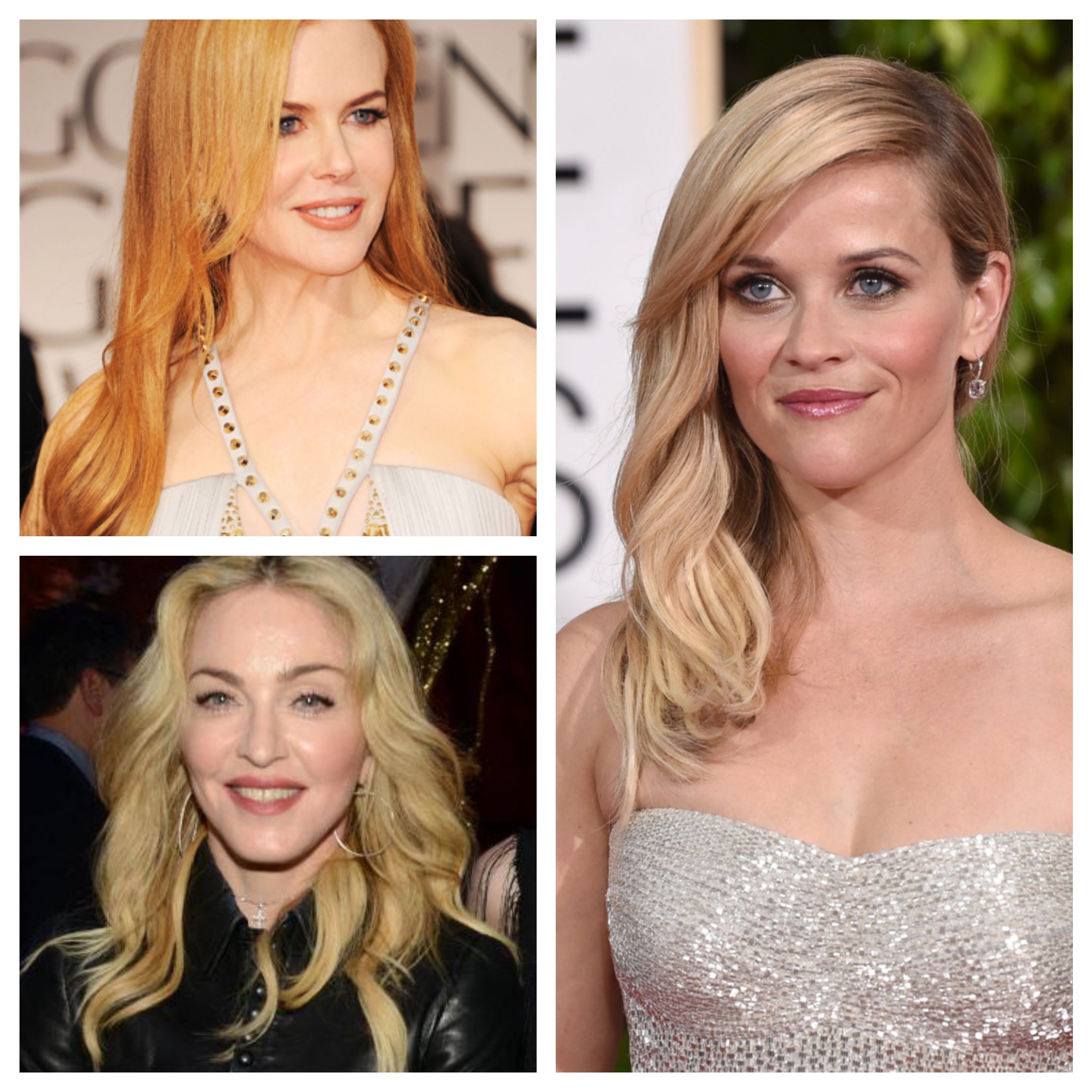 The sun is shining and all we can think of is beautiful natural summer hair – sun kissed and with a gentle beach wave to it.   We also know that choosing the right blonde colour can be tricky so we stopped Inanch to have a quiet word and get the low down on how she chooses her blonde hues with her clients.
"We always ask client's to bring photographs to help talk about colour to their consultation.  Even if it's to say what they don't like!   For me this is great as client's don't always see colour hues in the same way and if they describe something as ash or warm the picture might tell a different story."   During a consultation Inanch is always looking at eye colour and skin tones when putting the colour swatches against the client to see for themselves what works well, or not.  " Warm blondes are in right now with lots of strawberry blondes and ash pastel tones.   In fact I find that strawberry blonde works on most people's complexion." 
The two limiting factors in Inanch's mind for all blondes is their original base tone and lifestyle.    Depending on the base, a client may need to have several stages to colouring their hair to lift it and also may not want to jump to a drastic colour change.  Warmer tones are easier to achieve if you are already dark.  Regrowth needs factoring in and client's lifestyle needs to be able to keep up with the maintenance of being a blonde.   Good job roots are on-trend right now.
Extensions are a great way to change your colour without the commitment so you can add some highlights to help with the sun kissed effect and change the shade in a couple of months time to go lighter as things heat up!
Some glamorous blondes who have already found their perfect hue include Reese Witherspoon, Madonna and Nicole Kidman.   Check out more in of our golden #GoldClassGirls in our gallery.
Going blonde can seem like trial & error at times so Inanch's best advise is to try a shade lower than you think.   Make sure you check out our blonde shades and choose your favourite.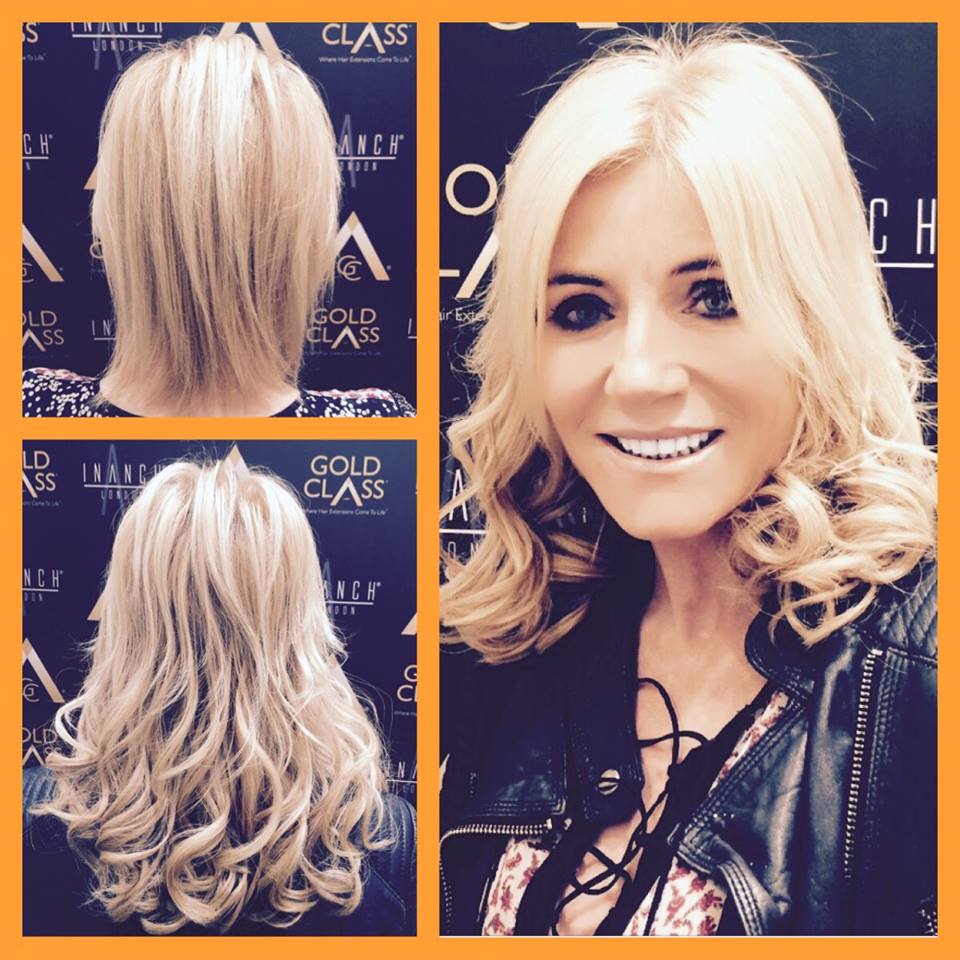 In preparation for a new TV role, Michelle Collins visited Inanch London to add length and volume and create a lob trending right now on many other celebs.
Having met Inanch a few weeks back for a thorough consultation; they chose to use three different blondes to create a natural effect. Using a warm, gold, strawberry and some lighter blondes in 35cm lengths; Inanch applied 120 strands of extensions to Michelle to give a fullness to the long bob. Finishing off the look by tonging her hair and leaving it naturally loose to show off the curls. A regular extensions wearer, Michelle tweeted "I love it ! For my new role ! " in reply to @InanchLondon's transformation snaps.
We will be keeping an eye out for Michelle and her Gold Class tresses back on our screen soon.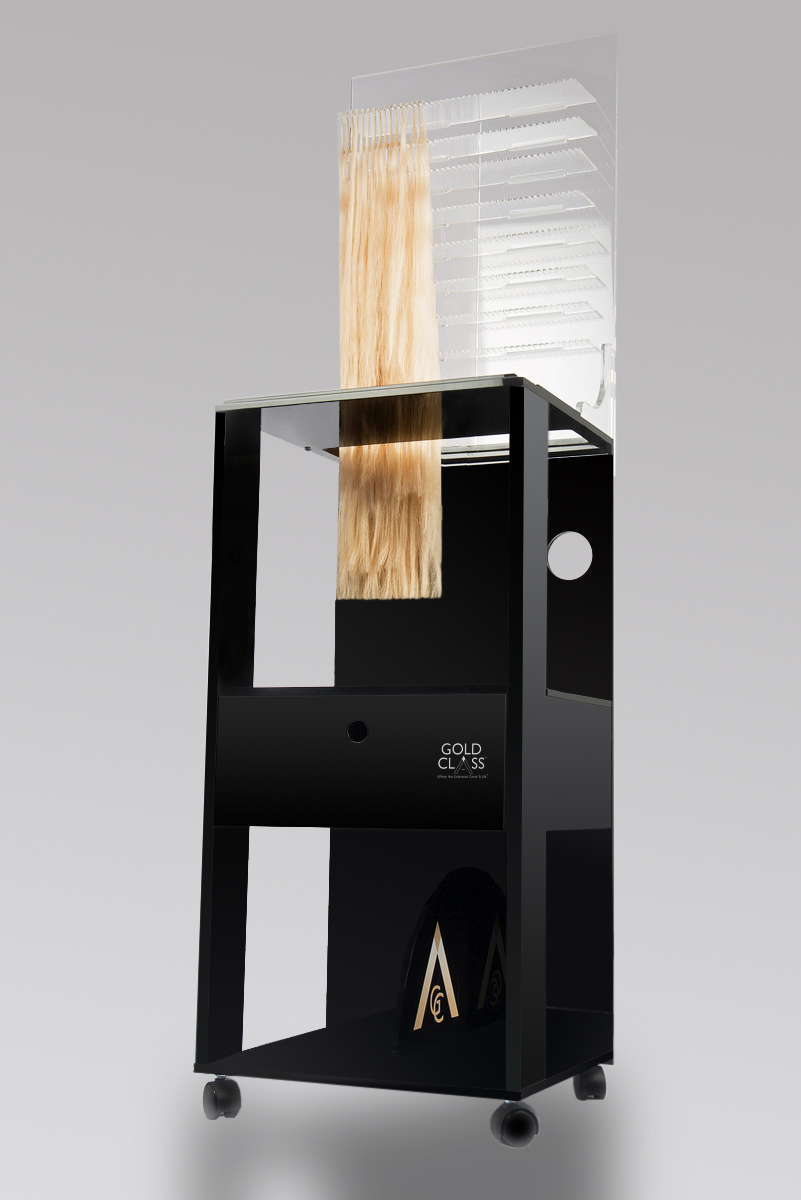 Our hair extensions trolley in the salon has been the envy of many extensionists from around the world and we are often contacted about it to ask where we got it from. We have now produced our very own bespoke version designed by the lady herself, Inanch, with the professional extensionists in mind. A year in the making, this state-of-the-art trolley has everything required to make an extensionist's life easier, quicker and at the same time, showcasing those beautiful hair strands ready to go on your clients' hair.
We have created two versions – the full trolley and also a handy counter-top version for mobile work or tighter spaces. We are also opening this up to non-Gold Class salons to be able to purchase, although our own #Elite10 salons will get these at a preferential rate and with full Gold Class branding to help promote the service at their salon.
The main trolley is made from black perspex to give a professional finish that is easily wipeable and comes with a draw to keep your hair extension tools safe & tidy as well as offering storage for your spare hair. The non-slip matt on top holds either your application machine or tools as you work. Rising up the back of the trolley is the individual hair strand holder with 8 rows and to a maximum length of 60cm. The etched vertical divider-line in the centre allows you to hold 2 heads of hair extensions so you can be ready for your next client, or can help you with colour blending by arranging your extensions to customise the look you are creating. All on silent wheels, allows the trolley to swiftly move around the salon to whichever position is needed.
The counter top is the hair stand alone and sits neatly on your work station or reception to help attract your extension service.
Here's a first glimpse but these will be on our stand at ProHairLive later this month so come and see them for yourselves. They will be available with an exclusive Show Offer for those ordered at Pro Hair Live and delivered free-of-charge to your salon.
If you can't make it to Pro Hair Live and want to place an order for one, please email to get your name on the waiting list and we will be in touch soon.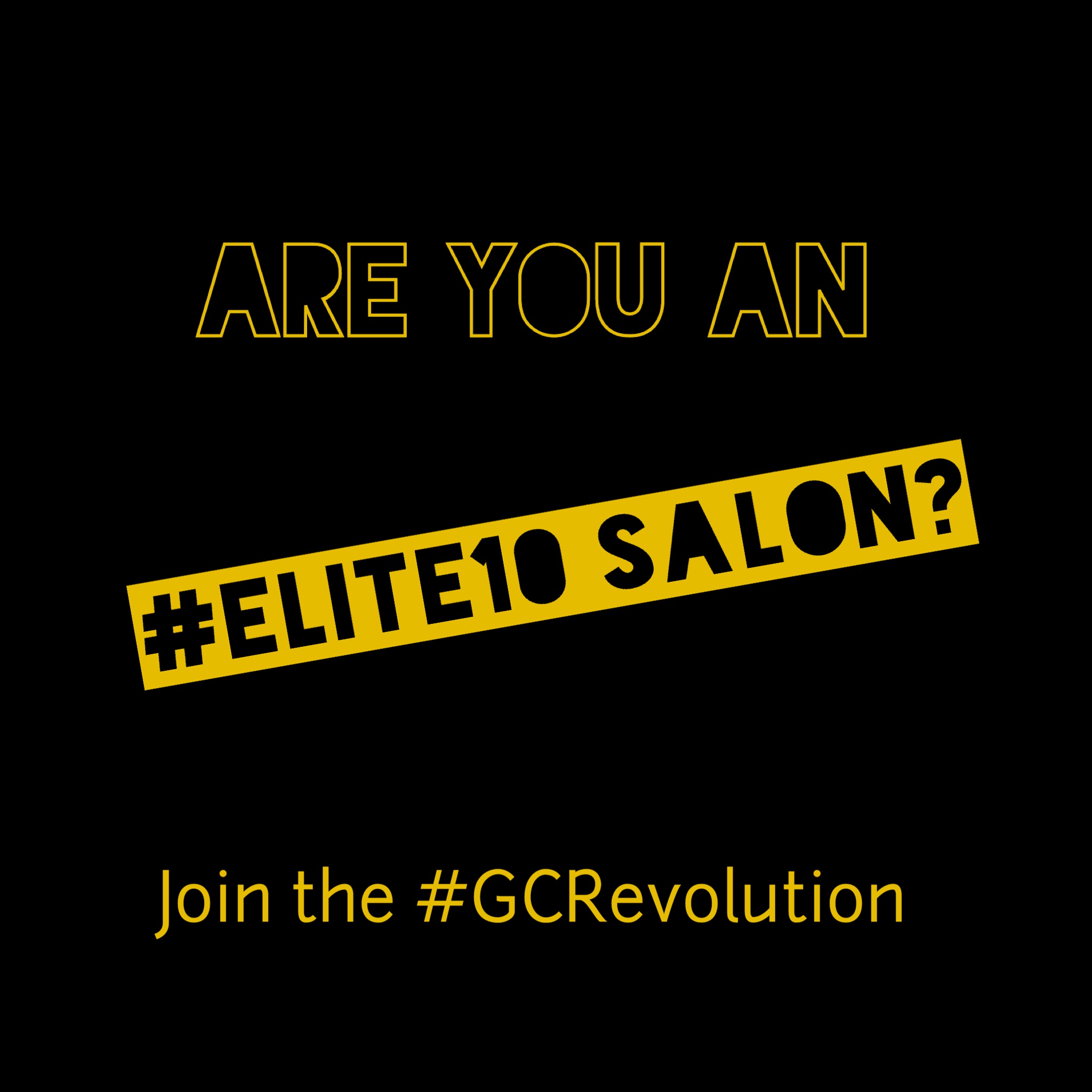 We are busy with our preparations for ProHairLive Olympia later this month and we are starting our search for the #Elite10 salons to join the #GoldClassRevolution now.
We only plan to work with 10 select salons this year to maintain our exclusivity and keep focusing on quality over quantity. Check out our select salon criteria and if you want to join this exclusive family then please come to see us at Pro Hair Live at stand D6 to find out more about the hand-selected private label hair, expert application, accredited aftercare & healthy looking hair regime.
If you are unable to make Pro Hair this time, but are still interested in becoming one of the #Elite10 then please get in touch & register here.